As we all know change is a constant in our Chicago artworld. Today, Bad at Sports marks a massive change for us.
As longtime readers/listeners know, Stephanie Burke has long been the author of our "top five things we're going to check out this weekend" list. For the last eight years she has been banging around seeing everything there was to see in Chicago, all the while guiding many of us with her wit and insight as to what should not be missed.
This last year has seen many changes for both Stephanie and B@S as an organization and it is time for her role with us to evolve. Her brilliance will continue to inform our collaborative efforts and thinking, but her new role will be revealed this fall. For the moment, she can be found gallivanting across this country reconnecting with her camera and her art.
Today we welcome a new monitor of what must be seen and Stephanie passes her gifted eye and foresight to no less a seer… Tomorrow, THE VISUALIST will begin their tenure as the governor of what must be experienced. All witness and be aware, it is the "Bad At Sports top V by the Visualist" and all shall be emboldened by its wisdom.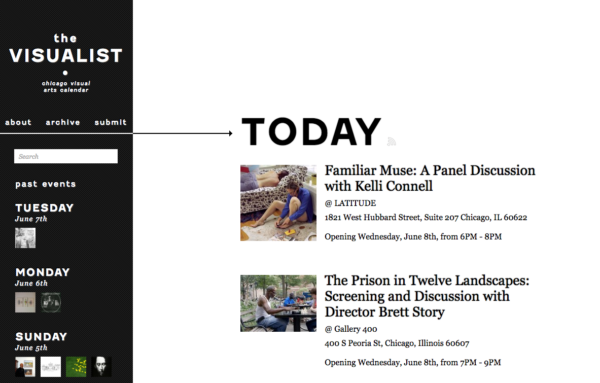 ***Potentially, there is a second change – I worry I must also give up reading 80's fantasy novels, for I fear they are affecting my written voice, and with some true dread, I fright and may be felled by this new affliction.
---
By Kevin Blake
I drift. A good drift. A perfect drift. One that will catch a nice trout. I swing my rod overhead and flick the tip upstream. Mend. Mend. Recover and drift….fish. My memory takes me downstream and the water sweeps my feet from underneath me. I allow the current to drag me away from here.
As I rush past the shores of my recollection, I realize that it may take a lifetime's worth of attention to learn the secrets of the river. I realize that each section of the stream requires a different understanding and consequently, a different approach, to unlock the mysteries of each pool, eddy, and riffle. I'm reeling but not too aggressively. I don't want to lose this fish.
Fly fisherman, like painters, have an uncanny ability to liken any conversation to their pursuits with a rod or paintbrush, on the theory that the essence of anything is in how it relates to their quests. In Kim Piotrowski's show, Catch and Release at Linda Warren Projects, this perpetual metaphor is alive and well and permeating from the walls of the gallery. The rush flows from one piece to another. The fish spook and swim under rocks and stay there until I walk away, only to emerge again as I distance myself from the work–forcing me to return and throw another glance at the image. These are freshwater works(predominately made with water-based media), bottomless and infinite–their currents creating a generative energy for their creator that seemingly erodes her immediate boundaries and transforms those limits into the conditions upon which the next work is made.
I lodge the toe of my boot underneath a submerged log as to brace myself for another run. It's trying to get away from me. I hold my rod high and behind me with my left hand and keep my right hand on the reel. My body twists to make the position possible. I'm adding line as fast as the fish rips it off. The cold water makes new seams around my legs, adapting to my temporary damn. I watch my line tighten. The fish changes direction–and once again–I'm reeling.
I stand suspended in the gallery, surrounded by effort–large and small. Piotrowski has transformed the space to not only display her achievements, but to advance her inquiry. In her debut exhibition with LWP, Piotrowski casts her lines in every direction. Her massive site-specific painting done directly onto a gallery wall that spans 43 feet, is a glowing example of her fearless attempts to allow opportunities to be the source of her invention. She has titled the piece Tide Tango and in her words, it represents "the dance we do with the rush of thoughts as life runs over and through us."
Like the river, Piotrowski's paintings meander, dash, swirl, and coalesce in spaces that cannot be confined by the limits of the page. She recognizes the necessity to expand the space into different formats(see Corner Lot, 2014), providing new borders to break free from and allowing new puzzles to emerge.
Piotrowski's paintings remind me of Matthew Ritchie's complexly scaffolded spaces that find organization in chaos. The ability of arbitrarily small occurrences to greatly affect the outcome of a painting is particularly present in both artist's works. Though Piotrowski seems to be making the paintings with much less discrimination. Less rules. Less fuss. More risk. Yet, in both artist's work, there are common mark-making strategies, similar viscosities in paint applications, and there is an ever present familiarity in the natural locomotion of fluids on the surfaces they paint on.  While Ritchie seems to be interested in corralling those fluids to work within his system, Piotrowski seems to let paint go where it wants, and her next move is a response to its uninhibited resting place.
I'm bringing him afoot. The line is tight but loosening. As the fish lays down, I pull him softly toward my free hand. In an instant, before I could grab him and at exactly the moment our eyes meet, he gives one last fit of terror and snaps free of the fly.
Fishing and painting are matters of timing in a changeable universe, and even when one returns to a place or moment of success, its doubtful that it will be under the exact conditions. Having broken the rhythm of a brilliant performance, it's possible to never go back at all, and one shouldn't go back–forward is the only worthwhile direction. The next hole upstream holds a trophy too, and its there that Piotrowski seems to be constantly aiming.
Life is a dangerous and unmanageable mess, but somehow these paintings have achieved a different description. Piotrowski's description of life and linear time, is something much more approachable. Catchable even. As life runs over and through her, Piotrowski stands in the river waving a stick, trying to catch the catchable and upon success, immediately releases it back into the water for the next fisherman to stumble upon.
---
Guest post by A.Martinez
Kate Ruggeri is a Chicago-based artist, DJ, and curator who has shown at Roots & Culture (Chicago), Green Gallery East (Milwaukee), Western Exhibitions (Chicago), and Important Projects (Oakland). She is one of those people who exudes a humble cool, yet is enthusiastic about all she's committed to, and excited about life and the people and things in it. After a handful of years of staying in touch from afar, I wanted to connect more closely to ask Kate some questions about her life and her work before she moves to New Haven in July to pursue her MFA at Yale.
A.Martinez: Were art and making art important to you from a young age?
Kate Ruggeri: Oh, yeah. Totally. My parents were always really encouraging. In elementary school I started taking drawing classes outside of school. I won a few poster contests. I used to do this thing every year called The Olympics of The Visual Arts, which is a New York State program. Pretty much you assemble a team, work on a year long project, and then compete against other teams. When I got a little older I got really into dark room photography. You know, carrying a camera around all the time and developing film in your bathroom. My mom and I took figure drawing classes together. A lot of colleges have art classes for kids during the summer, so I was always doing that too.
Martinez: How long have you kept a journal? And what does this practice of journaling do for you and your art practice?
Ruggeri: Since elementary school. I think my first one has a little lock on it. I never really stopped. It's actually super important, to clear your head, to drain it. I try to write every day. I feel very scattered if I don't. For art making, it's good for me to work through ideas and to understand impulses I have. Often I make something and I'm not sure why I made that decision or was drawn to that form. Writing brings everything to the surface. It brings clarity. Studio work is one way of thinking and writing is how I detangle everything. Not just artwise, but life wise. It's all the same, of course.
Martinez: How long have you had your own studio space? What does it look like?
Ruggeri: After school I had a tiny studio in a building across from Moonshine on Division. It's been torn down since. I've been in the spot I'm at now for a little over a year. It's a co-op at Damen and Fulton. I moved in there after my old spot on Elston burned down. We have an entire floor that is divided amongst us. My studio's a mess. I see other people's studios sometimes, and they have a turntable and little plants and it's very cozy. My place is like a construction zone. I like that better. It lets me focus on the work.
Martinez: What is a typical day in the studio like for you?
Ruggeri: Nights are better. I like working when no one is around. You can play music loud. I believe in a witching hour. It really depends, though. I usually am working on one sculpture and 4-5 paintings at the same time. If I just finished something big or just installed a show, I draw and watch movies at home. I don't really have a routine. Ben Medansky once described his ceramic studio as being around a million crying babies. That's how I feel in there. I work a lot in series, so I just treat 6 pieces at the same time, and then have some experiments going. Right now I have some exercise balls I've been sort of doodling on. Then I'll carve on these wood paintings until my hand hurts. Then I'll cut some wood shapes out to paint. Or dump plaster on something. It's a mix of working on very planned pieces and experiments. Everything always changes though.
Martinez: How do you begin a painting?
Ruggeri: Putting something down, anything! I break it in. I try not to think about it too much and just get the ball rolling. Usually it's a good color.
Martinez: You work in both 2D and 3D- how does a piece become one or the other?
Ruggeri: When I was in school I used to trip myself up with that question. I can say now that they're all paintings. I'm a painter that has sculptural impulses. I try to feed both ways of making. I try to be democratic about it. The larger sculptures can be exhausting to make, so there is often a down period of just painting and drawing before starting one again. Material, color, and mark making can drive a piece to be 3D or 2D. Finding a good object. Seeing a particularly inspiring show of painting or sculpture.
Martinez: What artists inspire you?
Ruggeri: Philip Guston, Mike Kelley, Matisse, Picasso, Claes Oldenberg, Cy Twombly, Franz West, Rauschenberg, Joan Miro, Giacometti, Sterling Ruby, William J. O'Brien, Jonathan Meese,  Mary Heilmann, Huma Bhabha, Gerhard Richter, Howard Fonda
Martinez: You have a pretty extensive record collection and DJ monthly at Danny's. Do you feel there's a connection between your music endeavors and your art-making?
Ruggeri: Yes. It feels very connected.
Martinez: What musicians inspire you?
Ruggeri: Parliament/Funkadelic, Dead Moon, Congos, Minutemen, Bad Brains, Robert Wyatt, Brian Eno, Miles Davis, Captain Beefheart, Sparks, Beach Boys, Lee Scratch Perry, Roxy Music, De La Soul, Neil Young, Patrick Cowley, Big Star
Martinez: What do you typically listen to while in the studio working?
Ruggeri: It's different every time, chosen for the day and mood. But Nas "Illmatic" gets played a lot. J.Dilla, Shuggie Otis, Pastor T.L. Barrett, Skip Spence, Velvet Underground. Mixes from friends. Jorge Ben, Milton Nascimento, Witch, Amanaz are all good…
Martinez: Do you do collaborations with other artists?
Ruggeri: Sure, I've done it a few times. Right now I'm working on a collaboration with Alex Valentine. He gave me these plates to draw on, and then we'll print them together on newsprint, and then use them to paper mache a sculpture. It's great because Alex is primarily a printmaker and I know barely anything about the process. I love the idea of making a sculpture made out of drawing. A perfect hybrid.
Martinez: In 2012, you co-curated a show, "Quarterly Site 11: Line-of-Site",  at Western Exhibitions. How did you land this opportunity? What was the experience like for you? And do you think you'll curate more shows in the future?
Ruggeri: Jamilee Polson Lacy asked me to do it. She's been doing these curatorial series for a while now, asking artists to curate a show at a different gallery. It was great. I got to work with Alicia Chester and Karolina Gnatowski. It's fun to be on the other side of things, and it gave me an opportunity to create a show entirely different from my practice. I really wanted to see a show of top notch performance work. Curating is a lot of work, but I would love to do it again. I think the trick is when you start to think, "Why isn't ___ kind of work being shown? Why hasn't someone curated a show about ____?" is when you should get on curating a show. I'm starting to feel that, but I would need the right time and space.
Martinez: You and I actually met while undergrads at the School of the Art Institute of Chicago. What is something that has stuck with you from your education and experience there about being a painter, artist, or person?
Ruggeri: Something that always stuck with me is remembering how I felt there: supported, invigorated, and that changing the world was definitely possible. It's good to protect that enthusiasm, even when you're working 9 to 5 and feel too tired to go to the studio.
Martinez: How has your experience at Ox-Bow School of Art as student and then again as a fellow affect your art? How long were you there total?
Ruggeri: Ox-Bow. Oh, man. I first went in 2007 as a student, and pretty much tried to take as many classes there as I could. If you got work study, you just had to pay for the credits, which I needed anyway. I went three consecutive Summers and one Winter. The Summer of 2010 was great, I took a class with Jose Lerma called "Expanded Painting, Expanded Sculpture." Not hard to see it was a big influence on me. I was really lucky to receive a Joan Mitchell Fellowship this past Fall and I was an artist-in-residence for 5 weeks. As a student, classes meet everyday. I also had to wake up every morning to clean toilets for work study. This time, as a resident, it was like being at a beautiful retreat. There were only other residents, I had my own studio, and I got to structure my own day. It was incredible.
Martinez: Congratulations on your acceptance to the MFA Painting program at Yale!  What are you most excited about in starting this program in the fall?
Ruggeri: Thanks! I'm most excited about a fresh start. And making better art.
Martinez: What do you think are some interesting things happening around the city of Chicago art-wise?
Ruggeri: Ryan Travis Christian has a show up at Western Exhibitions that I need to get over to. William J. O'Brien at the MCA. Isa Genzken at the MCA. Alexander Valentine has a show at 3433 coming up.
Martinez: What are you currently working on?
Ruggeri: I'm finishing up a re-make of a sculpture I lost in the fire. It's a harp. I just wrapped up these brooches I made for the Three Walls Gala coming up in June. Starting some new paintings. I keep thinking I need to stop because I'm moving, but I have some projects I want to do before I leave. I have an ongoing series of fake album covers, and I have a photo shoot coming up for the next installment.
Martinez: Your recent show, "Tropical Depression" at LVL3 just closed May 4th. Do you have any other openings coming up?
Ruggeri: No, thankfully! I'm moving to New Haven end of July. I'm trying to tie up loose ends.
Martinez: Is there a piece of advice, art related or not that you think of often?
Ruggeri: Say yes to all opportunities offered to you. Avoid excessive thinking about the past and future.

To find out more about Kate, her artwork and her upcoming shows go to http://kate-ruggeri.com/ 
All photos courtesy of the artist.
A.Martinez is a freelance art and music organizer living in Chicago, IL. She is currently working on a performing arts summer festival called The Living Loop, and will release her first book of poetry this summer.
Related articles across the web
---
Hey Chicago,
We are embarking upon a new little project. Over the next 80 or so weeks we are going to do a series of micro broadcast studio interviews with the local heros that we have some how forgotten or over sited in our slapdash and ramshackle scheduling.
That's right, I said we are going to be live on the radio – boom – step back. Minds blown. But sadly, only for the few blocks around the interviewed artists studio. How it will work is, a few days before the broadcast we will let you know roughly where and roughly when we are going to do the chat. Then we will rock it out, if you are interested show up in the neighborhood with a radio and find us. We will, of course, archive the conversation and release it at our leisure some time in the near-ish future.
We are going to get started Monday around 8:30 pm in Albany Park near Lawrence and Kimball with Carl Baratta and Oli Watt. I'm pretty sure we are going to rock 91.1 fm. (#neverforget) It is going to be magic.
As we move forward with micro broad casting chicago art or the MBCCA project we need a little help from you. Here is how…
We need to figure out our initial list of the people whose contributions to our art history or the Chicago arting life have been so big that it is embarrassing that we have not already had them on the show. Â We have been compiling a list (which I have carved into my studio wall) but it doesn't feel complete.
We have a lot of the obvious people Jessica Stockholder, Michael Rakowitz, Jeanne Dunning, Dan Peterman, Barbara Rossi, Phil Hanson, David Hartt, Karl Wirsum, John Sparagana, Susanne Doremus, Gladys Nilsson, Doug Ischar, Kay Rosen, Phyllis Bramson, Jim Nutt… I could go on, possibly forever, but what we would like to know is, who do you think it is important to get on the record? Who do you think that it is tragic and disappointing that we have not already rocked the mic with? To that end, I am enabling comments again, but just for this specific post, in the hopes that we collectively can produce a list which reflects the gaps in Bad at Sports audio production and archive. Â That being said, I'm reserving the right to delete any comment I want for any minor infraction upon human decency.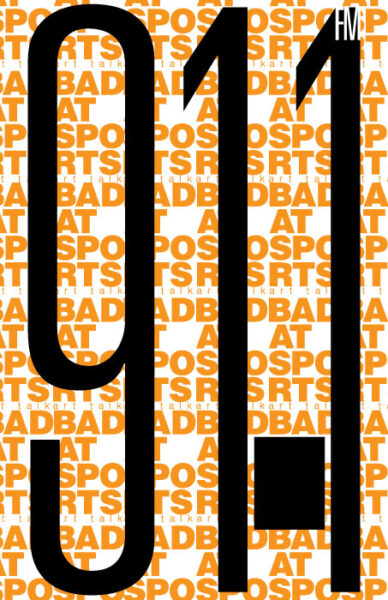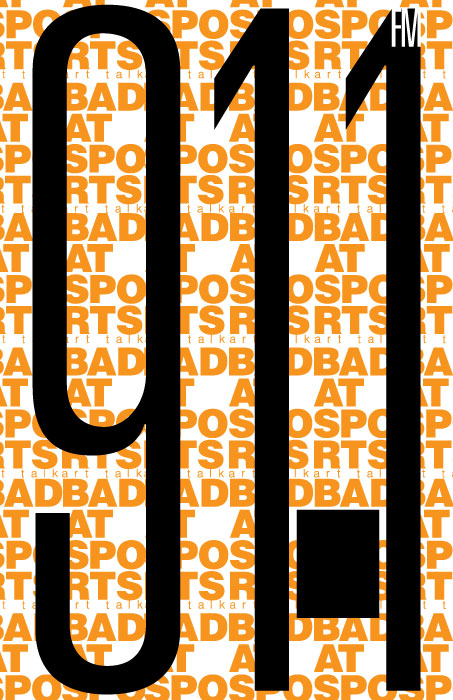 ---
By Kevin Blake
Abstract painting is coming off the walls. It is evolving. Zoe Nelson talks with Bad at Sports about her engagement and participation in the evolution of abstraction, which appears in her work, to be a deconstruction of traditional painting parameters. Through a physical dismantling of the images' supports, Nelson blurs the boundaries between painting and sculpture, creating perpetually shifting spatial dynamics.
Kevin Blake: Chicago artist Sophia Leiby recently turned me onto an essay in the Brooklyn Rail, Worlds With Us by Katy Siegel, in which she suggests, "In terms of art, unthinking the opposition between representation and abstraction is particularly vital to understanding art objects and practices afresh." I'm wondering how you have arrived at abstraction. It seems to me that artists arrive at abstraction out of some sort of necessity that is the resultant of a struggle with conceptual as well as formal frameworks. As I was looking through your archives on your website, I could see a departure from representation, and it occurred to me that this was a relatively common evolution for abstract painters. Abstraction does not seem like something you just set out to do one day. I'm wondering if abstraction, for you, has been a product or a solution to struggling with the idea of representation and abstraction as polar opposites.
Zoe Nelson: When I started grad school at Columbia University in 2007, I was working on a series of portraits of friends with their demons. Imagining what my friends' (and my own) demons might look like if they were externalized allowed me to begin to think about the entire space of the canvas as a loaded psychological space, with all parts of the canvas (foreground, background, demon, person etc) having the potential to be equally descriptive of the psychological state of the person. It was at this point that a shift occurred and I started to become more interested in the potential of the "background" or psychological space around the person than in the portrait. As a challenge to myself, I decided to try to remove the figure from the work, while continuing to make an interesting painting. I'd say that my first conscious plunge into abstraction occurred with this initial act of negation–the negation of the figure. Absence and negation continue to be strong conceptual and formal frameworks for my work, as you can see in my current body of cut-out paintings. What is cut-out or not depicted in my work is often defined by- and defines- the form and content of the painting.
Going back to your Katy Siegel quote, I would agree on the importance of deconstructing a binary understanding of abstraction and representation in painting. I arrived at abstraction through representation, and in some ways one could say that I am currently working through abstraction to arrive at a type of active, moving representation: a representation of liminal psychological spaces and shifting states of being.
KB: Literally cutting sections out of the painting seems like an almost radical action against representation–in the sense of negating recognizable imagery–and simultaneously, it might be seen as a way of evoking a discussion about the state of being represented. Opening the canvas to view the guts of a painting, so to speak, allows the viewer to look past the painted surface and into the physical space behind it, calling attention to its objecthood. In your recent show at Western Exhibitions, some of the paintings protrude from the wall rather than hanging flush on it, further interrupting the spatial dynamic while creating a dialogue with it. Can you talk about the paintings existing in the third dimension and how do these issues perpetuate this idea about abstraction and representation being more of a consequence of one another rather than visually articulated opposites?
ZN: As I cut into the canvas, I uncover parts of the stretcher bar support, which inevitably opens up a whole chain of questions regarding the relationship between support, canvas and the physical space behind and around the paintings. Each painting deals with this relationship in a different way, I believe, and the double-sided paintings evolved as a natural extension of the work becoming more sculptural. When the frame is exposed, all of the sudden there are edges and different physical planes to consider, and the next logical step was to consider the "back" of the painting as well. Through privileging all sides of the painting, I hope to destabilize the hierarchy of front over back, and hanging the work perpendicular to the wall is a playful invitation for the viewer to walk around the paintings and take part in this process.
The paintings and installation at Western look completely different depending on where you stand in the room, and these shifting states are integral to the form and content of the series. If multiple people are in the room, you might see a hand or head or shoulder through the cuts in a painting, and these people (or body parts) momentarily become a part of the work as well. Blurring the lines between artist, painting, and viewer in this way is conceptually exciting for me, and I think circles back around to how the current work still references back to my initial interests in representing the body and psychological states of being, albeit in a performative way, and while operating within a realm of abstraction.
KB: The first time you cut a painting, was it due to what you perceived to be a mistake? Looking at the evolution of your work, I sense a strong influence of painter Amy Sillman whose work seems to depend on the occurrence of mistakes and even more so on the corrective production emerging from those mistakes. Does your work engage with that dialogue?
ZN: Whenever I move to a new location, or even a new studio, I find that my practice often shifts with the move. After graduate school, I spent a year working on a series of process paintings about the idea of unwinding. It wasn't until a year later, when I moved to Chicago, that I was able to take the project a step further and actually start to undo the surface of the painting through cutting into the canvas.
Although my initial cuts into the canvas were not exactly a mistake, they did stem from a place of anxiety and fear. When I moved to Chicago in 2010, I didn't know the city at all, barely knew the art community, and only had a couple of names of friends of friends to contact. Everything around me seemed unstable, unknown and overwhelming that year, and the studio was the one place that I was able to channel all of that anxiety and fear into artistic risk-taking.
I worked with Amy Sillman in grad school, and she continues to be a huge influence for me–both her work and in the smart discourse that she engages in around her practice and painting. I've noticed in my own practice that if I have an idea for a painting, and I execute that idea really quickly, the work often doesn't hold up a few days later. I think this failure ties back to the importance of the mistake: perhaps the reason that these paintings often don't hold up, is because that struggle–of making, identifying, and working-through the mistake–hasn't yet occurred. When the work falls short like that, there is often a part of the painting that has seduced me, and it's only through literally cutting out or removing the seductive part that I am able to rework the painting as a whole, rather than as a showcase for one special element.
I think that the importance of the mistake also ties into the importance of feeling and intuition. Amy Sillman has an awesome zine, the O-G v3, in which she challenges the hierarchy of mind over body when discussing and making paintings. At the end of the zine, Amy advocates for the conceptual possibilities of painting specifically through "the radical merging of mind and body!" While it is often easier to talk about formal or conceptual concerns in painting rather than trying to find a smart way to talk about intuition, I am of the mindset that the two are not mutually exclusive. In my practice, intuition, feeling, mistakes, and elusiveness are just as important to the process of painting as the formal painterly concerns that I am also responding to.
KB: When I listen to other artists talk about their work, I always look for a takeaway-something useful to apply to my own practice or in this case regurgitate as a means of preserving the idea in my frontal lobe. I recently listened to artist Cesare Pietroiusti speak in Boston, and of the many things I retained from his talk, he said something profound that resonates in relation to our conversation. He said, "when there is discomfort, fear, and anxiety-go there." It seems you have intuitively done just that and this impulse has yielded some positive results. Have you been able to abandon these themes as you have gotten settled into Chicago and more so into the community? Or do they continue to be the driving force of your work?
ZN: Anxiety and discomfort continue to be strong themes in my work, though the driving force (or one driving force–there are definitely many) has become the work itself. I have grown to love living and working in Chicago, and have met fantastic artists and worked with great galleries here, such as Roots & Culture, Lloyd Dobler, and most recently Western Exhibitions. I think that anxiety, fear, and crisis are all incredibly powerful emotions (or psychological states), and they hold an equally powerful potential for risk-taking in an art practice. That said, I also think that it can be hard to issue rigor and restraint in a place of real anxiety or crisis, as everything has such urgency and there is a lack of control. Thankfully, I am more settled now and I find that the work is organically building on itself. Each painting opens up a new set of questions and formal challenges, which lead to new decisions and new paintings. Right now I am in the exciting place where I have a number of ideas for new paintings and specific installations, and am juggling these different trajectories in my practice. I am able to continue to explore themes of anxiety and crisis while mitigating those states with humor, play, and pleasure in the work. Of course waves of anxiety, failure, and fear play a part in this process, and no matter how thoroughly I conceptualize a painting before I start it, the beginning almost always feels like a shot in the dark.
KB: The end result being a complete departure from the pre-conceptualized form makes me think about conflicting loyalties. You have loyalties to your methods which allow all the nuances and intuitive moments to take place within the process of making a painting, and being loyal to yourself in these allowances is an important if not essential part of your practice. However, you also have a loyalty to what you might still do, or what the painting might still become, which always seems to be connected to the pre-conceptualized form. How do you negotiate conflicting loyalties in this sense? Are your sketches or ideas of a final product just a jumping point or do you struggle to maintain those forms throughout the process of making a painting?
ZN: When I start a new painting, I usually try to either identify a psychological state, or a feeling attached to a specific moment, that I want to articulate. I then respond to this initial idea by imposing a set of formal parameters on the work, which also define the subject matter. For example, the painting "Skype Breakdown" started with an idea to make a painting about frustration, blocked communication, and distortion. I made the painting (and most of the work up at Western) this past fall, while I was at a wonderful six-week residency called the Lighthouse Works. The residency was on a small island off of NY with spotty internet connection, and after looking at my partner's frozen and pixilated face on the computer screen for the umpteenth time, I decided to channel my frustration (and objective interest in the abstracted image on my screen) into a painting. Using the idea of arrested communication and distortion as a starting off point, I began the painting by first making mask-like cuts into the top layer of canvas. Any discernible figure or face is cut-out and totally abstracted, and this act of negation also becomes subject matter.  Circling back to you initial question about juggling pre-conceived concepts with method and intuition, I'd say that I try to stay true to the initial motivation and abstract idea behind a painting, while being open to chance, intuition, and the unknown in the process of making a painting.
KB: Speaking of making new paintings, what are you currently working on, and do you have any upcoming exhibitions we should know about?
ZN: I am working on a few different projects at the moment, including a nascent but exciting collaborative project with a composer, and paintings for a couple of installation ideas. Just a few days ago I was asked to take part in an artists lecture series called "Artists Now" at the University of Wisconsin-Milwaukee next spring, which should be a lot of fun, and I am working on an exhibition proposal for the fall of 2014 at the moment. Having the show at Western has allowed me to take some time to reflect on the work, and see the paintings in a different context. I am particularly excited to hole-up in my studio as the show comes to a close, and make some new work!
---