By 1979, Tom Marioni had been gathering with friends, drinking beer, and calling it art for almost a decade. It began in 1970 when Marioni invited friends to the Oakland Musem of Art on a Monday, the day it was closed, to hang out and drink beer. The gathering's detritus became the art for the museum-going public to experience. Marioni called it The Act of Drinking Beer With Friends is the Highest Form of Art, and began hosting nights of beer drinking at his studio and at his Museum of Conceptual Art. In the wake of countless bottles and hangovers, the work finally made an appearance at SFMoMA in 1979. It was recently reinstalled there for the museum's exhibition The Art of Participation.
This iteration of The Act of Drinking Beer took shape as a seventies-era fridge stocked with free beer, a framed poster from Marioni's Museum of Conceptual Art, and a sturdy wood shelf mounted on the wall that displayed 200 bottles of Anchor Steam Beer. A bare lightbulb hanging from the ceiling seems to me to represent Marioni's "eureka moment" realization that the act of drinking beer with friends, an experience common to so many local art scenes, could become the art itself. The beer served was certainly appropriate for the venue—Anchor Steam Beer has been brewed in San Francisco for over a hundred years, perhaps the best known of a category of beer called California Common. It's something of an anomaly, as most beer is sorted into one of two categories: warm-fermented ale or cool-fermented lager. California Common Beer blurs these categories. West Coast brewers in the late nineteenth century brewed lager yeast warm to produce a beer that retains characteristics of both ale and lager. The result is something of a hybrid, an experiment by necessity that flouts traditional wisdom and tastes good anyway.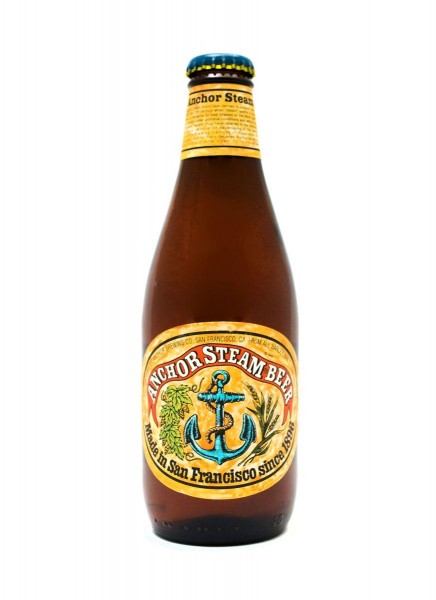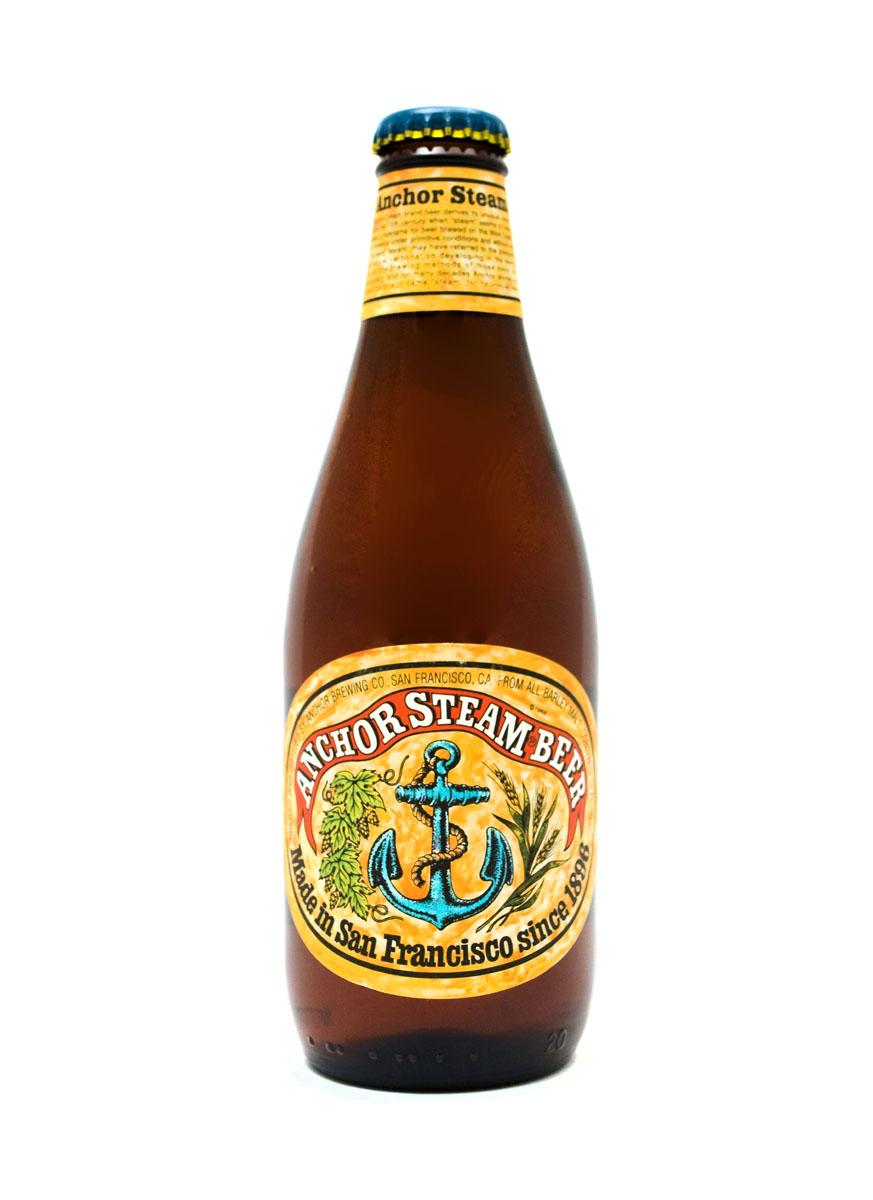 Anchor also holds an important place in the history of craft beer. After the second World War, the American beer market was dominated (as it still is) by large breweries like Miller and Anheuser-Busch. While the Anchor Brewery in San Francisco held on after the war, it did so by producing low-quality beer. Fritz Maytag III, heir to the Maytag fortune, bought the brewery in 1965 and restored it to its former glory by slowing things down and making smaller quantities of high-quality beer. It was artful, experimental, and historically conscious—all hallmarks of craft brewing today. Craft beer categories are even more well-defined than categories in art. With precisely measured qualities like alcohol-by-volume, international bitterness units, and specific gravity I could describe a Pilsner in a few lines. Art Brut would likely take a few paragraphs. But craft beer also opens itself to radical mistreatments of its established standards, allowing for the birth of new hybrid categories like California Common.
By refusing categories, The Act of Drinking Beer allowed the social form of beer drinking to exist as an artwork in its own right. Since Marioni's first bottle was cracked open, a slew of artists have made artwork that takes shape around shared food and beverage. But Marioni's expansion of art's categorical dimensions to include social gatherings is not the most interesting thing about him. The impulse to disregard categories without permission, abandoning the urge to patrol boundaries, is what truly opens up new productive avenues for artmaking. Only this kind of free-wheeling experimentation can keep art, and brewing, vital.
Over the next few weeks, I'll be conducting and posting interviews with artists that brew to try and find out what skills, qualities, and perpsectives they bring to bear on beer. I suspect that most of them brew not to plant the flag of art on the shores of beer, but to explore untapped potentials in making a beverage they've been led to for reasons as varied as the refrigerated stock of a craft beer store. Just as a lager yeast and an ale-style fermentation can combine to make a beer that happily exists as both ale and lager, so too can artists and brewers disregard time-worn categories and embrace the possibilities of being two things at once. That beer can be art shouldn't surprise us. The myriad things that artists can do with beer should.
---
Audio clip: Adobe Flash Player (version 9 or above) is required to play this audio clip. Download the latest version here. You also need to have JavaScript enabled in your browser.

download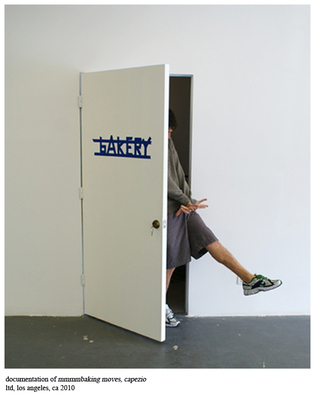 This week: San Francisco checks in with a discussion with Aaron GM and Ginger Wolfe-Suarez
In this episode Art Practical contributors Zachary Royer Scholz, Elyse Mallouk, and Patricia Maloney speak with artists Aaron GM and Ginger Wolfe-Suarez. This was one of several conversations held over the weekend of the fair as part of "In and Out of Context: Artists Define the Space between San Francisco and Los Angeles," a program that invited artists to consider the two cities as a continuously evolving constellation of dialogues, shared interests, and overlapping approaches. An abridged transcript of the conversation can be read on Art Practical.
Aaron GM lives and works in Los Angeles. He studied at both San Francisco Art Institute and UCLA. Recently he exhibited a solo presentation at the NADA Art fair in Miami Beach (2010). Other Recent solo exhibitions include capezio (2010) at ltd los angeles, Timeshares (2009) at Parker Jones Gallery in Los Angeles, and sales calls(2008) at Blanket Gallery in Vancouver. Aaron has shown in group exhibitions both nationally and internationally.
Ginger Wolfe-Suarez is an emerging conceptual artist, writer, and theorist. Her work often takes the form of large-scale sculpture, exploring the psychology of built space. Both an exploration into the experiential phenomena of body-object relationships, and a questioning of the material nature of sculpture interweave concepts of memory and process. Wolfe-Suarez teaches studio critique and art theory, and is currently Visiting Faculty in the graduate program at San Francisco Art Institute. Her writings on art criticism have been published internationally, and her artwork has been recently exhibited at Silverman Gallery, ltd Los Angeles, KUNSTRAUM AM SCHAUPLATZ in Vienna, Artist Curated Projects in Los Angeles, Mills Art Museum, Yerba Buena Center for the Arts, and High Desert Test Sites, among others. She studied at Goldsmiths College in London and later received her BFA from The School of the Art Institute of Chicago, and her MFA from the University of California at Berkeley. Wolfe-Suarez lives and works in Richmond, CA, where she raises her three-year-old son.
---
---
Audio clip: Adobe Flash Player (version 9 or above) is required to play this audio clip. Download the latest version here. You also need to have JavaScript enabled in your browser.

download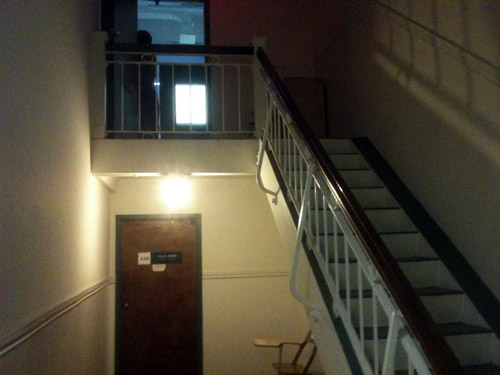 This week: Brian sits down with Ava Jancar and Eric Jones of Jancar Jones galley in San Francisco. They discuss their peculiar gallery space, what it is like to be a young art dealer after the financial meltdown, and the future of the contemporary art scene. Enjoy!
---
Audio clip: Adobe Flash Player (version 9 or above) is required to play this audio clip. Download the latest version here. You also need to have JavaScript enabled in your browser.
This week Brian sits down with Eleanor Hanson and Oliver Wise, the Oakland-based founders of The Present Group, who describe the project as "like a mutual fund that produces art instead of profits."; A quarterly art subscription project, The Present Group enables a community of subscribers to create a new avenue of support for contemporary artists.
They produce thought-provoking work in a variety of media, and each of the four annual limited editioned art works is paired with an essay contextualizing the edition.
Their goal is to engage art enthusiasts who never thought of themselves as art collectors and to introduce them to the experience and pleasures of owning contemporary art. This is the next installment of the collaboration between Art Practical and Bad At Sports.
An abridged transcript of this interview appears in AP Issue 13. http://www.artpractical.com
Image: David Horvitz. Hermosa Beach, CA, Issue 9, Winter 2009; viewmaster reel, viewer, and Somerset cotton rag paper card. Courtesy of The Present Group.
---