Richard Rezac has a wonderful exhibition up right now at Rhona Hoffman Gallery (through February 2, 2010). In addition, the Modern Wing of the Art Institute is currently displaying six Rezac sculptures (spanning the years 1985-2008) from its Collection — they'll be on view through early May. Rezac had a survey exhibition at the Gahlberg Gallery of the College of DuPage last year (the exhibition's catalogue, which contains an enlightening essay by James Yood, is available for download on the Gahlberg Gallery's website; just click on the link above to go there).
Richard generously agreed to answer a few questions about his latest works via email. I'm very grateful to him for taking the time to provide such illuminating and thoughtful responses.
You won the Rome Prize fellowship in 2006, which enabled you to travel to Italy to study Roman architecture in greater depth. To what extent did having a more sustained, daily interaction with Roman architecture impact your work?
That 11 month experience in Rome and in numerous parts of Italy has had a strong, and I trust, lasting effect, though because it was so substantive, I still do not know the extent of the influence. My purpose was to study the Baroque architecture of Francesco Borromini, whose 11 or so buildings are all in Rome. My approach in taking this in was naturally one of an artist, not an historian, though I certainly read what I could about his work and that of his immediate predecessors and those he influenced, especially Juvarra and Guarini in Turin.
The great pleasure was in seeing Borromini's architecture (and eventually a large group of drawings in Vienna) on a near weekly basis, allowing me to feel aspects of his accomplishment and study many details. I was also privileged, by the American Academy's offices, to gain entry to parts of his buildings normally off-limits.
The effect on my sculpture is not so clear to me, other than a continuation of some complexity – several materials or layers or juxtaposed forms within one work resulting in a, perhaps, more broad, gently argumentative, dynamic. In the long arc, though, of my sculptural language from the past 25 years, there has been an evolution from simple and concrete form to more extended, thin, linear and colored form, so the desire to be around Borromini's architecture was in some sense anticipated by my work before I went there.
Along with architecture, I often think of interior design when viewing your sculptures. Some of them, for me, bring to mind things as mundane as contemporary kitchen and bathroom fixtures! After coming home from viewing your show, the kitchen faucets, towel racks, and cabinet knobs in my house–the particular geometries of their placement and their relationship to my body–all of a sudden stood out for me. Even the old-fashioned diamond tile in my bathroom floor started to "dance" for me in new ways. Am I being overly-specific here, or do you yourself ever draw inspiration from commonplace domestic interiors?

There is certainly a resemblance to ornament, facets of interior design objects, furniture, and architectural detail, such as moldings, in my sculpture of the past 6-8 years. I attribute this mainly to geometric form – the basic language in which my sculpture originates. Perhaps most manufactured applied design objects rely on the ease of elemental, efficient geometric forms. So there is an overlap, to be sure, between the common domestic accessories often handled or those elements produced in multiples as in tile flooring and the appearance of some of my forms or combinations.
I consider most of my sculpture, and all of those that are untitled, to be abstract and they may only arrive at some suggestiveness or association to domestic elements when completed and then exist in our space. I have rarely begun a work with the intention of representing another existing form, if anything it is in pursuit of a persona or complex phenomena. I am most interested, in as much as is possible for me, in starting with nothing and finding a satisfying form or arrangement.
Welcome to a new monthly series, titled What You Should Have Noticed, in which I, Steve Ruiz, attempt to sum up the big and salient stories, articles, and arguments from the last four weeks.
1. CAA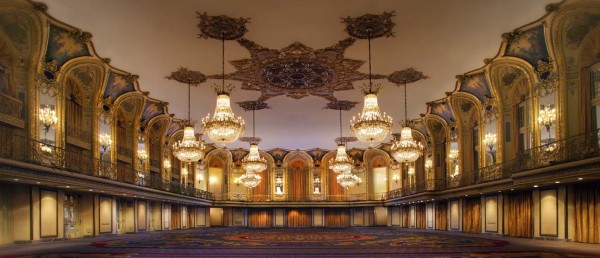 The College Art Association held its annual conference this month in Chicago. In addition to the expected crowds of star-eyed interviewees, hoping for that holy grail of decent employment in line with their education, qualification, and experience (but ready accept whatever is available), the conference saw several important speeches, such as Jessica Stockholder's keynote address, a bewildering array of simultaneous workshops, presentations, and poster-board sessions. Highlights include The Myth of Participation and the Growing Realities of Critical Exchange, which you can read about in Tara Plath's review at The Seen; and Exhibiting Socially Engaged Art: A Chicago Case Study, mentioned in a write up by Jason Foumberg for Artforum. You can also review the conference's awards here.
2. New Art Building at the Lab School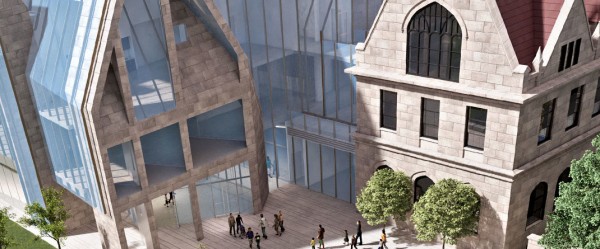 The children of Chicago's elites will have a new place to learn about theater, music, and the visual arts, as cultural power-couple George Lucas and Mellody Hobson plan to donate $25 million to the University of Chicago's Laboratory School. This last bump completes the funding process for the Gordon Parks Arts Hall, named for photographer and director Gordon Parks. (The couple also plans to donate an equal amount to Chicago's After School Matters, easing this author's class concerns.) You can read the tribune article here, or the school's press release for more. For buzz, check out the artist's renderings for the new building, which (tragically? neatly?) blend steel and glass with the Lab school's existing neo-gothic limestone.
3. Hudson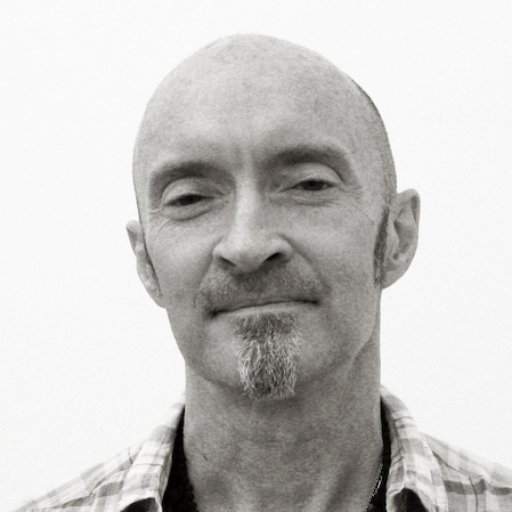 The art dealer Hudson, director of Feature, Inc., suddenly passed away this month at the age of 63. The gallery has held many ties with Chicago's art community since its founding in 1984; it currently represents Richard Rezac, Todd Chilton, and Nathaniel Robinson. Hudson is remembered in an article written here, in GalleristNY, as well as in the New York Times, Artspace, and Art in America.
4. Artist Royalties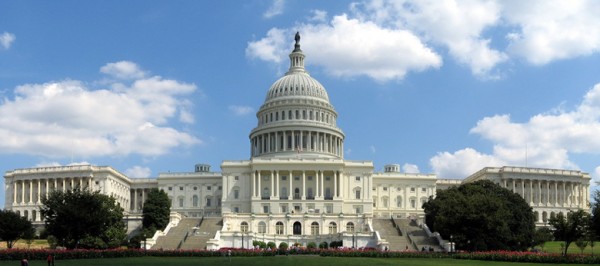 In 1971, Seth Siegelaub drafted a contract for artists with provisions to protect their financial interests and intellectual rights. The contract was as much a conceptual gesture as a piece of legal writing, and the Artist's Contract went on to join the canon of art-documents from the 20th century's most heated decades. Ever since, any conversation about art and law has included the subject of the droit de suite, or an artist's rights to the profits from the resale of their works – particularly at auction, where prices can soar far beyond what an artist made from an initial private or gallery sale. This month, US Senators Tammy Baldwin (D-WI) and Ed Markey (D-MA) joined with representative Jerrold Nadler (D-NY) to draft and introduce The American Royalties, Too (ART) Act of 2014, a bill designed to guarantee artist's a 7% royalty on works sold at auction for more than $10,000. You can read Hyperallergic's coverage here.
5. Whitney Rumblings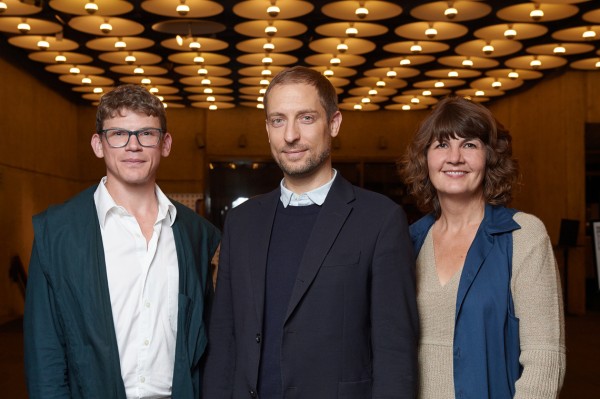 Of course, the main activity this month has been related to the Whitney Biennial. While we still have a few days before the Whitney opens for private and public view on March 7th, the rumble of rumor and whisper has already been rising for weeks here in Chicago. Most recently, the New York Times has published its 2014 Guide to the Whitney Biennial, as well as featuring Anthony Elms in the article, Choose the Artists, Ignore the Critics. Meanwhile, Artnet discusses the Biennial with Elms and Michelle Grabner, in their article, Curating the Whitney Biennial is Not a Fair and Equitable Process. The local conversation is all about Chicago's seventeen artists represented in the sprawling exhibition – Elijah Burgher! Carol Jackson! Marc Fischer! Dawood Bay! Catherine Sullivan! Pedro Vélez! – and the effect such an exhibition may have on our fair city's art scene. We'll check back next month to see how much of a coup this all actually turned out to be.
And that's all from me, and for February. I'll keep a closer ear to the ground next month, and you can be sure if there's something worth noticing, I'll take care to share it here.
Steve Ruiz is an artist and writer living in Chicago. He received his MFA from The University of Chicago in 2013, currently writes for Daily Serving, and administrates the Chicago visual arts calendar, The Visualist.
Guest Post by Robert Burnier
I once had a penchant for the obsessive, compulsive traditions of certain Dutch painters like Paulus Potter, Adriaen van der Spelt and Jan van Cappelle, so whenever I was in an encyclopedic museum, I would always make my way toward those galleries. Afterward, however, I would go straight to where the modern art was and stand in front of a Cy Twombly or some other such work. In 2002 the Gerhard Richter retrospective, 40 Years of Painting, came to the Art Institute of Chicago. One salient aspect of this was to witness a similar kind of range more or less present in one artist; one who held up Reading, Grey Mirror, and 256 Colors as artistic statements of the same order. I see these memories as analogies for the way I continue to approach works of art, especially – though in a limited sense – when it comes to issues of craft.
When I look at art today, I would say my taste still involves a dialectic similar to my earlier favorites. I can appreciate artists like Roxy Paine and Mari Eastman, Nicole Eisenman and Richard Rezac. With Paine, we have someone creating sculptures by a distribution of expertise among multiple minds through the idiosyncratic use of high-tech machines and processes, producing objects of a mysterious and alien ilk. Eastman at once shows her knowledge and understanding of painting while withholding some obvious trappings of virtuosity in favor of revelations of a seemingly more personal sort, which are then often further complicated by some borrowed subject or motif. Eisenman is commingling many ideas of painting together with the understanding of craft necessary to put them in conversation with each other, adapting them to her subjects. Rezac makes highly resolved and technological constructions that are nonetheless very slippery to our perception and suggestive through their careful arrangement. In all cases, the individual hand moves, sometimes at a distance, even if only to turn the knobs so that the machine overruns its target output.
Of course, for many reasons – call it the loss of center [1], bourgeois democratic/market forces, technology, transportation, and communication – our era is splintered artistically. It is apparent in public collections where many eras are present at once, creating a stacking effect of latent visual experience. Our perception of space and time are compressed. It isn't really possible to point out what to do or not to do because no one person can index all of it. Technology is of little help. It only reminds us of our difficulties even more. But we can reach into this heap of history, as I like to think Robert Smithson might have put it, for resources, touchstones, and questions unanswered. [2] We can look for ways and means that might yield new meanings or recuperate older ones in new ways. Not only does this apply to the mode and medium, but also to the work, effort, or craft involved.
The degree of facility is linked to the effectiveness of the artistic statement, with the critical caveat that it is for something and not self-reflexive. I often find myself saying to people that craft is only craftiness when facture overtakes ethos. If you paint the sides of a stretched canvas because you want it to look "finished" the painted side remains a superficial garnish; if the painted side reinforces the conceptual aspect of the object, it can serve the work intrinsically. We could get into semantic questions of intent here, but I think if you really know it and mean it, it has a greater chance of seeming to be true, or we have a greater chance of becoming involved in the work on a deeper level. A specific example would be the vast difference between Karthik Pandian's recently exhibited sculpture at Rhona Hoffman, I Am My Own Wife – a highly polished construction in steel and industrial-grade color – and any number of sculptures that are often sprinkled along Navy Pier or grace the ad pages of a major art magazine, aspiring to a similar finish. Pandian's work perhaps takes us a distance toward examining issues of gender while the other sculptures too often don't take us anywhere in particular beyond the awareness of their often massive size and tired formalism. Another successful example would be the work of an artist like Alicja Kwade, whose phenomenological sculptures and installations can cause a shift in our basic understanding of the elements of experience. Works such as Andere Bedingung (Aggregatzustand 6), 2009, toy with assumptions of objecthood in terms of weight, substantiality and permanence. So what I'm saying is that with our incredibly intense media saturation, I turn to usage before material specificity for what I get out of seeing a work of art. I want to try to not judge a book by its cover; to allow the myriad options to play out; to remain variable, accepting and catholic in my assumptions about material and craft. Here I am reclaiming the non-religious sense of having a catholic attitude, which simply means to be open to a wide range of tastes.
Alternatively, the work of an artist can be de-skilled either in the sense that he does not concern himself personally with technique or high craft, or he transfers it to an outside technician (or even leaves it to chance). But if this becomes too dominant to the meaning of the work, then the lack of facility or personal involvement may fall into banality. For example, I've found it hard to pay attention to very much "glitch" art. This has surprised me somewhat since it seems to go against my own extensive background in computer science. However, much of it seems to stop at the glitch itself, piling one glitch on top of another. Aside from the sense that I think glitch art may be claiming a little too much for itself anyway [3], I just can't be too impressed by the mere malfunction of a computer, even though I'm fully aware of the potential auratic qualities of such failure. [4] It just stops too soon. That said, I really liked Christopher Meerdo's recent show at Document. What separates his work is not only a very careful selection of some of the more uncanny images and a spectacular transformation into the medium of print, but also the stress laid on the origin and the process of exhuming source images: discarded vacation photos on found memory cards. Meerdo's exhibition really reflects on the medium, its relationship to our human lives, and our capacity for recording and forgetting through the usage and leveraging of those very same auratic tendencies of malfunction. I draw a similar conclusion about the difference between some of the stacking and leaning of things we are seeing today [5], and the output of an artist like Felix Gonzales-Torres, some of whose best work relies utterly on stacking and piling for it to function.
So there is a kind of competence I see that has to do with an investigation within an artistic practice and through the artist's level of experience with it. This most often involves objects and materials, though it could also be bodies and spaces or something else. The artist grows a micro history of production, a personal academy and repertoire. The depth of the work emerges from the depth of the investigation and the shape of the path walked by the artist. She can come to know quite well what she is doing, while avoiding the twin pitfalls of connoisseurship and disinterestedness. This is about studio time. [6] The artist may find it better to reflect on what she did rather than what she thought, or accept what happened over what she intended. This doesn't involve the rejection of purpose, but the acceptance of things that come into view. For example, looking at R.H. Quaytman's work for the first time a few years ago, I felt initially that the pieces functioned like works of art as essays in the sense put forward by Art & Language [7]. But even as they projected a kind of ultra-intellectual air they had a resolve and physical quality that drew me in. From subsequent lectures and artist talks, I learned about the experiential origins of much of Quaytman's work. [8]  A frequent refrain I remember in her talks went something like "… after I did that, of course I thought it worked because…" In the end, the body of work she's constructing is one of thoughts and contexts, but also of trials, errors and discoveries.
What kinds of experts do these artists become? All of them possess expertise in the statements they want to make in relation to their own concerns and toward the historical context. But in the same way that de-skilling was a term borrowed from economics, I want to say that these works have been "right-sized" in their respective areas of making. Pretty close to the mark from my perspective is a relatively recent piece by Claire Bishop where she says, "Some will say that skills no longer matter, that the artist today should be fully 'spectralized,' because the truly emancipatory position is to erase the line between professional and amateur. […] That said, the best forms of de-skilling evoke in the viewer something of this spectralization: Such works generate in us not a disdainful 'I could do that' but the generative energy of 'I want to do that!'" [9] If I ever get that kind of energy from viewers of my work, then I have probably done my job.
NOTES:
[1] I saw this phrase in Christine Mehring, Jeanne Anne Nugent, Jon L. Seydl, Gerhard Richter: Early Work, 1951-1972. J. Paul Getty Museum, 2010.
[2] http://www.robertsmithson.com/drawings/heap_p104_300.htm
[3] What I mean here is that glitch is a breakdown, a misuse or a chance process. Not a new idea, though consistent with a medium specific conversation, the fact that it is a computer malfunction makes it a contemporary concern. It's a concern that is, of course, worth examining, but the question is how to approach it.
[4] See, for example, Martin Dixon, The Horror of Disconnection: The Auratic in Technological Malfunction, Transformations Journal, http://www.transformationsjournal.org/journal/issue_15/article_06.shtml
[5] Robin Dluzen, https://twitter.com/RobinDluzen/status/324255330265595904/photo/1
[6] For a fascinating read on contemporary issues regarding studio time and its effect on the production of art, try Dieter Roelstraete, The Business: On The Unbearable Lightness of Art, http://www.e-flux.com/journal/the-business-on-the-unbearable-lightness-of-art/
[7] Such as in Charles Harrison, Conceptual Art and Painting: Further Essays on Art & Language, MIT Press, 2003.
[8] Society for Contemporary Art lecture, The Art Institute of Chicago, March 15, 2012 and The Opening Reception Artist talk at The Renaissance Society, January 6, 2013.
[9] http://www.brooklynrail.org/2011/12/art/unhappy-days-in-the-art-worldde-skilling-theater-re-skilling-performance
ROBERT BURNIER is an artist and writer who lives and works in Chicago. He is an MFA candidate in Painting and Drawing at The School of the Art Institute of Chicago and holds a B.S. in Computer Science from Shippensburg University of Pennsylvania. Recent exhibitions include The Horseless Carriage at Andrew Rafacz Gallery, Salon Zurcher at Galerie Zurcher, New York, the Evanston and Vicinity Biennial, curated by Shannon Stratton, and Some Dialogue, curated by Sarah Krepp and Doug Stapleton, at the Illinois State Museum, Chicago.
A graphic, editorial overview of art, artists, and visual art events, found in and around Chicago over the course of the preceding month. All artwork copyright original artists; all photography copyright Paul Germanos.
Mothergirl @ Happy Collaborationists / ACRE Residency
Above: Mothergirl, a performance art duo featuring Sophia Hamilton, foreground, and Katy Albert, background, working within wooden boxes.
Above: The Happy Collaborationists, Meredith Weber, left, and Anna Trier, right, hosting Mothergirl's "Two Women Do Three Things," on February 9, 2013.
Mothergirl
"Two Women Do Three Things"
February 9, 2013
Happy Collaborationists, in partnership with ACRE Residency
1254 N. Noble
Chicago, IL 60642
http://happycollaborationists.com/
Martin Creed @ MCA Chicago
Above: A 10 second exposure, hand-held, indicating the kinetic potential of Martin Creed's popular piece "MOTHERS."
Above: Visible in the museum lobby, background, are the geometric architectural paintings Work No. 798 (2007) and Work No. 1349 (2012).
Martin Creed
Work No. 1092, Work No. 1357 (MOTHERS)
Museum of Contemporary Art
MVDR Plaza – till May
220 E. Chicago Ave.
Chicago, IL 60611
http://www.mcachicago.org/
Chris Smith @ The Franklin
Above: Chris Smith's "Visitation Rites" art burn in progress on Februrary 9, 2013.
Above: Chelsea Culp and Ben Foch view Chris Smith's "The Visitor's Hours" within The Franklin, opening night.
Above: A gallery patron embraced by a neighborhood resident during the opening reception.
Christopher Smith
"The Visitor's Hours" and "Visitation Rites"
February 9 – 24, 2013
The Franklin
3522 W. Franklin Blvd
Chicago, IL
http://thefranklinoutdoor.tumblr.com/
Drawer's Drawing @ PEREGRINEPROGRAM
Above: Leslie Baum's "In the Forest," 2012, full work and detail.
"Drawer's Drawing"
February 3 – March 3, 2013
Julius Caesar and Peregrine Program
3311 W. Carroll Ave.
Chicago, IL 60624
Curated by Carrie Gundersdorf and Eric Lebofsky
Artwork by Leslie Baum, Avantika Bawa, Elijah Burgher, Lilli Carré, Chris Edwards, Anthony Elms, Richard Rezac, and Paul Schuette
http://lesliebaum.net/
Peculiar Poetics @ Design Cloud
Above: Kayl Parker's 60″ x 75″ photographic print on vinyl
Above: "Peculiar Poetics" curator Alysia Alex, opening night.
Kayl Parker
"Peculiar Poetics"
February 1 – 23, 2013
Design Cloud
118 N. Peoria, Suite 2N
Chicago, IL 60607
Curated by Alysia Alex
Artwork by Kayl Parker, Brea Souders, Stephanie Gonot, Bridget Collins, Mate Moro, Aron Filkey, Marthe Elise Stramrud, Sasha Kurmaz, and Sol Hashemi
http://kaylparker.com/
Plant Life @ Western Exhibitions
Above: Front to back, artwork by Heidi Norton, Scott Wolniak, and Tyson Reeder.
Above: "Plant Life" curator Geoffrey Todd Smith, opening night.
"Plant Life"
February 1 – March 9, 2013
Western Exhibitions
845 W. Washington Blvd.
Chicago, IL 60607
Curated by Geoffrey Todd Smith
Artwork by Chinatsu Ikeda, Eric Wert, Heidi Norton, Jonathan Gardener, Mindy Rose Schwartz, Scott Wolniak, and Tyson Reeder
http://www.westernexhibitions.com/
Shit is Real @ devening projects + editions
Above: "You Can't Win Them All" by Cody Hudson.
Above: Artwork by Aron Gent, as photographed during the opening reception at devening projects + editions, on February 3, 2013.
Above: Aron Gent at his own gallery, Document, photographed on February 1, 2013.
"Shit is Real"
February 3 – March 9, 2013
devening projects + editions
3039 W. Carroll,
Chicago, IL 60612
Artwork by Aron Gent, Carrie Gundersdorf, Cody Hudson, Sofia Leiby, Josh Reames and Cody Tumblin
http://deveningprojects.com/
Judith Geichman @ Carrie Secrist
Above: Gallery patrons view Judith Geichman's installation during the opening reception.
Above: Chicago writer and artist Erik Wenzel, bon vivant in the shadow of existential doubt, at Judith Geichman's opening reception on February 9, 2013.
Judith Geichman
"New Paintings and Works on Paper"
February 9 – March 30, 2013
Carrie Secrist Gallery
835 W. Washington Blvd.
Chicago, IL 60607
http://www.secristgallery.com/
Color Bind @ MCA
Above: Rudolf Stingel's oil painting "Untitled (after Sam)," 2006.
Above: Joel Shapiro, Untitled, 1971, foreground; Glenn Lingon "White #11," 1994, and Imi Knoebel, "Untitled (Black Painting)," 1990, background.
"Color Bind: The MCA Collection in Black and White,"
Organized by MCA Curator Naomi Beckwith
November 10, 2012 – April 28, 2013
The Museum of Contemporary Art of Chicago
220 E. Chicago Avenue (MVDR Drive)
Chicago, IL 60611
http://www.mcachicago.org/
Mary Patten @ threewalls
Above: Mary Patten's "Schizo-Culture" performance live, February 9, 2013
Above: Dr. Darrell Moore as Michel Foucault in "Schizo-Culture" at threewalls.
Mary Patten: "PANEL"
January 11 – February 23, 2013
threewalls
119 N. Peoria #2c
Chicago, IL 60607
http://www.three-walls.org/
Sarah Hicks @ Thomas Robertello
Above: Ceramic artist Sarah Hicks greeting a guest at her opening reception on Friday, February 22, 2013.
Sarah Hicks
"Pop Garden!"
February 22 – April 6, 2013
Thomas Robertello Gallery
27 N. Morgan St.
Chicago, IL 60607
http://www.thomasrobertello.com/
Goshka Macuga @ MCA Chicago
Above: Goshka Macuga's "The Nature of the Beast" booked for a meeting, social dimension evident, on February 12, 2013.
Above: "Of what is, that it is; of what is not, that it is not," (panel 1).
"Goshka Macuga: Exhibit, A"
December 15, 2012 – April 7, 2013
Museum of Contemporary Art Chicago
220 E. Chicago Ave.
Chicago, IL 60611
http://www.mcachicago.org/
Luc Dratwa @ Kasia Kay
Above: Exterior window, looking in gallery from sidewalk, at night.
Luc Dratwa
"NY Tales"
February 22 – March 30
Kasia Kay Projects
215 N. Aberdeen St.
Chicago, IL 60607
http://www.kasiakaygallery.com/
Tom Costa and Christina McClelland @ Roxaboxen / ACRE Projects
Above: Christina McClelland, foreground, and Tom Costa, background.
Above: Christina McClelland at the opening reception on February, 10, 2013.
Tom Costa & Christina McClelland
"After the After Party"
February 10, 2013
Roxaboxen Exhibitions in partnership with ACRE Projects
2130 W. 21st St.
Chicago, IL
http://christinamcclelland.com/
Gabriel Vormstein @ moniquemeloche
Gabriel Vormstein
"Tempus fungit – amor mannet"
February 1 – March 30, 2013
moniquemeloche gallery
2154 W Division St.
Chicago, IL 60622
http://moniquemeloche.com/
Johanna Billing @ Kavi Gupta
Johanna Billing
"I'm gonna live anyhow until I die"
February 9 – March 30, 2013
Kavi Gupta Gallery
835 W. Washington Blvd.
Chicago IL 60607
http://www.kavigupta.com/
Robert Burnier @ Andrew Rafacz
Above: Robert Burnier at his opening reception on February 9, 2013.
Robert Burnier
"The Horseless Carriage"
February 9 – March 30, 2013
Andrew Rafacz Gallery
835 W. Washington Blvd.
Chicago IL 60607
http://www.andrewrafacz.com/
Matt Nichols & Kristina Paabus @ ACRE Projects
Matt Nichols & Kristina Paabus
"The Jerks"
February 10 – 25, 2013
ACRE Projects
1913 W. 17th St.
Chicago, IL 60608
http://www.acreresidency.org/
Xavier Cha @ Aspect Ratio
Xavier Cha
"Hourglass"
February 9 – March 8, 2013
Aspect Ratio
119 N. Peoria St., Unit 3D
Chicago IL 60607
http://www.aspectratioprojects.com/
---
Paul Germanos: Born November 30, 1967, Cook County, Illinois. Immigrant grandparents, NYC. High school cross country numerals and track letter. Certified by the State of Illinois as a peace officer. Licensed by the City of Chicago as a taxi driver. Attended the School of the Art Institute 1987-1989. Studied the history of political philosophy with the students of Leo Strauss from 2000-2005. Phi Theta Kappa and Phi Kappa Phi. Motorcyclist.
As promised, I'm posting the longer transcript of my interview with Dan Devening that ran in edited form on art:21 blog this week.
Claudine Ise: What interests you about artist's multiples as an art form? Given your own focus on painting, how did you come to start a gallery that, in part, focuses on artist's multiples?
Dan Devening: I guess my interest in editions and multiples probably grew out of a few particular experiences. Foremost is my undergraduate focus in printmaking at the University of Nebraska. I was drawn to the printmakers because they seemed to operate in this cool zone between a kind of macho, working class culture and this incredibly anal technical virtuosity. Plus they seemed to have the most fun; working late into the night, printing complicated multi-color lithos and etchings… and getting little high on all those chemicals that we learned later would probably take years off our lives. The printmaking area was led by Thomas Majeski and Gary Day, two artists who realized that the medium would change dramatically as technology advanced (this was the late 70s by the way) and as a result continually brought in non-printmakers as visiting artists to force us to work the potential of the medium. As students, we would assist or print for these artists, many of whom forced us to solve all kinds of crazy technical problems that may or may not be possible on the press. We aimed to please and were driven by this intense need to prove our worth by handing over an exquisitely printed edition at the end of their visit. Because most of these artists were not printmakers limited by some preconceived technical standard, they approached the process in a very innovative way that forced us to continually search for solutions. The experience was amazing, but I very quickly realized that ultimately, the goal was to produce an "edition;" a suite of absolutely identical prints that were flawlessly produced. My art practice at the time—both in printmaking and painting—had very little in common with the obsessive culture of technical perfection that was the normal standard in that discipline. I was more interested in using the medium to make work that was much more experimental—using the process to make monoprints, lithographs and relief prints had the same look and feel of my paintings…editioning those pieces was not so important. As a result, I went to grad school to study and make paintings and have yet to go back to making traditional prints.
About ten years ago, I started traveling regularly to Germany, Austria and the Netherlands. I have artist friends there who introduced me to a contemporary art culture that wasn't found only in the larger cities, but also seemed to be very important part of just about every small town. Little collectives of interested community members would form "Kunstvereins," open a small exhibition space and start showing contemporary art. These Kunstvereins could be large museum-like spaces or small rooms within other community cultural projects. In almost every case, these spaces show cutting edge contemporary projects and they inevitably feature editions of exhibiting artists. This is how I started getting interested in contemporary editions and multiples. In these spaces as well as in almost every museum featuring work by contemporary artists, an edition was produced to commemorate the exhibition and would be sold in the museum book store. I quickly became amazed at how affordable and unusual these multiples were. They were almost never a traditional print; instead you would unique photo-works, objects, digital media, video and just about any other medium that could possibly produce a multiple. As long as the work was in multiple form, it worked for this purpose and in most cases was under about $500 depending on the artist. I was immediately struck by this notion of highly accessible work by well established and emerging artists. I started going to museum stores to seek out the editions in their collections…and I started collecting them at the same time. I met several people who only collected editions and they hooked me up with this network of other collectors and sources. The list was incredible.
In 2002, I met a very ambitious young Dutch curator named Robert Meijer who started an edition project called En/Of (Dutch for "and/or") that paired visual artists with experimental sound artists. The end result of each edition was a double-sleeve album with a 12" vinyl record featuring the sound work on one side and the visual artwork on the other. Remarkably, he was able to convince artists like Olafur Eliasson, Doug Aitken, Martin Boyce, Tobias Rehberger, Jonathan Monk, Thomas Demand, Monika Bonvincini, Simon Starling, Sarah Morris, Liam Gillick and many other very important contemporary artists to participate. Each En/Off edition was produced in 100 impressions and sold initially for about $125 each (now they're up to about $200). For a collector to have access to an artwork by any of these artists for $125 was amazing and I quickly became a subscriber to the project. I was also invited, as an artist to produce one of these editions with a Chicago improv band called Tiny Hairs as my musical partner. Robert Meijer now has a gallery in Berlin called Luettgenmeijer; he still produces the En/Of series but they aren't coming out as often as his collectors would like.
The En/Of edition series probably spurred my passion for editions more than anything else. I appreciated the experimental nature of the pairings and the precise parameters within the project. As long as the edition could be produced as a multiple and it fit in one side of the double album sleeve, it worked. Of course I was also amazed that work of this caliber by artists of such renown could be owned by the average Joe. It's interesting because my context is primarily the the art world, I placed more weight on the renown of the visual artist. It quickly became clear, that Robert was curating and commissioning some significant compositions from important sound artists…he often told me that the some of the sound work was more rare and valuable than the art objects.
Through my contacts in Germany, I was also finding more interesting sources for contemporary editions. Magazines like Parkett and Texte Zur Kunst produced editions available to subscribers with each quarterly issue; there were galleries that focused on editions like Barbara Wien in Berlin and Galerie les Multiples in Paris; Griffelkunst is a group of members (German only) that produce new editions several times a year; and publishers like Schellman Editions out of Munich were offering amazing new work on a regular basis. I started keeping track of these projects and would acquire things when I could, often through the suggestions of edition-obsessed friends who would let me know about special things that came available.
To try to quickly get to what's happening now, for the past ten years, I had been curating shows I initiated and proposed to various spaces; the curating came out of an interest in exercising an expression of ideas that didn't fit comfortably inside my painting practice…and this was years before I opened the gallery. The curating also came out of a strong desire to collaborate with other artists on projects that I felt could be explored through group exhibitions. These curatorial projects were more complex and interesting than I ever expected and energized a certain conceptual/administrative/social side that was rarely satisfied when I was working alone in my studio. From sometime in the late 90's, I did about 7 shows in venues like the Block Museum at Northwestern University, The Gahlberg Gallery at College of DuPage and a few commercial galleries. As my interest in editions grew more serious, I saw my pleasure working as a curator as a good foundation for what I wanted to do next, which was publishing editions. In 2006, I initiated my first serious edition project as a themed, curated suite called "Wherever." I invited about 17 artists to create an edition in any reproducible medium in a run of 30 that would include 3 artists proofs (one would be for handling and showing, one was archived and the last would be available in the event that someone wanted to acquire the entire collection). The artists included Laura Letinsky, Judy Ledgerwood, Tony Tasset, William J. O'Brien, Mark Booth, Ken Fandell, Carol Jackson, Markus Linnenbrink, Julia Hechtman, New Catalog, Pamela Bannos and others. I would show the editions out of my studio and to curators, collectors and gallery folks on site. I was able to get some attention for the project and despite the fact that wasn't featured as an exhibition, it was quite successful.
Soon after that project, I was offered the chance to lease a space across the hall from my current studio; that room later became the gallery that I called devening projects + editions. I spent about 6 months completing some necessary renovations, all the while thinking that the room would be a show-space for the editions I continued to show and publish. I needed a space separate from my studio to help clarify the the fact that I was operating both as an artist and a curator/publisher. The publishing was still about collaborating with artists and challenging them to come up with ways to solve a problem: how to make a work that was not a traditional print, that could express something about their work but also operate in this other world of editions. The results were always fantastic. For example, Tony Tasset made Mud Pie for Wherever. Mud Pie was a brown plaster mud pie in an aluminum pie pan (it looked exactly like a real mud pie) with an autumn leaf on top that was made from a sheet of very thin, cut brass and exquisitely painted with oil pigments. In this case, Tony didn't produce 30 Mud Pies but made the edition available on request and it was produced when necessary. Another good example was a set of hand-tooled leather coasters, designed and produced by Carol Jackson. Carol normally works I leather, but she said when asked about doing this that she'd been thinking about leather coasters for a while and this project was a great way to move that idea to fruition. She made a couple of prototypes to figure out how the sleeve would fit over and hold the coasters and in the end came up with a really awesome edition for the suite. I think Tony and Carol's editions are great examples of how there are no longer traditional limitations to how multiples are conceived or produced. I continue to encourage that kind of experimentation when I work with artist on new edition projects.
In 2007, I finished the gallery space and decided that instead of using the room exclusively for editions, I would use it as a gallery with editions supporting a broader exhibition concern. My first show was called Preview, a group exhibition featuring artists that would have upcoming solo projects…I also showed a few of the editions. There was work by Rodney Carswell, Zak Prekop, Susanne Doremus and others. The second show in the gallery was Go Between; this was also the second curated edition suite. In Go Between, each artist was asked to produce an edition made up of two parts; a sort of diptych that could work as a pair but also expressed some kind of tension between the two. I got amazing work from Joseph Grigely, Amy Vogel, Matt Stolle, Scott Fortino, Cody Hudson, Helen Maria Nugent and many others. I think there were about 15 artists in this project.
Today after four years as director of devening projects + editions, I probably put a greater focus on the nuts and bolts of running a commercial gallery project but still make it a point to try to get each artist featured in a solo exhibition to produce an edition. For example, Jered Sprecher just made Now & Not Yet, a 5-color silkscreen print on primed and stretched linen. The piece is relatively small—12" x 8"—but I love how Jered as a painter, produced a edition that was so closely tied to his discipline. The result integrates beautifully with the other work he showed in Kabinett 5.  There were also beautiful editions produced by both Richard Rezac and Gary Stephan for Kabinett 1 + 2. Richard used a new inkjet printing process to produce vinyl wallpaper from a recent drawing and Gary Stephan made a small suite of works on paper that were produced by carefully folding and spray-painting each sheet with acrylic enamel. Both of these editions came about as a result of the artists working in a way they had not before; I am particularly joyful when that happens.
CI: How does your work with artist's multiples feed into the side of your gallery that's geared toward the exhibition of discrete objects? How do the two parts fit together?
DD: As I said, running the gallery is now the primary focus with the publication of new editions coming a close second. Finding and cultivating artists, scheduling shows, getting people to the space, dealing with press, etc. keeps me very busy. In addition to that I'm still teaching at the School of the Art Institute and making my own work. I guess I see the editions I'm publishing as becoming a sort of beautiful archive of the artists that have passed through the gallery over the years and which reflect something of what my curatorial vision is all about. I also work hard to bring attention to this side of the gallery project and recognize that there is much more that could be do to market the editions to become a more visible and special enterprise. Selling more of them is also a highly desirable goal for both the gallery and the artists, but unlike the culture surrounding editions in Europe, there are still some challenges to getting collectors to recognize how editions might fit comfortably into their acquisition strategy if they're not already a focus. Maybe there are stigmas attached to work that is editioned; maybe those who might be interested are surprised that the prices are maybe more than expected. Also, I wouldn't say that the editions I'm publishing financially supplement the gallery as much as one might think (or hope). Although my goal is to showcase this very strong work as affordable, accessible and unique, the reality is that like any luxury item in these tough times, whether or not to buy art—editions or otherwise—is not an easy decision for most people. I see the edition publishing part of my project as a long-term (love) affair to produce, show and promote really special objects by some very interesting artists.
CI: Tell me about the editions you'll be unveiling at the end of the month by artists like editions by Sigmar Polke, Sarah Morris, Christopher Wool, Rosemarie Trockel, Candida Hofer, and Thomas Scheibitz. Are they new editions? Did you work with these particular artists to create them?
DD: Multiplemix is the show in the off space opening on January 30th featuring new editions to the gallery. It'll open with the 5th Kabinett exhibition with Andreas Fischer and Melissa Pokorny; there will editions by well-established artists and some very young folks who are making editions for the first time. I was the publisher of only a few of these pieces; the rest were either self-published or are editions I acquired from other sources. The Sigmar Polke, called Oase, is a silkscreen from 1998 and the Rosemarie Trockel etching is called Artist 2000; I just acquired both from Schellmann Editions out of Munich. There are several editions from En/Of with work by David Lieske, Liam Gillick and Jonathan Monk; the Candida Höfer photograph comes from a recent museum show at Museum Morsbroich Leverkusen in Germany; the Sarah Morris is a 23-color silkscreen print that was published by the Whitechapel Gallery in London; the Christopher Wool was printed in 2006 by Brand X Projects/Neptune Fine Art in New York; the Thomas Scheibitz was just released from Texte Zur Kunst; and some fantastic new editions by gallery artists Cody Hudson, Heiner Blumenthal, Nathaniel Robinson, Michael Pfisterer and Dorothee Joachim. This show will also be the premiere for some really exciting new work by young artists Alexander Valentine, Andrew Blackley, Aay Preston, Sterling Lawrence and Dan Leudtke. Finally, I am very pleased to feature a suite of four new lithographs by Dianna Frid that were just published by Sharks, Ink. The studio work was done in December with master printer Bud Shark in Lyons, Colorado; the print is being editioned as we speak. This is the very first time they'll be shown. If that's not enough, there'll be even more new work by well-known and soon to be well-known artists.
CI: Can you take us through the process – both the creative and production sides—of creating an edition/multiple.  To what degree is there collaboration between the dealer and the artist in terms of deciding on the form the multiple will take? And if there is, how does that collaboration/back and forth discussion take place?
DD: In most cases when I propose the publication of an edition with an artist, I'll show them a bunch of examples of recent work and use those examples to open a door to what's possible within the project. Mostly, I'm hoping that they'll take up the challenge and approach the process as an experience that can expose their practice to something new. Because there is the necessity that the work be an edition, the requirement that there be multiple copies of the work sets up a nice set of parameters from which to step  one of the same thing. The artist may have some ideas about how they might proceed and if that's the case, we'll start talking about production methods or options. The great thing about doing editions with artists is that they're artists; they're trained to be creative problem solvers so I've never been disappointed with the editions that have come out of these conversations. For example, a recent piece from Nathaniel Robinson called Dreg is a resin-cast styrofoam cup. It's a one-to-one replica of the real thing—including teeth marks near the rim—that also includes a set of greasy fingerprints on the inside of the cup. I don't know how Nathaniel made this edition of three and I don't think I ever want to know. The mystery of this modest little object is its beauty. My only fear with Dreg is that someone will mistakenly through it in the trash.
Another favorite edition came from Helen Maria Nugent who heads the Design Objects department at the School of the Art Institute of Chicago. I asked her to do an edition for the Go Between project and her solution was really brilliant. She had been gather data from a clinical psychologist at Northwestern University who was tracking eye movements between subject pairs who sat facing each other. He instruments followed eye movements as the pairs looked at each other. Helen Maria took some of these data sets and created computer renderings that were then used to etch both sides of 20" x 16" mirrored plexiglas. The work called Strangers Mirrors, has this beautiful filigree on the surface that allows you to experience the object as both an aesthetic object and a functional mirror—and the viewer becomes a third set of eyes in the cycle.
In almost every case, there are regular conversations between me and the artist when and edition is in process. Usually the artist handles the production and when proofs or trials are available, we'll usually meet to discuss the results and the next steps. If adjustments need to be made, we'll often make those decisions together. This isn't always the case; just as often, an artist will simply deliver the final work. Ultimately the artist makes all the final decisions; I'm only there to offer support and encouragement.
CI: Conceptually speaking, how does the artist settle on a form that he/she thinks would work well as an edition? Should the form of the object strive in some way to be representative of the artist's larger body of work?
DD: How artists come up with  produce an edition is always different. Some pull from material or ideas contiguous to their regular practice and others see this as an opportunity to move into some new terrain. An example of someone whose editions are close to their other studio work is Jin Lee who's made several photo editions for the gallery; they almost always come out of a current on-going series. Others, like Julia Hechtman might do something really surprising. For her last solo exhibition, Julia produced Webs, a set of three, 12" square laser-etched mirrors. The etched image comes from a very delicate drawing of spiderwebs that Julia produced from photographs. The web reads a bit like a cracks in the mirror so it has a wonderful dual reading when looking into the reflection. That piece is currently featured in a group show at dok25a in Dusseldorf.
Even if an edition doesn't "look" like something from an artist's regular body of work, I'm convinced that conceptually, the edition is inevitably still rooted there.
CI: The development of high-end 3-D printing technology seems like an exciting new possibility for artists – what are your thoughts on this? Have any of the artists you've worked with used 3-D printers to create editions/multiples?
DD: None of the artists with whom I'm working have been using this new technology, but I know there are artists who have accessed this area for their work. Karin Sander is an artist living in Berlin who as early as 1998, has been making tiny portrait sculptures using 3-d body scanning. The objects are made of ABS plastic and aluminum and generated using 3-d printing techniques that come directly from the scanned data. She sometimes carefully paints the portraits, but more recently, the material has been left undisturbed. In the early days of her process, the body scanning was said to take about 10 hours; I expect that those times have improved as the technology advanced. It's not clear if she's use this project to generate editions. I think that although there is a lot of potential here to produce hundreds of each portrait, she seems instead to subvert that option to produce a single unique example.
I think it's inevitable that artists will begin using some of the same technologies that product designers are using to produce computer-rendered 3-d objects as editoned works. In fact, I'm sure it's happening already.
CI: Some people argue that the production of multiples dilutes the power of an artist's originals. What do you think of this argument?
I can certainly see this as an argument, but for me, editions are simply one of many creative avenues available to an artist. Multiples have their own culture, traditions, audience and possibilities for innovation. I think that for those artists interested in that potential they'll use it as an avenue to make something new and interesting; maybe even build it as a viable part of their practice. I think Jasper Johns is a really good example of a contemporary artist who throughout his career has fully embraced printmaking as an extension of his oeuvre. He's been working with the printers and publishers like ULAE for decades and it's obvious from the way he approaches this work that the medium his offering a material quality that can't be achieved within other mediums. For example, the effects generated from etching or lithography can only come from the transfer process of ink to paper through a press.
I think for many well-established artists, the decision to make editions may have obvious financial considerations. To offer more studio work to a wider audience just makes sense and many artists will take that opportunity if it's offered. I would also say that in most cases the work produced by these artists is of such a high caliber, that it does absolutely nothing to diminish their output. There are other artists who work in modes that might be considered edition-related—Zine publishers, poster printers, sound artists—that use the medium to build  larger audiences, demographics that aren't limited to gallery/museum contexts. This work is often very affordable, usually produced inexpensively using all kinds of ingenious production methods, but still has the weight and resonance of so-called "serious" work. I have a strong interest in just about any kind of work that can have wider distribution as a result of editioning. One good example is The Thing, a quarterly subscription edition project, I think out of San Francisco. One can subscribe to a year-long series of four editions for just $200 and get a wonderful surprise in the mail every few months. The series features both recognized artists like Trisha Donnelly, Chris Johanson, Allora & Calzadilla and Ryan Gander as well as emerging artists like Trevor Paglen and Starlee Kine. This is a great project and artist list and the editions are always very cool…in fact one of the upcoming editions will be by James Franco.