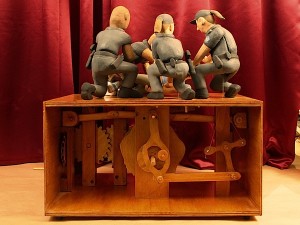 From the "Don't Tase me Bro" incident to the Raping and murder of Abeer Qassim al-Janabi by Pte. Green, Automata can capture a moment unlike anything else. Jon Haddock's work does that better then anything i have seen in a long while.
Mahan Gallery owner/director Jacqueline Mahan and her associate director Colleen Grennan are both art fair newbies, or at least they were before participating in NEXT this past weekend.  Mahan Gallery, which is widely regarded as one of the best galleries for younger contemporary artists in Columbus, Ohio, has been open for almost five years. At NEXT, their booth featured the paintings and drawings of Ric Ocasek (yes, that Ric Ocasek).
On Monday, the last day of the fair, I asked Grennan to share some thoughts about her experience at NEXT/Art Chicago.
How did you like NEXT? Was it a positive experience for you?
Definitely. We've been able to meet and network with so many galleries that we hadn't made personal physical contact with before now. (After being open for five years) we're finally at a level where we felt we could contribute something to an art fair. Being here has kind of broken a psychological barrier for us. We've learned so much about what other galleries are doing, about new artists that are out there. It's been a learning process – we overpacked artwork, for one thing. We're learning where to stay, what to do, how to effectively network. Jacquie and I were both able to see what other galleries were doing and I think it will give us the courage to do even more challenging exhibitions ourselves.
Were you happy with your sales?
Our sales were really low. We did sell some work but definitely did not  cover what we paid to get here. Sales seem to have been low with everyone we talked to. One dealer told us in past years, booths would sell out at the preview. So (the sales end of things) was a disappointment to us.
Were you able to go to any of the talks, panels and discussions?
I was able to go to two talks, and I found them both to be valuable. This fair is about the young and the new, so we see it as an opportunity to immerse ourselves and just soak up everything it had to offer.
What kind of response did Ric Ocasek's work receive?
"Is that Ric Ocasek from the Cars? Wow, I didn't know he was an artist!" That was always the first reaction. This fair, and his April show at our gallery, are the first times he's ever shown his work publically, so there is always some initial surprise. Then people would get into the work and get excited about seeing this person that they know as a musician in terms of his work as a visual artist. People could make connections with him in new ways.
So what do you think you'll take away from your experience here?
Personally it's made me think a lot about how to engage local audiences and a larger national audience at the same time. We're ready for that next step as a gallery and being here has given us the opportunity to think about how to position ourselves and to get our name on the map outside of Columbus.
This piece, exhibited at Gallery 400's 'Better to light a candle than curse the dark' presentation at NEXT/Art Chicago, wins my award for most personally meaningful work of art encountered at the Merchandise Mart. Last Friday, I rounded a corner and saw it, and it summed up everything I had been feeling that day, that week, and every single day of my life for the past three years. I'm told women were lining up to get their picture taken next to it. So thank you for making this piece, Danielle Gustafson-Sundell. You kick ass!
"Harry who?"
While a lot of the art featured in the booths on the 12th floor of Art Chicago wasn't really my cup of tea, I did like all of the special exhibition projects, especially Lynn Warren's side-by-side presentations of "The Hairy Who and Imagist Legacy in Contemporary Art" and "The Hairy Who and Chicago Imagists." These small-scale exhibitions were extremely well executed — curated at just the right size to capture the momentary attention span of passing fair-goers, and providing just the right amount of information for those who are unfamiliar with this generative period in Chicago's art history. Hopefully, visitors to the city who saw the show will be encouraged to seek out more while they're in town (two places to start: Corbett vs. Dempsey gallery, which has a strong focus on Chicago painting and works on paper, and Russell Bowman Fine Art, which has a Roger Brown exhibition up through May 16th ). Below, a few pics from Warren's Art Chicago shows:
Images From "The Hairy Who and Imagist Legacy in Contemporary Art" at Art Chicago:
Images From "The Hairy Who and Chicago Imagists"at Art Chicago:
The exhibition is located on the 12th floor of the Merchandise Mart, I'm pretty sure it's next to the MCA Bookstore display.
Some find  these creepy, others strangely erotic. Check out the demo for the Digigrade leg extensions created by Seattle artist Kim Graham.
(via Boing Boing via TYWKIWDBI).