This months edition of Artforum's 500 words comes from performance artist Kalup Linzy. The write up is totally worth checking out. I just spent the past hour or so watching Linzy's videos on Youtube, really entertaining.
"I SHOT TWO MUSIC VIDEOS FOR PROENZA SCHOULER, basically responding to the clothes, and we're doing a photo shoot. This is my first time working with high fashion. I've been researching photographs and looking at models; it's all pretty edgy, so I don't think the relationship between my work and Proenza Schouler is as distant as I originally thought. I've seen some pretty wild, risqué stuff in fashion photography. Now the question is: How can my work flow and meld into that?
I wasn't planning to shoot as many videos as I shot for my first album, SweetBerry Sonnet. I was more interested in developing a live performance, but when Proenza Schouler came to me and asked me if I wanted to collaborate, the idea for the videos just came to me."
Read the entire article here.
Make sure to check out Linzy's Youtube page.
Linzy also has a documentary that will focus on his participation in Prospect 1.
The L.A. Times' Christopher Knight reviews "Sight Unseen," an exhibition of photographs taken by legally blind photographers which is currently on view at UCR/California Museum of Photography. An excerpt from Knight's review:
"For making art, blind artists face a special conundrum with camera-work. Photography is an artistic medium that is without tactile surface properties. Mexican photographer Nigenda highlights the dilemma by punching descriptive text into his photographs of a nude woman with a Braille writer, colliding a textual code with a visual one. Some can "see" one, the other or both.

But the medium is also one whose most fundamental property is light. (As explained by William Henry Fox Talbot and Sir John F.W. Herschel, two of photography's 19th century inventors, the basic task of a photographer is "to arrest the action of light.") Blindness is an impairment of light perception, which several of these artists address by employing light-emitting devices, such as flashlights or copy machines..

Blind, of course, is also a word regularly used to signify a lack of knowledge. "Sight Unseen" is most successful in undercutting that notion. The show proposes that these photographs be considered more akin to Conceptual art than to traditional camera-work."
Although Knight's review is mixed (read the full piece here), do make sure to check out the exhibition's website (it won't let me link directly so just do the usual clicking to find it), which contains images, recorded commentary and essays for those who can't make it to the exhibition in person. Also note that I narrowly avoided making a really unfortunate pun just now.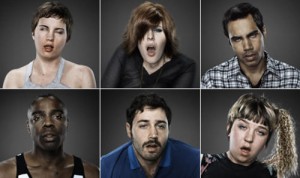 Special Art PrOn Edition!!
*Visitors to the Art Institute have a jaywalking problem (Chicago Tribune).
*Getty Research Institute to close Bibliography on the History of Art (BHA, IBA) (via CAA news).
*NEA Survey indicates arts audiences getting older, scarcer (er, more scarce) (CAA News).
* Top ten best Star Wars architecture. The comparisons to real-life buildings are fascinating. (via Culture Monster).
*Shady deal: Orange County Museum of Art sells much of its plein air painting collection to a private collector. Read about it at Culture Monster and Modern Art Notes.
*I like to watch: Robbie Cooper's Immersion: Porn (via boingboing).
*More pr0n: Russian Art Collective Voina (WAR) stages controversial exhibition (via boingboing).
*Even more pr0n!!: Highlights from the World Air Sex Championships (The XX Factor).
*Students design exhibitions that get people to talk to each other (talk! as in, 'in person'!) (via Tomorrow Museum).
*The drawings of Chicago artist Deb Sokolow featured on Beautiful/Decay.
*You are what you Tweet: Twitter Psychology Profiling (via Avant Chicago).
*Writer Dave Eggers tells those bummed about loss of print to buck up.
*Justin Wolfe at songsaboutbuildingsandfood covers Freebird, and it's lovely. (Thanks to Art Fag City for linking to this blog a few weeks back — I've been hooked ever since).
**(Image Credit: Robbie Cooper's Immersion: Porn).
This is actually more of a stealth-rant, deploying reverse-psychology tactics and appeals to the culprit's sense of fair play. Some creep stole an artwork by Chicago artist Damien James right off the walls of the Flatiron building, and what's worse, the piece had already been sold.
"My initial reaction, not surprisingly, was anger. Intense, red piping-hot anger. "What the fuck!?" were my words, to be exact, extra emphasis on the "f." Who steals art at a small neighborhood show? From an "emerging" artist? ("Emerging" = "starving") Even more, who steals a piece of art that's already been sold? Now I know it was small, and as you passed by, maybe you thought it would fit perfectly in your bag or pocket or whatever, but did you not see the sticker above the drawing that said "sold?" Could you not have chosen a piece that hadn't already been paid for? Because you see, some artists who do shows in the Flat Iron, especially in the halls of the Flat Iron, are struggling; they're artists who are desperately trying to carve out some tiny, peaceful existence. We're trying to do something good, to make and share something outside the ever-present web of invasive consumerist insanity. I get (but don't condone) stealing an iPhone, an X-Box, cash; but a drawing? Not only did you steal something I made, but you took money out of my pocket. So: what the fuck!?

Really, what were you thinking? Was it, "this'll look awesome on my bathroom wall?" Was it the thrill of stealing something? Are you some kind of Vincenzo Peruggia? What's next, a Steven Soderbergh art-heist caper?"
Hats off to James for channeling his justifiable rage into a piece that actually transcends the circumstances behind this unfortunate incident to say something larger about the need to show some basic human decency, even if you're drunk off your ass, and even (especially) when it comes to small art shows at neighborhood galleries.
Hey ya'll, I'm reporting to you from afar. I'm gonna keep this short, 'cus I've got to get ready to spend a week in the woods hiking, shooting, canoeing, and watching zombie movies. Mmmmm…Chopper Chicks in Zombie town. But I digress. Here is my Top 5 for this weekend. Enjoy 'em, since I can't.
1. Aspen Mays explodes your brain with science!
In her first solo show, Aspen is showing off all her art/science craziness. Aluminum foil spaceman, check. Fireflies in the camera, check. You won't be disspointed. Opens Friday at Golden gallery, 7-10pm.
2. Geometry and mold spores at Thomas Robertello Gallery.
This stuff just looks strange. The title is what caught me, the show is called "Taxonomies." But with ceramic mold spores from Sarah Hicks and geometric paintings from Peter Barrett, it seems worth a look. Check it out Friday from 5-8pm.
3. The faculty has shown good taste at SAIC.
The faculty at SAIC has passed down their opinion on what's good and what's not. Surprisingly (well I was surprised), I mostly agree with them this time round. You can go see new work by Sarah Belknap, Joseph Belknap, Tif Bullard, Yu-Hang Huang, Merideth Lacina, Alison Rhoades, andIsabelle Schiltz at the Betty Rhymer for the Annual Faculty Exhibitions Committee Picks show (I don't think this is the real title, or whether there is one, so I spliced this together. ) Opens Thursday from 4:30 to 7pm.
4. Artist dresses up as volcano, spends day reenacting Day in the Life of a Volcano.
Do I actually need to say anything else? The afore mentioned peice (by Eliza Fernand) is part of Post Scarcity, a new show at 65Grand curated Thea Liberty Nichols. Opens Friday, from 7-10pm.
5. Performing in the bedroom…
The Second Bedroom that is. Anni Holm is doing an installation called Sleeping Around. If you're in Bridgeport, head over Friday night.
Sorry for the lack of pictures and links, the zombies are coming!