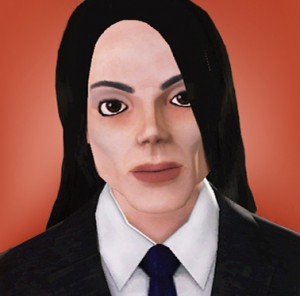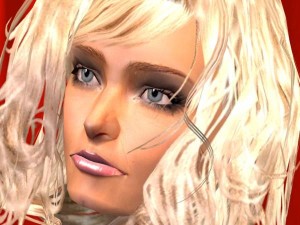 Did you ever play Wil Wright's computer game The Sims? In the earliest versions, the little folks (who speak a language called "Simmish") would say something that sounded like "me tyuhd!" and clutch at their heads whenever they needed you to send them to bed. That's how I feel right now: tyuhd. So here's a mini roundup of what's caught my eye lately. Nighty night.
*VVork has posted some of the most interesting Michael Jackson-referencing art I've seen over the past week, and not just by the usual suspects (i.e. Koons).
*Designer/artist Anna Schwamborn makes objects from, um, bits of her deceased relatives. It's actually quite beautiful.
*Social media artist @platea blogs at Art 21.
*Ex-MOCA curator Brooke Hodge on Millenium Park: "Chicago, known for its civic pride, has a lot to be proud of this year."
*The name isn't the only thing that's changing: Sears Tower going green (The Post Family).
*Artist Morgan Ritchie makes drawings based on Stephen Fry's Tweets (via newslite).
*Is this for realz? Australia bans Second Life (via Wonderland).
*Forget storytelling; try storytweeting (via Wired UK).
*House of Representatives approves additional funding for NEA and NEH.
*MOCA: Back from the dead.
Forget all the news about Chicago city arts grants, potentially major boosts to NEA funding, and all that other boring crap. I would be remiss were I not to inform Chicago artists about this fabulous opportunity, no? Bravo is launching a new counterpart to its Top Chef, Top Designer, put-12-aspiring-whatevers-into-a-weekly competitive-lineup-and-get-them-to-cry franchise, but this time it's devoted to makers of contemporary art. Finally, artists are getting their due!
The L.A. Times reports that, "according to the application instructions for potential contestants, the show's producers are looking for 'emerging or mid-career' artists who work in any number of the following fields: painting, sculpture, installation, video, photography and mixed-media."
Everybody thinks this show's gonna suck, but I actually have very high hopes for SJP's (that's Sarah Jessica Parker to those of you not in the celeb gossip loop) newest television venture. I didn't know she was into contemporary art, but I'm not interested in that angle of celebrity worship, Brad Pitt notwithstanding. Top Chef looked like it wouldn't work (who wants to watch a reality show about food, we all thought) and we were wrong, wrong, wrong. Hopefully, the naysayers will be disproved once again and we'll get some great television out of this.
Art Fag City is speculating that Matthew Higgs might be one of the judges (or maybe even the Top guy, a la Tom Colicchio?) but I truly hope this is not the case. Higgs is all wrong for this. Please God, let it be Schimmel instead. He's probably looking for a job right now, and he would be absolutely perfect. Now, who should they pick for his junior underlings? I can think of so many possibilities…but perhaps it would be mean to hazard any further guesses? Up here, anyway–but feel free to do so in the comments.
Now, getting back to the critical business at hand: the Chicago audition information is as follows:
Thursday, July 16, 10 AM – 2 PM, School of the Art Institute of Chicago, Sullivan Galleries, 33 State Street (www.saic.edu).
See you on the small screen.
I posted about this little gem of a film a few weeks ago here; since then, I've had a chance to view "Herb and Dorothy" (directed by first-time filmmaker Megumi Sasaki) and just as I'd hoped, it's terrific. It's screening in Chicago this weekend at the Gene Siskel Film Center, so here's your chance to see it too. The film has already been widely reviewed; I don't have anything more to add other than to note that I particularly enjoyed the brief but sensitive observations about the New York contemporary art collectors Herb and Dorothy Vogel made by Richard Tuttle, an artist whom I've rarely seen interviewed on camera. Quite simply, this is a film about what it takes to be a great collector: not tons of cash, not connections, not a prescient view of the market. It's about a way of looking at art, exemplified by Herb Vogel's manner of staring down an artwork with a look of ferocious, devoted intensity. Don't miss it.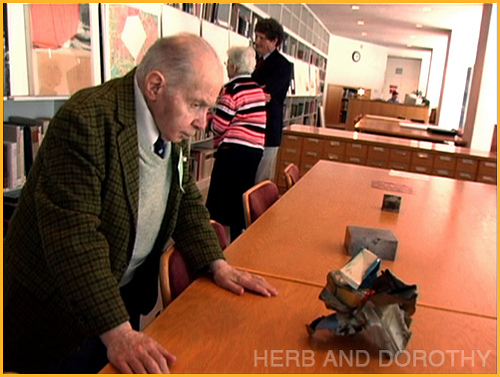 The film screens at the Gene Siskel Film Center on Friday, July 3rd at 6pm, Sunday, July 5 at 5:30pm and Tuesday July 7 at 6pm.
This may be the coolest thing I've seen all week: Looking into the Past, a Flickr photo pool started by Jason E. Powell, is a collection of images that literally overlap past and present incarnations of everyday spaces. Photographers seek out archival images of a particular spot via old postcards, photographs, etc., then return to that spot, camera in hand, to capture it again, this time with the archival image held up to roughly coincide with the place where it once stood.
People are doing this to their own homes, to hospitals, rail stations and neighborhood joints, as well as to historic landmarks. Some of the most compelling and poignant examples from the pool include images of participants' now-deceased relatives, or still-living friends and family members in younger days, superimposed over the spots where they were once photographed. When interviewed about the project in Wired U.K., Powell explained how the idea originated.
"I was searching around for a way to illustrate the phrase 'modern-day equivalent', and my original idea was to do a typical then/now shot, perhaps as a diptych or with some Photoshop work. After I printed the source imagery for my first test shots of my hometown from the Library of Congress, I went out to shoot the photographs and flashed on the idea of paying homage to another Flickr collection, Michael Hughes' Souvenirs project, but only with historical imagery. Looking at the result, I immediately fell in love with it and decided to do a series of images."
As far as I could tell, right now there are only seven contributions from Chicago or Illinois (see one of these photographs, by Chris Gansen, below; click on the image to be taken directly to Gansen's Flickr page). If you're a street photographer, urban planning buff, or collector of vintage postcards, why not do a little Eugene Atget-style detective work of your own and uncover the secret history of some of your favorite Chicago haunts. I'll be looking forward to seeing what gets added to this fascinating pool of images.
On this weeks video pick we bring you an interview with writer Mei Chin and painter Dana Schutz from 2005. Just be warned, not the best sound quality.