Here are the Chicago-based collectors on the magazine's 2009 list, in alphabetical order as listed on ARTnews' website:
Neil G. Bluhm
Chicago
Real estate
Collection focuses on Contemporary art
Stefan T. Edlis and H. Gael Neeson
Chicago; Aspen, Colorado
Plastics Manufacturing (Retired)
Collection focuses on Contemporary art
Anne and Kenneth C. Griffin
Chicago
Hedge fund
Collection focuses on Impressionism; Post-Impressionism
Elizabeth and Harvey Plotnick
Chicago
Publishing and investments
Collection focuses on Old Master prints; Islamic ceramics
Penny Pritzker
Chicago
Real estate, hotels (Hyatt), and financial information
Collection focuses on Contemporary art
None made the magazine's Top Ten list. Interestingly, Chicago has just slightly fewer collectors on the list than the 6 boasted by Los Angeles (9 if you count those who have secondary residences in Southern California) as reported by Suzanne Muchnic on the L. A. Times' Culture Monster blog.
This is the first time in my life I have ever paid any attention to this list or its rankings–so take it for what it's worth to you.
Self Portrait Machine, by Jen Hui Liao, is part of an exhibition at the Royal College of Art. The machine takes a picture of the subject and then mechanically renders it. The subject's hands are "cuffed" to the machine (as pictured below) and then robotically guided across the paper. I like the retro-Cyborg aspect of this piece. You can see a video of the process here. (Via We Make Money Not Art).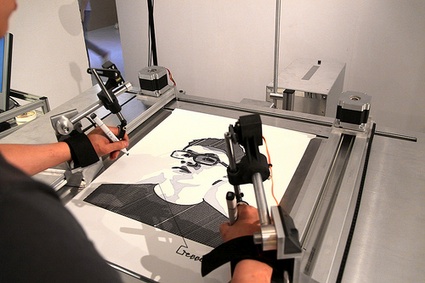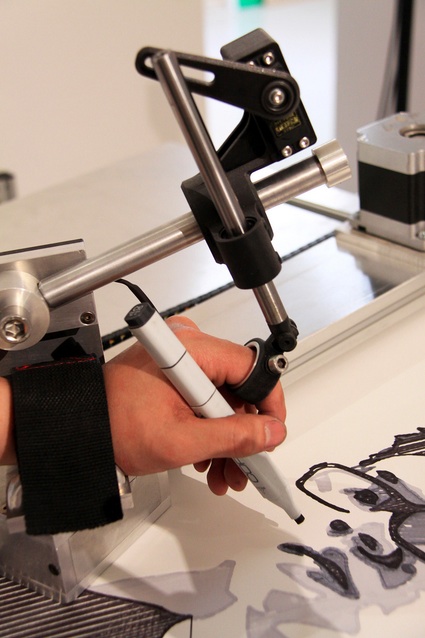 And then there's the Human Printer. From the website:
"The Human Printer creates unique, individual images each time it prints. Following the same process as a digital printer, the humanprinter generates the printed product by hand. Throughout the printing process the humanprinter assumes the role of the machine and is therefore controlled and restricted by the process of using CMYK halftones created on the computer."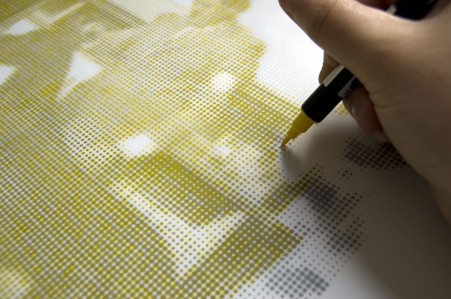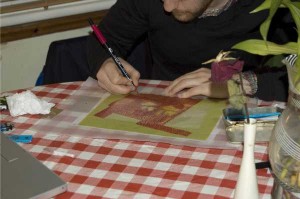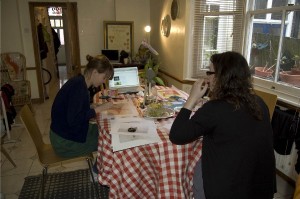 Email these folks with your jpegs, and they'll output black and white or color images for you, and post them on their blog. (Via The Daily What).
If Don Colley's drawings were movies, I'd be first in line to see them. The Chicago-based artist's noirish, grab-you-by-the-throat depictions of evil clowns, brawling boxcar hobos, and flamboyant carnie types are intensely cinematic, evoking angsty narrative scenarios that are part Nicholas Ray, part Coen Brothers, and part Mad Men, with a dash of Bruce Nauman thrown in for good measure. They're sinister and alluring, able to suggest entire storylines within a single drawing (many of which are seen in close-up, tightly wrapped in beautifully carved wooden frames that are themselves reminiscent of artisinal tramp art).
Colley's drawings and paintings can currently be seen in Midwestern Blab! (on view through July 22nd at Columbia College's A+D Gallery), an exibition of five Midwest-based contributors to Monte Beauchamp's Blab! magazine. There are some terrific large-scale works by Colley there that can only be seen in the exhibition (photography was not permitted in the gallery) so if you're in the Chicago area, try to check it out before the show closes in a couple of weeks.
Colley has also had shows at Carl Hammer Gallery in Chicago, George Adams Gallery in New York and Philip Slein Gallery in St. Louis.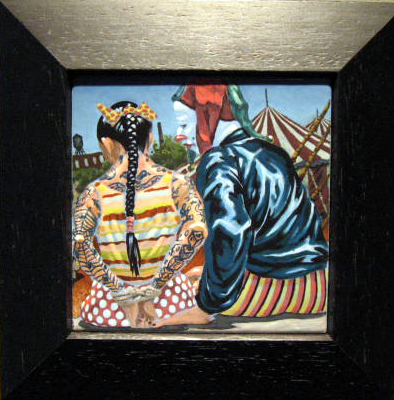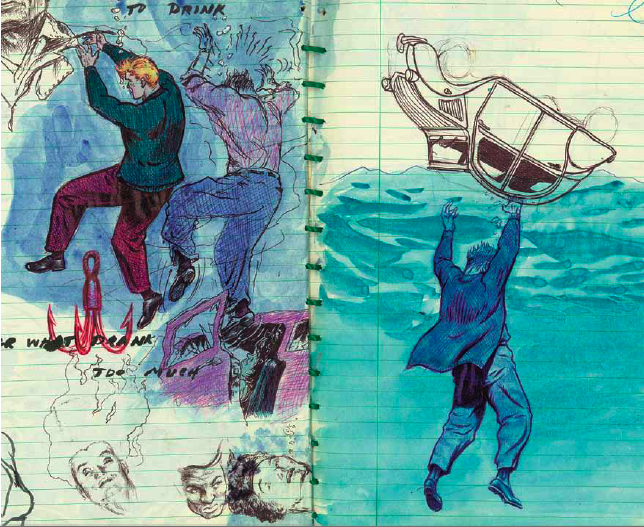 Breaking news: Art Criticism lives on at the Chicago Tribune! Yes, you heard that right, and Bad at Sports' own longtime contributor Lori Waxman (who reviewed several Chicago-area shows for last week's big #200 podcast) is leading the way as the Trib's new freelance art critic. It is with great pleasure and hearts swelling with pride that we post links to her first two reviews, here and here. You can also listen to an interview with Lori, and learn more about her project "The 60 Word a Minute Art Critic," on an episode of Studio 360 here. Go Lori!
Featuring work by:
Michael Bancroft, Noah Berlatsky, Dayton Castleman, CThrough Outfit, Chelsea Culp, Derek Erdman, Gina Grafos, Jacob C. Hammes, Jaime Lynn Henderson, Hideous Beast, Thaddeus Kellstadt, Paul Mack, Rachel Pollak, Yvie Raij, Oliverio Rodriguez, Christopher Santiago, Dewayne Slightweight, Edra Soto, Bert Stabler, Matthew Steinke, Susannah Kite Strang
Curated by Bert Stabler
Co-Prosperity Sphere
3219 S. Morgan, Chicago.
Open hours 1-4 pm Saturday July 11, Saturday July 18. Closing party Saturday July 18,
For more info check out Proximity's site.