Two Chicagoans have been announced as candidates for the Ordway Prize. Tania Bruguera, who splits her time between Havana Cuba and Chicago, and The Renaissance Society's Hamza Walker are up for the prize with a handful of other artists and curators.  The prize "recognizes both a mid-career curator/arts writer and an artist with an unrestricted award of $100,000"
via The New Museum:
" Now in its third cycle, the Ordway Prize is the only unrestricted international award of this caliber that recognizes a Curator/Arts Writer and is also one of the most generous awards given to a contemporary Artist.
Candidates for the Ordway Prize are identified through an anonymous nomination process of submissions drawn from a global pool of curators, writers, artists, and museum directors, led by Jennifer McSweeney, Director of Creative Link for the Arts, and Richard Flood, Chief Curator at the New Museum. A jury composed of leading arts professionals will select the two Ordway Prize recipients. The Ordway Prize winners will be announced in early 2010."
Check out Claudine's coverage of Tina Bruguera's "Cocaine Performance"
Check out Brian, Richard, Duncan, and I interview Hamza Walker in Episode 60.
For more info on the Ordway Prize check out The New Museum's site.
New City art editor, Frieze contributor, independent curator and culture essayist Jason Foumberg has a new website, designed by Ryan Swanson, that kicks ass. Professional writers know how important it is to have all of their written material online in an easy to access format. Foumberg's site shows an eye for typography and design and has tons of flair. It's actually fun to navigate – check it out for yourself!  Bravo to Ryan Swanson for his bang-up job here, and to Foumberg for reminding  us that writers and other culture workers deserve to have gorgeously designed personal websites too.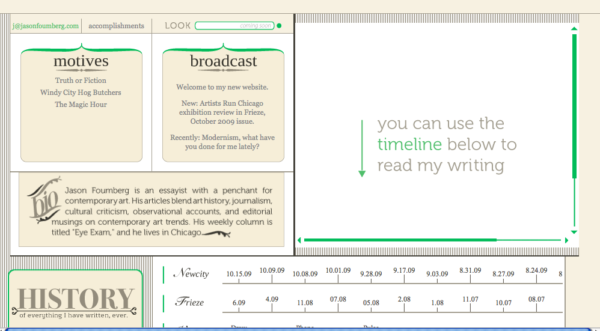 As part of a new initiative to bring contemporary art into hospitals and other health care facilities around the country, RxArt, a New York nonprofit group headed by Diane Brown, will install several pieces by Jeff Koons in the CAT Scan room of Advocate Hope Children's Hospital in Oak Lawn, Illinois, a feature in last Sunday's New York Times Style magazine says. The works are slated to be installed on every wall of the room sometime this month, and include a large painting of four smiling monkeys on the pediatric CAT Scan machine itself.
Koons' installation is RxArt's most amibitious to date. Brown told the Global Giving network that the idea to install artwork in a CAT Scan room came from her own personal experiences receiving a CT Scan.
"Rather than a scary experience in a cold white space, we hope children undergoing this test will feel like they are entering into a fantastic visual adventure.

"The fact that the Hope Children's Hospital project is centered on Koons's transformation of the CT Scan machine is especially significant to the origins of RxArt. The initial idea for RxArt came to me when I was undergoing a CT scan and found that the only way to distract myself from the frightening procedure was to imagine an artwork (a Matthew Ritchie painting) going up the wall and across the ceiling. By entering into this artist's complex imagery, I was mentally transported out of the sterile environment of the hospital. RxArt was founded based on the belief that art has the ability to not only transcend but to transform its settings and viewers."
Other projects by artists such as Rob Pruitt, Assume Vivid Astro Focus, and Will Cotton that have already been installed in various hospitals can be viewed here.
Via AO Art Observed.
powers of ten :: charles and ray eames from bacteriasleep on Vimeo.
On this week's Pick we check out Charles and Ray Eames adaptation of the book Cosmic View by Kees Boeke. "The Powers of Ten" is a short documentary that explores "relative scale of the Universe in factors of ten". Check out the Chicago lakefront a the beginning.
LUMPEN TLVSN got a great interview with the Yes Men when they were in town for the release of The Yes Men Fix the World.
via Lumpen:
"Mike Bonanno and Laurel Whitney discuss the roots and future of the prolific corpo-political hoax-sters The Yes Men. On hand are Lumpen cholos Edmar, James and Christo to hammer home the tough questions. Production by Christo and Nick Bahr. Enlightening…and fun. Check out more of The Yes Men at theyesmen.org"
LUMPEN TLVSN (interview) – The Yes Men at Co-Prosperity Sphere from lumpen on Vimeo.