The Galaxy Dress is the center piece of the "Fast Forward: Inventing the Future" exhibit at the Museum of Science and Industry in Chicago. The museum is celebrating its 75 years and has commissioned the GalaxyDress for their permanent collection.
The wearable dress made up of over 24,000 full color super thing LEDs, 4,000 Swarovski crystals & enough bateries to keep it on up to an hour at a time is something to be seen first hand and no photo or video recording does it justice. All this makes The Galaxy Dress the largest wearable display in the world.
Designed by Francesca Rosella and Ryan Genz, the London-based design duo behind interactive clothing company CuteCircuit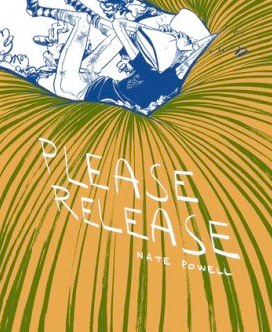 I honestly can say that I never thought I would find a comic (graphic novel? whatever) that felt so close to my own life. Nate Powell's book, Please Release, is a collection of four stories created between 2002 and 2005 in Arkansas, Rhode Island, Florida and Indiana.
The first story, The Phantom Form, was captivating to me. You become aware of his job (direct support for adults with developmental disabilities) and his politics (radical) immediately. He speaks very eloquently about "debasing power dynamics" in his work, and lack of privacy as well as trust with the adults he works with. There is a wistful cast to the whole book, and the pages seem very much alive with various music lyrics that flow through the panels.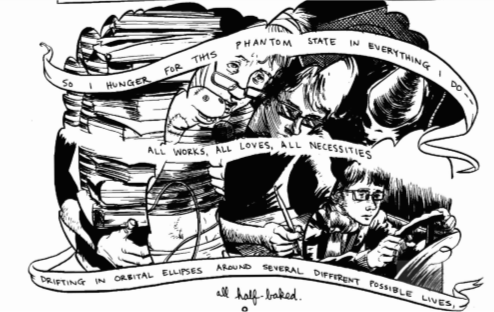 Punk romanticism and the sentimentality of a transient lifestyle are captured, as well as an intense melancholy. Powell illustrates his interactions with adults with developmental disabilities with honesty, respect, and subtlety that I don't think I've ever seem before, especially in comic form. In the third story, Work At It, there are almost two pages depicting Powell and a man that he works with staring at each other while they're taking a walk. One panel depicts the two men as muscle and bones, two humans with the same structure looking at each other, and then they are shown back in their clothes, back in the dynamic of care provider and incompetent person.
Full disclosure- I work as an art instructor for adults with developmental and cognitive disabilities who are Deaf or Deaf and blind. This could be a large reason why I devoured this book and promptly ordered his previous work on Amazon. But I firmly believe that the stories are honest and lyrical in a way that isn't hokey, and that Powell has an intense understanding of his craft, the illustrations, flow, and dialogue in the book are fantastic.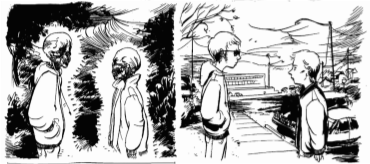 We are pleased to introduce a new series to the Bad at Sports blog.  Off-Topic invites artists, curators, writers, and cultural workers to discuss a subject not directly related to the practice of making art. We would like to welcome Shawnee Barton as the first participant in this series with her post, "Thoughts on Feminism and Poker" . Shawnee is currently working on a project in which she keeps a roaming blog on other blogger's sites. She also will be in the show " Artist: Unemployed", a solo installation at LivingRoom Gallery in Chicago, on November 20th. Check back in the coming weeks to see other contributions to the series.
Guest post by Shawnee Barton
Thoughts on Feminism and Poker
The last time I was at the underground poker club on Ashland and Division in Chicago, it was 3 a.m. when I noticed that there was porn on every television in the card room. The porn wasn't on at 9, 11, or even at 1 a.m, but apparently social conventions left at 3. This club has since been robbed and moved to another location, but when it was still in business, 3 a.m. was also the time when the tiny female server in an even tinier black dress stopped serving cocktails.
I've given a lot of thought to what I should wear to work, and by "work" I mean the poker table.   The media clearly rewards female poker players who show cleavage.  If I want to be famous in the poker community, which is a lucrative aspiration, getting my own little black dress would certainly be a shortcut to one measure of success.  Unfortunately though, showing some skin can have consequences at the table.
One of the easiest ways to spot a bluff is to watch someone's chest to see if the person stops breathing.  People naturally have a freeze/flight/fight response to stress, but because poker players can't run away or smack the guy across the table, they will often just sit there frozen and hold their breath after bluffing.  Similarly, when people are excited (like when they look down and see pocket aces), the large vein running down the side of the neck pumps blood so hard and fast that you can often see it pulsing from across the felt.  Both of these tells are much more visible on a woman wearing a low cut tank top than on a big guy in a hooded sweatshirt. [Read more]
Two Chicagoans have been announced as candidates for the Ordway Prize. Tania Bruguera, who splits her time between Havana Cuba and Chicago, and The Renaissance Society's Hamza Walker are up for the prize with a handful of other artists and curators.  The prize "recognizes both a mid-career curator/arts writer and an artist with an unrestricted award of $100,000"
via The New Museum:
" Now in its third cycle, the Ordway Prize is the only unrestricted international award of this caliber that recognizes a Curator/Arts Writer and is also one of the most generous awards given to a contemporary Artist.
Candidates for the Ordway Prize are identified through an anonymous nomination process of submissions drawn from a global pool of curators, writers, artists, and museum directors, led by Jennifer McSweeney, Director of Creative Link for the Arts, and Richard Flood, Chief Curator at the New Museum. A jury composed of leading arts professionals will select the two Ordway Prize recipients. The Ordway Prize winners will be announced in early 2010."
Check out Claudine's coverage of Tina Bruguera's "Cocaine Performance"
Check out Brian, Richard, Duncan, and I interview Hamza Walker in Episode 60.
For more info on the Ordway Prize check out The New Museum's site.
New City art editor, Frieze contributor, independent curator and culture essayist Jason Foumberg has a new website, designed by Ryan Swanson, that kicks ass. Professional writers know how important it is to have all of their written material online in an easy to access format. Foumberg's site shows an eye for typography and design and has tons of flair. It's actually fun to navigate – check it out for yourself!  Bravo to Ryan Swanson for his bang-up job here, and to Foumberg for reminding  us that writers and other culture workers deserve to have gorgeously designed personal websites too.