This may be revealing a bit too much but after watching this video yesterday over on Boing Boing I felt utter heartbreak. Who knew the IBM 7094 could induce such an emotional response?

via slavenr88
"Daisy Bell was composed by Harry Dacre in 1892. In 1961, the IBM 7094 became the first computer to sing, singing the song Daisy Bell. Vocals were programmed by John Kelly and Carol Lockbaum and the accompaniment was programmed by Max Mathews. This performance was the inspiration for a similar scene in 2001: A Space Odyssey."

A little mini brush-up on color theory and its uses in animation, by way of Bill Melendez' beloved 1966 TV special It's the Great Pumpkin, Charlie Brown: this essay, written by L.A.-based animator Justin Hilden, contains a scene-by-scene analysis of the use of color on the special, focusing particularly on its emotional and dramatic effects. [Read more]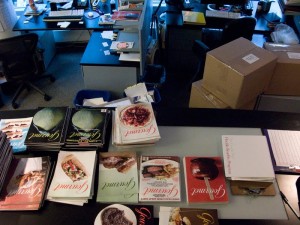 Kevin Demaria, associate art director at the recently-defunct (I still can't believe it) Gourmet magazine, created a website to document the publication's last days. I don't know why I was so surprised to learn that staffers at one of the world's premiere food magazines worked in standard, if not exactly drab, office-y surroundings, surrounded by sticky notes and bulletin boards and colored files and the like, but I was. [Read more]
My vote for most unintentionally puzzling press release issued by an otherwise savvy museum press office? Gotta be the MCA Chicago's email blast for Hide and Seek, a new exhibition (on view from October 20 – November 13, 2009) that's a playful attempt to engage visitors with objects from the Museum's permanent collection in new and creative ways. [Read more]
Jac Jemc will be at The Parlor Tuesday November 3rd at 7pm!
Jac Jemc sells books at Women & Children First.  Her first novel, My Only Wife, is forthcoming from Dzanc Books in 2012.  In the meantime, she has work that will soon be out in Alice Blue, Barrelhouse, Front Porch, Pank and The Rome Review.  She is the poetry editor of decomP and a fiction reader for Our Stories. Mostly though, she blogs her rejections at jacjemc.wordpress.com.
Following her 30 minute reading, Jac will take questions from the audience.
As always, the event will be recorded and published on-line for your repeated listening pleasure on iTunes and at www.theparlorreads.com
All readings take place at 1511 N. Milwaukee Ave, 2nd Floor
For more information, please visit www.theparlorreads.com or contact theparlorreads@gmail.com
The Parlor is a monthly reading series sponsored by Bad At Sports Podcast (www.badatsports.com).