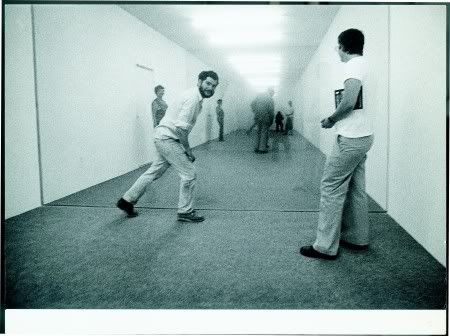 Guest post by Jen Gillespie
Walker Arts Center October 31, 2009- January 24, 2010
The Show was also at the Whitney and the MOCA
Opening Lecture Saturday October 31st with the curators from all three galleries as well as the band Japanther.
Last weekend I made a pilgrimage to see Dan Graham's first retrospective in the United States, in its third and final destination, the Walker Arts Center.  The Walker is in Minneapolis, and if you're from Chicago and you haven't been, you really should make the trip. Dan Graham's exhibition Beyond earlier this year was shown at the Whitney in New York (June 25 – October 11, 2009) and the Museum of Contemporary Art in Los Angeles (February 15 – May 25, 2009) and was co-curated by Chrissie Iles (Whitney) and Bennett Simpson (MOCA).  Beyond traces Graham's influential body of work highlighting his mirror and video installations as well as his conceptual work.  Graham's work, though over time has changed in its physical product, or the method of his conceptual delivery is tweaked, the work consistently deals with subject-hood, identity, duration/distance and the interconnectivity of environment/subject/object relationships.    Graham's discussion that took place at the Walker last weekend with the co-curators of the exhibition as well as the band Japanther was a fantastic one.  In this instance it was a rare example of three discordant aspects of the art world making the sweet, sweet music of politely agreeable disagreement.  Each with their own agenda, the curators, Dan Graham, and Japanther, these separate entities all contributed their perspective on Graham's work, though certainly Dan Graham got the final word. It is after all, his, that's only fair.  Check out the link to view this discussion, Dan Graham is absolutely a legend and shouldn't be missed.  I highly recommend the journey before the show comes down in January.
What's the latest trend in trendy art openings events? Food orgies, preferably food generated by felled trees and lots and lots of dead animals dripping (oh sorry, I meant "drizzled") with honey. And cakes delivered by bare-breasted women (all gorgeous models, mind you). First, there's the biblically-inspired feast designed by event planner Jennifer Rubell for the Performa 09 benefit dinner (Rubell is the daughter of reknowned collectors Donald and Mera Rubell).  Roberta Smith summarized the event for the New York Times here. Then, there's the Kreemart/American Patrons of Tate/Haunch of Venison New York Cake Party that took place on November 3rd (read about it here), which paired four artists (Marina Abramovic, Leandro Erlich, Mickalene Thomas and Rob Wynn) with top NYC pastry chefs to make art cakes. Some of those cakes were frosted silver and gold, leaving glittering smears across the mouths of those who consumed it. Bits of cake were served by and in some cases fed directly to guests by topless models.
I'm sure there were plenty of heady ideas motivating both of these performance orgies, most likely having to do with shining a light on greed, cultural over-consumption, and waste, along with attempts to parody the culturally current notion that we should eat only what we ourselves kill. Regardless, I remain in awe of how the art world's glitterati invariably find new ways to satirize their golden cake while merrily stuffing it into their faces too.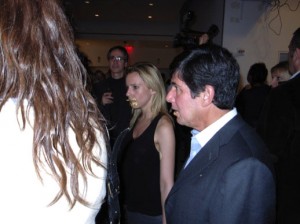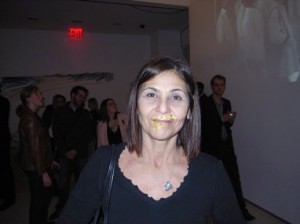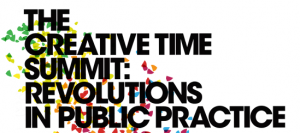 In a piece titled Public Opinion written late last week for Artforum.com, Claire Bishop reports on Creative Time's Summit on "Revolutions in Public Practice" held at the New York Public Library a few weeks ago. The summit presented an overview of current practices that encompass "everything from participatory performance to allotment squatting to socially conscious photography," as Bishop described it. At the summit, artists such Vic Muniz, Harrell Fletcher, Tania Bruguera, Rene Gabri (hey Rene!), Dara Greenwald, Thomas Hirschhorn, Maria Lind, Francisca Insulza, Liam Gillick and numerous others (including this week's podcast guests Temporary Services) made short presentations of current works and related projects.
Bishop offered a somewhat skeptical and occasionally snarky take on the proceedings. In particular she questioned the Summit's use of the word 'revolution,' given that many of the practices she observed were in her opinion not exactly new. She argued,
There was a striking similarity between many of the presentations and 1970s gestures of institutional escape, as well as to early-'90s "new genre" public art (the term coined by artist Suzanne Lacy, who also spoke at the summit). The big difference between then and now was the staggeringly dry and soulless language deployed by many of today's artists who took to the podium. At countless points in the day, my eyes glazed over to the sound of earnest monologues announcing, "My practice is about creating platforms for a critical interface with overlooked spaces, networking with local communities to provide self-organized resources and coproducing social relations . . ." Aaagh!
Bishop summarily dismissed the projects presented by Vic Muniz and Harrell Fletcher "for their reality t.v. sentimentality" while chiding the Summit for its "predominant tone of collective agreement" and overall lack of "friction." She concluded:
"At its best, the "Revolutions" summit offered an immensely valuable overview of a wide range of engaged practices otherwise lacking visibility in New York, while the discursive format provided an appropriate alternative to the exhibition as a means of presenting this often visually evasive work. Socially, it was dynamic—and in this respect, it had much in common with the energy of Hans Ulrich Obrist's marathons. On the other hand, the summit was only an overview and did nothing to problematize "public practice" as a direction in contemporary art. It assumed (along with many of the positions presented) that art as a discipline can and should be marshaled toward social justice. I would have liked to see more pondering of the specifically artistic competences that can be deployed toward these ends."
In the Talkback section, Muniz, Fletcher, and several others weigh in with dissenting assessments of the Summit – and here is where the topic gets truly interesting. Creative Time curator and event co-organizer Nato Thompson offers a particularly thoughtful and measured rebuttal which, among other issues, questioned the usefulness of Bishop's approach to the event– an approach that, in this instance, at least, may have missed the point entirely. Thompson explained,
We chose this format so that the work could speak for itself and the audience would be left to consider all the problems and solutions they provide. Another motivation was simply to provide a platform in NYC for this type of work. Certainly, there is much more to be said, and we intend to provide more spaces for this work. Ultimately, we need to re-engage the critical project of thinking through culture's relationship to the issues and concerns of everyday life. We must stop this antipathy for thinking and market friendly pseudo-populism that has swept the critical stage (while admitting the disaster that jargon-laden Marxist art criticism has wreaked on political art) and instead, take seriously the potential for the arts to participate in the concerns that actually matter in the world. From this difficult vantage point (that is how projects actually transform the social landscape), the discussions around political public practice may possess an urgency capable of pushing the discussion beyond the prescribed domain of art."
Go read the article and subsequent exchanges for yourselves, if you haven't already. The discussion has generated some real heat, and should be of particular interest to artists and other cultural workers who frame their work as a form of "public practice" rather than as art with a capital A.
This post, about an exhibition of Martha Rosler's Library at the Herter Art Gallery at the University of Massachusetts, got me thinking about personal libraries of various kinds. Mostly working libraries, filled with books that people have actually read cover to cover, as opposed to the coffee table variety. I've always loved sneaking a peek at the bookshelves in the homes of people I visit. I'll admit it, I'm a snoop, at least when it comes to uncovering the secret history of what people like to read.  I don't mind if people snoop my bookshelves when they visit my place either. Bookshelves are like snapshots, in some cases they're a form of family portrait. I love how over time, everyone's books can mix together willy nilly, the Marxist analyses with the potty training manuals, but I also love seeing smaller tableaus containing just those books that are "in action" at the moment, like this one, from the home of Pamela Fraser and Randall Szott: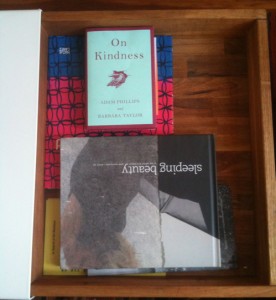 Family bookshelves mediate between public and private space.  I would most likely be too embarrassed to ask someone if I could photograph the books in their bedroom (although who knows, maybe not), but the living room seems like fair game. So much art in Chicago takes place within domestic settings, and sometimes it can be really hard for me to keep my eyes on the art, so interested am I in everything else that's going on in the room. Lately, I've been wanting to take pictures of the bookshelves in artist's studios and in various public/private domiciles as a combination snapshot and local travelogue, a means of staging a different kind of personal encounter. Over the next few months I'll occasionally post snapshots from the domestic libraries I encounter (with the owners' permission, of course). So many clues about who we are and what brought us to this point are hidden in plain site right there on a bookshelf.  It's fun to look, to try and make connections, to guess at whose book is whose and to feel a sense of curiosity and wonder at what we find.
Why goes as yourself for Halloween when you can go as the 8-bit low resolution version of yourself? I don't know the girls name but the work speaks for itself. The photos were posted on her blog kindacarsick and I look forward to what she comes up with next year.