This is a proof-of-concept video by the Japanese design house PROTOTYPE that was built to showcase their new modular interactive large scale touch screen installation process. This concept can be scaled to sizes way beyond the 20 iPod demo and easily maintained, repaired & replaced.

Reportedly it can be built to drag & drop touch react to nearby ipods but until there is video of that it seems unlikely. Still in a Art world where Iphones are king this seems fitting for a install in Basel Miami coming up for sure.
Someone just sent me a link to this story with the comment "Yeah, they got that right." CNNMoney's website reports that curators are among the worst paid and most nerve-wracked professionals. My own personal experience in the field supports such findings, but I must admit to taking a certain sick schadenfreude-type pleasure in seeing it all laid out there with percentages and everything. Other stressful, shittily paid jobs include social worker, minister, parole officer and news reporter.  The report says a curator's median pay is $46,500 and 89% of curators say their job is stressful.

On a related note, the website reports that some of the 50 best jobs in America include Systems Engineer, CPA, and Speech Language Pathologist. Make of this what you will.
Via Lindsay Pollock.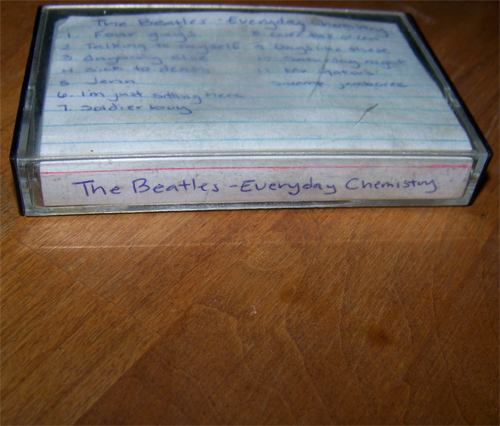 I could present this in the form it should be experenced in which is one of:
On Sept. 9, 2009 I experienced something that I still am having trouble believing happened to me. I came into the possession of a cassette tape containing a Beatles album that was never released. I dont expect you to believe what happened to me, I sure wouldn't, but thats why I grabbed the tape as proof that my experience was real.
But I know someone will complain so in the end just listen to the best mix album since the Grey Album by Danger Mouse. Check it out, share it while you can cause like the Grey Album this will be on the ghost net in short order al a Grey Tuesday.
Audio clip: Adobe Flash Player (version 9 or above) is required to play this audio clip. Download the latest version here. You also need to have JavaScript enabled in your browser.
The Dubai Fountain which was announced in June of 2008 by developer Burj Dubai has officially been opened. At an estimated cost of $218 Million USD or 800 Million AED the fountain is the largest and most complex of it's kind. Surpassing the Fountains of Bellagio at Las Vegas by at least 25%.
The fountains which are over 300 yards in length can shoot to the maximum height of 150 meters, which is equivalent to the 50-story building or 1/5th of the way up the nearby Burj Dubai super-skyscraper that is set to be completed by January of 2010.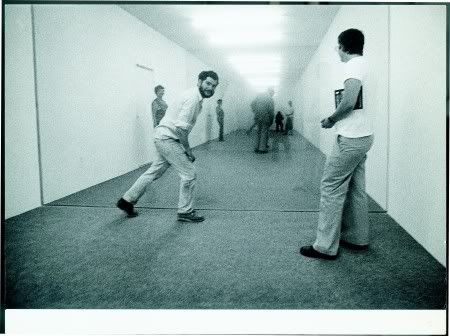 Guest post by Jen Gillespie
Walker Arts Center October 31, 2009- January 24, 2010
The Show was also at the Whitney and the MOCA
Opening Lecture Saturday October 31st with the curators from all three galleries as well as the band Japanther.
Last weekend I made a pilgrimage to see Dan Graham's first retrospective in the United States, in its third and final destination, the Walker Arts Center.  The Walker is in Minneapolis, and if you're from Chicago and you haven't been, you really should make the trip. Dan Graham's exhibition Beyond earlier this year was shown at the Whitney in New York (June 25 – October 11, 2009) and the Museum of Contemporary Art in Los Angeles (February 15 – May 25, 2009) and was co-curated by Chrissie Iles (Whitney) and Bennett Simpson (MOCA).  Beyond traces Graham's influential body of work highlighting his mirror and video installations as well as his conceptual work.  Graham's work, though over time has changed in its physical product, or the method of his conceptual delivery is tweaked, the work consistently deals with subject-hood, identity, duration/distance and the interconnectivity of environment/subject/object relationships.    Graham's discussion that took place at the Walker last weekend with the co-curators of the exhibition as well as the band Japanther was a fantastic one.  In this instance it was a rare example of three discordant aspects of the art world making the sweet, sweet music of politely agreeable disagreement.  Each with their own agenda, the curators, Dan Graham, and Japanther, these separate entities all contributed their perspective on Graham's work, though certainly Dan Graham got the final word. It is after all, his, that's only fair.  Check out the link to view this discussion, Dan Graham is absolutely a legend and shouldn't be missed.  I highly recommend the journey before the show comes down in January.