The School of the Art Institute kicks off its current Visiting Artists Program with a lecture by Saya Woolfalk tomorrow, Tuesday February 2nd, at 6:00pm. From the Visiting Artist's Program website:
SAIC alumna Saya Woolfalk (MFA 2004) will present her ongoing project No Place, a multimedia, fictional future that reworks tropes of sexual, racial, and gender difference. The characters and stories in Woolfalk's constructed reality evoke travel narratives, science fiction, and the rhetoric of anthropology to investigate human possibilities (and impossibilities). Through diverse forms of installation, video, painting, drawing, performance, and sound, she reflects on human life and its future through configurations of biology, sociality, and the environment. Woolfalk's selected exhibitions include PS1/MoMA; Museum of Contemporary Art, Chicago; Indianapolis Museum of Contemporary Art; Studio Museum in Harlem; and Momenta Art. She has been an artist in residence at Skowhegan, Yaddo, Sculpture Space, and the Studio Museum in Harlem. Presented in collaboration with SAIC Alumni Relations.
Want to bone up on Woolfalk's work prior to the lecture? Here are some links to get you started:
Interview with Saya Woolfalk on Art21 Blog
Saya Woolfalk Artist's Page at Zg Gallery, Chicago
Saya Woolfalk Performs No Place: A Ritual of the Empathic at Performa 09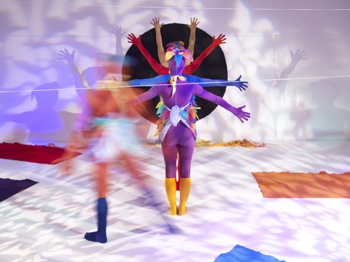 Woolfalk's lecture will be held at the SAIC Columbus Auditorium, 280 S. Columbus Drive.
This round of VAP lectures is especially strong. Don't forget to mark your calendars for these upcoming SAIC Visiting Artist Program lectures (click here for further details):
Doug Aitken, Monday, February 22nd, 6pm
Amy Franceschini, Thursday, March 11, 6pm
Doris Salcedo, Monday, March 15, 6pm
Matt Keegan, Tuesday, April 6, 6pm
Ryan Trecartin, Wednesday, April 14 and Thursday, April 15 at 6pm
Hooray!
1. Dialogue: Presented by IRUS art (an intercultural collaborative art show between artists in Iran and the U.S.) at Co-Prosperity Sphere –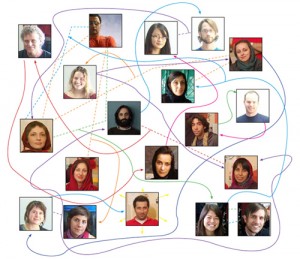 The crew down at Co-Pro are always working hard to put on events that are relevant withing AND beyond our little world of art. This is obviously no exception. And I quote, "Two teams of artists, one in Tehran and another in Denver have assembled under one name: IRUS (Iran – United States). Starting with our mutual respect for art, we have established collaborative projects between our groups." Friday night is the show reception, and Saturday is the discussion panel.
Co-Prosperity Sphere is located at 3219 S Morgan St. Reception is Friday from 7-10pm. Discussion is Saturday from 5-7pm.
2. M155 4m3r1c4 at Noble & Superior Projects –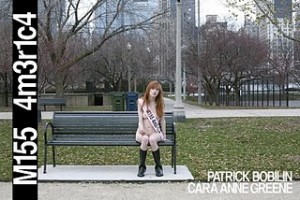 Now, I will admit, I am rather partial to Noble and Superior Projects already, but that said, this show absolutely deserves a place in this weekend's Top 5, regardless of my previous experience with 'em. This show is a double whammy with Patrick Bobilin and Cara Anne Greene. Patrick's work, and I quote, "M155 4m3r1c4 (Miss America), is a loose narrative which uses documentation and fiction together to create a broad self-portrait doubling as cultural commentary," and involves video, photographs, and documents relating to the M155 4m3r1c4 narrative. And Cara Anne Greene, beautiful, beautiful Cara Anne Greene will be serving up culinary complements to the story of M155 4m3r1c4. AWESOME!
Noble & Superior Projects is located at 1418 W Superior St 2R. Reception is Friday 6-10pm.
3. Closing Reception for Byron Roche –

Byron was one of the first gallerists I met in Chicago, and he set the bar high. He is endlessly knowledgeable and endlessly kind. It is, therefore,with a sad heart, that I make this addition to the Top 5. After 16 years with a public gallery, Byron is closing his space. He will continue to operate as a private art consultant, but no longer will there be that comforting island of Byron Roche Gallery in River North. No more box wine, no more Sweetheart Jewelry. So come down and say goodbye, this is your last chance.
Byron Roche is located 750 N. Franklin. Closing reception is Saturday from 11am-6pm.
4. Artist Talk with Adam Ekberg at Thomas Robertello Gallery –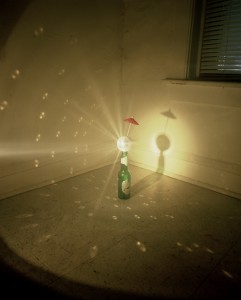 The first of two not-to-be-missed artists' lectures happening this weekend. The be-bearded countenance of Mr. Ekberg will be discussing his work at Thomas Robertello Gallery, amid his wall mounted work. And I quote, "continuing with the use of lens-based phenomena, humble celebratory gestures, and primitive constructs, Ekberg further develops two distinct bodies of work; images created in the woods or nature, and images using his apartment as stage set." Be there or be square!
Thomas Robertello Gallery is located at 939 West Randolph St. The artist talk begins at 3pm.
5. Artist Talk with Aspen Mays at HPAC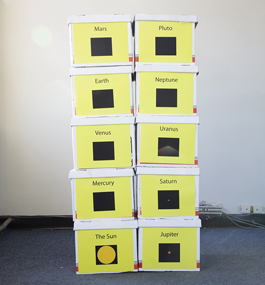 The second not-to-be-missed artists' lecture this weekend. Aspen Mays will be discussing works from her From the Office of Scientists exhibition currently on display at HPAC. And I quote, "Mays activates the office cubicle as a site for information production and general inquiry where "big ideas" are generated." Sweet!
Hyde Park Art Center is located at 5020 S. Cornell Ave. The artist talk begins at 2pm.
Alison Ruttan has posted images on her website from her new "Four Year War" series, part of her ongoing Primates project. (I was able to observe one of the shoots for this project last summer, which I blogged about here). She's now edited the resulting photographs into a narrative of sorts, including storyboard-like sequences and dramatic close-ups. Of the series, Ruttan has said:
"From the beginning of my primate projects I have been collecting individual and group histories from scientist and zookeepers that I have met or read about in my research. These narratives often seem epic in scale and uncannily human in the way individuals interact with each other in their quest for power and position. The project, "The Four Year War at Gombe" is based on Jane Goodall's discovery that Chimpanzees wage war and are capable of long-range planning and strategic thinking. Goodall's group of chimpanzees lived peaceably together for many years before splitting into the two communities of Kesakela and Kahama. It seems that like us, the bloodiest feuds and civil wars are always waged against those whom we have the closest ties to. It is unknown what the specific causes were of the split and violence that followed. Perhaps it was an uneven distribution between males and females, a shortage of food or possibly a long-standing grudge. If this title, "The Never Ending Story" wasn't already taken, it would have seemed apt for this story that so closely mirrors our own history.
This large photographic and video project consists of related groupings of photographs and video that tell the story of this broken community. The series is divided between happy pastorals and a series of 9 murders that occurred between 1973 and 1977 at Gombe Stream National Park in Tanzania. While not literal in intent I have used much of Goodall's research photographs and notes to reconstruct the history of this group. The participants in this project were all family, neighbors and friends who generously gave of their time and I think had some fun learning about primate societies and their behavior."
The images look pretty incredible thus far. I'm definitely looking forward to seeing this series in printed format, in a larger setting that allows for the full impact of the narrative to unfold. (More images can be found on the artist's website).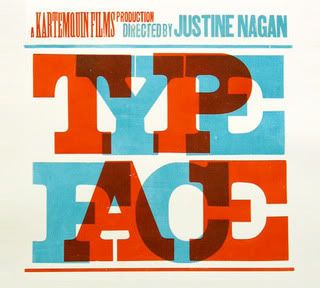 Directed by Justine Nagan, Typeface takes a look at the obsolete techniques used to create and print wooden type. The film centers itself on The Hamilton Wood Type and Printing Museum located in Twin Rivers Wisconsin. Housed in Hamilton's factory the understaffed museum gives tours, hosts workshops, and attempt to archive the boxes upon boxes of wooden type that are piled about. In the opening scenes we get an overview of the museum while on tour with former Bad at Sports guests the Post Family. Throughout the film we weave in and out of mostly Chicago studios as, printmakers/graphic designers discuss their love for wooden type. The Walker Art Center recently caught up with Nagan and spoke with her about making the film:
W: Why make a film about an obsolete technology?

JN: I became fascinated with exploring the changing importance of analog technologies in our digital age. There is this theory that as we as a society sit at our computers all day, in the off hours, tactile and sensual experiences become all the more important. People are craving things with texture that they can hold in their hands-whether it's knitting or playing guitar… Then there's the whole nostalgia factor: LPs vs. iPod, film vs. video, letterpress vs. inkjet.

W: Some obsolete technologies manage to take on a second life by addressing a different need or being adopted by a new (sub)culture in a different context. Do you think a revival or re-interpretation is inherent to any successful preservation movement?

N: I think evolution is key to preservation. Re-imagining and adapting technology, while maintaining the elements that made it interesting in the first place, ensures longevity of the medium. I think the new interest in letterpress and craft is sustainable. The current styles of letterpress may fade, only to be re-invented again by some future generation. [Read more]
Well if you are in America today you are largely going to hear about one of two things, either President Obama's first State of the Union and the new expected focus on the Economy in place of War or Healthcare or Apple announcing it's new iTablet iPad and the statement that you can buy them in Apple stores right after the announcement.
Either way the current economy is going to be the catchword of the day and in the Art world that goes double since it is largely dominated both by the current economic trends and Apple products.
So here is hoping for the best in both areas but it is an interesting contrast happening. Which has more sway? Government run economic plans or Market run announcements?
To help visualize the current debate we present a rap video since it is ever fitting of a discussion about fools and their money. It's John Maynard Keynes vs Friedrich von Hayek in a showdown over what works best (the fact that BaS is based in Chicago, home of Hayek & the Chicago School of Economics should not be considered an endorsement of either party lol ).
Enjoy