Last weekend I checked out Volume Gallery's debut presentation, an exhibition of limited edition furniture pieces by designer Jonathan Nesci titled THE NEW. The show was held for three days only at Andrew Rafacz Gallery. Nesci, whose design firm Hale is based in Chicago and Scottsburg, Indiana,  finds inspiration in the idiosyncratic details of urban infrastructure: the angle of street curbs, the unobtrusive design and placement of electrical meters, the base of a street light. The limited edition pieces comprising THE NEW also reference minimalist sculpture: a day bed and side chair are named after Sol Lewitt,  a wall-mounted aluminum plate bookcase that self-consciously evokes a Donald Judd sculpture is called the Reference Shelf.
Nesci favors industrial materials like metal and concrete, coated in a matte white finish that draws in surrounding light. My favorite piece was the Standard Table: a concrete disc that appeared to float within a circular bed of powder-coated aluminum and steel. In the picture above, its pale grey tabletop appears chalky white — an example of the way that Nesci's pieces suck up light and transform hard-edged materials into objects that appear light-weight and almost ethereal. I also loved the smart, streamlined Seattle Planter, a combination planter/umbrella stand, which ingeniously re-uses dripping rainwater to nourish the plants in its base (the piece was designed with rain-soaked regions in mind, natch).
Appropriately, Sam Vinz and Claire Warner, the co-founders of Volume Gallery, chose a white cube-like gallery space to showcase Nesci's editions. Future iterations of Volume will likely look very different. I asked Vinz and Warner if they could answer a few questions about their new endeavor, and they kindly agreed. Check out Volume's website for information on the next show, an exhibition of new editions by Felicia Ferrone that will take place sometime next Fall.
CI: Tell me a little bit about both of your backgrounds. You worked at Wright Auctions for a time?
Claire Warner: I graduated with a BA in Art History from Denison University, with an emphasis in Decorative Arts, spent several years at Wright Auction in Chicago as a specialist and appraiser in 20th century and contemporary design. While at Wright, I had the opportunity to help organize exhibitions by contemporary designers such as Arik Levy and Martino Gamper. Also spent time working at Luminaire, Chicago.
Sam Vinz: I graduated with a BA in Art History from UW-Madison with an emphasis in 20th century European architecture. In 2008 I completed my MA in Art Business from Sotheby's Institute in London, and I wrote my dissertation on an analysis of the contemporary design market. I have worked at Phillips de Pury, Carpenter's Workshop Gallery, Wright Auction, and Chase Art Companies. [Read more]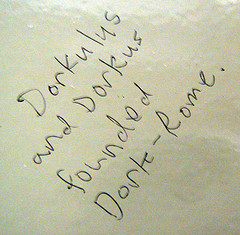 The Chicago Tribune's Live section has a profile today of Quinn Dombrowski, a photographer and University of Chicago grad who has a flickr site, and a self-published book, that captures the astonishing range of graffiti marking the interior of the Regenstein Library. The Trib notes that she has unearthed more than 1700 graffiti markings, some written in Arabic, Chinese, Egyptian hieroglyphics, and even dead languages.
Dombrowski's project is amazing. I know I'm going to be thinking about it all day. Dombrowksi also has a website and a blog with additional details on the project, lots of images, and background musings on her graffiti findings, including her latest post, a really interesting analysis (including pie chart!) on the relatively low rate of homophobic graffiti appearing in the Regenstein Library. (All photographs taken by Quinn Dombrowski).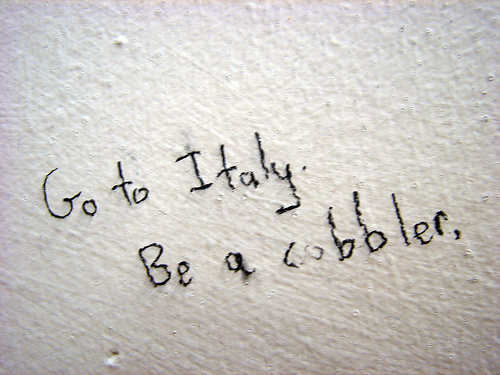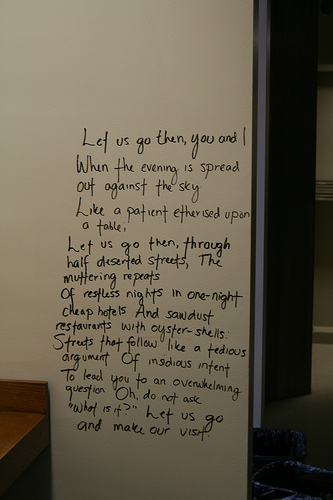 The great Steve Hamann does his take on the History of Bad at Sports as no one else could lol.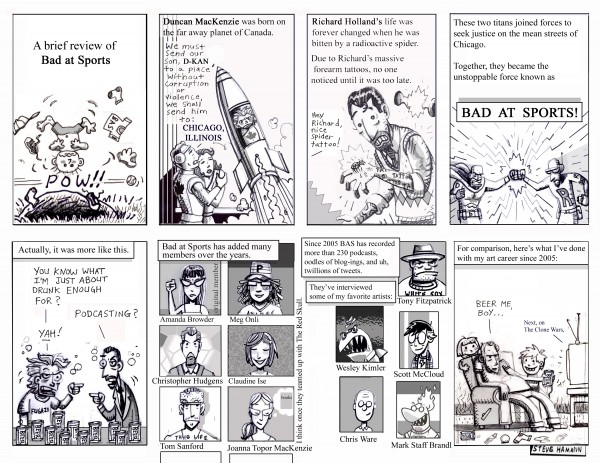 Back in November I posted James Blagden's awesome animation "Dock Ellis & the LSD No No". The video had been produced by the New York based company No Mas. Recently, No Mas has  teamed up with David Rathman to produce not only a set of prints based on the historic "Rumble in the Jungle" fight but this short animation entitled "Zaire".
via No Mas:
"David Rathmans Zaire translates iconic moments from the Rumble in the Jungle—the press conference, the rope-a-dope, Alis stunning knockout, delirious crowds—into a stirring black-and-blue toned watercolor time capsule.
Rumblevision: No Mas and Muhammad Ali Enterprises celebrate the 35th anniversary of The Rumble in the Jungle and Muhammad Ali's stunning victory in Zaire. Original animated shorts by David Rathman, Jerome Lagarrigue and James Blagden debut 10/30/09. "
For more info please visit No Mas.
Does the Museum of Modern Art's live feed of Marina Abramović's performance "The Artist is Present" defeat the purpose of the piece, or enhance it? "The Artist is Present" is the title of both Abramović's retrospective, which opened at MoMA on March 14th, as well as her new live performance, which takes place in MoMA's Marron Atrium throughout the run of the exhibition.  In her performance, Abramović sits on a wooden chair in front of a wooden table. The chair across from her is occupied by different museum visitors, who are invited to take a seat across from the artist and gaze at her while she gazes at them. Visitors are allowed to sit in the chair for as long as they want. (One man stayed for seven hours).  MoMA's exhibition website notes that the retrospective as a whole endeavors to "transmit the presence of the artist" by including "live re-performances" of Abramović's works by other people, along with this new durational performance by the artist herself.
I couldn't find any mention of how live streaming the performance fits into the exhibition's overall attempts to "transmit the artist's presence," however. Ideally, of course, viewers will experience Abramović's performance in a more direct fashion, either by sitting across from her or watching from the audience as other people share her gaze.  But the existence of MoMA's live streaming "marina-cam" (my nickname, not theirs) is downright puzzling. What's the purpose of streaming a performance–one which purportedly explores what it means to "be present" in this particular historical moment — for the benefit of anonymous internet users who can engage with it only by staring at their computer screens for a few seconds at a time?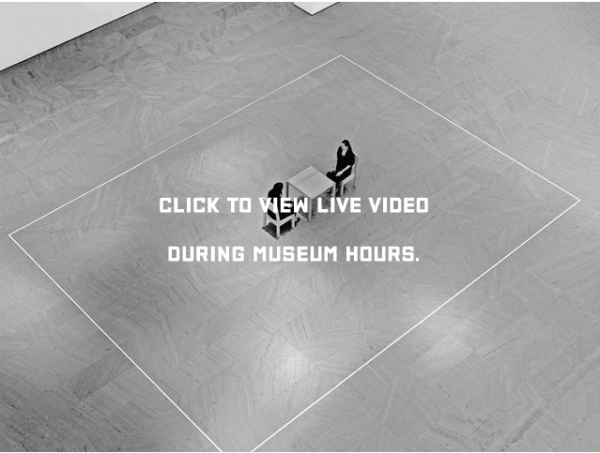 For a work of art that necessitates 'presence' in all the multivalent meanings of the term, I find it curious that Abramović agreed to the livecam broadcast in the first place. [Read more]