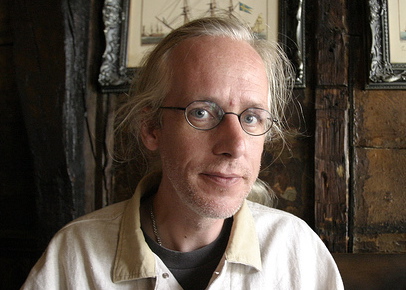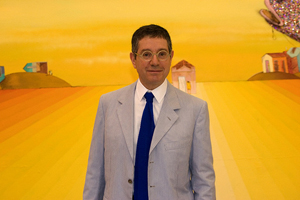 In conjunction with the exhibition Don't Piss on Me and Tell Me it's Raining apexart presents a conversation between Jeffrey Deitch and Carlo McCormick. On the eve of Mr. Deitch's departure from New York, he'll discuss his time and legacy as "one of the most visible, dynamic and controversial players in the New York art world." Full details on the talk below, straight from the source. Keep your eyes on our website for the broadcast of this conversation on an upcoming episode of Bad at Sports' podcast.
Carlo McCormick is a leading New York art writer and a champion of "the downtown scene." He is the author of numerous books, monographs and catalogues on contemporary art and artists, and has lectured and taught extensively at universities and colleges around the United States. His writing has appeared in Aperture, Art in America, Art News, Artforum, Camera Austria, High Times, Spin, Tokion, Vice and countless other magazines. He has curated shows for the Bronx Museum of Art, New York University, the Queens Museum of Art and the Woodstock Center for Photography. McCormick is Senior Editor of PAPER magazine.
Jeffrey Deitch has been a paragon of taste and a fierce proponent of contemporary art and its emergence both in New York City and the world at large. Deitch is a dealer in modern and contemporary art and an art advisor to private and institutional art collectors. He is also an art writer and exhibition organizer, having contributed to Arts, Art in America, Artforum, and numerous other publications, and served as the first American Editor of Flash Art. He received an Art Critic's Fellowship from the National Endowment for the Arts in 1979. Deitch's first important curatorial project was Lives, a 1975 exhibition about artists who used their own lives as an art medium. It was presented in a vacant office building in Tribeca. His most ambitious exhibition was Post Human, which opened at the FAE Musée d'Art Contemporain in Lausanne in June 1992, and travelled to the Castello di Rivoli in Torino, the Deste Foundation in Athens, the Deichtorhallen in Hamburg, and the Israel Museum in Jerusalem. Prior to opening his own art advisory firm in 1988, Mr. Deitch was a Vice President of Citibank where he spent nine years developing and managing the bank's art advisory and art finance businesses. Before joining Citibank, he was the Assistant Director of the John Weber Gallery in New York and then the Curator of the De Cordova Museum in Lincoln, Massachusetts. After a long career in New York, he will start as Director of the Los Angeles MOCA in June 2010.
Please join us.
All events are free and open to the public.
apexart's exhibitions and public programs are supported in part by the Andy Warhol Foundation for the Visual Arts, Carnegie Corporation of New York, Edith C. Blum Foundation, Mary Duke Biddle Foundation, The Greenwich Collection Ltd., The William Talbott Hillman Foundation, and with public funds from the New York City Department of Cultural Affairs and the New York State Council on the Arts.
apexart
291 Church Street, NYC, 10013
t. 212 431 5270
www.apexart.org
Ahoy there. Fearless leader Burke here, bringing you yet another round of weekend picks. Sorry for missing you all last week, I was out on the west coast communing with the scorpions and cactus. It was nice, I got a sunburn, and I even looked at some art. But that's not what's important right now. Right now you want to read about some shows happening this weekend. Well, here you go…
1. Bad Boys at Thomas Robertello Gallery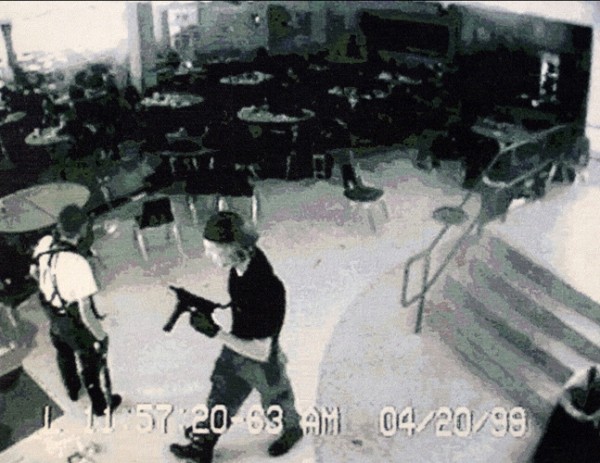 New work by Noelle Mason.
Thomas Robertello Gallery  is located at 939 W. Randolph. Reception is Friday, from 5-8pm.
2. Halfsleep at HungryMan Gallery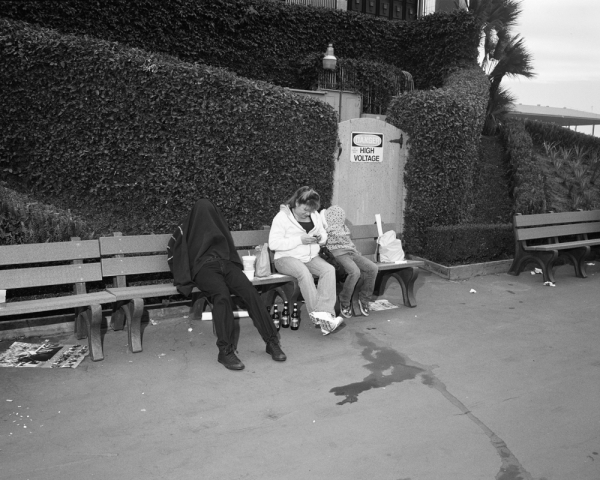 New photography by Casey McGonagle.
HungryMan Gallery is located at 2135 N. Rockwell St. Reception is Saturday, from 6-11pm.
3. International at Donald Young Gallery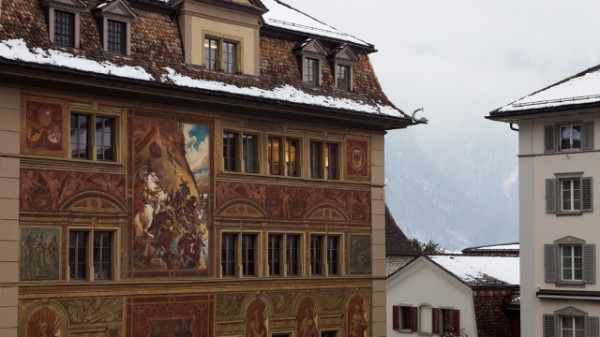 Video and sculpture by Joshua Mosley.
Donald Young Gallery is located at 224 S. Michigan, Ste. 266. Reception is Friday, from 5-7pm.
4. Retrospective at Garage Spaces

Ephemera from three 2009 shows: "Stolen," "Den" and "Funeral."
Garage Spaces is located at 1337 N Maplewood Ave. Reception is Friday, from 5pm-12am.
5. Incident Control at MoCP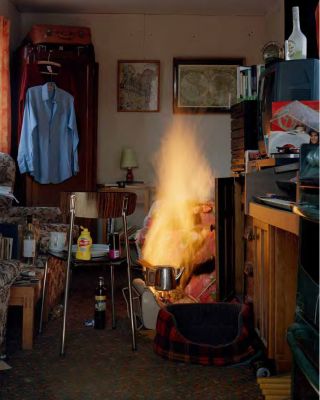 Photography by Sarah Pickering.
MoCPÂ  is located at 600 S. Michigan Ave. Reception is Thursday, from 4-7pm.
The time has finally come: Don't Piss on Me and Tell Me It's Raining, aka Bad at Sports' exhibition at apexart in New York, opens tonight! Everyone is thrilled and excited and truly grateful to the wonderful folks at apex art for giving us this fantastic opportunity. So if you're in New York city tonight, be sure and swing by the opening from 6-8pm to meet Richard, Duncan, Tom, Amanda, Meg and other fabulous people who will be in attendance. Full details on the show were posted on the blog earlier this week. A few pics from the installation follow, and make sure to track the hilarious antics of the Bad at Sports crew today and tonight by following the hashtag #basapex on Twitter.
And for those of you not able to take a NY trip this time round, lucky for you (and me), all of the public talks will be recorded and broadcast on upcoming episodes of the podcast so you won't miss a word. Next week on the blog, Meg will have a big New York city wrap-up  with installation pics, reviews, notes and other fun stuff, and we'll post highlight pictures of the exhibition as they come in and/or if anyone remembers to send them to me. Congratulations everyone!!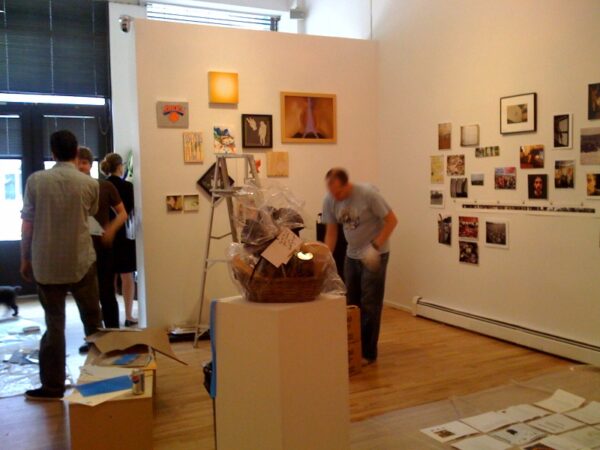 Like I said, there's a shitload of great stuff happening in town this week. Tonight only, a video program curated by Alicia Eler and Jefferson Godard titled "Performance Anxiety" will screen at Gallery 400 at UIC at 8pm. Here's how the press release describes it: "a program of short video works dealing with performances of cultural identity. In navigating complicated understandings of gender, race, class, sexuality, or existence in on- and off-line spaces, individuals accept and internalize cultural rules or ideologies and pass; reject them, identifying such performances as a form of cultural oppression; or even scramble and combine rules and codes in personalized constructions. Performance Anxiety (run time: approximately 50 minutes) features the work of American artists Rochelle Feinstein, Kate Gilmore, James Murray, Jeroen Nelemans, Greg Stimac and Stacia Yeapanis."
I wrote about the films on the blog a few months back – I'm reposting a slightly revised version of that essay below, for those who are too lazy to click. (No judgment there, I myself am often that lazy). [Read more]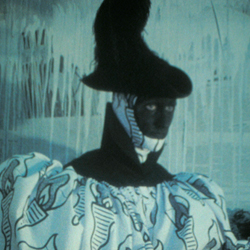 There are a ton of interesting screenings and lectures taking place in Chicago this week, (did anyone catch Andrea Zittel's talk at the MCA Theater on Monday?). Next up: tonight and tomorrow, British experimental filmmaker Emily Wardill will present five short films and her new feature film, Game Keepers Without Game, over two nights of screenings at the Gene Siskel Film Center and the School of the Art Institute of Chicago.
The deets, from the press release: "Wardill's films are brilliant cinematic labyrinths. Visually striking and playfully rigorous, they draw upon an array of sources — underground theater, psychoanalytic case studies, the writings of Friedrich Nietzsche and Jacques Rancière, and even the game logic of Nintendo Wii — to pose fundamental questions about vision, representation, and media and their role in how we come to know ourselves."
Here's the schedule of events:
April 8, 2010 at 6pm: Everything I Tell You Now Is True: The Short Films of Emily Wardill
Conversations at the Edge, Gene Siskel Film Center, 164 N. State Street, Chicago
$10 general admission, $7 students, $4 for students and faculty of the School of the Art Institute, and staff of the Art Institute, $5 Film Center members. Visit www.saic.edu/cateblog and www.siskelfilmcenter.org.
In this special program, Wardill presents five of her 16mm short films, all of which are Chicago premieres: Born Winged Animals And Honey Gatherers Of The Soul (2005, 9 minutes), Basking in What Feels Like 'An Ocean Of Grace' I Soon Realise That I'm Not Looking at It, But Rather I Am It, Recognising Myself (2006, 8 minutes), Ben (2007, 10 minutes), Sick Serena and Dregs and Wreck and Wreck (2007, 10 minutes), and The Diamond (Descartes' Daughter) (2008, 11 minutes).
Wardill will introduce the screening and take questions afterwards. In conjunction with this presentation and in keeping with Conversations at the Edge's commitment to supporting SAIC's curricula, Wardill will also visit several graduate classes in the Department of Film, Video, and New Media during her stay.
Friday, April 9, 2010 at 6pm: Emily Wardill's Game Keepers without Game
Eye & Ear Clinic, School of the Art Institute of Chicago, MacLean Theater
112 S. Michigan Ave #1307. Free and open to the public. Visit www.saic.edu.
Game Keepers Without Game (2009, 87 minutes), the subject of Wardill's solo show at The Show Room in London until late March 2010, takes Pedro Calderón de la Barca's Life is a Dream (La Vida es Suena, 1635) as its starting point. Game Keepers tells the story of Stay, a girl put up for adoption due to her destructive behavior, whose father is trying to bring her back to the family home. Wardill presents us with a melodrama, aping tropes of British soap operas. She casts her characters and objects against a sterile white frame, setting them to a repetitive drum beat soundtrack. People and props do not touch, and objects in particular take on a symbolic form, acting as both status markers and evidence. Acts of violence are emptied of drama, conjuring up stories of the sadistic and antisocial behavior of British youth in inner cities and depressed coastal towns. The film is a long-form continuation of many of Wardill's ongoing themes and strategies: disjointed sound, image, and dialogue; fragmented narrative; stilted action; and provocation of the viewer — all in search of some new, alternate attempt at communication.
The Eye & Ear Clinic is organized by graduate students at the School of the Art Institute of Chicago. This screening is made possible with support from the Department of Film, Video, and New Media, and the Dean's
Office at SAIC.