Audio clip: Adobe Flash Player (version 9 or above) is required to play this audio clip. Download the latest version here. You also need to have JavaScript enabled in your browser.

download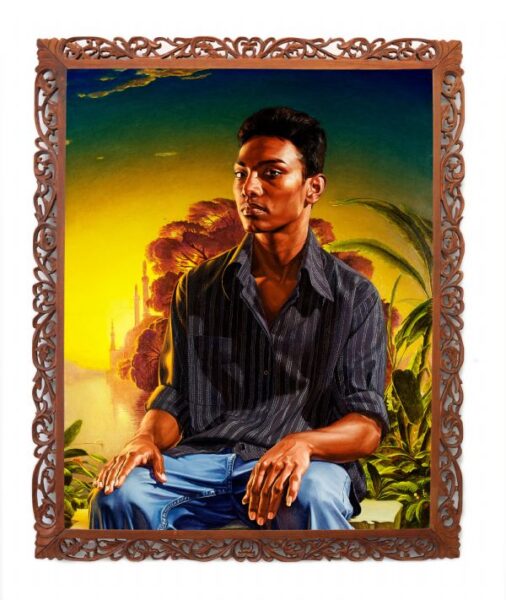 This week: Duncan, Richard and guest co-host Dr. Amy Mooney, Associate Professor of Art History at Columbia College, talk with superstar artist Kehinde Wiley about his work and his exhibition "The World Stage: India-Sri Lanka" which just opened at the Rhona Hoffman Gallery (through October 23, 2010).
The following seemingly outdated bio was lifted from the New Museum of Contemporary Art.
Kehinde Wiley was born in Los Angeles in 1977. He received his BFA in 1999 from the San Francisco Art Institute and graduated from Yale University School of Art two years later. Wiley is viewed as the modern-day heir to a long line of portraitists –Reynolds, Gainsborough, Titian, Tiepolo– from whom he appropriates the symbols and visual language of heroism, power, and opulence in his realistic renderings of urban black men. While referencing specific old master paintings and fusing period elements– French Rococo ornamentation, Islamic architecture, West African textile design– into his portraits, the final works convey a very urban, contemporary aesthetic because of the subjects portrayed and their hip-hop influenced attire. Wiley succeeds in his intent to blur the boundaries between traditional and present-day modes of representation, as he says to "quote historical sources and position young black men within that field of power."
Audio clip: Adobe Flash Player (version 9 or above) is required to play this audio clip. Download the latest version here. You also need to have JavaScript enabled in your browser.

download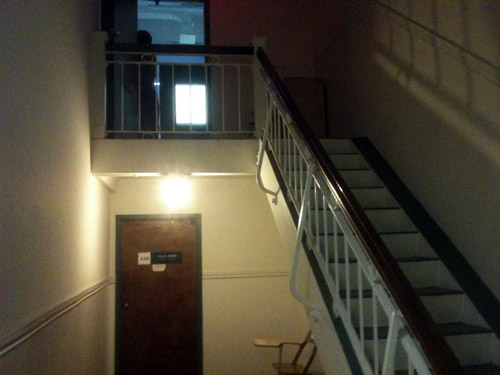 This week: Brian sits down with Ava Jancar and Eric Jones of Jancar Jones galley in San Francisco. They discuss their peculiar gallery space, what it is like to be a young art dealer after the financial meltdown, and the future of the contemporary art scene. Enjoy!
Audio clip: Adobe Flash Player (version 9 or above) is required to play this audio clip. Download the latest version here. You also need to have JavaScript enabled in your browser.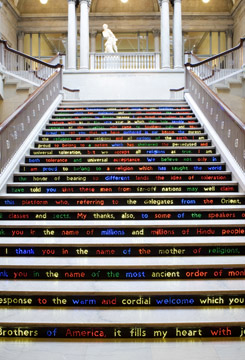 This Week: Our sixth season kicks off with a great interview with artist Jitish Kallat. We talk about his work, his installation at the Art Institute, and what it is like to live and work in an art scene in a city with 14 million people. If that weren't enough, curator Dr. Madhuvanti Ghose chimes in as well!
The following shameless lifted from the AIC web site:
Public Notice 3
September 11, 2010–January 2, 2011
Grand Staircase
Overview: In the first major presentation in an American museum of Jitish Kallat's work, the contemporary Indian artist has designed a site-specific installation that connects two key historical moments—the First World Parliament of Religions held on September 11, 1893, and the terrorist attacks at the World Trade Center and the Pentagon on that very date, 108 years later. The resulting work, Public Notice 3, creates a trenchant commentary on the evolution, or devolution, of religious tolerance across the 20th and 21st centuries.
The basis for Kallat's installation is a landmark speech delivered by Swami Vivekananda at the Parliament, which was held in conjunction with the World's Columbian Exposition in Chicago in what is now the museum's Fullerton Hall. The Parliament was the earliest attempt to create a global dialogue of religious faiths, and Vivekananda, eloquently addressing its 7,000 attendees, argued for an end of fanaticism and a respectful recognition of all traditions of belief through universal tolerance.
With Public Notice 3, Kallat converts Vivekananda's text to LED displays on each of the 118 risers of the historic Woman's Board Grand Staircase of the Art Institute of Chicago, adjacent to the site of Vivekananda's original address. Drawing attention to the great chasm between this speech of tolerance and the very different events of September 11, 2001, the text of the speech will be displayed in the colors of the United States' Department of Homeland Security alert system. Opening on September 11, Public Notice 3 explores the possibility of revisiting the historical speech as a site of contemplation, symbolically refracting it with threat codes devised by a government to deal with this terror-infected era of religious factionalism and fanaticism.
Curator: Dr. Madhuvanti Ghose, Marilynn Alsdorf Curator of Indian and Islamic Art.
Audio clip: Adobe Flash Player (version 9 or above) is required to play this audio clip. Download the latest version here. You also need to have JavaScript enabled in your browser.
The five year behemoth is upon us! Episode 260 kicks off with a discussion with Mary Jane Jacob and Michelle Grabner about the artist and studio. Then we turn the camera on ourselves and have a discussion about where we are and where we are headed, if anywhere.
Thanks for listening! It has been a great five years!
P.S. Cauleen S. you are a sad, sad, petty whiner. Grow the hell up.
Audio clip: Adobe Flash Player (version 9 or above) is required to play this audio clip. Download the latest version here. You also need to have JavaScript enabled in your browser.
This week: Tom and Amanda talk to NYC based painters Aaron Johnson and Ryan Schneider.
BAS sends mucho congratulations to the MacKenzie family.