Audio clip: Adobe Flash Player (version 9 or above) is required to play this audio clip. Download the latest version here. You also need to have JavaScript enabled in your browser.
This week: Brian and Patricia sit down with Andrew McKinley, proprietor of Adobe Books Backroom Gallery, and Devon Bella, the gallery's current director. They discuss Adobe Books' seminal place in the San Francisco art community, the Mission School, the gallery's recent renovation, and the ominous installation in the window proclaiming "Everything Must Go!"
Click here to read an interview with Adobe Books Backroom Gallery!
Audio clip: Adobe Flash Player (version 9 or above) is required to play this audio clip. Download the latest version here. You also need to have JavaScript enabled in your browser.
This week: Philip von Zweck (Bad mofo, artist, and storied, long running host of Something Else on WLUW) and Simon Anderson (Associate Professor Department of Art History, Theory + Criticismm SAIC) interview a living legend, Genesis Breyer P-Orridge. Breyer P-Orridge was in town for an exhibition S/he is having at Western Exhibitions.
Genesis P-Orridge and performance artist Lady Jaye Breyer began a collaborative effort begun in 1993  that focused on a single, central concern: deconstructing the fiction of self.  Frustrated by what they felt to be culturally enforced limits on identity but emboldened by the radical power of love, P-Orridge and Lady Jaye applied collage and cut-up techniques to their own bodies in an effort to merge their respective selves.  Through plastic surgery, hormone therapy, cross-dressing and altered behavior, they fashioned a single, pandrogynous being, Breyer P-Orridge. The work is an experiment in identity, a test of how fully two people can integrate their lives, and, ultimately, a symbolic gesture of evolution and the alchemical union of the male and female halves of the human.  Although Lady Jaye passed away in 2007, Genesis has continued Breyer P-Orridge, putting into question not only the limits between self and other but also life and death.
Genesis Breyer P-Orridge was born in Manchester, England in 1950. S/he was a member of the Kinetic action group Exploding Galaxy/Transmedia Exploration from 1969-1970. S/he conceived of and founded the seminal British performance art group Coum Transmissions in 1969 and was the co-founder of Throbbing Gristle, Psychic TV, and the spoken word/ambient music performance group Thee Majesty. Throughout Genesis' long career, s/he has worked and collaborated with William S. Burroughs, Brion Gysin, Derek Jarman and Dr. Timothy Leary, among others. H/er art has been exhibited internationally, including recent exhibitions at Deitch Projects, Mass MOCA, Centre Pompidou, Contemporary Art Museum St. Louis, Barbican Museum, the Swiss Institute and White Columns, amongst others. Upcoming exhibitions will include a solo exhibition at Rupert Goldsworthy in Berlin, a keynote address at the Erotic Screens Conference, Centre for Public Culture and Ideas at Griffith University, Brisbane, Australia and a lecture at the Museum of Modern Art, New York in March. H/er archive was recently acquired for the permanent collection of the Tate Britain Museum.
Audio clip: Adobe Flash Player (version 9 or above) is required to play this audio clip. Download the latest version here. You also need to have JavaScript enabled in your browser.

download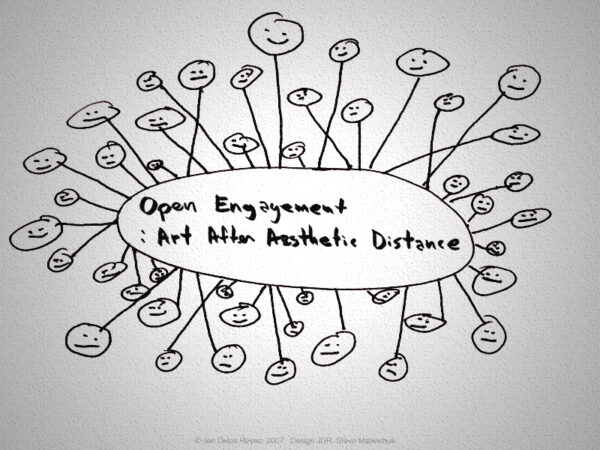 This week: Our Open Engagement series draws to a close with an interview with conference organizers Jen Delos Reyes and Harrell Fletcher.
Audio clip: Adobe Flash Player (version 9 or above) is required to play this audio clip. Download the latest version here. You also need to have JavaScript enabled in your browser.
This week: We talk with artist and visionary Nils Norman.
Nils Norman was born in Kent, England in 1966. He studied fine Art Painting BA Hons at St. Martins School of Art in London. After graduating in 1989 he moved to Cologne, Germany. There he lived for three years and collaborated with the artists Stephan Dillemuth and Josef Strau at their experimental storefront project Friesenwall 120, during this time Norman also set up a small gallery space in London, which later became Milch. In Cologne Norman worked for one year assisting the German painter Gerhard Richter in his atelier.
His first US exhibition was at the Pat Hearn Gallery in Chelsea (with Denis Balk and Simon Leung), after which he began to be represented by the late Colin Deland at American Fine Arts.
Norman founded an experimental space called Poster Studio on Charing Cross Road, London. This space was a collaborative effort with Merlin Carpenter and Dan Mitchell. In 1998 in New York he set up Parasite, together with the artist Andrea Fraser, a collaborative artist led initiative that developed an archive for site-specific projects.
Norman now lives and works in London Copenhagen. He exhibits internationally in commercial galleries, museum, and in public and alternative spaces. He writes articles, designs book covers and posters, collaborates with other artists, teaches and lectures in European and the US. Norman completed a major design project: an 80m pedestrian bridge and two islands for Roskilde Commune in Denmark in 2005 and is now working together with Nicholas Hare Architects on a school playground project for the new Golden Lane Campus, East London. He has recently finished an artist residency at the University of Chicago, Chicago, USA.
Audio clip: Adobe Flash Player (version 9 or above) is required to play this audio clip. Download the latest version here. You also need to have JavaScript enabled in your browser.

download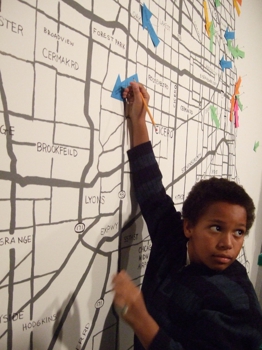 ​This week: Brian and Patricia talk to Artist Natasha Wheat.
As part of the ongoing collaboration between Bad At Sports and Art Practical, as well as the summer series exploring social practice, this week Brian Andrews and Patricia Maloney sit down with Natasha Wheat as she prepares for her upcoming exhibition and temporary restaurant "Self Contained," which opens at the Museum of Contemporary Art, Chicago on July 13.
Currently based in San Francisco, Wheat is an American artist whose work attempts to understand and interrupt the way that human beings exist together. She is interested in the social hierarchy of space, utopian attempts, and the tension between exclusivity and inclusion. Wheat founded Project Grow, a Portland Oregon based Art Studio and Urban Farming Project that includes people with mental diversity. Her recent work examines agriculture in relationship to human culture, distribution, and control. She received her BFA from the School of the Art Institute of Chicago in 2008.
Wheat has exhibited collaboratively and individually at The UC Berkeley Art Museum; The Pete and Susan Barrett Gallery, Santa Monica; Rogaland Kunstsenter, Stavanger, Norway; G2, Mess Hall, and the Museum of Contemporary Art, Chicago.
Check out the text version of this interview, starting July 1, in Issue 18 of Art Practical.