Audio clip: Adobe Flash Player (version 9 or above) is required to play this audio clip. Download the latest version here. You also need to have JavaScript enabled in your browser.

download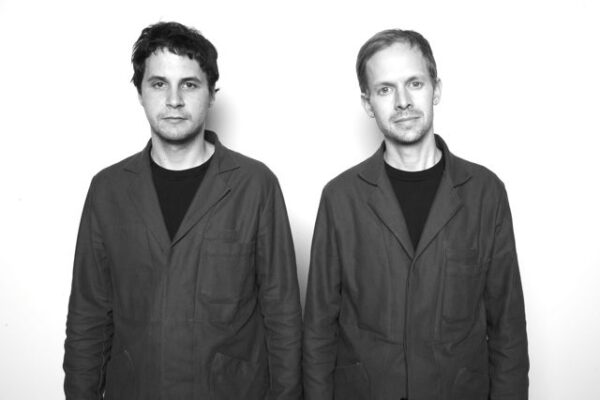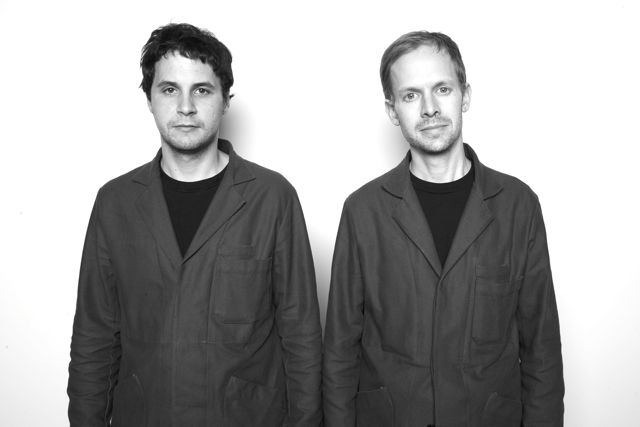 This week: Duncan talks to Stuart Bailey of Dexter Sinister.
Dexter Sinister is the compound name of David Reinfurt and Stuart Bailey. David graduated from the University of North Carolina in 1993, Yale University in 1999, and went on to form O-R-G, a design studio in New York City. Stuart graduated from the University of Reading in 1994, the Werkplaats Typografie in 2000, and co-founded the arts journal Dot Dot Dot the same year. David currently teaches at Columbia University and Rhode Island School of Design. Stuart is currently involved in diverse projects at Parsons School of Design (NYC) and Pasadena Art Center (LA).
Dexter Sinister recently established a workshop in the basement at 38 Ludlow Street, on the Lower East Side in New York City. The workshop is intended to model a 'Just-In-Time' economy of print production, running counter to the contemporary assembly-line realities of large-scale publishing. This involves avoiding waste by working on-demand, utilizing local cheap machinery, considering alternate distribution strategies, and collapsing distinctions of editing, design, production and distribution into one efficient activity.
Sarah Crowner became involved with Dexter Sinister in summer 2006. She is a New York-based artist who has made and distributed numerous artists' books and books about art.
NEXT: Duncan speaks with Kurt Mueller of Art Lies.
Audio clip: Adobe Flash Player (version 9 or above) is required to play this audio clip. Download the latest version here. You also need to have JavaScript enabled in your browser.
This week: Bad at Sports presents an interview from our media partner Art Practical. Kim Anno is interviewed by Bruno Fazzolari as a part of his ongoing series of interviews with artists regarding abstraction. Kim Anno is an Associate Professor of Painting at CCA who makes videos, photos and paintings with an undercurrent of environmental activism. Bon Appetit!
Audio clip: Adobe Flash Player (version 9 or above) is required to play this audio clip. Download the latest version here. You also need to have JavaScript enabled in your browser.
Emerging in the late 1960s alongside artists including Richard Long and Gilbert and George, Hamish Fulton's work began to explore new possibilities for sculpture and for a direct relationship between landscape and art, shifting the focus from the resulting art as an object on to the experience of the landscape. With influences ranging from American Indian culture to the subject of the environment itself, Fulton began to take short walks and take photographs to document the experiences of these walks.
After a monumental journey walking 1,022 miles from John O'Groats to Lands End Fulton made walking the sole subject of his art claiming to then make "only art resulting from the experience of individual walks". He believes that each walk has a life of its own, and this cannot be rendered into a physical artwork; as the artist says "an artwork may be purchased but a walk cannot be sold".
Fulton undertakes these walks by himself and so is the only person to directly experience them; however the images, photographs and text allow viewers to engage with the artist's experiences.
Born in London in 1946 Hamish Fulton studied at St Martin's College of Art, 1966-1968, and the Royal College of Art, 1968-1969, both in London and has had numerous solo shows at various institutions, amongst them Tate Britain and Kunst Museum, Basel, and has exhibited internationally including shows in New York, Tokyo and Munich.  Fulton's work is also kept by collections ranging from the British Council and the Victoria and Albert Museum, to the Museum of Modern Art, New York.
Audio clip: Adobe Flash Player (version 9 or above) is required to play this audio clip. Download the latest version here. You also need to have JavaScript enabled in your browser.
This week: Richard talks to Paul Klein about his new project Klein Artist Works!
Audio clip: Adobe Flash Player (version 9 or above) is required to play this audio clip. Download the latest version here. You also need to have JavaScript enabled in your browser.

download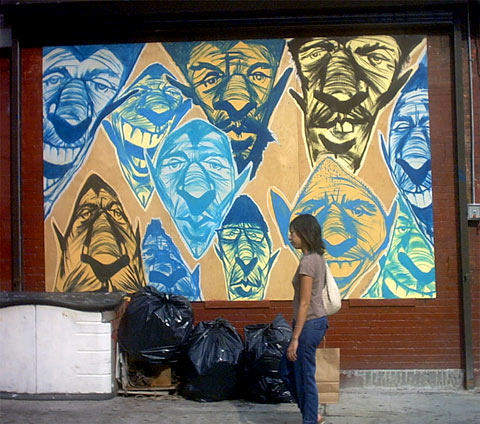 This week: Chris Duncan joins Brian and Duncan in a round table with Rich Jacobs. Jacobs work draws from by graffiti, psychedelic and folk art, and frequently appears on a broad range of materials beyond the gallery including magazines, books, CD and LP covers.
The raucous group discusses building a scene outside the system, the decline in the relevance of graffiti, why punks end up making hippie art, and why we all should endeavor to make more honest artwork. This is the final interview recorded in our series at Baer Ridgeway Exhibitions.