Audio clip: Adobe Flash Player (version 9 or above) is required to play this audio clip. Download the latest version here. You also need to have JavaScript enabled in your browser.
download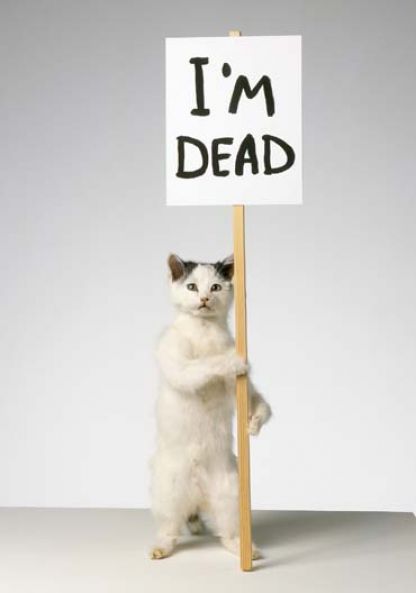 This week: After an inappropriately long and silly intro Duncan talks to artist and hilarious person David Shrigley.
David Shrigley was born in 1968, in Macclesfield, England. He studied Fine Art at Glasgow School of Art from 1988 to 1991. His work encompasses drawing, sculpture, photography, animation and music. Recent exhibitions include Galleri Nicolai Wallner, Copenhagen; BQ, Cologne; Anton Kern Gallery New York; Carnegie International, Pittsburgh; Bergen Konsthall, Norway. His drawings have appeared in newspapers and magazines such as Esquire (Japan), Donna (Italy), Arena (UK), The Gaurdian (UK), Le Monde (France) Suddeutsche Zeitung (Germany), New York Times (US). He has produced animated pop promos for Blur and Bonnie Prince Billy and has produced album artwork for artists such as Deerhoof and Malcolm Middleton. In 2006 he produced a spoken word album Shrigley Forced To Speak With Others and in 2007 released a compilation album Worried Noodles featuring 39 artists invited to create songs based on his lyrics originally published in a book of the same name. The project included contributions from David Byrne and Franz Ferdinand amongst others. Shrigley is the author of numerous books of drawings details of which can be found at redstonepress.co.uk, He now lives and works in Glasgow and is represented by the Stephen Friedman Gallery, London. More information can be found at davidshrigley.com
Go buy his book, now!
Audio clip: Adobe Flash Player (version 9 or above) is required to play this audio clip. Download the latest version here. You also need to have JavaScript enabled in your browser.

download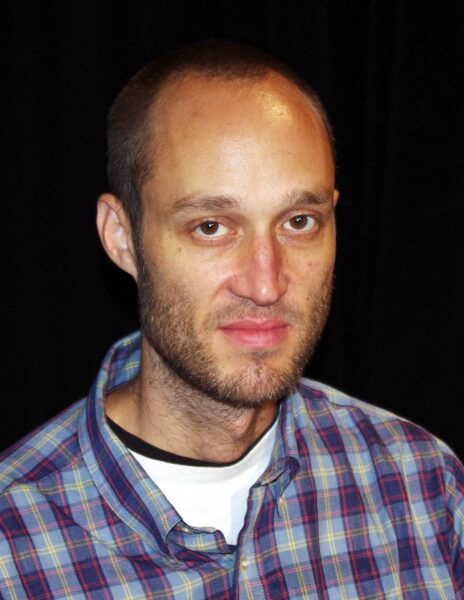 This week: Richard and Duncan talk with Anders Nilsen.
Anders Nilsen was born in northern New Hampshire in 1973. He grew up splitting his time between the mountains of New England and the streets and parks of Minneapolis, Minnesota. He was weaned on a steady diet of comics, stories and art, from Tintin and the X-Men to Raw, Weirdo, punk rock, zines, graffiti and regular trips to art museums.
Nilsen studied painting and installation art at the University of New Mexico in Albuquerque, also making comics and zines mostly outside class. In 1999 he started photocopying strips from his sketchbooks, self-publishing them as Big Questions #1 and #2. That same year he moved to Chicago to do graduate work at the School of the Art Institute. In 2000 he turned an artists book he'd done in undergrad into his first properly printed book, The Ballad of the Two Headed Boy, with a grant from the Xeric Foundation. The same year he took advantage of an offset lithography class at the Art Institute to print the third issue of Big Questions, with all original material. In 2000 he dropped out of graduate school to do comics on his own. He received grants from Chicago's Department of Cultural Affairs to publish the next three issues of Big Questions.
Anders' comics have been translated into a number of languages. He has exhibited his drawing and painting internationally and had his work anthologized in Kramer's Ergot, Mome, The Yale Anthology of Graphic Fiction, Best American Comics and Best American Non-Required Reading, as well as The Believer, the Chicago Reader and elsewhere. Other titles by Nilsen include Dogs And Water, Don't Go Where I Can't Follow, Monologues for the Coming Plague, Monologues for Calculating the Density of Black Holes, and The End #1.
Nilsen keeps a blog at themonologuist.blogspot.com where he posts occasional new work, and a website with examples of past work and various illustration he's done at andersbrekhusnilsen.com.
He currently lives with his cat in Chicago, Il.
Anders Nilsen also received Ignatz Nominations for Outstanding Artist for Big Questions #7 & #8, Outstanding Series (Big Questions), and Outstanding Comic (Big Questions #7) at the 2006 Small Press Expo. Dogs and Water won an Ignatz for Outstanding Story in 2005, and his graphic memoir Don't Go Where I Can't Follow won an Ignatz for Outstanding Graphic Novel in 2007.
Audio clip: Adobe Flash Player (version 9 or above) is required to play this audio clip. Download the latest version here. You also need to have JavaScript enabled in your browser.

download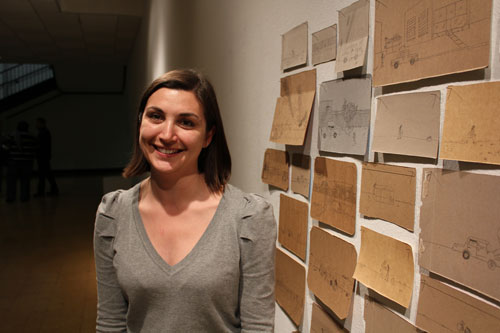 This week: We talk to cartoonist, artist, UFO afficianado Esther Pearl Watson! Recorded at Ox-Bow this summer and brought to you by magic.
Esther Pearl Watson grew up in the Dallas/Fort Worth area. Her family moved often since her father's hobby of building huge flying saucers out of scrap metal and car engines didn't always sit well with the neighbors.
Esther's pieces are often overtly narrative, clear but mysterious, scenes of houses or figures, ornamented with snippets of prose telling just enough to get the viewer's own imagination engaged and wanting to know more. Some are about family and some about places, but all have a rich interior life.
Her works without words are just as suggestive as a story, also exerting a deep emotional pull. Her work has been exhibited nationally and collected by Matt Groening, Cindy Sherman, David Byrne, Megan Mullally and Morgan Spurlock.
Check out the Ladydrawer blog here!
Audio clip: Adobe Flash Player (version 9 or above) is required to play this audio clip. Download the latest version here. You also need to have JavaScript enabled in your browser.

download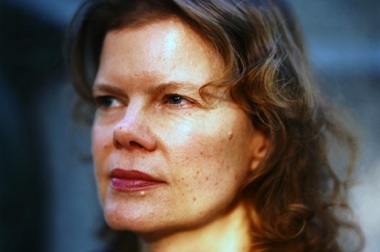 This week: Our final installment in the Open Engagement series. This week we talk to Jule Ault!
Audio clip: Adobe Flash Player (version 9 or above) is required to play this audio clip. Download the latest version here. You also need to have JavaScript enabled in your browser.

download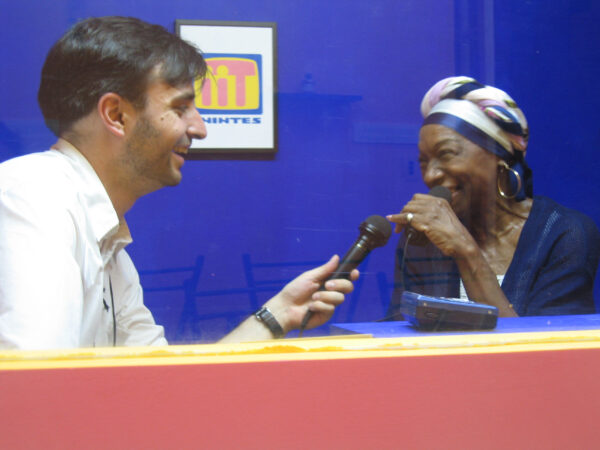 This week: More Open Engagement "SoPra"! This week we talk to Pablo Helguera!
Pablo Helguera (Mexico City, 1971) is a New York based artist working with installation, sculpture, photography, drawing, and performance. Helguera's work focuses in a variety of topics ranging from history, pedagogy, sociolinguistics, ethnography, memory and the absurd, in formats that are widely varied including the lecture, museum display strategies, musical performances and written fiction.
His work as an educator intersected his interest as an artist, making his work often reflects on issues of interpretation, dialogue, and the role of contemporary culture in a global reality. This intersection is best exemplified in his project, "The School of Panamerican Unrest", a nomadic think-tank that physically crossed the continent by car from Anchorage, Alaska to Tierra del Fuego, making 40 stops in between. Covering almost 20,000 miles, it is considered one of the most extensive public art projects on record.
Pablo Helguera performed individually at various museums and biennials internationally. In 2008 he was awarded the John Simon Guggenheim Fellowship and also was the recipient of a 2005 Creative Capital Grant. Helguera worked for fifteen years in a variety of contemporary art museums. Since 2007, he is Director of Adult and Academic programs at the Museum of Modern Art, New York.
He is the author, amongst several other books, of The Pablo Helguera Manual of Contemporary Art Style (2005), a social etiquette manual for the art world; The Boy Inside the Letter (2008) Theatrum Anatomicum ( and other performance lectures) (2008), the play The Juvenal Players (2009) and What in the World (2010).