Audio clip: Adobe Flash Player (version 9 or above) is required to play this audio clip. Download the latest version here. You also need to have JavaScript enabled in your browser.

download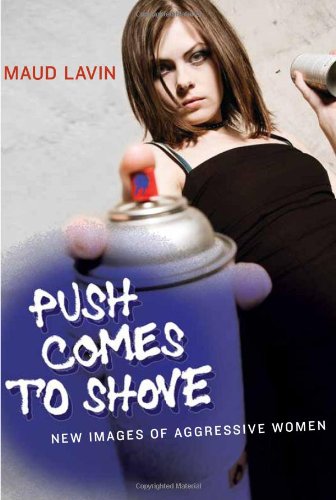 This week: We talk to Maud Lavin about her most recent book and more!
Lifted from elsewhere:
In the past, more often than not, aggressive women have been rebuked, told to keep a lid on, turn the other cheek, get over it. Repression more than aggression was seen as woman's domain. But recently there's been a noticeable cultural shift. With growing frequency, women's aggression is now celebrated in contemporary culture—in movies and TV, online ventures, and art. In Push Comes to Shove, Maud Lavin examines these new images of aggressive women and how they affect women's lives.
Aggression, says Lavin, is necessary, large, messy, psychological, and physical. Aggression need not entail causing harm to another; we can think of it as the use of force to create change—fruitful, destructive, or both. And over the past twenty years, contemporary culture has shown women seizing this power. Lavin chooses provocative examples to explore the complexity of aggression: the surfer girls in Blue Crush; Helen Mirren as Jane Tennison in Prime Suspect; the homicidal women in Kill Bill and artist Marlene McCarty's mural-sized Murder Girls; the erotica of Zane and the art of Kara Walker; the group dynamics of artists (including the artists group Toxic Titties) and activists; and YouTube videos of a woman boxer training and fighting.
Women need aggression and need to use it consciously, Lavin writes. With Push Comes to Shove, she explores the crucial questions of how to manifest aggression, how to represent it, and how to keep open a cultural space for it.
Audio clip: Adobe Flash Player (version 9 or above) is required to play this audio clip. Download the latest version here. You also need to have JavaScript enabled in your browser.

download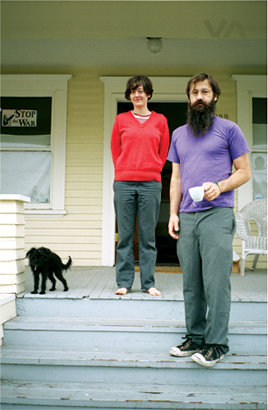 This week: Duncan talks to Chris Johanson and Jo Jackson from Ox-Bow this summer!
"Johanson was born in suburban San Jose, California in 1968. He has no formal training in art, learning some technique by painting skateboards and houses. He moved to San Francisco, California'sMission District in 1989, where he became a member of the local art community, initially drawing cartoons on lampposts and bathroom walls using black Sharpies." from Wikipedia.
Through out the nineties Johanna (aka Jo) Jackson found herself in art school in Maryland and later at SFAI but with her artistic sympathies moving toward a similar "street informed" aesthetic. In the late nineties and early "aughts" She and Chris both became associated with the SF Mission  school along with notables Barry McGee and Margaret Kilgallen. Both were feature prominently in the documentary and publication "Beautiful Losers."  In 2004 they bought a home and moved to Portland, Oregon. They now split there time between Portland and LA.
Both are particularly rad people.
Audio clip: Adobe Flash Player (version 9 or above) is required to play this audio clip. Download the latest version here. You also need to have JavaScript enabled in your browser.

download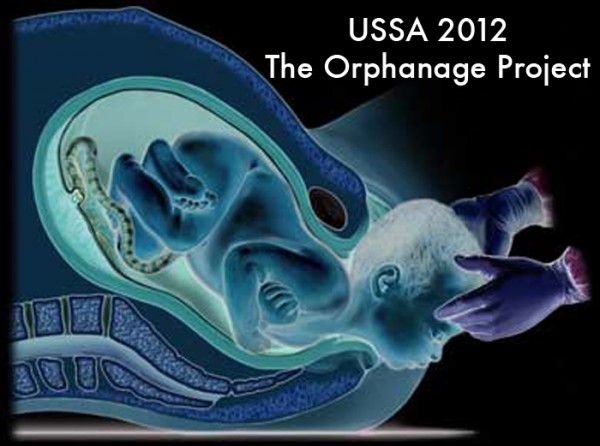 This week: Special correspondent Philip von Zweck in conversation with artist Zachary Cahill.
ZACHARY CAHILL
USSA 2012: The Orphanage Project
September 9-October 15th, 2011
Opening reception: Friday, September 9th, 6-9pm
Artist talk: Thursday, October 6th, 7pm
Gallery Hours: Tuesday-Saturday, 11am-5pm
Much of contemporary art is motivated by the relational – a position-cum-buzz-word that has grown to frame nearly every studio and post-studio practice. From performance to installation to sculpture to craft, art is reaching its hand out to the viewer in an attempt to create relationships, at once an attempt at articulating a use-value while making a bid for social relevancy. Peppering these practices is much debate about labor and art, with practices designed to both visualize labor or to celebrate a kind of anti-capitalist leisure. In either case, art is struggling to find its place with-in the demands of a capitalist market, ostensibly cut-off from the promise of other origins via the institutions of the market and the museum.
Zachary Cahill proffers a solution to use-value by his creation of an Orphanage here in Chicago. The Orphanage Project, out of which Cahill's fall SOLO exhibition arises, looks to examine the position of the ultimate "other" – the mythic Orphan, torn from any root or history and presumably set-free to self-author. Cahill's Orphans are models, "modes of being" that The Orphanage Project wishes to make relatable through its study in human capital and the condition that awaits all. Cahill's attempt – whether a failure or temporarily on-hold – is documented through a series of sketches and a few published conversations. For threewalls, Cahill reproduces a few elements of this project, granting access to Cahill's long-term study.
Circumnavigating the relational through both the formation of the Orphanage and the work done therein, Cahill challenges the idea of relatedness or lack-there-of through the perhaps the ideal red herring: the creation of an institution that both houses potential and has the potential to house everything and all.
Audio clip: Adobe Flash Player (version 9 or above) is required to play this audio clip. Download the latest version here. You also need to have JavaScript enabled in your browser.

download



This week, Brian, Patricia, and Art Practical contributor Mary Anne Kluth sit down with artist Elaine Buckholtz and gallery president Richard Lang at Electric Works in San Francisco where Buckholz's solo show, Light Making Motion: Works on Paper and in Light, was recently on view. In her review, Kluth notes that Buckholtz, whose primary medium is light, "is a generous guide, making instructive objects that allow her audience to come to discoveries" about the "experience of vision as a phenomena unfolding in time… focus[ing] attention on shifting, fleeting, elusive sensations." In this conversation they talk about that generosity, the installations on view, working with Meredith Monk, and the pleasures of going off the cliff, Wile. E. Coyote–style.
Buckholz received her MFA at Stanford University and has shown at the Swiss Technorama Museum, Winterthur, Switzerland; Pierogi Leipzig, Germany; the Wexner Center For The Arts, Columbus, OH; the Sun Valley Center for the Arts, Idaho; the Claremont Museum, Claremont, CA; Stanford University, Palo Alto; California College of The Arts, Fusion Art Space, the Luggage Store, and Yerba Buena Center for the Arts, San Francisco.
You can read Kluth's full review on Art Practical here: http://www.artpractical.com/review/light_making_motion_works_on_paper_and_in_light/
Audio clip: Adobe Flash Player (version 9 or above) is required to play this audio clip. Download the latest version here. You also need to have JavaScript enabled in your browser.

download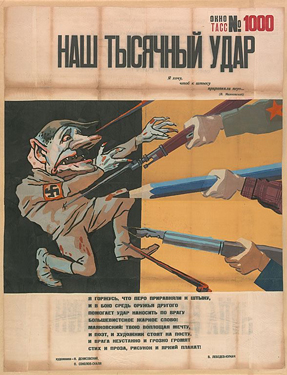 This Week: Has it really been 6 years? Really?
Wow. Duncan and Richard have a rambling bout of personal abuse as the intro and then get on to the good stuff.
Richard talks to Peter Zegers and Jill Bugajski about their work on the stellar new show at the Art Institute of Chicago Windows on the War, Soviet TASS Posters at Home and Abroad, 1941-1945, and on the accompanying catalog.
Overview: During World War II, the Soviet Union's news agency, TASS, enlisted hundreds of artists and writers to bolster support for the nation's war effort. Working from the TASS studio in Moscow, these artists and writers produced hundreds of storefront window posters, one for nearly every day of the war. Windows on the War: Soviet TASS Posters at Home and Abroad, 1941-1945 is a monumental exhibition centered on these posters, which have not been seen in the United States since the Second World War.
Impressively large, between five and ten feet tall and striking in the vibrancy and texture of the stencil medium, these posters were sent abroad, including to the Art Institute, to serve as international cultural "ambassadors" and to rally allied and neutral nations to the endeavors of the Soviet Union, a partner of the United States and Great Britain in the fight against Nazi Germany. In Windows on the War, the posters will be presented both as unique historical objects and as works of art that demonstrate how the preeminent artists of the day used unconventional technical and aesthetic means to contribute to the fight against the Nazis, marking a major chapter in the history of design and propaganda. While the exhibition's focus is primarily on the posters, viewers will also find their rich historical and cultural context revealed through photographs and documentary material illuminating the visual culture of US-USSR relations before and during the war.
Windows on the War is not only a fascinating glimpse into one of the most significant government-sponsored cultural efforts of the 20th century but also a major scholarly undertaking that brings these posters into the public eye for the first time in six decades. Catalogue: The exhibition is accompanied by a 400-page catalogue featuring essays by Peter Zegers, Douglas Druick, Jill Bugajski, Konstantin Akinsha, Adam Jolles, and Robert Bird as well as by an extensive online initiative that will bring hundreds of these unique works to the public for the first time since the war.