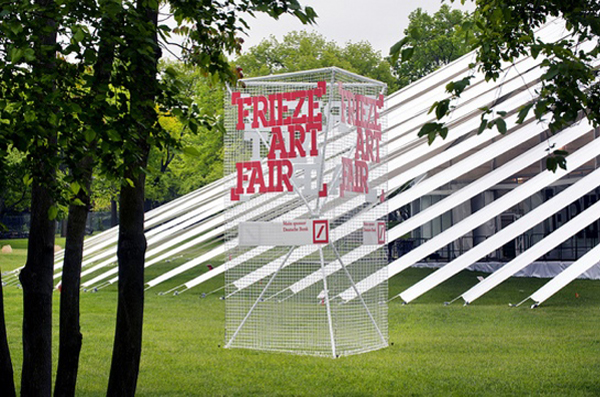 This past weekend Frieze mounted their inaugural New York fair on Randall's Island in an extensive, 180 gallery showcase of contemporary art. With large financial backers like the Financial Times, BMW, and Deutsche Bank, it seemed the big concern on everyone's mind regarded the state of the contemporary market as well as whether a new fair for Frieze stateside would prove to be a good investment. For all intense and purposes, it appears that Frieze made a good bet. Covering a large swath of commercial contemporary art movers and shakers, the fair catered well to not only the blue-chippers, but also to the more independently minded. Of the artists, critics, and curators that I talked to, the general sentiment was "As art fairs go, Frieze was pretty good." I tend to agree with this sentiment even though the abundantly transparent "safeness" of galleries dominated the conversation. As a result, work on display was often limited to paintings and sculptures that reenforced the hierarchy of fine arts over more experimental practices. That being said, there were some good moments and what follows is a rough and tumble round up of noteworthy booths.
One thing that immediately struck me about Frieze was the amount of work on display from non-major player and specifically those considering themselves emerging art spaces. Galleries like Seventeen (UK), Tanya Leighton (DE), Bartolami and Team Gallery (both NYC) represented well, although again banking on somewhat safe measures. I wasn't thrilled with what Team was showing, considering that they had a large corner booth right in front of the main entrance. A Banks Violette sculpture of #88 that Dale Earnhart Jr. drives in Nascar dominated a lot of attention in their space, but didn't really hold up much beyond being a big metal sculpture. Tanya Leighton and Seventeen both showed work by Oliver Laric – Seventeen focusing more on wall pieces, and Tanya Leighton emphasizing more his exploration of variations in sculpture and rapid-prototyping with long time collaborator Aleksandra Domanovic. Tanya Leighton's space was certainly popular and by Sunday it seemed as though they had sold a good portion of the show. I'd argue that these works are actually not the best pieces of these artist's repertoire, but in the context of this fair they served as very acute examples of how to move a traditional fine art conversation into more digital, research based, experimental directions.
Where Tanya Leighton only showed these two, Seventeen showed a bit more of their stable crew. One work that really stood out to me was a series of pieces by Kate Owens called The Speaking Exercise. This series comprises of backwards facing, cheaply framed "poorly" (according to Seventeen manager Tim Steer) reproduced works by High Modernist masters like Josef Albers and Barnett Newman. The works are then tilted upwards against the white wall creating a saturated aura that speak to the original paintings. Although one would argue that this might appear to be a rather tired combination of cheap materials with canonical art history, the experience of the glow of these works is what propels them beyond being a simple one-liner and into elegant comments on the metaphysical materials of the avant-garde.
Bartolami's booth, although slightly inconsistent for my tastes, had some fantastic works by Ben Schumacher that delicately tight-roped the line between very salable and very contemporary works in that they clearly evidence a need for reconsidering material, surface, and painterly form. The three gray works by Schumacher used a foamy and artificially rendered surface that seemed to seep through or over an infrastructure of mesh that covered the under layer of this "painting." These works almost appeared as if rendered through the use of some preset glob brush in something like z-brush or mudbox, but the subtitles of patterning and flecked paint show a hand of the maker in what could otherwise be considered a personality-less work.
Besides some of these emerging spaces, some of the "bigger guns" of the fair also had good showings. Although mega-galleries like White Cube (UK) and Gagosian (Everywhere) basically acted like micro-museums/retrospectives, some of the other larger booths did display some worthwhile works and at times risky choices. One such large booth that I particularly liked was Contemporary Fine Arts from Berlin that showed about a handful of large mixed media works by Anslem Reyle. The combination of humor, high craft, and play on monumental tackiness mixed together well, however I thought that the more evident displays of the artists hand with purposeful sloppiness that existed on the outside of the booth were more interesting. The coldness of the interior pieces were certainly worthy of attention, but I felt like the humor of those works could've transcended the simplicity of their formal considerations if buttressed with pieces that more deliberately referenced painting, craft, and the artist at work.
Lisson (UK) was also one of those blue-chip galleries that had some fairly interesting artists on display. A plethora of experimental sound, electronics, and installation work from Haroon Mirza interspersed the space to create a sonic interjection into a primarily "silent" fair. Their decision to even display work of a non-traditional variety – albeit Mirza is one of the most digestible artist of this ilk – was a relatively gutsy move, particularly when juxtaposed with several large sculptural works by Ai Weiwei. This obviously attention seeking interruption worked in Lisson's favor as I noticed that both times I thoroughly walked through this space I had to navigate troves of visitors and spectators. This is not to congratulate Lisson too much, but their effort to expand the fair out into mediums that rarely get proper displays within this context was definitely something that stood out within the fair.
One of my favorite booths was without a doubt Elizabeth Dee (NYC) due to their very well rounded display of historical and contemporary works. The standout here was the six TV screens displaying a recent compilation of rarely-seen early video works by Adrian Piper. In a fair almost completely devoid of media works, Elizabeth Dee's decision to show works that not only require headphones and a certain attention span, but also works intended for museum collection was a bold move. These videos were then nicely paired with some delicate painted pieces by Mark Barrow and a stunning optical wall piece by Philippe Decrauzat.
There were other notable statements from international booths, including a superbly put together booth by Galeria Vermelho from São Paulo, a great Chris Burden mock-up by Wien based Galerie Krinzinger, as well as some nice photographic works by Willie Doherty presented by Kerlin Gallery in Dublin. That being said, I was disappointed by the majority of the Frame project spaces for galleries established less than six years ago. These spaces, situated in the middle of the fair, were almost too safe by either showing conservative work or else relying solely on spectacle. That being said, 47 Canal's booth displaying work by Michele Abeles stood out amongst these spaces. The digital collages that blended scraps from previous works seemed both dense and flat at the same time. This series of roughly ten works created a tension showing an active (almost impatient) mind, willing to spread images and ideas evenly to sort through a personal past.
As stated above, the general sentiment of Frieze was both jolly and practical. Amidst the crowds of art enthusiasts one could find enjoyable work in regular frequency, and booths devoid of interested audiences were few and far between. Even though I would have liked to have seen more experimental work, the understandable need for predictability within the contemporary art market didn't prove to make for a bland experience. See below more images of noteworthy works and booths of last weekend.
Recently the topic of online galleries and their proliferation in the past year has been on the tips of many tongues. Specifically, the argument involves a musing on how the development of online venues for showing net-based work is providing a fundamental shift in the paradigms of traditional art market systems. Although I support and am interested in these projects, I haven't been convinced one way another of their effectiveness, or if these new galleries are actively engaging, responding, or directly working against the establish status quo of art exhibition. One such criticism of the overall impact of these spaces comes from the striking similarity of artists shown in these venues. In very few instances do these spaces show artists that haven't otherwise had some kind of successful online exposure (through something like Rhizome, Art Fag City, or even the artist's own dynamic social networking presence). The amount of overlap between the artists shown in these online venues is telling to the overall quality of work being made and distributed online. It's not that I want to argue that these artists are underserving of so much attention, or that their work hasn't earned wide distribution and exhibition, but I do question the value of having multiple online venues showing such similar kinds of work and artists (especially given the availability of so many creative, insightful, and challenging works being made within/around network culture).
This being said, I came to scrutinize my own suspicion of these so-called alternatives by questioning the fundamental basis of my own judgement: is it the responsibility of these websites and galleries to create an antithesis of the standard model of commercial distribution? Is it is also their responsibility to only show artists that otherwise would never have an opportunity to show in physical space? Following this train of thought, I came to question whether it is even the intent of these spaces and sites to operate as opponents or counters to the art market, and if it is fair of me to critique these spaces underneath these expectations. If not, then what intentions and responsibilities do organizers and curators have in the creation of their forum? To provide more substance for these considerations, I decided to talk directly with those that have been cited as promising examples of this trend in an attempt to uncover how these (mostly artist-run) initiatives consider their own activities within the larger scope of contemporary art exhibition and economics.
For my pool of information I solicited responses and conversations from Art Micro Patronage, BOCA, Bubblebyte, Fach and Asendorf Gallery, Klaus Gallery, and Parallelograms to contribute some thoughts on their role as ambassadors for online artworks. I asked these spaces how their projects saw themselves within the dominant art market system, and how they attempt to incorporate both online audiences interested in the type of work they are showing, as well as audiences that extend beyond what I characterized before as a rather insular group. It might be important to note here that some of these spaces offer their exhibitions without any intention to make money, or without any deliberate sense of "marketing" their work to buyers and sellers. This being said, that stance can be viewed as an act of defiance against the normative system of commercial markets, and in itself can be viewed as a (political) position within that market. Given this, my inquiries of how they effect and respond to normative art showcasing still applies. My decision to consider these questions in light of this variability in itself speaks to the need for flexibility in traditional systems of showing emerging artists and/or work that is difficult to purchase, own, or commercialize.
Perhaps unsurprisingly, I was provided with an equally variable array of answers to the above posed questions. That being said, I wasn't surprised that most responders emphasized the creativity of the artists and work exhibited on these sites overrode the significance of needing to reach an audience that might not be aware of online cultural production. Leah Beeferman and Matthew Harvey of Parallelograms stress that their project isn't directly intending to "dismantle" the traditional art market, but instead is "really a project for artists, and hopefully one that ends up being [more] about 'creative' process than anything else." The accentuation of the work is perhaps the reason why there is so much overlap between galleries and their audiences, since the sampling of work in these venues is often specifically invested in a long term process, as opposed to the more product driven model of commercial galleries. Although the quick turn around between conception of an idea and execution might be sped up by online production, the underlying substance of most of these makers involve a long term exploration of their craft and culture.
The other central benefit that almost all spaces identified with is that by maintaining work online all the physical limitations of spatial and temporal proximity no longer are an issue. As Rhys Coren and Attilia Fattori Franchini from Bubblebyte argue:
Art online gives you a lot of freedom, the possibility of eliminating lots of costs that you would have in a normal gallery setting – equipment, space, exhibition costs, communication costs [are minimized]. It is definitely weird but we are enjoying the challenge, often using limitations as a strength to develop our discourse… we can reach the world for the cost of an Internet connection, and we're open 24 hours a day.

In terms of considering audience, The Internet is the most accessible place I know to see art. The only requirements are an Internet connection and a way of accessing that. Where you are isn't a factor. When you look isn't a factor.
The newfound accessibility and wide distribution that these sites offer patrons and artists appears to be enough to sustain the importance of adapting to contemporary cultural communities. However, there is a dangerous presumption that everyone is looking at the work at the same time, or even in the same way. Not that this is necessarily suggested by these projects, but I'd argue that the vast distribution and decentrality of these works occasionally usurps the actual political, cultural, or aesthetic content. To apply this metric to the successfulness of any one show is a slippery slope, and seems a bit too closely tied to attendance demands that plague physical cultural institutions (although this problem has been partially alleviated by the growing attendance of many major institutions). In order to create "value" out of these works, one needs more criteria than a mere visit counter to judge impact. This being said, that "value" seems to be generated from the growing amount of physical mountings and exhibitions that are directly influenced by these sites (many of the projects above have already specifically forayed into physical shows, or plan on have IRL versions in the near future).
The question of how to create a space of appreciation for the kind of art being distributed through social networks and online galleries has to involve an inquiry into how to cross pollinate audiences online and off. A tricky aspect of this process lies in how one defines – or identifies with – the community they exist within, as well as the audience that they wish to access. This is particularly the case when we observe how a market system is often times attached to a specific physical audience or temporal community. The physical space often reflects the culture around it, and for the Internet, this mimetic process is almost impossible to centrally locate and concretely diagnose. To navigate between a community of makers across the globe and a local constituency can often lead to competing terms and expectations. Most responders argued that because a system of sharing, open distribution, and community discourse was already been established online, that all these projects had to do was put a name to an already familiar face. This name then serves as an external identification for an online community to be in dialog with those that might be unfamiliar – or else those that don't have the benefit of a local forum (as Coren and Franchini indicated).
Duncan Malashock identifies that being able to talk to both a larger international audience and those more local influences how he helps operate Klaus Gallery:
The goal of the project was to introduce Internet-related artists to the audience of Klaus von Nichtssagend, two groups who'd had limited exposure to one another. The work is of course available, but to suggest that the project is "in dialogue" with a "market," I think is perhaps to put too fine a point on it. Our hope is to introduce the online work of particular artists whose work we find potentially engaging to a particular audience that we're familiar with.
Similarly, Eleanor Hanson Wise and Oliver Wise of Art Micro Patronage also urge that their intentions come from extending the work of artists primarily working online onto the personal computers of contemporary art appreciators and collectors:
We didn't design AMP to compete with galleries selling work. We looked more to a museum model, where the community who appreciates the institution supports it. For a collector, we tried to provide an easy way to keep track of and access the work you like… Why don't museums (for the most part) show or collect "netart"? It seems to us that it's because they don't have a good way to show it, curate it, and make it accessible to the public… By offering the general public a way to experience the shows and fund the artists working in this way, artists can reach a different audience, and that audience can give those artists a financial vote of confidence, even if it's in a small way.
Art Micro Patronage goes on to admit how their unwillingness to participate in direct competition with the commercial gallery system shows that again the important part is to enable artists working online to gain exposure to channels that otherwise might not be readily available.
Often the power of these sites is that they already come prepackaged with an entire community at their backs. The proliferation of online spaces (and the multiplicity at which they continue to crop up) is in no small part due to a net-based community of artists that have been arguing the need for these types of venues. Kim Asendorf of FA-G even goes so far as to say that "Net Art legitimizes online galleries," as opposed to the other way around as I initially suggest. The overall strength of this network lies in their willingness to support the programming and curation of a underrepresented net art scene. Moreover, it could be argued that this enthusiasm and support will play a major role in tipping the scale in favor of non-commercial gallery distribution, and to create the much needed alternative to the status quo that dominates most art institutionalization.
A foreseeable danger in this is finding a way to make these spaces have long term sustainability, and continued resonance with online makers. A case study to consider in light of the somewhat temporary-ness of online curatorial projects (i.e., jstchillin, The State, etc.) is to look at the transience that also occurs in the apartment gallery scenes of cities like Chicago and San Francisco. Although these projects and experimental spaces crop up frequently with much initial support, artists and organizers of those types of spaces usually move on from them after two or three years. What online galleries have going for them is that they are not as tied down to physical space, finance, and luck as these temporary spaces usually are. However, the rapid audience shifts that often occur in online environments might also serve as a word of caution to these spaces to consider how to sustain a practice over a longer concentrated amount of time (although this might not be important for some).
Some would dispute that the only way to prevent the potential collapse of an unsustainable and primarily voluntary project is to introduce a financial element into the mix. Often this takes the shape of incorporation of one kind or another – non-for-profit status, a business license or LLC, etc. In this way, Bozeau Ortega Contemporary Arts (or BOCA for short) stands out amongst the participants I polled as a specifically commercially driven platform for the distribution and sale of digital projects and objects (with some visible success according to their website). Of the projects mentioned above, BOCA is distinct in that it attempts to comment on the art market directly by satirically playing into its rhetoric and formula. Their position as a viable commercial entity explicitly investing in digital objects – regardless if the project has fictitious elements and cleverly disguised "backers" – serves as an ironic twist on standard marketplace practices:
The immaterial nature of our product has problematized its commodity status and, as a result, dialogue has become our central function (we see this as an investment in the future of ourselves and our artists)… Unwittingly, our gallery has come to occupy a critical space: our immaterial works of art, and their relatively low market value in spite of their rarity and novelty, occupy a position critical of the value of typical, physically mediated works of art… If commodification and market viability make a body of work legitimate, then yes, BOCA Gallery could be seen to be legitimizing an area of artistic production which formerly expressed no interest in such "legitimization." However, by doing such a poor job of commodifying these objects for market consumption, our project could actually be fulfilling the opposite role, unwittingly exposing the absurdity of such economics applied to such arbritrarily valuated virtual objects (both physical and digital).
Regardless of the clarity of intention, or the degree at which a project aims to complicate the standard system of art exhibition (or the certainty of authorship and origin in the case of BOCA), the common thread between the responses that I got reflect a similar attitude to what Beeferman and Harvey discussed initially. The priority of showing work that is otherwise underrepresented in traditional gallery scenes dominates the central desires of most of these sites. The trouble I have with this is an implied marginality that occurs when discussing net based artists. This imposition of feeling excluded, or else impatience with the for-profit market system, is more self-imposed then externally dictated. To ride this rhetoric fully seems ignorant of the ways in which digital art is, or more accurately already has infiltrated and become more pronounced in the greater art world dialog. To favor one system over the other, or to underscore the supposed ignorance of major cultural institutions for not having more net based art, can position the artist, work, or community as having ingrained entitlement due to its novelty. As a result, that dueness inherently denigrates the process driven community based discourse that gives net-based art so much life and energy.
Perhaps an underlying question then becomes: why is net-art perceived as such a marginal medium needing specific online galleries to cater to their production and distribution? If an ideal environment of an artists working online lies within the personal computing web-browsing experience, then why the need for relocating these works into another specific website/framing? What is "more accessible" about an online gallery then an artists personal website? Are the tropes from the traditional gallery system still playing too significant a role in the way in which net-art is being presented? Or are these systems only being utilized in order to be exploited, undermined, and (eventually) refashioned from inside out?
Over the past year Brad Troemel and Jonathan Vingiano have been steadily collaborating together to create platforms of digital exchange and dialog through their development of various browser-exclusive projects. These co-authored works have garnered a fair amount of praise and success lately, due in part by a 2011 Rhizome Commission awarded in early July. When initially approaching works like Blind Mist, a work which at first appears to be just a constant steady stream of randomly generated images, one cannot help but be curious how Troemel and Vingiano view the ease of digital distribution as a conceptual launching point for their shared interests. As one gets an opportunity to interact with this stream, however, audiences find that they can effect the content of these cascading images by submitting URLs into a database which then acts as a resource for an image scraping algorithm (a piece of code that goes to each inputted website and pulls images from that site to store in an accompanying database). This code later randomly pulls images from this stack and show those pictures within the visible queue. This reference list can also be seen on the site, as both a reference guide to what has already been submitted, but also to show where the content of the stream is being gathered. The images that are output to the feed are then linked back to their original location, and as a result provide browsers an opportunity to explore content that they usually might not be exposed to.
This project acts as a kind of critique of the ways in which social media publishing, and micro-blogging initiatives like tumblr, have created environments of very limited, and "heavily pruned" as Vingiano puts it, representations of online content. As a result, these network tools engender a somewhat dishonest perspective of the web due to the way they often get used as taste-making engine. This skepticism is a an acknowledgment of what Eli Pariser calls the filter bubbles: ways in which algorithms shape web content delivery based upon browsing history, cookies from other sites, our IP address, and various other information gathered by social networking sites. What Troemel and Vingiano propose is that image sharing on the web shouldn't be so well curated or predetermined. Instead, systems of sharing and browsing should foster a more horizontal curiosity acting against the emerging hierarchical corporate web.
Blind Mist then operates as a step in providing a digital commons for artists, creatives, and everyday users to surf a stream that hasn't already been predigested for some specific means to an end. The randomization of the site then combats the normally predetermined selection process that occurs online as a result of an algorithm based on "likes" and "notes" or a person aiming to depict a curated version of their online persona. Either way, Blind Mist – and similarly Echo Parade (which is currently on pause for maintenance) – abstract and partially remove the ways in which images can be distributed online and reallocates that decision-making to a computer script acting as a "fluxus injection" (paraphrasing Troemel from our conversation).
Early on in my initiation of this interview, the duo thought that this conversation could serve as a good launching date for their newest project, Surfcave. This chrome-extension project serves as a point of departure from previous works in that instead of a "truncated participation [that occur in previous work], there is now a real time participation." Surfcave's feed is more rapid than its predecessor, as the content is generated by the images pulled from participating users cache. Every time an image is loaded onto a users personal computer, that image data is then transferred to Surfcave for display. As a result, one can imagine that this feed then creates a voyeuristic/exhibitionist relationship between those watching the stream, and those using the plug-in. The agency on the part of participants – which can be both willing and unknowing (as this work can be downloaded and put onto public/shared computers) – relies not on an input that randomly effects the output of a project (as in previous works), but instead on the deliberate activation of the plug-in to display all images that load within your daily browsing. Troemel and Vingiano hope is that this process will enable a kind of transparency within the user-community, as well as show more "honest" glimpses at browsing behaviors.
A danger that I suggest is that users could just as easily use this tool as they would use a blogging engine. However, the duo asserts that either way, be it super conscientious or completely oblivious, all methods still speak to the ways they wish to address browsing habits and then the subsequent exhibition of that traversal of the web: "On Facebook, or at least especially on there, the idea is that your constantly having engagement with the content, both for yourself and for the public. So the lines between you viewing something and your friends being aware that you know about it have been cut really short, and with Surfcave the idea is to make that line non-existent."
I suggest at one point later on in our discussion that these collaborative works offer a specific response to the current observable shift in the ways we browse and that that political gesture seems to be of significance. Both artists agree that this reaction to the work is not without grounding, and that borrowing from political/anarchic practices of sousveillance are certainly applicable to the development of these works. Vingiano continues along this strand near the end of our conversation:
We're at this juncture where the tools for creating stuff online… have become much more available to people like Brad and I… I learned how to create stuff like this on the Internet from the Internet, and was all self taught… I think creating these systems that explore things like privacy are inherently political when we live in a web that is dictated by Google and Facebook and all these people who are owning their users and owning their privacy.
As Troemel and Vingiano continue to probe this territory of the web with a somewhat prolific inquisitiveness, combined with a tinge of mischievousness, users and participants might be able to see new opportunities and channels to work around (or at the very least, just outside of) the territories of an otherwise corporate-dominated web. When our actions online are already hefted with the burden of an opted-into system of personal-piracy, Troemel and Vingiano create opportunities to redirect that compromise into platforms of creativity and candor.
I used to be a painter. I was never a really good painter, so the discontinuation of that part of practice some seven years ago was not a big loss. That being said, I am often reminded of how much I owe to my humble/clumsy painting beginnings. While still in my post-painting undergraduate studies, I would often frequent the Art Institute's Abstract Expressionist rooms for comfort and solitude between classes or after an emotionally draining critique. I distinctly remember visiting a long, narrow room that existed upstairs in the pre-modern-wing building that housed only five or six paintings at a time. This room would often rotate works by Ad Reinhardt, Joan Mitchell, Mark Rothko, or Paul Kline. However, a permanent fixture in this space were always two massive, wall-sized paintings by Clyfford Still.
Both works – which are currently not on display – employed Still's signature nocturnal black, but one was interspersed with scars and crevices of cream, red, and yellow; colors that now seem "out-of-the-tube" but were hand mixed by Still in the early 1950s. These two pieces were fantastic evidence of Still's meticulous pallet knife work, and the dense murky black of 1951-1952 (almost none of Still's work had titles) the heavy layering created a remarkable sombre darkness that would engulf a viewer, creating a void primed for personal exploration and meditation. I would sit on the bench that bisected the room longways feeling as if a white noise reverberated between these two pieces; a stoic frequency bounced between them that only a metaphysical shortwave radio could dial into. During ideal viewing sessions – times when the museum was near closing hours, or during particularly cold winter weekdays that deterred visitors – the power of sitting between these facing works would create the perfect mental vacuum to delve into deep contemplation. In those moments, I felt as if the subtlety of texture and composition that existed in these works acted as mirrors for the complexity and nuance of my own burgeoning artistic voice. That sense of belonging amidst those two works would bring me back countless times, and made me a life-long appreciator of Still's oeuvre.
So, perhaps needless to say, it is with some bias that I came to the press preview of the Clyfford Still Museum in downtown Denver. The dense concrete cube, designed by Brad Cloepfil of Allied Works Architecture, is located just behind the iconic Hamilton Wing of the Denver Art Museum almost serving as an architectural antithesis to Daniel Liebeskind's hyperactive bravado. The subdued practicality of the museum does a great service to the new home for 94% of Still's life work, allowing for the fabled 300 days-a-year Front Range sun to filter through the perforated ceiling with the help of motorized shades and diffusing glass. During the press conference, Cloepfil discussed how he imagined the materials of the building being "compacted" into the earth to ground the museum in an act of homage to the organic palette found within the 2400+ pieces of the collection. The density of the concrete delicately avoids being cumbersome due to the airy quality of the nine galleries found on the second floor. Almost all elements of the building – from the low ceiling lobby, to the publicly available storage facilities – faithfully serve the ambition and sincerity of Still's six decade career that started in the prairies of Alberta and ended at his isolated farm in central Maryland.
The galleries are delicately filled with key selections from the estate for the inaugural exhibition, and many works on view have had extremely limited public appearances until now. Although the initial galleries that you approach are a bit cluttered with early semi-figurative work from Southern Canada and Washington State, the care taken by adjunct curator David Anfam and museum director Dean Sobel with Still's more iconic work truly accentuates their undeniable arresting prescience. I was fortunate enough to be led on a guided tour by Anfam of the various facilities that are housed in the museum complex, including a preservation center, a research library, and an interactive timeline. While on the tour, Anfam frequently emphasized how Still, unlike his contemporaries, always prioritized personal cerebral exploration over exhibition and public notoriety. Anfam also took many opportunities to dispel the misreading of Still's work as masculine grandiosity, and instead argued that the colossal paintings that comprise a majority of his later output came instead from a sincere inward-looking sensitivity to the ways in which post-war America politics and culture were in a state of radical change.
In this way, the inaugural exhibition is incredibly successful – to rewrite the dominant narrative of American AbEx is no easy task, and the lasting impression of the museum that has followed me since my visit is that Still's conscientiousness is evident in an unexpected and rare display. This is not to say that the museum leadership should reward themselves with single handedly changing the contemporary perspective of High Modernism, but the reward of the nearly seven year process it took between the gifting of the collection from Patricia Still to the completion of the museum is unfathomable. The immediate benefit of the museum's opening is to finally allow for a more wide recognition for an artist – when compared to other giants in the American AbEx pantheon – whose work contains transcendent empathy for the world around him. This quality shines through in Still's opus, providing a much needed counter to the otherwise stale or remote machismo that typically dominates Abstract Expressionism.
The current showing at the museum provides a very faithful testament to a man incredibly in touch with his cultural surroundings; a figure of his era often overlooked but always lingering. Still was not only a contemporary of those more lauded, but was considered amongst that community to be one of the the most generous of teachers and mentors to those around him. Pollock is famously quoted for saying his work made "the rest of us look academic." However, Still's tremendous control over how his work could be shown prevented him from becoming a household name. In 1951 he severed ties from Betty Parsons Gallery and for the rest of his career was notorious known for respectfully declining invitations to participate in exhibitions. One famous account documented in the catalog of the museum is a short reply to Peggy Guggenheim to thank her for his representation at The Art of This Century Gallery and her efforts in championing American AbEx painters, but deciding to cease his relationship with the gallery.
This prolonged self-excommunication that spanned Still imposed upon his career is undeniably reflected in the commitment he put into his paintings. As a result the serene – at times overwhelming – spaces that are created within the paintings on display are so enveloping that the very act of removing one's gaze from their aura is a reeling task. In short, the work chosen by the museum for its first outing is undoubtably mesmerizing and entrancing in their profound melancholia and enlightened earnestness. Where writers and critics of the past have judged these paintings as aloof, remote, and antagonistically abstract, I'd instead argue the opposite and claim that the empathy and humanity found within these paintings remains remarkably poignant, particularly in an artistic age so bereft with pastiche and indifference.
This week I am in New York City installing a show at 319 Scholes, a recently cited "go to" venue for all sorts of media-related arts including live audio/performance, digital interactive work, and netart. The show entitled Notes on a New Nature is a physical iteration of an ongoing research project that started several years ago with a lecture presented at The School of the Art Institute and has since had many manifestations in my own visual practice, as well as an ongoing image blogg and other literature/writing.
The above video is an introduction recited from the Front Range of Colorado concerning the central thoughts I've been developing with this research, as well as questions I continue to have regarding the depiction of landscape and nature amidst the proliferation of digital culture.
Participating artists in the show opening Thursday November 10th from 7-10pm include Duncan Alexander, Mark Beasley, Chris Collins, Petra Cortright, Theo Darst, Marjolijn Dijkman, Paul Flannery, Joe Hamilton, Jan Robert Leegte, Sara Ludy, Garrett Lynch, Michael Ray-Von, Sherwin Rivera Tibayan, Nicolas Sassoon, Rick Silva, Pascual Sisto, Kate Steciw, Wes W Wilson, and Krist Wood.
Also, join me for a virtual nature walk on 319 Scholes' ustream, Friday November 11th @ 3PM EST around the gallery for a leaded discussion of the work and a Q+A.