Review of the Art documentary "William Kentridge: Anything is Possible"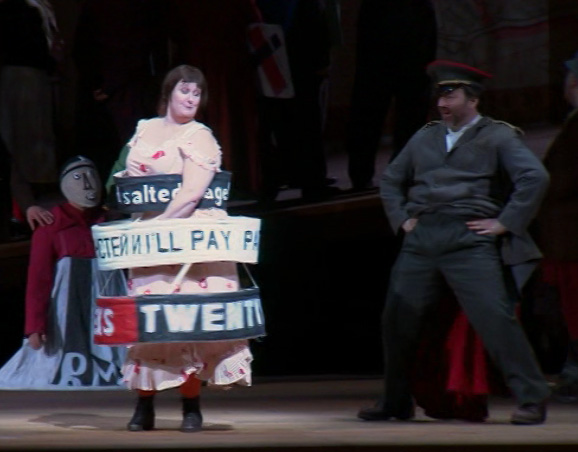 I love Art documentaries, I have watched almost every one that I could get my hands on over the years much to the displeasure of my wallet (they are always more expensive then the average film) and anyone I share a Netflix account with (watch enough art films and Netflix will make all sorts of assumptions about you in it's recommended films algorithm).
Art docs have always been for me a great way to survey the work, personality, and tone of any artist. Its rare that the average person can get one on one time with an Artist of interest and when you do it's more often after they have talked to 40 people before you and are 8 cups deep into the free beer or wine the gallery/school/institution/art fair put out. So in effect you get less then stellar conversations (not always mind you, the exceptions are often amazing) or and this is the truth for anyone artist, politician, scientist, what have you; that its hard to always be "on" and be able to talk extemporaneously and with give and take about your work. Art professors the world over try to beat the need for this skill into their students but the dirty secret is the professors often times are no better and have been no better for 20+ years. Fact is it's a hard skill to learn for anyone and Art docs help with the magic of editing to give you the best moments of conversation possible.
Thats why its so saddening when you often times see artists speak vaugly, paradoxically, or with a straight faced serious non sequitur, much as the case with Art:21's first feature length, solo artist film outside of the biennial Art in the Twenty-First Century series. Art:21's "William Kentridge: Anything is Possible" is a well directed film with good production values. "Anything is Possible" has everything I look for in a good Art doc except William Kentridge is the typical "say nothing by saying much" artist in the film and this is after the director/editor has worked to make it as structured, poignant & narratively focused as possible since it is in their best interest to do so.
It's kind of painful to watch after a while since it is clear with how Kentridge's monologues are woven into the tapestry of the film as intros or outros to scenes and quickly cut that the production team didn't really know how to make use of statements like "making art was a way of arriving at knowledge that was not subject to cross examination" and treated his narration more like a soundtrack to pop a scene or set a tone, not to make a statement to be followed by the audience. Very little of what William Kentridge says in the film sheds light on his youth, early career, family, later career or deeper intent other then then the very basic themes of a piece or style.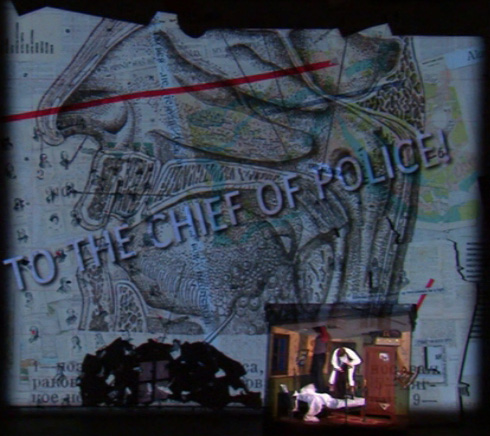 Having said this his skill as a stop motion filmaker, animator & stylized puppeteer is very facinating. His highly graphic, russian constructivism style of working has great impact and the director of "Anything is Possible" made strong use of this fact. The film by and large is a visual symphony of the various components that Kentridge uses in his practice, introducing them one at a time and then at the last movement bringing them all together in one operatic scene with as much scope as possible. Where the end of the film centers around the Artists collaboration with the Metropolitan Opera in a performance of Shostakovitch's 1928 work "The Nose". Then you see the shadow puppets, the animated drawing, the mix of 3d & 2d interaction, the projections that swallow the entire stage making humans look like ants & the political pageantry that winds it's way through much of Kentridge's work. Then and saddly only then does the film start to pay off.
I love the series Art:21 and know how difficult it is to organize, finance and execute interviews, artists, performances & such but I walk away from this first long form solo film wishing they had picked someone else to showcase and the feeling it was actually a behind the scenes for a yet to be released Met Opera DVD. Kentridge's work and in many ways the man himself is so esoteric that few will be able to really sink their teeth into this or even care to try? I am not saying make the first film on anything as extreme as the out of favor Chapman brothers or zeitgeist Shepard Fairey but something more accessible and of interest to the twenty first century might be apropos.
The first line of the film is "My job is to make drawings not sense" which I realize he says to elicit a response from the audience of 60-70 year olds that are in attendance (watch the film and like Where's Waldo find someone born after Tang was invented) but it is sadly true of his general take on this opportunity to speak to a larger audience, an occasion that he drops and never picks up. You see when I said earlier that the average person rarely gets a one on one with an Artist they are interested in it is doubly so for an artist to get the opportunity to broadly speak to a captive audience in such a way as this and when you do: teach us, illuminate us, speak to us, move us for sadly in life you get one or two chances at most and we move on to someone who will.
The broadcast premiere of "William Kentridge: Anything Is Possible" takes place this October 21 at 10:00 p.m. ET on PBS (check local listings). Susan Sollins, Art:21's Executive Director & director of this documentary made a good film out of a poor subject choice, hopefully next time a more fitting and engaging person will be showcased.
Audio clip: Adobe Flash Player (version 9 or above) is required to play this audio clip. Download the latest version here. You also need to have JavaScript enabled in your browser.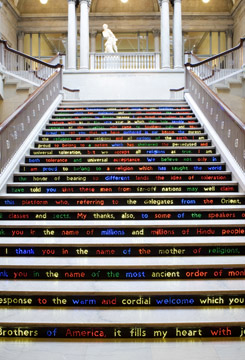 This Week: Our sixth season kicks off with a great interview with artist Jitish Kallat. We talk about his work, his installation at the Art Institute, and what it is like to live and work in an art scene in a city with 14 million people. If that weren't enough, curator Dr. Madhuvanti Ghose chimes in as well!
The following shameless lifted from the AIC web site:
Public Notice 3
September 11, 2010–January 2, 2011
Grand Staircase
Overview: In the first major presentation in an American museum of Jitish Kallat's work, the contemporary Indian artist has designed a site-specific installation that connects two key historical moments—the First World Parliament of Religions held on September 11, 1893, and the terrorist attacks at the World Trade Center and the Pentagon on that very date, 108 years later. The resulting work, Public Notice 3, creates a trenchant commentary on the evolution, or devolution, of religious tolerance across the 20th and 21st centuries.
The basis for Kallat's installation is a landmark speech delivered by Swami Vivekananda at the Parliament, which was held in conjunction with the World's Columbian Exposition in Chicago in what is now the museum's Fullerton Hall. The Parliament was the earliest attempt to create a global dialogue of religious faiths, and Vivekananda, eloquently addressing its 7,000 attendees, argued for an end of fanaticism and a respectful recognition of all traditions of belief through universal tolerance.
With Public Notice 3, Kallat converts Vivekananda's text to LED displays on each of the 118 risers of the historic Woman's Board Grand Staircase of the Art Institute of Chicago, adjacent to the site of Vivekananda's original address. Drawing attention to the great chasm between this speech of tolerance and the very different events of September 11, 2001, the text of the speech will be displayed in the colors of the United States' Department of Homeland Security alert system. Opening on September 11, Public Notice 3 explores the possibility of revisiting the historical speech as a site of contemplation, symbolically refracting it with threat codes devised by a government to deal with this terror-infected era of religious factionalism and fanaticism.
Curator: Dr. Madhuvanti Ghose, Marilynn Alsdorf Curator of Indian and Islamic Art.
Ever have an artist that you thought was fun, fresh, interesting and smart? Someone you told all your friends & family about and thought was someone you could be interested in for their entire career? Then they move to a different city, make some money,  get a grant/scholarship, sudden increase in press or some other seemingly innocuous change at the time. Then almost overnight you don't know that person and the work is not just bad on it's own but seemingly worse for what it could have been?
I was told years ago for some Jasper Johns was kind of like that in many people's eyes (being a big fan myself I could kind of see it even though I still enjoyed the later work) but for me that person has always been Will Cotton.
I remember seeing video and photos from one of his first major shows back in 1999 and reading Mark Kostabi's article in Shout and thinking "I agree with Kostabi on something? This is a new feeling!". Will's Candyland Landscapes were unlike anything else being made at that time and were wonderful in their unabashed gluttony, scale, execution & humor. During a time when I had as much angst and gritty somberness/passive aggressive irony as any man could take durring the 90's I liked this idea of slick, fun and cranked up to 11 sensibility. Hoping like Chuck Close he would disasemble the formula over time into a more non-representational approach and I would get art I would want to do and see without having to do all that blasted hard work lol.
Will Cotton then it seemed to me, spent the summer of 2002 in Giverny, France, where he worked under a residency grant from the Monet Foundation and realized that women have these things called breasts, and they are beautiful and now that he has money the women who own these breasts will sit for him; he never looked back. Almost overnight the landscapes were gone, the witty humor melted and it was cotton-candy sky is the limit on cheesecake. Most recently you will see his latest work as the cover of Katy Perry's new album Teenage Dream.
In some other dimension of reality Will Cotton would have gone to an Analytical Cubism conference, fallen in love with geometric rhythm and not breasts but who am I kidding, "you gots to pay the bills somehow".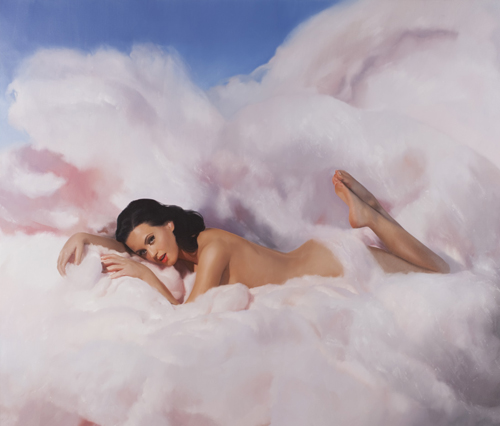 ---
In Other News.
The Museum of Science and Industry has a PR stunt underway where one person will have the chance to live in the museum 24/7 for a month with full access and receive $10,000. All they have to do is interact with the visitors, blog, tweet and generally promote the institution, not to mention stay sane. Sound great? Well if you do the math, that it's thirty 16 hour days of confined living; it equates to a 20$ an hour job. I guess it's not bad but being the unconventional event spokesperson for the museum, near constant walking, no personal internet & sleeping in the U-505 submarine or the coal mine might appeal to some but it looses the shine after a night or two for me. It will be interesting to see who they choose (want to lay odds its not a guy?) and how long it takes for that person to sour. Do I smell Bad at Sports office pool in the making? Some here think it is a great idea so keep reading I will try to keep tabs on this winner and how it goes :) read more here & here
Theft of a $55 million Vincent van Gogh painting at the Mohamed Mahmoud Khalil Museum in Cairo, Egypt prompts talk of increased security. I am sorry but with only seven out of 43 security cameras functioning and none of the alarms attached to the museum's paintings working adding a baby monitor would constitute increased security? read more here
Remember the guy who bought the Ansel Adams negatives for $45 and a few weeks back the grandson of Ansel, Matthew Adams badmouthed them saying something akin to that they were worthless without the hand of the Artist to burn the final image? Well now the trust representing the famed nature photographer filed a lawsuit to halt the sale of prints. read more here
Ed Marszewski—editor-publisher of Lumpen, festival host, gallerist, and general Chicago indie art world guy-around-town—has remodeled Kaplan's Liquors, the Bridgeport bar owned by his mother Maria Marszewski since 1986, and reopened it with the name Maria's Packaged Goods & Community Bar.
Maria's Packaged Goods & Community Bar
960 W 31st Street
Chicago, Illinois 60608
773.890-0588
www.communitybar.wordpress.com
Audio clip: Adobe Flash Player (version 9 or above) is required to play this audio clip. Download the latest version here. You also need to have JavaScript enabled in your browser.
The five year behemoth is upon us! Episode 260 kicks off with a discussion with Mary Jane Jacob and Michelle Grabner about the artist and studio. Then we turn the camera on ourselves and have a discussion about where we are and where we are headed, if anywhere.
Thanks for listening! It has been a great five years!
P.S. Cauleen S. you are a sad, sad, petty whiner. Grow the hell up.
The great part of the Art World is that it is in constant flux and endless energy. Artists and other members of the community create more commerce, impact, reach & community with $100 then most corporations can do with $1,000. The Art World cleans up and resets urban landscapes, moves when the price gets too high and then does it all over again. Lower Manhattan is a testament to the Art world and not anything City Hall has singlehandedly done. Yes there are aspects that can drive you mad; as in the endless herding of cats, debating fringe points of view that even Fox News would balk at and the deep seated hatred/fear of money or success. That said though, I would take a smart art world person over a smart MBA any day of the week. Ideas come and go but drive and tenacious originality/agility makes them a reality. Vegas was once a dream like that.
For good or ill there was once a dream to make Las Vegas an art capital. To make what was already a destination place for many into something that would include an art & culture discussion. During the time of the drive to reinvent Las Vegas as a family friendly, high culture venue, many casinos built collections and galleries to showcase great works for a small admission fee. Years later that proved to be a dead end. People didn't want to pay to see works that were not of the highest order of notoriety while in Vegas and even fewer would make the trip with that as a priority. The casino's multi-million collections now adorn the check-in areas and the galleries are reconstituted for other uses. Interestingly enough once again the poor artist comes along and is renting out the space to work in for later exhibitions in LA. You can read more here.
All in all though that is the Art World every day and the Business world every fiscal quarter. You dream what could be, do as much preparation as possible, swing smart and hard and hope at the end of the day you get your investors more then they paid and build an core infrastructure that can grow into something more. Something better.
You go out swinging every day, hoping that you can find that one idea that is better then the rest and you can gladly spend a lifetime building into something that brings joy, growth and money to all who enter it. You suffer the pain, the failure and the missteps knowing that she is out there just waiting to be found, that opportunity to plug in your skills and view with the needs of the community. Thats why we do this every day, that is the art world where dreams die daily so that other, better ones, might take their place for us all.
---