A friend posted this interview between Steven Cox and Scott Wolniak on the ol' FB. I thought I'd repost an excerpt here.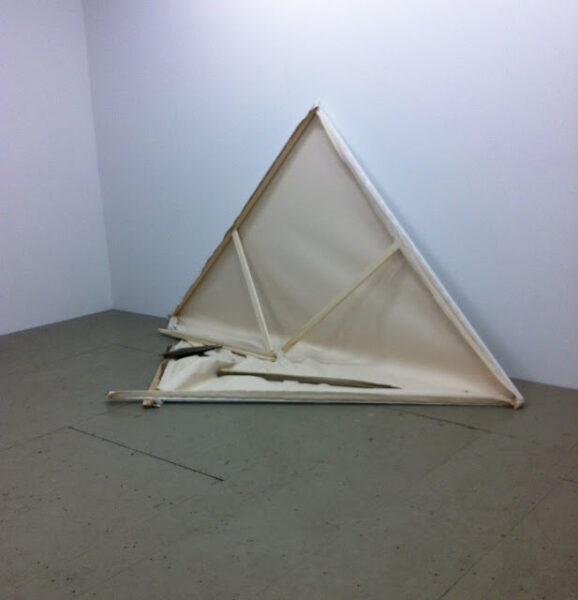 HUNTED PROJECTS presents Chicago based artist Scott Wolniak.
Scott is currently a tutor within the Visual Arts department of the University of Chicago, where his multi disciplinary practice expands upon the realms of installation, painting, sculpture and video.  With references to both destruction and humor, his past experience of being an art handler shines through with sculptural and painterly works that suggest the purposeful mishandling of materials.  This being made particularly clear through his video work The Ratio of Effort to Effect (2010), which in a tongue in cheek manner, explores the ever so common mishandling of art work, done in a manner that hints at Wolniak's appreciation of the absurdist comedy of Steve Martin.  In all, Wolniak's rounded practice explores the cockamamie, poking fun through the purposeful use of humble materials, whilst simultaneously rationalising conscious bad craftsmanship as a by product of expressionism.
Can you tell HUNTED PROJECTS about yourself and your creative background?
SW: I am a multidisciplinary artist based in Chicago.  I studied Painting and Drawing at the School of the Art Institute of Chicago, and did my MFA in Studio Art at the University of Illinois at Chicago.  After finishing my BFA in 1995 I spent five years working as a truck driving art handler, which introduced me to important social and logistical aspects of the art world.  I opened an alternative exhibition space in my garage called Suitable Gallery in '99, which was in operation for 5 years.  It was a positive experience; we did many great shows with great artists.  My studio is now in this same finished and heated garage that used to be Suitable.  After completing my MFA in 2002, I began part time teaching at SAIC and, in 2007, began my current full time teaching appointment in the Department of Visual Art at the University of Chicago.  Teaching is a really important part of my practice and helps me to constantly reconsider my relationship to visual art.
When did your interest within the arts begin?
SW: As a kid, art was a natural form of entertainment and escape.  It was always frustrating but endlessly engaging… same as now.  I shield away from formal instruction and traditional techniques in favor of cartoons, material experiments and made-up imagery.   I used to steal techniques and styles from classmates in elementary school.  Some of my early influences were Shel Silverstein, B. Kliban and LeRoy Nieman.  As a teenager I was nourished by music and record cover art.  I also loved comedy, especially ridiculous, physical stuff like early Steve Martin.  I decided to go to art school because nothing else really made sense… and I liked the idea of making a life doing what I was already doing anyway.  I knew nothing of art history before I began school at SAIC.  My 1st life-changing encounter with Art was the work of the Abstract Expressionists.  I spent hours looking at DeKooning's Excavation at the Art Institute.
                                                                                    
Can you discuss your day-to-day creative process?
SW:  My studio is in my backyard.  Convenience is really important to me because I like being able go to my studio any time, for any length of time, even if just to glance at something.  I am in my studio every day, so the work is a constant.  I have a hectic daily routine, which has required me to compartmentalize in order to sustain my practice.  Nights have always been a haven of undisturbed studio time for me.  Ideas come from everywhere.  My work typically involves combinations of everyday life and abstract systems, explored through labor-intensive processes with humble materials.  I tend to work on several things at once, shifting between conceptual projects that are primarily about planning and process-based pieces that are heavy on labor.  My labor-intensive projects are probably the most enjoyable.  I like to see things accumulate and transform over time.  I can drop into the studio for 15 minutes or 5 hours; either is productive since it is always moving toward the same end point.  As with meditation or exercise, small efforts conducted with great regularity do add up.
I listen to tons of music while working, as inspiration and background noise.  I often smoke marijuana in order to trick myself perceptually.
(read more)
This week's podcast came from the Marin Headlands — a beautiful site just on the California Coast — where Brian Andrews and Patricia Maloney joined Jordan Stein and Daren Wilson to talk (among other things) about Wilson's "stalker paintings." Wilson has made a recent practice of copying Morandi's still lifes — even the distortions that result in the pixellated computer reproductions Wilson works from. You'll also hear Duncan's robot voice in the intro, which is good reason to tune in. 
It reminds me to recommend going to see Guy Ben-Ner's new film, "Soundtrack," presently screening at Aspect Ratio in the West Loop — "Soundtrack" pulls the audio of Spielberg's 2005 blockbuster, "War of the Worlds," grafting it to the artist's kitchen.
THIS JUST IN: Music is, indeed, trending. While I did not see the Cave/s in person I was excited by all the hubub around two caves meeting in person. Maybe most of all, this performance sounds amazing: "Everything we know about Passover we learned at Bobby Conn's final residency performance at the Hideout last Tuesday. His full band including Tim Jones fronted brass section was nothing short of a Pesach miracle." That and more from WHAT'S THE T? (hooray!)

According to Jeriah Hildwine "the frost giants [have] finally abdicate[d] their annual reign over Chicago" which is good news in an of itself, though he writes primarily about his experience applying to MFAs, getting enrolled or rejecting, choosing this over that. "Like Maximus said in Gladiator," Hildwine writes, "'The choices we make in life echo in eternity.'" And, it turns out, Chicago is a pretty good place to end up.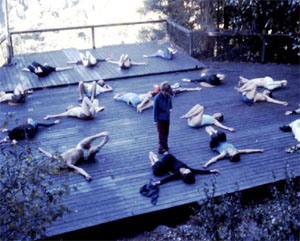 Anthony Romero continues his on-going series WHAT CAN BE DONE WITH DANCE? and interviews Rebekah Kowal about her book, How to Do Things with Dance: Performing Change in Postwar America,  exploring the relationship between social activism and dance choreography."As of late" Romero writes, "I have been writing a great deal about strategies and modes of resistance. I have been thinking about the usefulness of dance, of the power of embodied action to simultaneously imagine and enact alternatives to dominant schemas of value that exclude what Judith Butler has referred to as the "ungrievables". Those whose lives are devalued by social conditions and governmental policies to such an extent that if their life were to extinguish it would go unnoticed."
Chiming in on Hildwine's reference to transitioning seasons, Jamilee Polson Lacy writes with news from The City of Fountains, connecting a collection of noir short stories, Kansas City Noir, with some exhibiting artists:
"…transitions—seasonal or otherwise—are unruly. Kansas City artists Nicole Mauser and Caleb Taylor make paintings and collages which illuminate the wild, sometimes dark, often whimsical transitions that happen in the studio. Taylor, who currently has a show up at Sherry Leedy Gallery, presents a series of paintings that, like spring's arrival, struggle to emerge through the dense fog of the artist's heavy black brush strokes. But with the collages, Taylor is able to clear out the fog where necessary in order to contrast harsh lines and geometries with soft shadows and dazzling light. Indeed, these compositions read like atmospheric interludes designed for scene transitions in Film Noir flicks like Panique and Kiss Me Deadly."
Kelly Shindler posted about the ghost of Pruitt-Igoe, a large public housing project in St. Louis that still continues to influence contemporary artists today:
"The ghost of Pruitt-Igoe looms large in St. Louis. The 33-building public housing complex, designed by Minoru Yamasaki (who was also the architect of the World Trade Center) and completed in 1954, has long fascinated architectural historians and enthusiasts alike. Designed in accordance with Le Corbusier's utopian 'Towers in the Park' vision, its demolition began less than twenty years later in 1972 as the site fell prey to dried-up funding, mismanagement, and subsequent decrepitude and crime. According to architectural theorist Charles Jencks writing in 1977, the notorious demise of Pruitt-Igoe, captured on film and televised widely at the time, marked the day that 'modern architecture died.'" 
The WEEKENDS TOP [not 5 but] 6 (!) shows to see, courtesy of Stephanie Burke.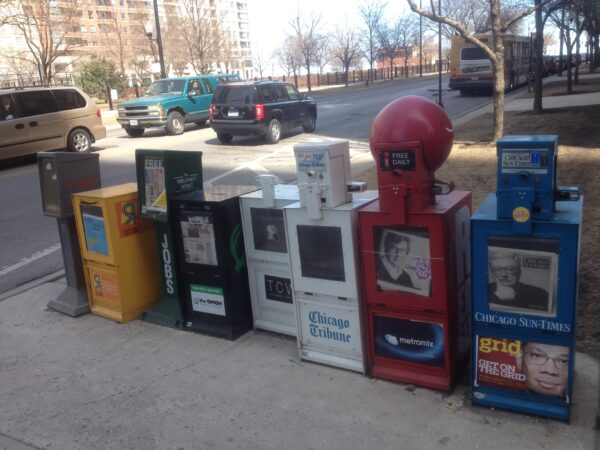 "What does it mean when a city of almost three million with a thriving art scene has not a single full-time art critic?" Abraham Ritchie asks Chicago Media Publications, pointing out that most publications rely on freelance writers.
"If the Chicago art community wants more, more national and international attention and recognition, more major artists staying in Chicago, more opportunities across the board from sales to exhibitions, it's time that we demanded our major newspapers and magazines step up and make a commitment. It's time we had an art critic in our newspapers."
LAST BUT NOT LEAST, Brit Barton takes the Saturday stage to reflect on Winston Churchill's painting habit:
"[Churchill] loved his landscapes and still lives and painted over an estimated 500 in his lifetime. What drew a man of such political power to something like painting? He saw it as the end-all, be-all of anxiety, which I think says a lot coming from someone who nicknamed his own clinical depression."
All this talk of Churchill reminded me about Orson Welles. I remember my own mother seemed to intensely admire both men, and had various anecdotes about both of them. Here is a very strange clip to that end —

"One of the things I wanted to prove is that you don't have to be a Larry Gogosian or a Jeff Koons and plunk down 10 or 15 grand to make something happen. I think if you're creative and energetic you can do whatever you want for a penny ninety-eight." Wise words from painter/guerilla documentarian Loren Munk who's interview was published this week on Bad at Sports.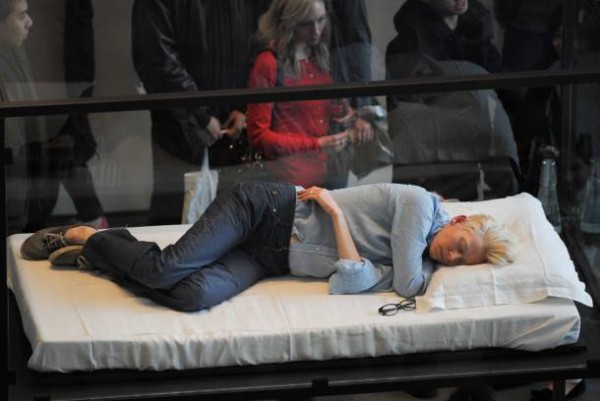 Let's see — otherwise Tilda Swinton has been sleeping Snow-White-Style in a glass box at the MOMA (which Jerry Salz wrote about here) and I saw an amazing B-Movie about a gang of Tai Kwan Do orphans who go tête-à -tête with Bike Ninja's in Miami.
But more to the point, Nicholas O'Brien Unpacked The Shortest Video Ever Sold :
"In the past couple weeks a myriad of media outlets have been chomping at the bit to comment on the first sale of a piece of art made on the rapidly rising social media platform Vine. The work in question was made by Angela Washko and presented at the Moving Image Fair by Kyle Chayka and Marina Galperina in their Shortest Video Art Ever Sold (SVAES for short) booth produced in collaboration with Postmasters Gallery. The sale of the work has been quickly marked as an easy target for many critical articles for a variety of reasons, however I feel that most takes have missed some of the more salient issues that surround this sale. I sought out Chayka, Galperina, and Washko to discuss not only their intentions with the project but also to examine what exactly this sale might signal in terms of a potential future for new media art production and saleability."
Shane MacAdams posted another episode from his on-going series, Thoughts from Across the Cultural Divide, "From television to cuisine to high-art, culture seems bent on sanding us down even as we strut about thinking of ourselves as unique splinters in the side of society." It sounds like the series is wrapping up, so we'll have to keep our eyes peeled to see what's next on the McAdams' Bad at Sports posting roster….(this is where you're all supposed to grow excited, curious and sleepless with anticipation.)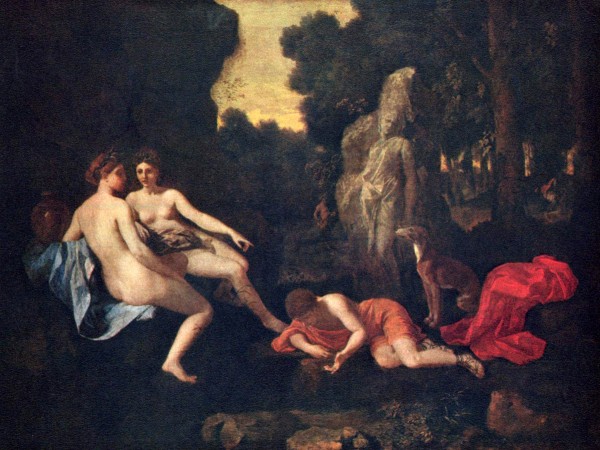 Two posts from London this week — João Florêncio published a second installment in his on-going Performing Ecology: Narcissist Modernity
"The problem is that whereas the critical enterprise had, following the dawn of Modernity, been rightly concerned with calling into question beliefs such as those advanced by various religious doctrines and replacing them with scientifically validated facts, at the start of the 21st century and there being no beliefs left to disprove, criticality has now started targeting objective facts themselves, often by negating their existence or by turning them into a mere product of their dialectical counterpart, the observing human subject and its usage of language. Today, after the so-called 'objective reality' was found to always be the result of power-knowledge formations, human discourse has become the true cause of the world itself."
& later that same day from Victor Delvecchio, a ruminating post about a renegade performance, Black Metal Chicken, an event organised by an apocalyptic noise band funded by Henrik Heinonen with Oscar Gaynor and Matthew Peers. Via Delvecchio I learned that Islam Green is a color and got a vibey-feel for foggy East London (where the Olympic stadium remains). This comes from his post about a performance artist being strangled, Where there's voilence, there's love:
Sophie appears on my back: "I thought the timing was good," she says. "Just as the audience were eating, helping themselves to food. If I didn't know it was a performance, I would have been concerned, it relied heavily on our knowledge and trust that this was a performance. I think, they were trying to communicate the uncanny, notions of sadism, the erotic. Perhaps, too, how vulnerable we are to another person's decision to harm us?"
Juliana Driever builds a bridge between New York and Chicago with post about socially engaged practices "In Conversation: Community Glue Workshop and Fixers Collective." From her intro:
"With certain currents in the contemporary art world pulling out of the gallery and museum box and into the spaces of everyday life, social relationships have come into focus as the site of many artistic projects. Increasingly, self-organized creative types pick up with simple materials, a group of friends, and an idea to enact change in their various communities by participating in and with them. Between Chicago (Bad at Sports' hometown) and New York City (my hometown) there are two similar projects – with varying regard to an art world dialog – that center on a waste-not-want-not brand of idealism. Encouraging inventive approaches to everyday repair problems, Community Glue Workshop (Chicago, IL) and Fixers Collective (Brooklyn, NY) have each been building community by tinkering with and fixing things. All kinds of things. I recently had the good fortune of sitting down with Ally Brisbin and Carla Bruni of Community Glue Workshop, and Vincent Lai of Fixers Collective to discuss their respective work."
And then on Thursday, Atlanta-based Chicago friend Meredith Kooi reported on TRITRANGLE's "No Media" project:
"NO MEDIA happened March 16, 2013 at TRITRIANGLE, the art space that formerly held Enemy Sound, in Chicago, IL. Developed out of a GLI.TC/H Working Group, the first NO MEDIA happened at GLI.TC/H 2112 on Friday, December 7, 2012 at TRITRIANGLE. Described in the schedule as "Proposed by Jason Soliday on the Working Groups: NO_MEDIA is a performance framework that goes from zero to zero! Participating performers will start with blank slates, build sets from scratch. No preparation allowed. Zeroed out knobs. No strings on your guitar. No presets. Everything done in realtime from beginning to end. Everything that happens exists only in and during the performance :: "Raw Real Time." After ~ 10 minutes you will delete all assets. It happens … and … then it's gone …"

"On March 16, 2013, I participated in it, but that's the only detail of the night I'll give. For, there is no documentation allowed. After the event, I sat down with [dis]organizers Jason Soliday, Nick Briz, and Jeff Kolar via electronic-mail. I wanted to ask them: Why a NO MEDIA new media performance event? What is considered documentation? What does it all mean??

And then, here I am, writing for the "media" about NO MEDIA." (more)
TOP 5 WEEKEND PICKS !! (whoop-whoop) posted by the ever magnanimous vet of culture and distinction, Stephanie Burke.
& last but not least, a little something by yours truly about Harmony Korine's SPRING BREAKERS.
As we close on spring break in earnest, I'm going to leave you with a little something from Miami Connection, that B movie I told you about — I failed to mention that the band of Tai Kwan Do Orphans also moonlights in a super-posi(tive) band called DRAGON SOUND. While playing music for a crowd, they also practice their martial arts. This one goes out to you, dear readers, from the bottom of my heart.
Harmony Korine's Spring Breakers has been quite the buzz of late. To quote SF filmaker/friend/artist, T. Siddle:
Did a double feature of Stoker and Spring Breakers yesterday. Stoker is very very good, I'm not convinced by Spring Breakers (though I liked all the neon and the hideous beach font it used for titles). My experience of the latter was somewhat hampered by the elderly man sitting behind me who made pornographic grunts whenever a semi-naked woman was on screen.
There are lots and lots and lots of half-naked women in this movie, so a grunt per visible breast would be distracting indeed. I also saw Spring Breakers recently, also during a double feature. We went Spring Breakers first, then Olympus Has Fallen. Surprisingly, I liked the first. I thought I would hate it, because I tend to dislike excuses to show naked girls for the sake of showing naked girls. I read about how anti-feminist it was, how exploitative. How the female leads were shallow and hard to differentiate. And yet I was surprised. Korine's movie is all of those things — however I would argue everyone in this movie is exploited and exploiting, everything is shallow and everything is a product of a corrupt, late capitalist culture. The leading ladies are not liberated in a positive way, necessarily, but they have learned to be so hard and material, so soulless in a way, that they fulfill the very requirements of their image and then go beyond that image to exploit and manipulate and murder. Korine uses so much nudity it becomes boring — yes! — blending a vaccuous (and I'd say also American) desire to "find oneself" in pleasure and abundance, that offers this compelling, albeit gross, portrait of class (perhaps more than anything else) and gender.
It probably could have been shorter, and I think it's a little too pretty for its own good — as a portrait of corruption, maybe there shouldn't have been so many breathtaking moments (the Tiqqun-ish Young-Girls dancing in pink unicorn ski masks, pink bathings suits, dayglo sneakers and carrying artillery rifles as drug dealer James Franco plays a former-Mousekateer Brittany Spear's song on a white piano) but. At least it exploits the rotten-ness of Vice Spring Break — drawing the narrative to an ethical nightmare that is almost lost in the mood of the moment. Blood is spilled in Tarantino proportions, feeling far more hopeless, more pathetic — if only because these main female protagonists (two of them as child stars, the third being Korine's wife) seem to be on an unconcious gender-revenge mission: as though they are simply products (or surfaces) of a culture, not self-reflecting members. These girls have developed a steel-hearted strategy of care-less-ness. And maybe that's a zeitgeist at the moment — consider Sofia Coppolo's new movie about teenage girl robbers:

Spring Breakers felt like a kind of indictment against the American Dream that gave itself so that it's youth could have any and all possibilities at its beer-guzzling feet, Olympus Has Fallen became such a freak show of propaganda (the White House is under siege and the President's son is hiding in its halls as his father is held hostage by evil captors below ground). We walked out after 30 minutes of blood soaked not-ironic-enough patriotism. What I'd like to do is splice those two films together, to show the one myth on one side, (of priviledged youth in a commerically marketed Rumspringa excercising its American-ness), and on the other the myth of America's need to defend itself from an evil Non-American.
Jeffrey Sconce wrote a great review about the film on his blog, Ludicdespair:
In a fair world, or at least one less crippled by stupidity and mediocrity, James Franco's "Look at my shit" speech from Spring Breakers (2013) would be one of the scenes featured in the Academy's "Best Picture" clip-reel at next year's Oscars. Just imagine how amazing it would be to see Ron Howard, Ryan Gosling, or some other safely bankable Hollywood functionary forced to take the stage and read an Academy staff writer's impression of what Spring Breakers is about:

"In a chilling performance, James Franco captures the essence of evil as he seduces four young girls into a life of crime…"
"James Franco is terrifying as the local crime kingpin who turns an innocent rite of passage into a nightmarish ordeal."

All of this would be bullshit, of course, but probably as close as Hollywood could come to getting a moralistic bead on this movie's unapologetic nihilism. But it would all be worth it to see the lights in the Kodak theater go dark so that TV America could witness the corn-rowed, grill-bedazzled "Alien" (James Franco) inventorying the contents of his sick St. Pete bedroom:

This is the fuckin' American dream. This is my fuckin' dream, y'all!

All this sheeyit! Look at my sheeyit!

I got … I got SHORTS! Every fuckin' color.

I got designer T-shirts!

I got gold bullets. Motherfuckin' VAM-pires.

I got Scarface. On repeat. SCARFACE ON REPEAT. Constant, y'all!
…This will never happen, of course, because Hollywood will be too busy auto-fellating itself with the historical import, social relevance, and quality competence of another

Lincoln

or

Argo.

Meanwhile, Harmony Korine's sublimely ugly and mean-spirited takedown of American awesomeness will likely go unnoticed, a film that in its own way says, "yeah, Lincoln was a great guy for passing the 13th Amendment and

Argo

is the story of some very heroic patriots, but in the end, nothing could stop America's manifestly obscene destiny to become a nightmare of beer funnels, breast implants, blow, and Skrillex.

(read more)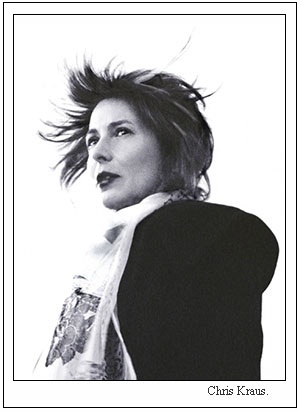 The week started off with a bang courtesy of Chris Krauss' interview with Duncan MacKenzie and Anthea Black. If you haven't listened to that yet, TUNE IN.  What's the T reports (among other things) the MCA has some great events coming up just as the Fireside Bowl had some great events in its past, Michelle OBama has bangs, and  — responding at last to the bar's painted window advertisement BANDS WANTED: an advertisement that has been up for a decade at least — art kids YOU KNOW are playing at the Mutiny. Read all about that (and more) here. Reminding you just how beautiful our world is, Paul Germanos posted some more incredible photographs that document art events, artists and art works from February in a post called : CHICAGO ART IN PICTURES.
Last Tuesday, guest blogger Jane Jerardi teamed up with Hannah Verrill to interview, film and edit a conversation with La Ribot, a performer, choreographer and visual artist:
"La Ribot recently came to Chicago to present the US premiere of "Laughing Hole" and the video "mariachi 17″ as part of the IN>TIME 13 Festival .  Appearing for six hours at the Chicago Cultural Center, "Laughing Hole" traveled to Los Angeles where it appeared at LACMA in early March.  Prior to the "Laughing Hole" performance, La Ribot sat down with local artists Hannah Verrill and Jane Jerardi to talk about her work.  The video interview captures excerpts of her conversation with Hannah, with Jane behind the camera." 
West Coast Correspondent, Sarah Margolis-Pineo, published an interview with Arnold J. Kemp, "a Portland-based visual and performing artist who is recognized for using glitter and a Duchampian sense of humor to explore issues related to identity and subjectivity." When asked about where the work in Kemp's latest show, WHEN WILL MY LOVE BE RIGHT, came from, Kemp replied:
"I come at things like a sculptor who is trying to make paintings. When I moved to Portland, I was very involved in making paintings that had a sense of humor. Sometimes they'd be all black paintings—Vampires—named for the idea that vampires don't have reflections when they look into mirrors. Another series were these glittering pink and black paintings that completely resembled the disco-era. But with this new work, I think it started with wanting to make something that people could really see my hand in. So, I don't know precisely how I arrived at it, but I was messing around in the studio with aluminum foil and what emerged were these mask-like objects. I have a history of drawing and creating things that resemble masks, but what was interesting about the aluminum foil, is that it really conveys the movement of my hand manipulating the material. I never thought to exhibit the objects themselves; instead, I used the quickest, easiest, and dumbest way of rendering them into an image, which was to use a scanner. With this series [of Aluminums], I began to play with framing—the frame around the image—as a way to emphasize the idea of painting."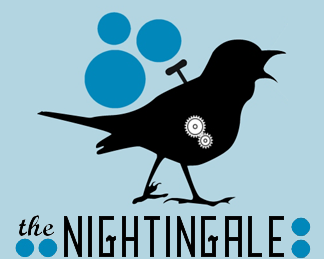 Thea Liberty Nichols posted a great interview with Christy LeMaster, "the powerhouse behind the Nightingale, a Chicago microcinema dedicated to screening experimental film." LeMaster talks about how she started the microcinema five years ago, how she approaches curation and how the organization is transitioning. As Nichols puts it"
"[The Nightingale] a welcoming and unpretentious space thanks to her generosity and openness. The Nightingale engages in inclusive conversation surrounding the production, distribution and consumption of new work, but at the heart of everything it does, beats the fans, makers, viewers, colleagues and friends it's cultivated. LeMaster's ingenuity, sweat equity and contagious enthusiasm has kept the place humming for the past several years, and now—poised to celebrate a milestone anniversary— she was kind enough to recount the Nightingale's gradual growth in scale and scope; discuss the film she's currently making; and give us a teaser regarding the new website she's developing, a project which will vault the community built in her brick and mortar space into the ether of the internet with the hopes of connecting and supporting even more filmmakers, cinemas and cinephiles."
Stephanie Burke posted her TOP 5
and, never forget, Mr. Holland's wise words about delightenment.