Grafting is a horticultural process that involves splicing one plant onto another to jump start growth. The root stock is the base, or anchor, of the operation used for its already mature, well developed root system. The scion is the plant matter that is grafted on; if the process is successful, you end up with a genetic duplication of the scion. Edra Soto's current exhibition "Graft" is on view now at Terrain in Oak Park, a project space encompassing artist and principal Sabina Ott's front yard. Soto uses Ott's front porch as the root stock to graft her installation, comprised of patterned, bright white screened gates, onto, and although they mimic the aesthetic appeal  of similar gates in her native Puerto Rico, they function quite differently in the terroir of Oak Park. Soto was kind enough to discuss this, along with her inspiration for the project and her own gallery and art collection with me below. "Graft's" closing reception is this Sunday, April 21 from 1-4pm.
TLN: I know the patterning and the structure of the screen installed at Terrain is inspired by similar wrought iron fences in Puerto Rico, where you're from. Can you tell me a little bit about your background, and what inspired you to utilize these fences in your work– was it their design? A certain nostalgia for Puerto Rico? The way they fit within Oak Park?
ES: Yes, this patterning comes from iron fences that still exist in Puerto Rico. Many are in my parent's neighborhood (where I grew up). The neighborhood was built in the early 60s and in addition to the aesthetic appeal, the screens provided security and ventilation. It's easy to find all kinds of information relevant to the problems related to criminality at that time. However, there's not much information about the pattern designs of the fences. My interest in these patterns started around 7 years ago. I made some illustrations of them, but didn't develop the idea further. My frequent visits to Puerto Rico awoke my interest in them again. My husband started using some of these patterns in the furniture he builds and that definitely made me feel I was missing out. Somehow, his admiration of the fences validated my previous interest in them. The last time I went to Puerto Rico with my husband, we went on fieldtrips around my parents' neighborhood and adjacent neighborhoods to take pictures of these fences. That was one of the most fun things we have done together. We truly love finding patterns we haven't seen before. After all that fun activity, the idea of transplanting a Puerto Rican fence in Oak Park came to me. Their beauty allures me but their potential of becoming modern art when taken out of their original context spooks me!
TLN: You run a gallery space in your backyard, The Franklin, and Sabina Ott has dedicated her front yard to her exhibition space, Terrain. Do you think The Franklin and Terrain have a lot in common, or do they take two different approaches to a similar format? What are some challenges of having an outdoor exhibition space? Do you find that most of the works are made specifically for the exhibition space?
ES: I'm so glad you ask this question because it hasn't been asked before. Just now, we have created evidence that documents one small part of the history of domestic artist-run gallery spaces in Chicago. I probably will have a conversation with Sabina soon, since I don't know the reasons why she chooses to do her projects in her front yard. From my end, I was offered an exhibition at Northeastern Illinois University last year and had almost a year to conceive the project. That time allowed me to partner with my husband on the project, have a lot of conversations about possible projects, and eventually, creating The Franklin became our project. I kept asking myself 'what can we offer to the art community that is not available to them'? Having a significant art collection was another motivation, thinking ahead of time that it would be great to open our house during opening nights at The Franklin and extend the life of the artwork we own beyond our own personal enjoyment. The specific structure of the Franklin offers the challenges of interacting somewhat with its design. Being partially outdoors forces the artists to react to the space as well. So far, the most successful projects come from artists that have challenged themselves by creating specific interactions utilizing their work, their aesthetics and their ingenuity. It is a great challenge.
TLN: Because we've worked together previously, I know a little bit about your amazing collection of art work and visual culture in your home, which itself is a kind of museum of objects and works that inspire and influence you. I know you said you would often trade works with other artists, or purchase pieces at auction to build your collection, but what made you want to start exhibiting work and start a gallery? Is it related at all to collecting? Seems like there might be a similarly social aspect of owning and displaying work, but it may also be a more private, archival impulse that motivates you.
ES: Collecting art comes from a very honest place. I just happen to love many different kinds of art and also happen to have a lot of talented friends that make it. I am fascinated by materiality and objects, but really avoid being a packrat. Collecting art makes us feel that we are doing something honorable. It is after all someone's real connection to art language and represents a little bit of the person that made it. I wouldn't display my work at my house because I have always thought that it is a little bit tacky. It's like putting a big portrait of myself in the middle of the room. Not that I don't have pictures of me (most of them with my husband) around the house. But I see those as memories reminders.
One of the reasons I felt motivated to open a gallery in our backyard was to give a 'second life' to our art collection. Having other artists work at your house, in such a private setting, kind of limits the initial purpose of that art piece. Indeed, every single time we have an opening, I encourage people to look around. Lots of work gets lots of compliments and I get to tell the visitors, and then the artists, how much people like their work. So The Franklin has 3 major components: The exhibitions at the space, the art collection, and an upside down pineapple cake that I've been making since 2009. Derived from my wedding cake, made by my mother, I started this project in an effort to transform sour memories around the original cake. Now it's one of our traditions at The Franklin. An installation of these cakes will be created for a collaborative project by Alberto Aguilar at the MCA during this summer.
All images courtesy of the artist.
Interview conducted via email April 2013.
Christy LeMaster is the powerhouse behind the Nightingale, a Chicago microcinema dedicated to screening experimental film. It's a welcoming and unpretentious space thanks to her generosity and openness. The Nightingale engages in inclusive conversation surrounding the production, distribution and consumption of new work, but at the heart of everything it does, beats the fans, makers, viewers, colleagues and friends it's cultivated. LeMaster's ingenuity, sweat equity and contagious enthusiasm has kept the place humming for the past several years, and now— poised to celebrate a milestone anniversary— she was kind enough to recount the Nightingale's gradual growth in scale and scope; discuss the film she's currently making; and give us a teaser regarding the new website she's developing, a project which will vault the community built in her brick and mortar space into the ether of the internet with the hopes of connecting and supporting even more filmmakers, cinemas and cinephiles.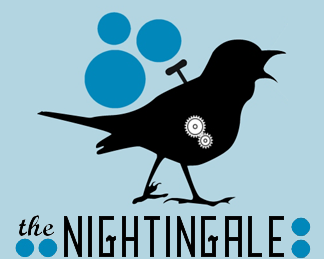 TLN: April 5 marks the five-year anniversary of the Nightingale. Can you recap the activities and structure of your space over the last few years and let us in on what's next?
CL: You say "5 years", and it seems like it's been so much longer; and at the same time, it feels like it's happened at light speed. When I started the Nightingale it seemed like access was the issue; there was more work being made than was screened, and seeing one's work in front of an audience should be the bedrock of artistic development. The city just seemed hungry for it. When I first began talking about starting a microcinema, people just rushed in to help. So I decided to do as many screenings as I could, and to not be overly precious about the idea of curation. There seemed to be a need for a community screening room as well as an experimental cinema; we got requests to be an auxiliary venue for other arts organizations; to screen social-issue documentaries; to host youth-media showcases; and to feature work from all the city's art schools. And so the momentum became its own practical logic: What do we need right now? What do we have that we can use? Who is coming to town? What is the rest of her work like? Those sorts of questions often propelled me forward more often than "What should we be showing?" Luckily, generous and gifted people keep showing up to help. Patrick Friel has been presenting every month for years; Jon Cates and Nick Briz brought us UpgradeChicago for awhile; My dear friends Doug and Chloe McLaren have been managing tech concerns and special event details for years; Sally Lawton showed up a year ago asking to help out with screenings, and is now involved in every aspect of the place. It all happened pretty organically. I would ask for help as needed and people helped. The place runs entirely on a gift economy and volunteer labor. With exception of special events and multi-artist shorts programs, we always pay artists out of the door and spend the rest until it's gone. For the most part we break even.
When I started, I gave the project a sunset date of five years so I could re-assess if I was happy doing the work and if the space was still needed. And here we are. I think it is still useful to do, but I am being pulled by other projects. So I am handing off. The main bulk of the work will be managed by five programmers/keyholders: Patrick Friel, Emily Kuehn, Jesse Malmed, Chloe McLaren, and Doug McLaren. They will all have autonomous use of the space. We have structured the new system around transparency. We have put all of the tools for running the space online, and gathered a group of volunteer staff to assist the programmers. And we are taking this moment to refresh the space in lots of other ways too. We will soon launch a kickstarter to get a new projector. We are overhauling the website and changing the look of the space. I am excited for the transition. It seems really natural. I can't wait to see what happens next. I hope to still organize programs occasionally and think about the space in a more macro way.
TLN: The Nightingale has managed to transcend its programming by acting as an informal hub of community building. I know intentional communities, post-nuclear family structures and Utopias are all part of your research interests, can you tell us more about how they relate to the activities of your micro-cinema and your own arts practice?
CL: Early on, I decided on a few small details that have become our rituals— we make pretty tickets for every screening, we always have a raffle, we host a big potluck every year and film a trailer.
I'm really interested in issues around interdependence. I think in the wake of the implosion of the nuclear family, we're all sort of floating into new models of how to take care of each other. I heard a woman say once, "co-dependence is no joke in a world without interdependence," and that's really led my interest. It was always more important that the Nightingale be accessible instead off curatorially perfect. And for a long time I didn't think I had an art practice, I just thought I had projects. But over the last couple years I've started to see that all of my projects are concerned with the same issues— how do people establish interdependence outside of traditional means; heteronormative relationships, institutions of church or work? I think a lot of us arts organizers in Chicago are remaking a small corner of the world in a vision that we value. Utopia is social critique. We aren't interested any more, it seems, in removing ourselves from society entirely, but a lot of people we know are working very hard to rebuild small parts of society from the ground up. The Nightingale is my vision of an interdependent cinema, and a lot of my other projects are concerned with the same dynamics. I'm working on a movie about utopias where I invite different arts organizations in Chicago to re-enact an intentional or utopian community from American history; I'm researching sacred harp choirs because of how they use performance as collaborative practice. I've been thinking about how to be a good collaborator for 10 years, and I'm only now applying it pragmatically.
TLN: Your network of colleagues and collaborators extends well beyond the city of Chicago, which makes you the perfect person to take on the build out of Splitbeam, an online resource you dreamt up and secured funding to implement. Tell us more about the project, its function and its design.
CL: It turns out that the experimental cinema community is pretty small; Splitbeam is an idea that I had over the last years at the Nightingale— I wanted a resource where I could see what other microcinemas were doing, and right now experimental moving image makers are working on a sort of punk-rock model where you book your own shows; we're not really relying on media to travel independently of the artist very often. Splitbeam is a web directory of microcinemas, independent and alternative cinemas, and it houses a modular, open distribution that is meant to take some of the administrative burden off of curators and artists. I am lucky to be working on it with my good friends Nick Briz and Michael Castelle; Nick is doing the front-end design and Michael is handling the database, and I am taking on the research and organization. We received a generous grant from the Propeller Fund and used it to hire Sonnenzimmer to create a visual concept for the site. We're going to work on it hard this summer and hope to launch in the Fall of 2013.
Interview conducted over email March 2013.
I was recently invited to contribute an essay to a forthcoming publication on The Stockyard Institute's (SI) 2010 exhibition "Nomadic Studio." It was a treat to look back and think through their amazing show and its constellation of programming and events. It actually felt like stars had crossed when I met Jim Duignan, founder of SI, at one of Nomadic Studio's many workshops– we got to talking, and the next thing I knew, I was reviewing the exhibition, and then curating work into it and organizing and moderating a panel discussion for it!  Duignan's enthusiasm is contagious, but his true strength lies in his ability to inspire. Hopefully the 499 words below capture some of that, and recount just a handful of the art and ideas Stockyard Institute has helped seed.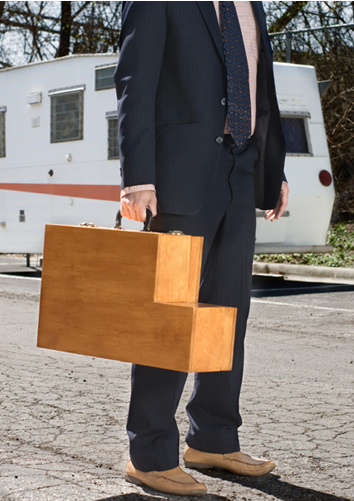 NOMADIC STUDIO
The Stockyard Institute (SI) is no stranger to life on the road. From its formation in Chicago's Back of the Yards neighborhood in 1995 to its current perch amidst Lincoln Park's leafy DePaul University campus, faculty member and SI founder Jim Duignan has made an artistic practice out of teaching, learning, making and giving things away for free. "Nomadic Studio," organized by SI for DePaul Art Museum (in conjunction with the city's year-long Studio Chicago initiative), sounds self-reflexive at first, but its true complexity lay in the fact that it was about both the why, and the how, of SI.
Duignan, along with Faiz Razi, Beth Wiedner, and a staggering number of additional collaborators too numerous to list– put together an audaciously elastic exhibition comprised of multiple, month-long thematic reincarnations. Featured works drifted across disciplines and blurred borders between singularity and replication, creativity and production, fine art and craft, and aesthetics and utilitarianism. It was cumulative, and expanded organically through the acquisition of new works over time. These works also talked to and cross-pollinated one another, shape shifting within each new context of the show's constant fluctuations.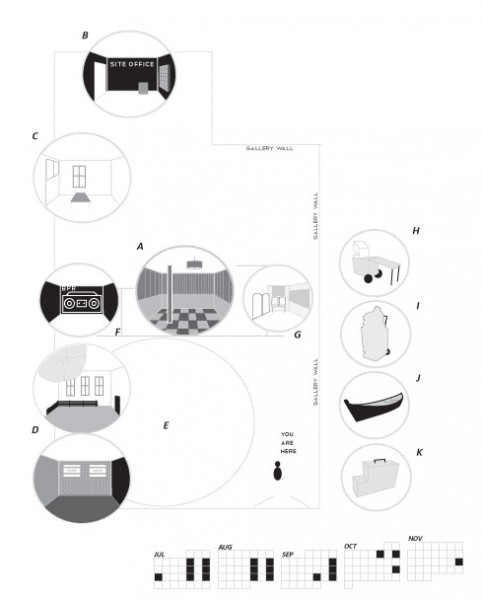 The handful of more traditional works in the exhibition confronted viewers with an exuberant pop sensibility and included large-scale painting, drawing, sculpture and a wall-sized mural. Some pieces were literally nomadic, given their mobility, such as the community garden housed within a canoe. Others were tools which required viewer participation to utilize, complete or deplete them, such as the low-watt radio station, the mobile book binding and screen printing stations, and the zine library.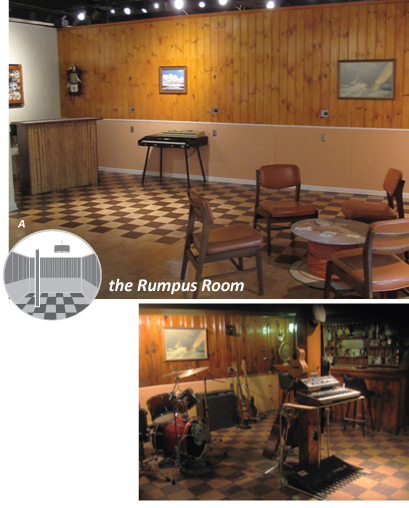 Ultimately, SI managed to transform the galleries from a space into a place. This was done by literally replicating actual historic or existent Chicago places within the museum space, including the Rumpus Room's basement recording studio, the Union Rock Yards' stage, and A/V Aerie's ballroom. It was also achieved by using the museum as a studio, as a place for experimentation, self-cannibalization and generative failure. Nomadic Studio was always humming– the palpable dynamism would have made most museums cringe with envy. Day and night, Duignan and his colleagues brought the outside in by hosting live musical performances, how-to workshops and open studios.

Beyond tangible artworks and transitory experiences, Nomadic Studio was also well documented. This led to the production of SITE, an online resource for educators that tracked the methodologies, development and implementation of the exhibition for future use and potential duplication. It also resulted in the text you're reading in the publication you're holding in your hand.
From the beginning, SI's students have also been their teachers. Through a marriage of art and politics, they have acted transparently, embraced inclusivity, and stayed true to their belief that there's plenty to go around. Above all, they appreciate a good spectacle, and this has been their trademark maneuver for reeling us in. The deal is sealed however, as soon as we realize that, through sheer force of will, they have the power to transform the ideal into the real.
All images courtesy of Stockyard Institute.