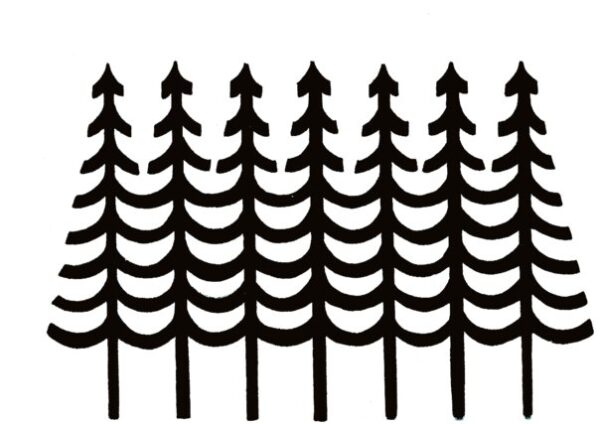 Harold Arts, a nonprofit, Chicago-based artist residency programs, is now accepting applications for Summer 2010. Sounds heavenly. Application details can be found below.
The Harold Arts Residency Program is an opportunity for artists and musicians to further their artistic goals and interact with like-minded individuals in a pastoral environment.  Situated in the Appalachian foothills of Southeastern Ohio on the grounds of the Jeffers Tree Farm, the Harold Arts Residency Program provides a remote location with shared and individual studio facilities, comfortable accommodations, and chef-prepared meals.  Throughout each 11-day session, residents are offered a forum to develop new work alongside their contemporaries while enjoying lectures, performances, and workshops presented by our staff and visiting artists. Harold Arts aims to foster exchange and dialogue across artistic disciplines while offering a platform for the production and dissemination of new works.

Attending the annual residency program opens the door to an array of opportunities for both artists and musicians. Musicians attending the residency will have the chance to collaborate with our staff in producing an annual compilation record, in addition to other projects administered by our creative partners, Captcha Records,  Sundmagi Records, and Vosotros. Visual artists attending the residency will find themselves within a matrix of working artists and cultural producers, devising curatorial projects to be deployed nationally throughout the year.  All residents are also invited to participate in our annual multimedia arts festival, Harvest, in Chicago each fall.  New to the residency are two thematic sessions led in partnership with DFLUX and threewalls.

An application with complete information about our programs can be found on our website:Â  haroldarts.org

Please submit applications by May 15th. Contact info@haroldarts.org with questions.

You will be notified on the status of your application by May 31st.

Harold Arts is a 501(c)3 arts organization based in Chicago, IL, devoted to fostering the collaborative and interdisciplinary endeavors of emerging and mid-career artists.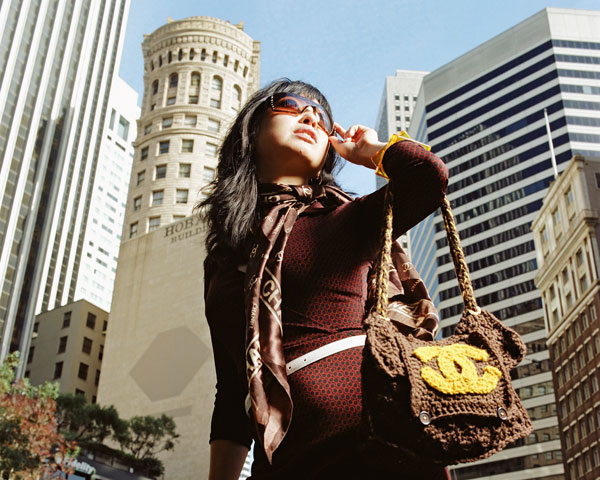 San Francisco artist Stephanie Syjuco will lecture tomorrow (Tuesday March 30th) at 5pm at Gallery 400 as part of UIC's ongoing Voices lecture series. According to the artist's website, Syjuco is also slated for a solo exhibition at Gallery 400 in September of 2010. Syjuco's work resides in the realm of the copy: the bootleg, the body double, the knock-off. Commissioned for a piece to be presented at last year's Frieze Art Fair in London, Syjuco set up a booth and called it COPYSTAND: An Autonomous Manufacturing Zone, where she and other artists busily produced small-scale reproductions of lesser-known works based on other famous art works: third generation copies-cum-tchotkes priced at a fraction of the price of the original. Described on the Frieze Foundation website as a "parasitic workshop," Syjuco's copy stand apparently did brisk business at the fair.
Recently Syjuco was featured in a solo exhibition titled notMOMA at Washington State University at Pullman, which closed last week. For this show, Syjuco teamed up with Washington State University art students to recreate, by hand, famous works of art from MoMA's permanent collection. "A fully handmade show," as Syjuco's statement describes it, "notMOMA attempts to bridge a gap in students' understandings of "high art" and invites them to access the works via their own do-it-yourself collective vision. Whether considered copies, translations, or even mis-translations, all resulting works are unique expressions in their own right. As an illicit travelling exhibition "borrowed" from their collection, notMOMA creates a dialogue between WSU's art department and an inaccessible, perhaps reluctant art institution located on the other side of the country."
Syjuco also recently started an extremely cool website, particulated matter, that provides a centralized collection of artists books made through print-on-demand processes. She links entries to the publication's homepage, where they're available for purchase or download.
Syjuco's lecture definitely seems worth checking out. The talk will be held in the Gallery 400 Lecture Room, 400 South Peoria Street, and admission is free.
Hee. This is good.  Hyperallergic reports that New Museum Director Richard Flood had a few choice words to say about arts bloggers and Jerry Saltz, during a talk he gave at the Portland Art Museum on "Creating Networks: The New Internationalism." From Lisa Radon's post on Hyperallergic:
"I just found out about blogs three months ago," Flood said referring to the time questions were being raised, particularly by Tyler Green on Modern Art Notes and James Wagner on JamesWagner.com, about ethical conflicts for the New Museum regarding Skin Fruit. "The internet is still a ghetto." Flood said he was trying to learn more about them via Lauren Cornell (executive director of Rhizome, affiliated with New Museum since 2003), but he says:

'Blogs are like being out on a prairie and one prairie dog pops up; none of the others can see it, but they can feel the movement in the earth. So another pops up. And another. They are not communicating with each other. They have no idea. History means nothing to them. Truth means nothing to them. They have no mechanism in place for checking [facts].'

In the three months since Flood has become aware of blogs, it's surprising that he appears not to have noticed the hyperlinking that is integral to the blog as a tool for communication. He might not be expected to be aware of the dynamic back-channel communications among arts bloggers via twitter and other platforms, but the linking is front and center. But the analogy shows a more fundamental disdain for the practice of online arts journalism. A blog is just a tool, a platform. It's what's built on that platform that we should be talking about, and that may be a gossip rag or it may be considered, rigorous, accurate reporting and/or criticism."
Go on over and read the full post here, it's an eye-opener. Very good editorial response by Radon, as well.  Jerry Saltz posted something about it on his Facebook page, and there are some comments there too, natch.
Performance artist Anya Liftig costumed herself as Marina Abramovic's double (long blue dress, sideswept braid) and sat across the table from Abramovic all day long last Saturday, March 27th, during Abramovic's marathon performance piece "The Artist is Present," part of her current retrospective at the Museum of Modern Art. Liftig considered her action to constitute a performance of her own, and even has a title for it: "The Anxiety of Influence." Bombsite has an interview with Liftig here. An excerpt:
Tatiana Berg: When I read reviews of "The Artist is Present," writers often describe Abramovic's piece as her "interacting" with her audience, which I think is a misnomer. The performance is really as far from interaction as you can get, since in the museum setting surrounded by guards on all sides—who won't even let you take a picture—the audience's available set of actions is very limited. So rather than interacting with Abramovic, it's more like she's inviting the audience to sit there and contemplate themselves, not her.

What I liked about your performance was that you totally played by the museum rules: no one said you couldn't be dressed a certain way, no one could say you had to get up and let someone else have a turn. Did you nevertheless feel like a transgressor? A museum interloper?

Anya Liftig: I did feel like a transgressor but I love the subtle art of subversion—playing with ideas from the inside out. As I was sitting there, I felt like that was one of the strongest elements of Marina's piece. She is attempting to "interact" with the audience, but really, the endeavor for empathy is one of implicit sadness, as we connect and miss one another. It is not meant to be read at face value. It also brings up the role of the artist, how they connect on an individual, emotional level with others when they are constantly being observed and commented upon by the masses held at bay by the guards.
Read the full interview on Bomb's website; it's really interesting and, based on the interview, Liftig seems to have approached her action with sensitivity and thoughtfulness rather than as a cheap stunt.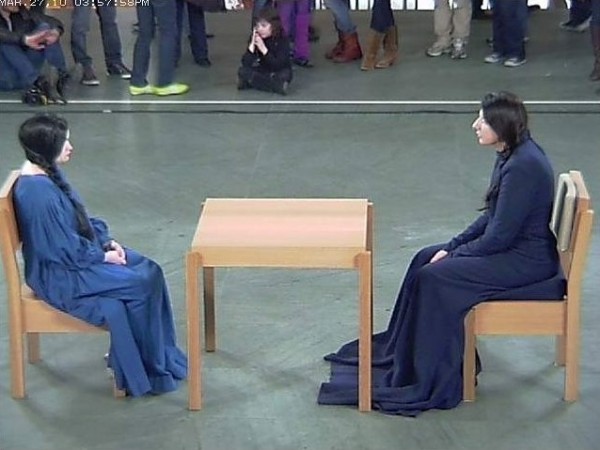 I love sifting through online image archives, especially those of a historical nature. I've been going through the Library of Congress' collection of posters from the Works Progress Administration and thought I'd share a few of the ones that caught my eye for one reason or another. The collection consists of 908  posters produced during the period 1936 to 1943 as part of Franklin Delano Roosevelt's New Deal. Of the 2,000 WPA posters known to exist, the Library of Congress's collection is the largest. They include silkscreens, lithographs, and woodcut posters designed to promote health and safety programs, cultural programs and art exhibitions, travel and tourism, educational programs, and community activities.  Click on the image to be taken to its LOC link.