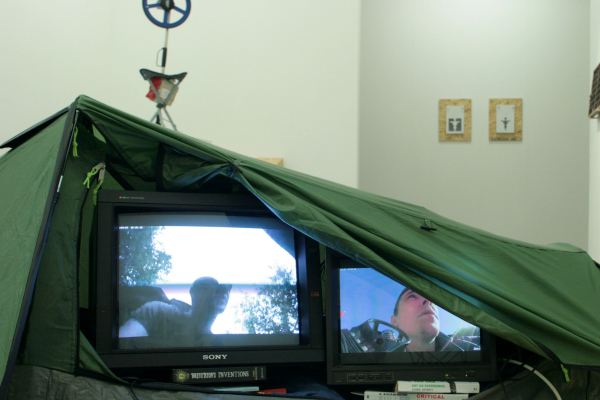 A burst of feedback cuts through the neighbourly bustle at Exeter Phoenix. We are in one of the West Country's rare white cube spaces, at a show by local artist Nick Davies. Onlookers are drawn into the venue's gallery, despite mic interference.
Davies appears to relish the incongruity. And so for this occasion he's roped in sound artist Dominick Allen. His brief is to disrupt the artist's talk with loops, filters and the occasional bleep. Well, no one said making art in the wilds of Exeter was easy.
Things go from difficult to near impossible when a toddler breaks away from her minders and installs herself next to the sampler where she begins to press buttons. This aleatory event was embraced by both artists. Davies is a man unafraid to fail.
His most recent project was a three day hike around the surrounding moors with both pedometer and measuring wheel (or trumeter). The plan was to create a new measure called the Exetre. That rhymes with metre, rather than the suggestive word etcetera.
Though his voice was continually scrambled, Davies was dogged in his explanation of the works in his show. He tells us about the early cartographers who measured the Meridian. He reminded us of Bas Jan Ader who went to sea and never came back.
This fatal failure interests Davies. His own 70 mile journey was abandoned after 56,000 steps. And you could follow the progress on maps affixed to the wall. Davies lost his pedometer, gave up on the trumeter and aborted the expedition after three days.
Few could blame him. After camping at night in a field used by dog walkers he got – no delicate way to say this – shit all over his rucksack. And so the attempt to measure the Exetre fell at an early hurdle. It wasn't helped by the knowledge that the A396 main road could have got him from A to B in a couple of hours.
Along with the map, Davies exhibits his tent, his now clean ruck sack and (in a nod to Duchamp and his bicycle wheel), he has put his trumeter on display. Monitors just inside the tent relay excerpts of a video diary from the doomed journey.
The artist is speaking live without notes in a faltering way that cannot be helped by the comic modulations of his voice. Moving on to the remaining works, he draws our attention to three bonsai-like sculptures made with Tippex and two racks of letterpress also cut to forms supplied by liquid paper.
Davies has had to compete with circumstance once again. Meddlesome visitors have rearranged his text-piece to read Happy Birthday. And he reports that the public are drawn to touch and flatten the delicate sculptures. But in characteristic laissez faire fashion, he's glad that people are engaging with the show.
What they might have missed is a curious fact about Tippex or liquid paper as it was then called. The son of inventor Bette Nesmith Graham was none other than Mike Nesmith from the Monkees.
There was no need to succeed in the music biz since mum was worth millions of dollars. Even so, it was hoped the Monkees would emulate the Beatles and the Stones. That's one more somewhat failed scenario.
But for all his embrace of error, in the broader sense, Davies makes work that works. Even his unfinished pieces work. Though you get the sense that making contemporary art in this part of he world is an ongoing challenge. This show puts Exeter in dialogue with London. No need to measure that distance; it's a notoriously long way.
Intention/Invention/Convention by Nick Davies can be seen at Exteter Phoenix until January 10 2015.
Latest posts by Mark Sheerin
(see all)