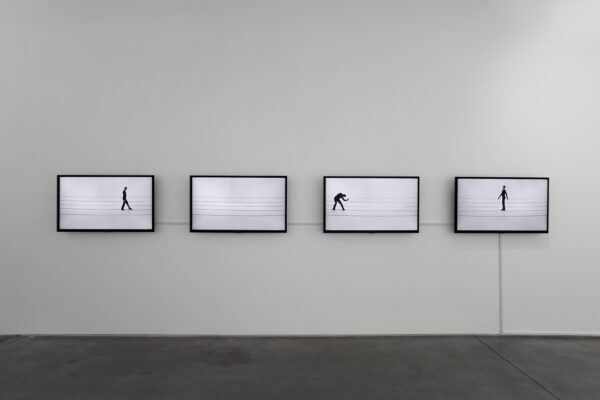 I am accustomed to diminishing the importance of an individual dancer's history in the course of a staged performance. Unconsciously, it's as if I imagine performers congealing for a moment on a stage in order to manifest the agenda of an invisible author. For dancers, especially, it is always about the body — the body as a structure capable of grace and choreographed strength. Over the last month, artist Jaye Rhee debuted a 4-channel video piece that engages the body as a minimalist structure, while emphasizing the dancers' previous life in The Merce Cunningham Dance Company. The Flesh and the Book places these figures in a musical score of five rubber bands, flattening a three-dimensional space into an illusion of two. The bodies enact a series of choreographed gestures, who's style and form evoke a Cunningham past — like moving archives of embodied knowledge. The Flesh and the Book, closes tomorrow at Doosan Gallery, 533 West 25th St. in New York.
Caroline Picard: How did you first conceive of The Flesh and The Book? 
Jaye Rhee: In 2007, I made the work called "Notes." At that time, I was interested in re-producing two things: a popular children's play called "Rubber Band Play," and re-staging visually resembling it as musical notes. It is also known as "Chinese Jump Rope" in America.
The rubber band play requires memorizing all the steps and jumps from the beginning till the end as rules with repeated practice. That, I think, is methodologically similar to learning playing music instrument in a way because learning a musical instrument also requires both brain and body memory. So the Chinese Jump Rope Play and leaning a musical instrument become parallel. I wanted to re-produce both events at the same time.
Rules and regulations often governed my childhood and I couldn't help but think of that when I worked on the Notes.
When I worked on Notes, I knew that it would become the mother piece of another work.  One art work often yields another work. Even though I am the one who creates the work, it is as if the work has a life of its own, one more quick-witted than me. In other words, many times, art works are a lot smarter than I am.
I was sure of two things when I worked on The Flesh and the Book: 1) I am going to play with space more, for example, three-dimensional space transformed into two-dimensional space. Only the size of the figures and trace of the movements will allow viewers to feel the space. 2) I want to work with mature dancers.
I did not have title for the new work. While pondering that, I happened to think of the poem Brise Marine by Stephane Mallarmé, and the first line reads, "The flesh is sad, Alas! and I have read all the books."
I wrote the sentence down on my sketchbook.  And after some time, especially when I started to meet dancers for the project, I realized that my knowledge of dance and dancers did not come from direct bodily experience, but had been learned through books. It is completely out of context of the poem, but the words flesh and book  stayed in the title. Also, it is hard not to think of book as music sheets, flesh as body, and dance.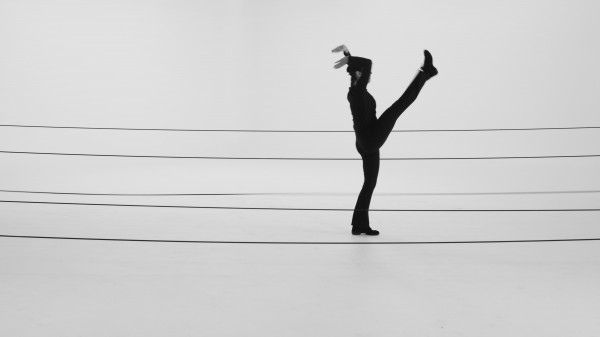 CP: What is like working with the dancers that used to work for Merce Cunningham? Did you spend a long time developing the piece with them? 
JR: It took a long time to find dancers. When I started to search for dancers, I looked for dancers who had gone through the transitional stage in their career as dancers.  Many dancers face career changes early in their lives compared to other profession. And being a dancer is not just a profession but is also an identity. Thus I didn't want to work with dancers who were physically young. I searched  for dancers who already experienced the high peak of their physical youth, in other words, someone who has already been there.
While I was still searching for dancers in 2011, Merce Cunningham company disbanded; that event made me wanted to work with them even more. I always liked the geometric quality that Merce Cunningham company had and was excited to work with them. They seem to embody a reminder — something that was once there. We know what they were, we will remember it. It's like a once-young body, or the idea youth.
It took a while to meet Cunningham's dancers.  In the beginning, I attended Merce Cunningham dance workshops and met many great modern dancers who were not necessarily Cunningham's. Then again at the Cunningham's technique classes in Fall of 2012, I met original dancers of Merce Cunningham with a help from Robert Swinston.
The dancers I worked with are great. Â Once I met them, I knew that it was going to be great. Everything went very rapidly.
CP:Â You also had another collaborator with this work, Elliott Sharp. How did you all work together? What were the dynamics like?
JR: I asked Elliott to come up with specific sound that I can use for the project, and he gave me 67 sound files. I selected ones that are appropriate for the dancer's movements.  Communicating with other artists is not always easy. Art is abstract, concept is abstract, and language itself is abstract. But then there is a moment that everything intersects. That's when the magic happens.

CP: I feel like you're interested in the body as a unit, of some kind. Everyone wears black, standing in relation to the same 5-line structure in an otherwise white space. In your case, however, you platform the dancers' history. Do you feel like something of that history with Cunningham is ghosted into the viewers' experience? What happens to the dancers' history with Merce Cunningham in The Flesh and The Book?
JR: I was more interested in the character and history of individual dancers under the umbrella of Merce Cunningham Company. Cunningham dancer's movements are Mercified but individually they all have different characteristics. We all have different history as individuals, but there are also larger histories which a family shares as a smallest unit of the society, then there are larger groups and larger groups…..and so on. Merce Cunningham dancers make up another kind of familial unit. Even though the dancers' movements were different, a few audiences actually recognized that the dancers somehow evoke Merce Cunningham's style.
CP:Â Thinking about the work asa 4-channel piece, and then seeing framed stills from the video, I wanted to ask you about movement and how that ties in. In other words, does the piece change for you if the "movement" (which refers I think to music and dance) is extracted? How do you think of your photographs as compared to your video?
JR: I consider these mediums separate, with different approaches for both. It's like siblings with same parents. Each medium has its own life. Different mediums show different aspect of one thing. I use the photographs because they capture the 2- dimensional representational quality.
CP: How does this piece ties into some of your other work? I noticed that you have done a number of works that play with the idea and structure of environment. I was thinking about Bambi, for instance, or Polar Bear, Swan, Cherry Blossoms, Niagra; really so many of your works seem to juxtapose a still tableau with a playful in-time interaction. Is The Flesh and The Book on a similar tip?
JR: For The Flesh and the Book, the performers held a string (thick black rubber band) between them.  The strings were at least 3 meters away from each other. I really wanted to expand the idea of transforming 3-dimensional space into a 2-dimensional tableau look. So that a viewer can only feel the space by following the dancers' movements very carefully and watching the body scale change. The Flesh and the Book is a special work which is leading my interest into working in 3-dimensional space. I think I can say, the lines between performers sort of played the role of a tableau – an invisible and flexible tableau.

Latest posts by Caroline Picard
(see all)