I was reading about James Turrell's epic series of museum shows in The New York Times recently and recalled a moment of my own recollection of his work.
It's simple enough: I follow The Mattress Factory on Twitter. On November 26th, they tweeted an image of a room being painted.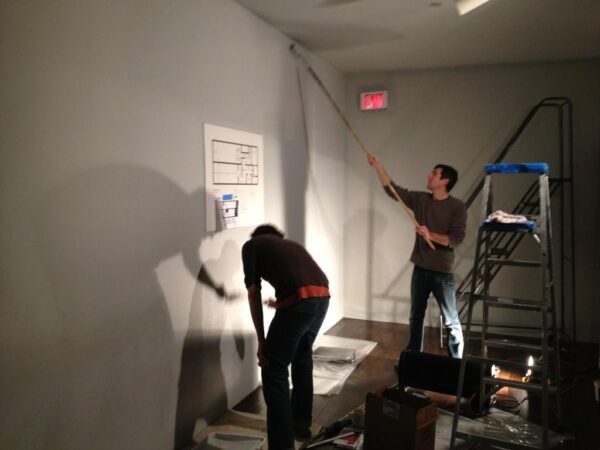 I suppose because they mentioned that the lights were actually on, I assumed it referred to Turrell's pitch black piece, Pleiades (1983). (It does not — as I was told later, but bear with me, I'll account for that discrepancy in the end).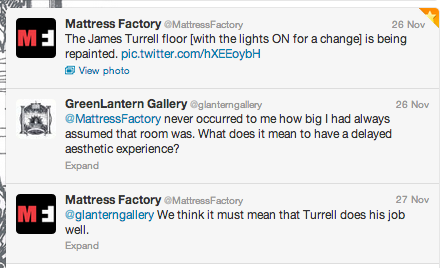 I understood it to be a picture of a James Turrell's Pleiades (1983) installation getting repainted. The image drastically transformed my reaction to the installation. Indeed, I had such a profound reaction to the tiny, banal image, I pulled it off twitter, and put it on my desktop where it has been sitting ever since.
There is no reason that that image should be particularly captivating. It is a familiar enough: gallery walls must constantly be painted and repainted, and if it didn't have anything to do with Turrell, it would hardly be of interest. However, appearing as it did within the context of social media (and all the misunderstandings tweets can lead to) that is exactly why it made my jaw drop: because this tiny image challenged everything I had assumed via sensory experience of Pleiades.
Pleiades, is the first of Turrell's "dark pieces." At The Mattress Factory, as I recall, you go up an elevator and on the designated floor, you go through a doorway, down a pitch black corridor and into a pitch black room. You stop a metal rail. I have visited this room about three or four times over the course of ten years. Each time that one room has baffled me.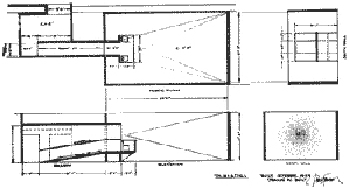 I went there first as a Sophomore in college with a group of friends. One friend in particular was an upper classman and seemed to have a better handle on contemporary culture. As such we deferred to his authority; to do so was pleasant; he rattled on about various rumors (and possibly fictions) that seemed to walk a tightrope between gossip, mysticism and art history. As someone with very little contact to contemporary art at the time, I relied on the banter of my peers to overcome whatever sense of alienation I might carry into unfamiliar situations. Standing in a pitch black room for an indefinite period of seemed both provocative and confusing. If I thought about it too much I wouldn't know what I was doing there. Still the narrative of the artist had me intrigued. Stories about Turrell's alleged arrest for helping young men dodge the draft. His Quaker background. His life in California that yielded an interest in minimalism, light, and science. Â As I prepared myself to walk down this very dark corridor in the year 2000, I was told that at the end, in the pitch black (and if I waited long enough) I would begin to see light, like stars (I thought), or a halo. My friend suggested it was the result of a primordial and biological fear of nothingness.
Whatever his prescribed cause, this is what is supposed to happen:
"Pleiades, a work of darkness, utilizes the difference in function between the two types of photoreceptive cells, that is, cones and rods. The cones are suitable for discerning colors at light places. crowding toward the center of the retina. The rods serve to make out delicate shades in dark places, mostly gathering near the periphery of the retina. In the darkness designed by Turrell, the viewer experiences the difference between the two kinds of cells during the period of time when the eyes of adaptation to darkness takes place."
According to another visitor, you are supposed to see this: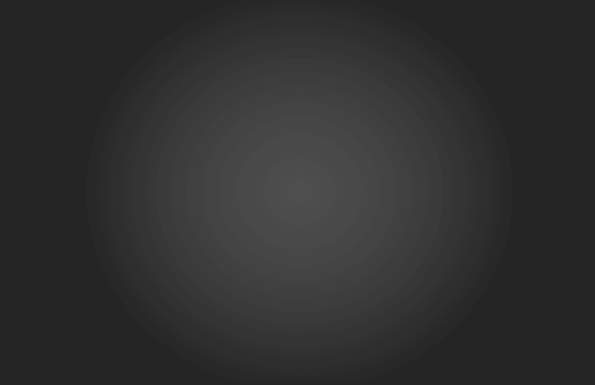 It never happened to me. I waited in the dark for that thing to take place for about thirty minutes. Or maybe it was an hour. It could have also been 10 minutes that were simply so distilled from movement that they slowed and lengthened my sense of time. As I waited, all of my attention strained toward an event that was supposed to take place within my body and end up projected outwards, as a type of vision. I waited to see a white eye-shape in the dark. I was excited at first, and then defeated, slightly. Nothing happened. I remembered looking at countless Magic Eye posters in dorm rooms; I could never make out the subliminal texts/images in those either, no matter how many times I had been instructed to fuzz out my vision with the image pressed up against my nose.
Subsequent visits to Pleiades were no different. No vision appeared before me in the dark. Because I no longer expected it, however, I had grown more interested in thinking about the darkness that space afforded. I suppose I still waited, in an almost existential way, for something to happen, but the sense of waiting became more interesting than the event I waited for. I realized that the whole project of Pleiades was existential — whether something emerged in the darkness or not. I began to appreciate the feeling of that darkness, the way it seemed to extend endlessly, the slight terror at its unknown breadth. I distinctly recall a very faint breeze which enhanced the dimension of the room, but that too could have been my imagination. I preferred to inhabit the space by myself, perhaps it seemed more noble that way. When strangers came and stood beside me, I was  distracted by my attempts to anticipate their movements and, even, their physical shape. Remember, it's impossible to see anything, even another form. It was more complicated to inhabit an Unknown when others, particularly people you don't know, are trying to do the same. On several occasions, I accidentally stepped on a foot and had to apologize, breaking the spell of silence through my clumsy, miscalculated movement. The moment of contact, my foot on the strangers, the exclamation of paint — it established a common, temporal location in the room, overshadowing the otherwise relentless blankness everywhere else. I stepped back. Held my breath for a moment and settled again into my feet. The room would grow still once more and with it our sense of the darkness grew. At times it felt oppressive, at others benign, certainly it felt ambivalent towards me. It was larger, more constant and self-assured than I was. I sort of enjoyed being intimidated by it — because I began to develop a relationship with that room. I didn't see any lights, but the darkness became "something." I've ever experienced such spatial endlessness. And while I never saw those lights, there was some part of me that enjoyed the incongruity of my own experience; perhaps I felt I had a more "true" experience because it seemed more nihilistic to experience nothing.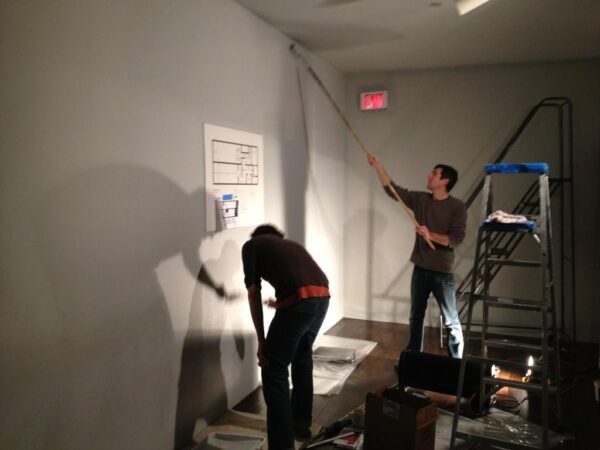 You can imagine then, what shock that tiny jpeg. of boys painting a room would give me. It looks like they could be in a closet! I was so shocked at the thought that I had misunderstood the room, I instantly believed it to be true. The vague confirmation provided by the tweet-conversation I had with The Mattress Factory seemed to confirm my sense, which was so exuberant as to lack self-consciousness, that everything I assumed to be true about that dark room was wrong in so far as it could have existed in a tiny-tiny-tiny room. I realized that even though I did not see "the light" I was still projecting dimension and psychology into Turrell's darkness. It was affecting me. I was affecting myself through the medium of darkness provided by Pleiades.
As I said, I since learned this is not Pleiades itself, but rather an image of the elevator landing on the Turrell floor of the Mattress Factory. While the true dimensionality of that room remains a mystery, I am all the more certain of the evocative uncertainty it yields.
Pleiades is a Dark Piece where the realm of night vision touches the realm of eyes-closed vision, where the space generated is substantially different than the physical confines and is not dependent upon it, where the seeing that comes from 'out there' merges with the seeing that comes from 'in here,' where the seeing develops over and through dark adaptation but continues beyond it. It is the first piece in a series of works. While it relates to the last piece of the Mendota Stoppages, 1969-70, in that it develops over time, it is definitely a departure in that after the seeing develops, it is no longer static. The thing that gave me the idea to do this was the fact that I needed to work with very low levels of light for the night seeing in the crater piece. The last time that I had really worked in that arena was with the Mendota Stoppages where I had some very dark pieces that took a long time of dark adaptation, sometimes as much as fifteen minutes. When you actually had that seeing, though, the space that was generated was a static space – you saw it and could walk in it, but it didn't change. In this work, what is generated in you and what is actually out there become a little more equal. – James Turrell, The Mattress Factory
Caroline Picard is the Executive Director of The Green Lantern Press—a nonprofit publishing house and art organization—and Co-Director of Sector 2337, a hybrid artspace/bar/bookstore in Chicago. Her writing and comics have appeared in publications like ArtForum (critics picks), Everyday Genius, Hyperallergic, Necessary Fiction, and Tupelo Quarterly. In 2014 she was the Curatorial Fellow at La Box, ENSA in France, and became a member of the SYNAPSE International Curators' Network of the Haus der Kulturen der Welt in Berlin in 2015. Her first graphic novel, The Chronicles of Fortune, is due out from Radiator Comics in 2017. www.cocopicard.com
Latest posts by Caroline Picard (see all)