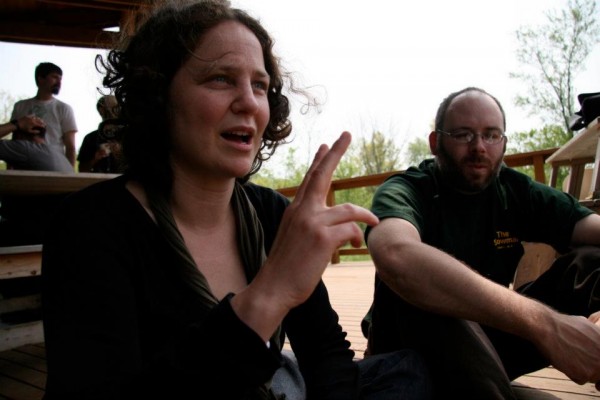 We lost one of the good ones this week. Actually, one of the best ones. Dara Greenwald, artist, activist, thinker, organizer, and all-around inspirational person passed away this week from cancer at the age of 40. She lived in Chicago between 1995-2005, worked at the Video Data Bank from 1998-2005 and was part of all the best Chicago organizing projects of that time, including Ladyfest Midwest, Department of Space and Land Reclamation, co-founding Pink Bloque, and many others.
Dara was the kind of person that all of us cultural organizers should aspire to be. My first experience with Dara's work was at the Signs of Change exhibition that she co-organized with her partner Josh MacPhee about the history of social movement culture that started at Exit Art in 2008 and toured until 2010. That show just simply blew my mind and remains a model for me of exhibition-making and cultural research; the respect and attention to the act of making images, the breadth and depth of international politics at work, and the devil-may-care attitude about art with a capital A.
Oh I was so intimidated at first to talk to her, what a badass she was. And when I would see her over the years intermittently at different art/social organizing efforts, she was secretly my barometer of whether what we were all sitting around a circle talking about had any merit. At the same time that she was so no-bullshit, she was warm, funny and just whip-smart. Her work got me excited about so many radical projects like Videofreex, Pilot TV, Justseeds, the Interference Archive she was working on with Josh MacPhee, many other things, and just in general the possibilities of art and activism coming together to create transformative experience.
I'm thankful that I got to know her the little I did and admire her from afar. I want to take this time to revisit all the work that she put out into the world and simply marvel at what she accomplished. She was a fierce and brilliant person and will be missed.
View her work here 
AÂ presentation of her work from the Creative Time Summit in 2010 here
And an in-depth interview from the Never the Same interview project here
Abigail Satinsky is the associate director at Threewalls in Chicago where her work includes editing Phonebook (a national directory of artist-run spaces and projects), and co-founding Hand-in-Glove, a national conference on grassroots arts organizing. She is also a founding member of InCUBATE and co-initiator of Sunday Soup, an international micro-granting project. InCUBATE's work has been shown nationally, including with Creative Time, Eyebeam Center for Art & Technology in New York, CEPA Gallery in Buffalo, SKYDIVE in Houston, Autzen Gallery at Portland State University, the Devos Museum at Northern Michigan University and the Smart Museum of Art at the University of Chicago. She is a regular contributor to the Bad at Sports podcast and her writing has appeared in the Journal of Aesthetics and Protest, AREA Chicago, and Proximity. She recently finished editing the book Support Networks, published by the School of the Art Institute of Chicago and University of Chicago Press, on the history of socially-engaged and artist-run initiatives in Chicago, which will be released in Fall 2014 and teaches at SAIC on social and curatorial practices.
Latest posts by Abigail Satinsky (see all)