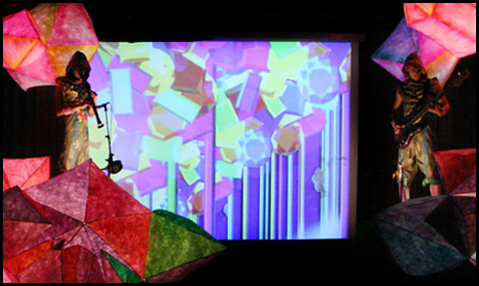 I met Peter Burr and Christopher Doulgeris for the first time about five or six years ago. "Hooliganship," the name of their performative duo, was on tour with the second issue of a DVD cartoon compilation called Cartune Xprez. They came to do a screening/performance at the old Green Lantern Gallery. Cartune Xprez is Peter Burr's curated compilation of independent, short animation—sometimes I think of it as an animated equivalent of an intensely gratifying literary magazine, or portable gallery exhibition. The biannual DVD is an event of imagination that colludes and clashes on the brink of psychedelic experience, precisely because it celebrates the idiosyncratic visions of its participants. As is often the case with non-commercial media, my appreciation for the project serves as both a reminder and a relief, reminding me that the larger behemoth of mainstream culture is not the only world of creative insight. When Hooliganship arrived, we set up couches for audience members while Peter and Christopher inflated neon crystals that glowed in the dark. We couldn't plug them all in, because we kept blowing the fuse. We projected the video on the street-side window, so pedestrians outside would have another experience in reverse. Christopher and Peter both wore tight fitting neon yellow sweat suits and when the screening began, they rose—aside from the crystals, the room was otherwise dark—playing instruments (a clarinet and a guitar). Meantime, these very idiosyncratic cartoons by various artists screened in the background. It's probably one of my favorite experiences from running a space. The habitat of the cartoon-world had been built out into our literal experience, lending additional form to the 2-d and sometimes crude projected imagery. As I said, that was years ago—at that time they were traveling with their first 2006 video. Since then Cartune Xprez has released two additional DVDs and, having recently seen the 2011 edition, I wanted to ask Peter Burr some questions about how he curates, what he loves about the project and how he situates his practice in relation to the more commercial television outlets we are accustomed to.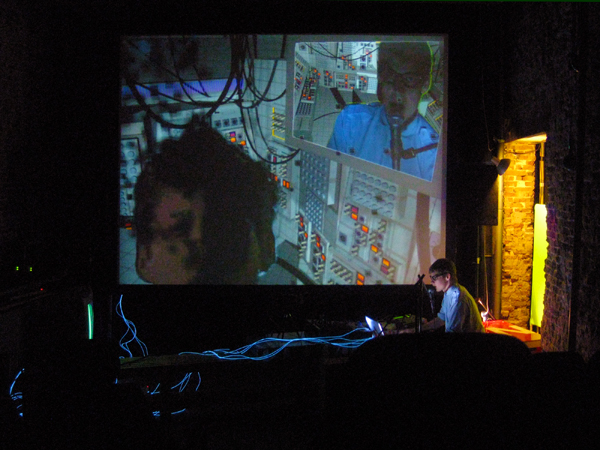 Caroline Picard: Where does your love for cartoons come from?
Peter Burr: I can't entirely say I LOVE cartoons across the board. I love the way an individual's spirit is captured when making a motion picture, especially an animated one. It takes such tenacity to produce anything of substance in cartoon form. There's this sweet spot for me where the cartoon balances the energy and ideas and images so casually and confidently that takes my cake. A large number of commercial productions and studio jobs lose my interest in the way things get overwrought. I think that's where CARTUNE XPREZ emerged for me…… as a platform to showcase those sweet spots in one place.
CP: It's interesting to me that you wouldn't boast an unequivocal love for cartoons given that you must dedicate so much time curating work for CX. Can you talk a little bit more about that sweet spot? Is it a sweet spot peculiar to the cartoon genre? And what do you mean by 'overwrought?'
PB: Perhaps on point, my day-job is making children's cartoons which, as I reread my last response (and your follow-up question), probably colors my approach to CARTUNE XPREZ. As with any medium, I believe, our ability to accept creative work with 'unequivocal love' is challenged when market forces dictate the decisions behind the practice. This feeds my desire to give life to CX, creating a platform outside the commercial industry that holds a space for ebullient animated spirits. There's a bravery behind a lot of the work CX shows that just doesn't exist in most main-stream cartoons I come across. I guess that's part of that sweet-spot you're asking about….bravery, independence, risk, failure. It's work that is not outright trying to appeal to a mass which in turn yields really strange, really personable results.
CP: Do you have a sense of the community of contemporary cartoonists?
PB: I can't keep up! Sometimes I feel like I could be surfing around the Internet 8 hours a day, 5 days a week and still never have a clear sense of what animation artists are out there. When I was in university back in the 90s I started to explore independent animation for the first time, searching blindly with vague keywords like 'animation + art' or 'cool + cartoon' and it ultimately just tired me of the web. Granted, I was learning how to use search engines for the first time and YouTube didn't exist, but still;Â in the course of that year I think I only ever found one artist (mumbleboy) who clicked into my sensibilities. In subsequent years of peeling my eyes for this kind of work I've found that most of the work that gets integrated into CX emerges when I go on tour and just talk to people. It's a lot more fun than sitting on my computer trolling the net, but of course it also keeps my vision somewhat limited to the countries/cultures I visit.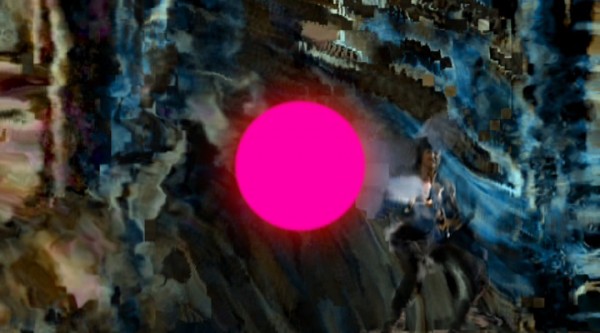 CP: What would you say your aesthetic is? (that thing you're looking for in independent cartoons) and how does it differ from your commercial work?
PB: That's a tough question! I can't really speak to a single aesthetic, but I can talk about some of the core values that we try to put forth with the project.
Let's see……the boundary for work that comes into the CX world outlines a quest for independent, mostly single-artist productions. This means that we exclude music videos and other types of work that could be construed as 'selling something.' Studio productions tend to get left out too, mostly because I find a special magic imbued in single-artist or small collective projects that comes from a tenacious, intuitive, working process. Rarely does work we show seem storyboarded or acutely planned (even though some of it, in fact, is). Takeshi Murata is a great example of this. Take a video like PINK DOT…… It comes across as a crazy compression error that coalesces around some striking images from Rambo. Of course, these aren't straight accidents, which becomes especially clear if you compare Takeshi's work from this period (2005-2008) with other datamosh videos on youtube. The means of representation here feel glued to the topical concerns. I suppose this is the 'aesthetic' CX gravitates towards.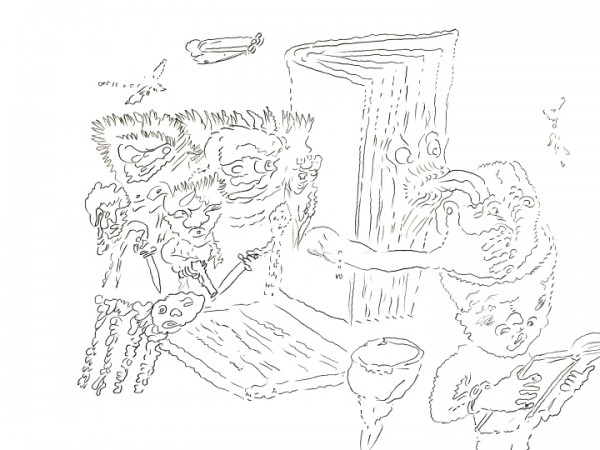 Another great example of this can be found in the work of Bruce Bickford, an older gentleman whose work is mostly known from his days as Frank Zappa's in-house animator. Like Murata, his work is baffling on both technical and conceptual levels. I've watched some of his pieces hundreds of times and I still read new ideas in them each time I watch. Part of this comes from Bruce's utter dedication to his practice. He lives alone in a dreamy complex outside Seattle where his art practice is the focal point of everything including house chores. (There's a great doc called MONSTER ROAD that you can watch to see what I'm talking about). Anyway, it's this commitment to a practice that I really admire and like to put forth with CX.
CP: It's interesting to hear you talk about the way you research cartoons, the way you follow artists and their various practices. It seems like that must be an integral part to your administration-life with CX. What kind of other duties would you include in that? What does it take to put out one of your compilations?
PB: I think about my 'research' as a way to put framework between my consumer interests and my desire to produce.  Yesterday this meant watching a couple hours of cartoon network before and after Ben Jones' PROBLEM SOLVERZ to see what cable TV is nesting around some of the artists CX has affiliated with. Day-to-day, these research duties are a lot more casual (I haven't owned a TV in about a decade so it took some work to find a place to watch cable for a few hours). Thanks to the fact that I live in New York City, freestyle conversation with wonderful artists/critics/organizers is quick to come by. Going on tour provides a similar stimulation. One of my favorite research paths in recent times came when I was in Riga, Latvia with our FUTURE TELEVISION tour. I spent a week there after our show, which gave me time to learn about the cartoons my friends there grew up on. I was blown away by the trove of Soviet animation that had been produced in the 80s. For months afterwards I dug through Russian-language video databases, finding some gems like Captain Pronin and Pereval. This kind of exploratory work is so much fun!
The heavier administrative duties are a bore to talk about…… emailing venues, learning new video compression techniques, managing boxes of amaray-cased DVDs, etc. Its like an episode of "The Office" without the employees.
CP: What is your vision for CX? To me, it kind of seems like it's fulfilling itself as it is. I mean, I so love and enjoy each of the DVDs you've already put out, I'd be psyched if you just did that forever. That said, I can imagine you think about the project differently, or imagine moving in different directions, or presenting the work in different ways. Can you talk about that a bit?
I think my fundamental vision for this project has a lot to do with integrating youthful dreams with my adult experiences. This certainly IS fulfilling in itself! Its also really squirrely and challenging. The biennial compilations feel like a good way to bring some permanence to our activities and touring has been a sweet way to stir up the project's spirit (bringing new energy and voice).  You're right, though….. in tandem with what we have now I DO envision the project working in different directions. I think about LIQUID TELEVISION, POSTERDISC, RAW MAGAZINE, CHOOSE-YOUR-OWN-ADVENTURE, THE EXPLODING PLASTIC INEVITABLE and still watering the plants at home.
Caroline Picard is the Executive Director of The Green Lantern Press—a nonprofit publishing house and art organization—and Co-Director of Sector 2337, a hybrid artspace/bar/bookstore in Chicago. Her writing and comics have appeared in publications like ArtForum (critics picks), Everyday Genius, Hyperallergic, Necessary Fiction, and Tupelo Quarterly. In 2014 she was the Curatorial Fellow at La Box, ENSA in France, and became a member of the SYNAPSE International Curators' Network of the Haus der Kulturen der Welt in Berlin in 2015. Her first graphic novel, The Chronicles of Fortune, is due out from Radiator Comics in 2017. www.cocopicard.com
Latest posts by Caroline Picard (see all)