Our latest post on Art:21 blog went up yesterday; some thoughts behind threewalls upcoming conference Hand-in-Glove. A brief excerpt below; check out the full post on Art:21 blog here.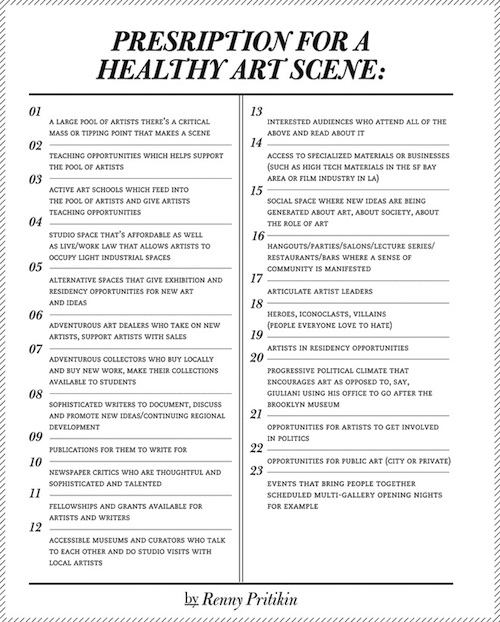 Hand in Glove is for anyone and everyone who engages artist-run culture to talk about its past, its current manifestations, and its potential futures. It's a four day event of national scope that will address the state of self-organized, noncommercial and artist-run spaces, publications, residencies, and a variety of other projects happening at the grass-roots level. Conversations will range from sustainability to funding to unconventional organizing models, as well as the kind of creative administrative strategies people are using to stay open.
Image: Renny Pritikin, published in Proximity Magazine's July 2009 issue.
Abigail Satinsky is the associate director at Threewalls in Chicago where her work includes editing Phonebook (a national directory of artist-run spaces and projects), and co-founding Hand-in-Glove, a national conference on grassroots arts organizing. She is also a founding member of InCUBATE and co-initiator of Sunday Soup, an international micro-granting project. InCUBATE's work has been shown nationally, including with Creative Time, Eyebeam Center for Art & Technology in New York, CEPA Gallery in Buffalo, SKYDIVE in Houston, Autzen Gallery at Portland State University, the Devos Museum at Northern Michigan University and the Smart Museum of Art at the University of Chicago. She is a regular contributor to the Bad at Sports podcast and her writing has appeared in the Journal of Aesthetics and Protest, AREA Chicago, and Proximity. She recently finished editing the book Support Networks, published by the School of the Art Institute of Chicago and University of Chicago Press, on the history of socially-engaged and artist-run initiatives in Chicago, which will be released in Fall 2014 and teaches at SAIC on social and curatorial practices.
Latest posts by Abigail Satinsky (see all)