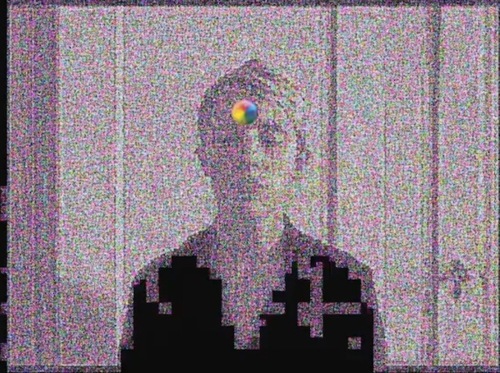 This interview is about and with Claire L. Evans, the Los Angeles-based artist and writer. Claire is, of course, engaged in a number of fields. Her most famous work is in the highly stylized and conceptualized "band, belief system and business" YACHT (which she leads with Jona Bechtolt), who happen to be playing at Chicago's Lincoln Hall tonight. And while the timing of this feature is not accidental, this is only one facet of her creative and intellectual work, and the one to which the interview pays the least attention.
Her writing investigates, expresses and advances the intersects of art and science. Universe, a blog that has settled down with the ScienceBlogs network, is interested in the margins of science and in igniting imaginative inquiry into science-driven/drawn culture; Space Cannon is well summarized as a "project in science fiction self-education," it's personal, immersive and reveals a deep love the subject matter; finally, there is the ambitious New Art/Science Affinities, a project co-written (in a week!) by Andrea Grover, Régine Debatty and Pablo Garcia and designed by Luke Bulman and Jessica Young of Thumb as part of a weeklong book sprint instigated by Carnegie Mellon's Miller Gallery and STUDIO for Creative Inquiry. The work is available as a free pdf at the Miller Gallery's website.
Claire's work is brainy and breezy, unafraid of personal asides and excited to revel in the beauty and insanity of a sometimes awkwardly-hewn natural, digital and cultural world. The works are concept-driven and reveal an interest in science both as subject and mode of aesthetic inquiry.
Modern Warfare is a single take/life inside of the video game of the same name in which the first person shooter systematically destroys every screen in his/her/its path. It's a great video and one in a growing series of pieces in which cultural workers engage a video game space for "shooting." I had fun imagining the video game character with full agency, existing in this world, thinking about how many screens there are, being driven by his/her/its iPhone, aching for the smell of a real book, for the sound of a needle on vinyl and whatever other real world, sensorial pleasures screens seem to have snatched from us, only to remember by the end that his/her/its whole existence is predicated on screens. This is one of many instances in your work in which y/our complicated relationship with technology is laid bare, or, rather, heightened for metaphoric, aesthetic and comedic effect.
To be honest, I have a knee-jerk reaction to the rhetoric of analog nostalgia. I hate it when people say that they just miss the smell of books. I find it so reductive. I love "real" books (funny that we even need to qualify the word) and prefer to read on paper for both practical and sentimental reasons, but the point is that the smell of books hasn't gone anywhere–nor has the warmth of the vinyl record, or the charming crackle of the cassette tape. None of the analog pleasures have stopped existing, and no one is being forced into a life of slavery to the screen. Complaining of missing real-world experiences is so defeatist; people who feel reality is being snatched away from them are precisely the people those who don't grasp onto what makes them happy, even in a world whose tools have outpaced them. Modern Warfare is about the absurdity of fighting the climate of technology that envelops us, or of looking down on the soporific nature of violent video games. It's an impossible object, kind of an ouroboros: the gamer, the "guy," who is both the player and a puppet controlled by the player, attempts to annihilate the dead mirrors all around him, but he can't escape the medium, only discover its boundaries, which define what he is.
I'm fascinated by the open-ended nature of the contemporary game environment, how much it allows you to dérive…
I have a friend who is a dedicated gamer, and I often explore with him. We look for the edges of the maps, the places where obstacles and "masking systems" (industry term) politely turn you away from a real glimpse at the yawning digital void beyond the grid of the game's world. Once, while playing Grand Theft Auto, we managed to make our character swim in the ocean, away from the game, for half an hour of repetitive grey water before he died. I like calmly driving through the cityscapes of racing games, adhering to traffic laws. I've been playing L.A. Noire recently, which is a monumental digital landscape saturated in hyperreal historical details. From what I understand, it's a perfectly authentic built world, consistent in its physics, constructed from the ground up. There is so much freedom! I don't see a huge leap from this to Cronenberg's eXistenZ. The difference is hardware, and the amount of sensory realism. We just need to swim a little longer through the vectors of the uncanny sea.
Let's talk about your interest in science fiction. It seems that the elemental difference between sci-fi and other types of fiction–which is to assume that all fiction is, by its very nature, speculative–is the era it's set in and the degree to which new technologies, knowledges, etc. play a role in this diegetic reality. Can you talk a bit about how your (creative) work relates to this–or another–notion of science fiction?
I could–and perhaps someday will–write unreadable academic theses on the subject of science fiction. You've gone straight to the issue by pointing out that all fiction is speculative. The difference between science fiction and fiction, unghettoized, is something kind of undefinable in its critical stance. Perhaps that it feels implicitly comfortable dealing with a broader here and now. It's unafraid of overburdening itself with too wide a scope: the entire universe is its playing ground. It regularly and cannily addresses issues of real importance to our world: the nature of reality, of identity and personhood, of the ramifications of our actions on the larger holistic systems of which we are a part. It also has an anarchist streak and a fascination with the abject that I really relate to. It's difficult to tell what effect my love of science fiction has on my work, save to say it's the intellectual "school" of my approach, and that I ultimately strive to make something that might make a person feel the way I felt when David Bowman gazes into the black obelisk in 2001: A Space Odyssey and proclaims, "The thing's hollow—it goes on forever—and—oh my God—it's full of stars!"
You made a series of a videos a few years ago dealing with digital decay. You recently re-visited the theme, this time further literalizing the drony/meditative aspects of the earlier work through the use of the ubiquitous "spinning beach ball" as a third eye.
This is striking because, assuming I'm not reading into this too deeply, it connects the temporary technological paralysis the beach ball signifies with the state of emptiness and at-one-ness meditation promises/provides. Will you indulge us with an idea of what artificial (intelligence's) enlightenment would look/feel like? Is the essentializing/concentrating of digital compression helpful in conceiving of human spirituality, of our own essences?
God, what a huge question. I made those Digital Decay videos during my first art residency, at the Espy Foundation, in coastal Washington. They were a reaction to the Douglas Davis essay, "The Work of Art in the Age of Digital Reproduction," which argues that unlike analog signals, which are like waves crashing on a beach and losing clarity with every ebb of the tide, digital bits "can be endlessly reproduced, without degradation, always the same, always perfect."
I was interested in replicating analog visual qualities by purely digital processes, in this case, saving files in progressively lower-quality formats over hundreds of times, then animating the result.
Later I began thinking about technology differently: not as something to be molded, but something which molds the user. The Internet actually makes our brains work differently; I wonder what the spirituality of the future will look like. I'm not talking about the Singularity—I just feel that as the digital plasma encroaches the edges of our skull, meditation will become a tool for survival.
Throughout your work, you engage with splintered digital/physical realities in a way that is both poignant and humorous. In the end, it seems you've struck some level of a comfortable balance. YACHT has a strong internet presence while insisting on creating well-designed and striking physical objects; YACHT tours constantly and onstage fuses technology with old-fashioned, costumed human physical performance; the new book is free online as a pdf but also exists as a tangible, thoughtfully produced (and printed on-demand) object. Is there a point at which we stop marveling at technology's encroachment into the "real world" or will we constantly be impressed, enamored and terrified of/by new technologies? Has maintaining an artistic and performance practice that keeps you in the world, interacting with humans on both a human and grand scale helped to normalize what might become an otaku/cyborg life?
Interacting with humans isn't something that keeps me in the world—it's the essence of what I do. YACHT manifests itself in a lot of ways, print, design, recording, text, but it's at its most pure in the moment of touch, in the performance. YACHT is an experiment in contact, in which we use every tool at our disposal to viscerally communicate. Technology is a way to extend our reach as much as manufacturing physical objects. Having the feedback mechanism of the band-fan relationship is a tactile way to keep us honest and motivated. It's a little less clear with my other practice(s), of course. Blogging is basically howling into the void, but the echoes still cycle back and hit me once in a while.
Do you believe that art can be transcendent? Humor? Science?
Of course. I firmly believe that art and science come from the exact same position of initial, preternatural awe at the universe. When a force hits, you either move with it, absorbing its energy, or you push back. Art and science are just different approaches to the force of mystery: artists question and experiment, while scientists aspire to parse and decode. They're both transcendent because they both begin with inherently spiritual questions about the nature of existence.
I think we're the same age. I visited L.A. a number of times as a kid to visit my cousins and always had a great time, because I love my cousins and was excited to be doing anything, whenever. Then I endured years of anti-L.A. vitriol on the east coast and in San Francisco. When I finally had the chance to experience the city as a grown up, I fell very much in love. You (guys) just recently moved (back) to L.A. and, around the same time, made (at least) two works relating to Red Hot Chili Peppers' Under the Bridge. This made instant sense for me, as I'm moved to sing the song as soon as I smell smog. Perhaps you can fill in the spaces of why this song fits a certain age's concept of L.A. so well. Or, if you'd prefer, perhaps you can talk about these two pieces, whether you envision them as part of a larger body of work or working in congress.

L.A. Painting, in particular, is a striking piece that seems more to echo negative aspects of L.A. life—the smog, the car culture, the trash—but transposes them in a transcendent, transfixing, and straight-up trancy mode.
"Under the Bridge" is the "Hotel California" of our generation. It speaks to something about L.A. that most people find disdainful, but the love letter to Los Angeles, the combination of profound regret and sincere gratefulness for the city—it kills me. California represents something hugely important in American consciousness; I often say that if there were a recessionary war, I'd fight and die in the trenches for the state of California. I guess I feel compelled to make work about L.A. because it's informed my sensibility of beauty. Everything beautiful in L.A. is fucked up somehow, sunsets marred by telephone poles, the constant trailing presence of what I call "L.A. Garbage" (Del Taco cups, escort ads, shreds of plastic, dead plants, cigarette butts, piñata chunks, balls of aluminum foil), Halloween decorations strung up on palm trees. That's what L.A. Painting is about: the raw materials of the city displayed within the ultimate frame of Angeleno perception, the windshield. The idea was to let L.A. paint itself.
I like how, in Los Angeles, there's no sense of "outside" or "inside," how you rarely ever have to adapt to the ecosystems of the space around you—you just ramble on. It feels always-already fictional, like it's just "location," and it feels science fictional, somehow, too; downtown is like a cyberpunk Bablylon, and the massive infrastructural monoliths of the city's failed urban plans are like "Big Dumb Objects" in void space. I'm certainly not the first person to feel something powerful about this city, to find transcendence in the amplitude of its shittiness. "Under the Bridge" seems to get at the root all of this.
This new publication, New Art/Science Affinities, is a wonderful achievement. In addition to being well written and designed, with lots of fascinating information, it took a pretty fascinating road to development. It was written in a "book sprint," a concept indebted to FLOSS Manuals and the participants in Collaborative Futures at the last two transmediales, but also to the idea of code sprinting in which, basically, a group of people sit down together and collaboratively write a book in a short amount of time.
Beyond how exciting it is for ten people to make a book in a week, I'm interested in you discussing the process, what it meant for the content, why it might be useful for works that are meant as surveys of a field, how it might operate for more purely aesthetic ventures, or ventures with a more distinct "personality," how it compares to being in a band and the significance of drawing from coders to make a book about (relatively) contemporary art-science intersects.
Thank you. As a writer, it's difficult to sever the ego enough to actually revoke singular control over a text. But for this project, which was an attempt to document an emergent form of art practice in a micro-encyclopedic tome, the collective energy of a group was necessary. It really is about energy. It's extraordinarily exciting to see text appear in a networked document, seemingly from nowhere. We had moments of kinetic, feverish work that were ecstatic, and that pushed us through the difficult parts of the week. Booksprints fill the gap between the traditional authorial model of previous century and the self-navigating push-button collectivism of what the teenagers are building in front of us. It's controlled crowdsourcing, curatorial anonymity—an alternative process suited not only for a new generation of readers, but for the documentation of rapidly changing media, movements, and places in time. The experience is modern, a little uncanny, but it still offers the satisfaction of having created something of substance, a real object, in the end.
I'd like to see the booksprinting model applied to other texts; my group is (hopefully) reconvening next year to make a field guide for electronic arts, but I can see it functioning in a purely aesthetic sense, as well, as long as the participants resonate with one another. It seems endlessly adaptable, as it's basically "jamming" for writers.
Latest posts by Jesse Malmed
(see all)