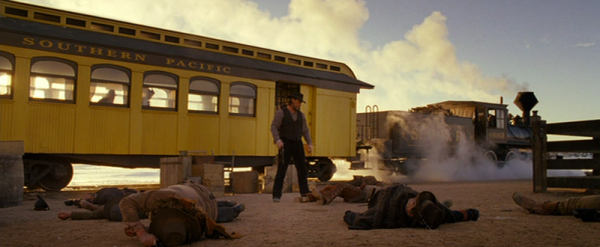 Ever had a week where you put too much on your plate? Only me? Well this weekend we can all take it a bit easier but in the mean time here are some things you might have missed while trying to be well rounded.
Lets start with Newcity (what no longer using my YCDToT green color scheme?, reds nice to I guess 🙂 who had a interesting article a while back about the Spice Barrel District in Near South Chicago being turned into a Creative Industries District for galleries, studios, fashion warehouses & other design/visual art incubator projects is getting more attention on many sites and news articles as the story continues to grow and is worth a look if you missed it. Read more here
Pantone releases next years designer colors for both Men & Women; seems Beeswax will be the hot word this spring lol. Read more here
Why no artist should underestimate the toxcisity of chemicals and value of good ventalation, even though I still refuse to wear gloves while I paint with Flake White or Cobalt Violet. What can I say I prefer to do it nude. Read more here
Swedish outfit called TAT (The Astonishing Tribe) made a highly believable video on portable media ID in 2014 (is it just me that finds it odd thats not far off?) which the least likely aspect isn't the mirror with email but that Apple still makes a non portable OS? Read more here
The Perfect table after a overly packed week for the person on the move, a zen water ripple table that you can drink tea on and the ripples are real, even in California. So lets say your a young British man who's been working on you house for some time, teaching classes and making art to pay the bills and trying to expand your art career all at the same time but just ran out of Tetley's well worry not atleast you will be relaxed while you struggle to swallow what passes for tea in the States. Read more here
---
Holy shit, I left you hanging on the busiest gallery weekend ogfthe year! Well, I made about a thousand maps, all of which were posted over at Chicago Art Magazine, and between those, working on the annual Renaissance Society benefit auction, teaching, art making, blah blah blah, I totally missed my weekend picks. Stupid me! Oh well, I'm back. This weekend, I'm actually going to be out of town, shooting out in Ohio (both kinds, to answer the inevitable question), but there are some great shows ya'll should hit while I'm gone, I sure as shit want to hit 'em when I get back. That is all…
1. To Peach at Donald Young Gallery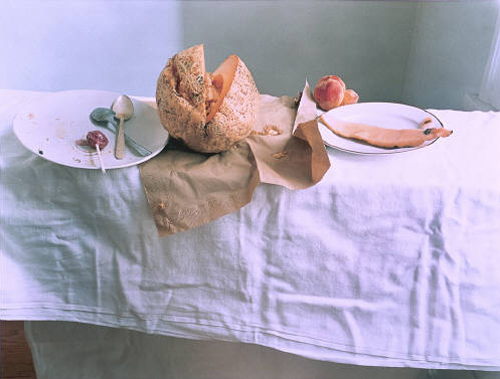 Work by Laura Letinsky
Donald Young Gallery is located at 224 S. Michigan Ave., suite 266. Reception  Friday 5-7pm.
2. It's Good to See You at Rotofugi Gallery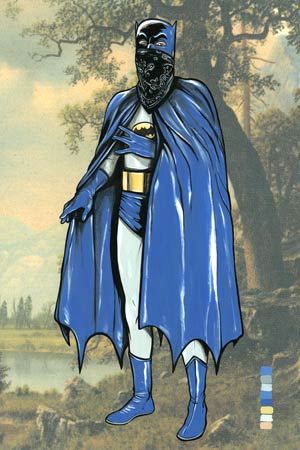 Work by Steve Seely
Rotofugi Gallery is located at 2780 N. Lincoln Ave. Reception Friday 7-10pm.
3. The Blanket Paintings at iceberg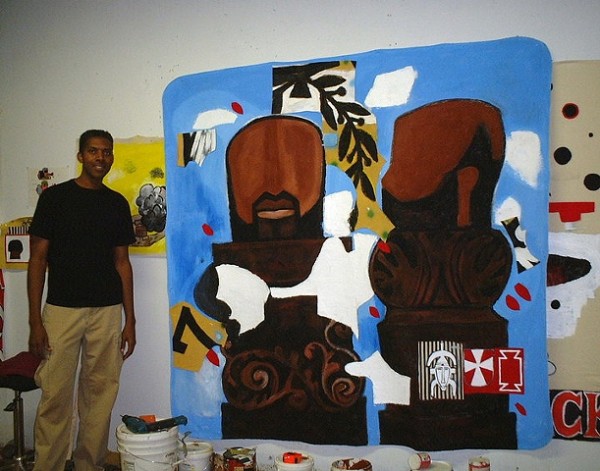 Work by Bernard Williams
iceberg projects is located at 7714 N Sheridan Rd. Reception Saturday 6-9pm.
4. GroupSOLO: The Sequel at Swimming Pool Project Space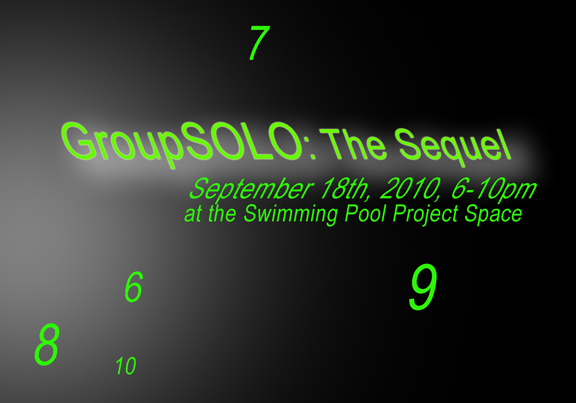 Work by Matthew Schlagbaum, Chris Bradley, Clare Rosean, and Shannon Goff
Swimming Pool Project Space is located at 2858 W. Montrose Ave. Reception Saturday 6-10pm.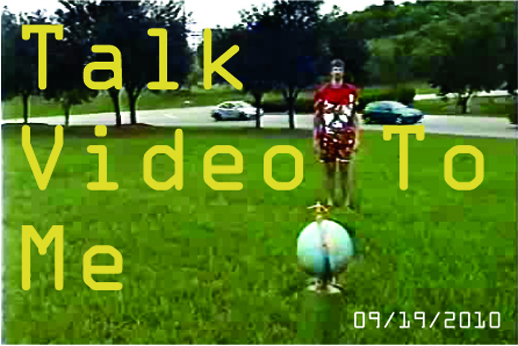 Work by Will Goss & Jessica Bardsley, Daniel Eatock, Clint Enns, Justin Kemp, Je Je Jiyeon Lim, Andrew Norman Wilson, Jon Rafman
LVL3 is located at 1452 N Milwaukee Ave, 3. Reception is Sunday at 6pm.
---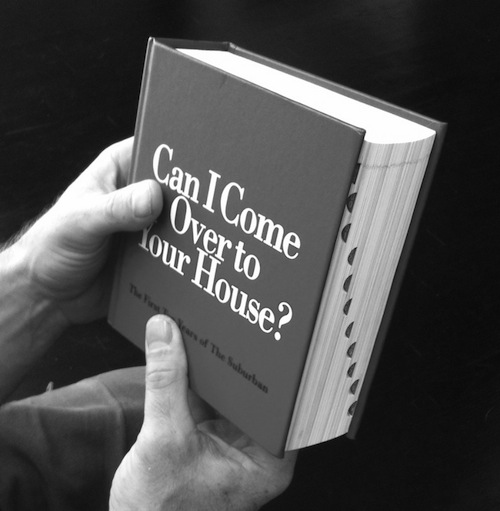 Can I Come Over to Your House?, the anthology commemorating the first ten years of The Suburban, has a strange power to make its beholders confess to their unwavering love of co-founder Michelle Grabner. "I know I'm impulse buying, but I have to get this because Michelle Grabner is my hero," a buyer admitted before purchasing a copy. A few days earlier another artist had disclosed that she "wanted to impress Michelle Grabner" while she fondled the stout red volume. Some visitors have taken to staring deeply into the cover and clasping their hands around the book. I try not to interrupt them.
I was surprised to hear this outpouring of devotion to Grabner from so many artists. I thought I was the only who dreamed of being her best friend. Everyone loves Michelle, especially those who "hate" her, and this little book reminds us why. The encyclopedic publication features contributions from the art world's heaviest hitters from James Welling to Olivier Mosset to Wade Guyton to the Midwest's patron saint of art David Robbins. Anyone who had ever exhibited under the umbrella of The Suburban was asked to submit four to six images and a brief text that "would best represent" their practice.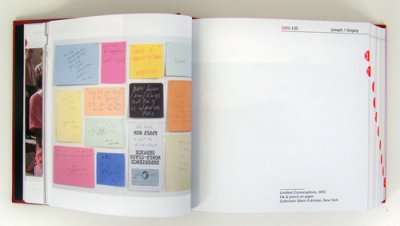 Karl Haendel's provocative text, Questions For My Father begins, "Why did you decide to have children? What if I came out retard? How close did you come to hitting me?" Amy Granat opts for the traditional artist statement, while David Hullfish Bailey provides two (three?) artist statements AND an essay by Danish curator Jacob Fabricius. Novelist Jonathan Safran Foer gives us no words and only images. If an exhibition at The Suburban is "more closely related to what happens in your studio" as Grabner said in a recent interview, then Can I Come Over to Your House? successfully translates that practice to print in this thousand page guestbook-cum-sketchbook.
Can I Come Over to Your House? is available at Golden Age in Chicago. Visit The Suburban this Sunday for the opening reception of Jeff Gibson and Geoff Kleem and come to Golden Age on September 25th for the launch party of Can I Come Over to Your House?.
---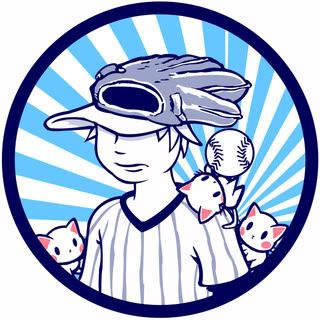 Our bi-weekly column, Center Field | Art in the Middle with Bad at Sports on Art21′s blog has its latest post with an interview with Polyester's Dirctor Bill Eiseman.  Check the teaser below and go read the entire article over on Art21′s site.
Like many people, my girlfriend and I set out on a road trip this summer. Our trip took us from Chicago to Portland, following most of the Lewis and Clark Trail. After officially starting in St Charles, MO, where Louis and Clark initially met for their historic journey, we headed west, hitting not only typical locations like Yellowstone, The Badlands, and Mount Rushmore, but also a few random towns along the way, like Mitchell, SD (home of the only Corn Palace in the world). I had not planned for our trip to include many museums or galleries, but while driving downtown in Omaha, NE, I spotted the word 'Polyester' painted in orange on a building's facade. We drove back around the block and to my surprise, it was a bookstore and gallery specializing in contemporary and vintage photographs.
Founded in 2006 by Bill Eiseman in downtown Los Angeles, Polyester has established itself as a unique voice within photography. In 2010, Eiseman moved shop to Omaha, where he has been able to expand his gallery to include screenings. In the spirit of the final days of summer, I asked Bill a few questions about my find in Omaha.
Meg Onli: What prompted a move from such a large scene (Los Angeles) to a place such as Omaha?
Bill Eiseman: It was a decision I spent six months deliberating. The downtown artwalk in Los Angeles brought anywhere from 500 to 1500 people into my gallery on the second Thursday of every month. The crowd at our last monthly artwalk here in downtown Omaha numbered roughly 50. From an economic standpoint, it probably wasn't the wisest of choices, at least in the short term. But as a gallerist, since I am now the only contemporary photography gallery in the region, suddenly I have the creative freedom to exhibit known, represented artists and works that were previously unavailable to me and in a space that is more than four times the size as its L.A. predecessor (for less rent). [It] also allows me to have both a main gallery and annex, a dedicated video room, present live performances and film screenings — pretty much everything I ever wanted to do but never had the space to make a reality. There is also a certain amount of notoriety that comes with being new and unique, which I must admit to enjoying. And I spend (at most) fifteen minutes per day in my car, which is something that Los Angelenos can only dream about.
Read the entire article on art21
---
David Shrigley's new ad for saving the arts in Britain is signifigently more entertaining and endearing than I had thought it would be. Tracey Emin putting out a fire? Hilarious.
---