download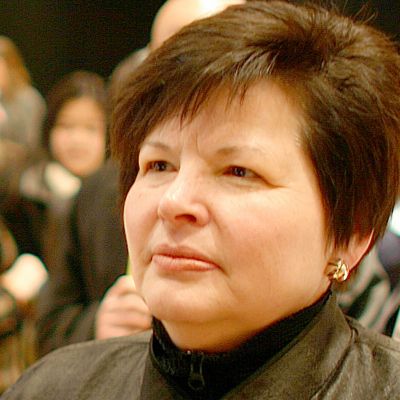 This week Duncan sneaks into The School of the Art Institute of
Chicago to interview Mary Jane Jacob, Professor and Executive Director of Exhibitions. Mary Jane Jacob's name is synonymous with the phrase "art as social practice" or the field of art that is now more widely known as "Relational Aesthetics." Jacob was at the center of the nineties debate about what was and could be considered an art object/experience and was putting on festivals, exhibitions, and public art programming that expanded our art consciousness long before Bourriaud "sexy-ed" up the field with his now seminal book.
Aside from being a former Chief Curator at the MCA Chicago and LA MoCA, Jacob was also the person behind "Culture in Action," Chicago's progressive, but widely debated 90's public arts program. She is the author/co-author of several books including, "Learning Mind: Experience into Art," "Buddha Mind in Contemporary Art," "Culture in Action: A Public Art Program of Sculpture Chicago," "Conversations at The Castle: Changing Audiences and Contemporary Art," and "On the Being of Being an Artist." She is the recipient of many grants, awards, fellowships and residencies, amongst the most notable are the Peter Norton Family Foundation, the National Endowment for the Humanities and National Endowment for the Arts, Rockefeller Foundation, Bellagio Study Center Residency, and the Getty Residency Program.
Mary Jane Jacob
School of the Art Institute of Chicago
Museum of Contemporary Art, Chicago
LA MoCA
Mary Jane Jacob's books
Detroit Institute of Arts
Wayne State University
Center for Creative Studies
David Salle
Christian Boltanski
Carol Becker
New Genre Public Art
Culture in Action: A Public Art Program of Sculpture Chicago
The Pew Charitable Trusts
John Cage
Duchamp
John Dewey
The Third Mind: American Artists Contemplate Asia
Marcia Tucker
National Gallery of Art
Irvine Fountation
Nathan Cummings Foundation
Scottish Arts Council
Learning Mind
Marina Abramovi?
Alfredo Jaar
Cloud Gate
Loyola University
CAA
Ludwig Mies van der Rohe
Crown Hall
Michelle Grabner
Annika Marie
University of Chicago Press
Christopher Hudgens is the Operations Manager for BaS and works in various other capacities for other organizations in the Chicago Art & Culture scene. Most recently as Business Operations Manager for the Bridge Art Fair and currently an advocate for all things art & technology.
Latest posts by Christopher (see all)