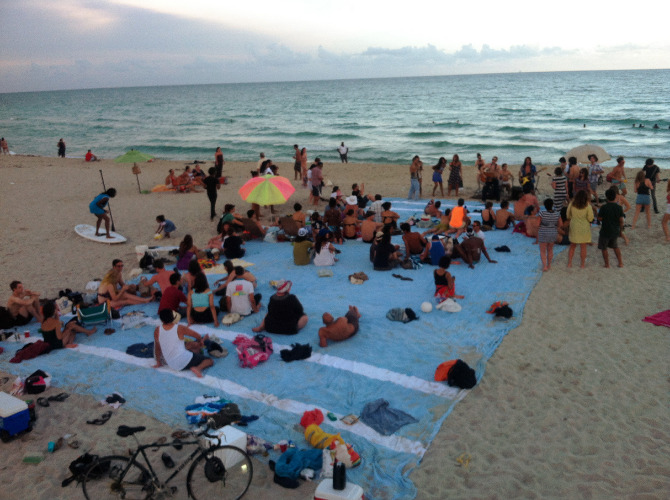 download
Misael Soto joins Bad at Sports Center to discuss "Provisional Obstruction," a public sculptural work in collaboration with Ayesha Singh outside of ACRE Projects. We delve into Soto's history of creating monumentally mundane sculpture and their Chicago origin story. DJ Younger Brother puts us into context as we discuss performance, gentrification, and giant beach towels all in this weeks episode.
read more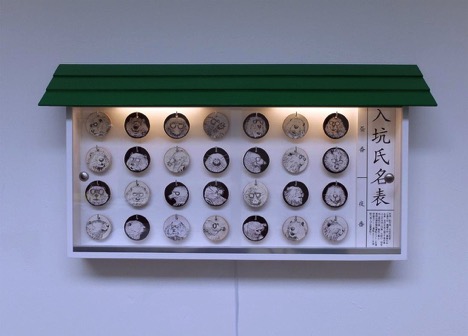 by Kelsey Brod The Kingdom of Kitai at Ulterior Gallery in New York's Lower East Side opens the tiny gallery like a tunnel to narrative artist Gaku Tsutaja's world. Though the kingdom is fictional, Tsutaja uses her father's experience as a civil engineer in Tokyo, and...
read more

download
This week Duncan and Dana interview former Chicagoan David Hartt on the occasion of the opening of his latest commission, in the forest, on location at The Graham Foundation for Advanced Studies in the Fine Arts. David and Duncan talk Canada stuff, and Hartt walks our hosts through his investigation into architect Moshe Safdie's unfinished 1968 Habitat project in Puerto Rico. The multi-part installation is on view at the Graham Foundation until January 6, 2018.
1. Kingpin of the Antpin October 13, 2017, 5:30-8:30PM Work by: Dapper Bruce Lafitte Intuit: The Center for Intuitive and Outsider Art: 756 N Milwaukee Ave, Chicago, IL 60642 2. Altar Call: The Architecture of Black Sacred Space October 13, 2017, 6-10PM Work by: Devin...
1. A Study in Rhyme and Song – From Minstrel Show Tune to Children's Nursery Rhyme October 6, 2017, 6-9PM Work by: Sadie Woods Roman Susan: 1224 W Loyola Ave, Chicago, IL 60626 2. "Untitled" October 6, 2017, 7-9PM Work by: Amo Zeng gallery no one: 1579 N...
A Visit with Audiovisionary Ashim Ghosh  When making the rounds of friends in Delhi earlier this year, I spent an intriguing evening with Ashim Ghosh, photographer, multimedia artist, musician, and self-proclaimed audiovisionary. His formidable oeuvre lives up to his...
1. This Image Is Not Available In Your Country (closing) September 29, 2017, 6-9PM Work by: Solomon Adufah Connect Gallery: 1520 E Harper Ct, Chicago, IL 60615 2. Black Panther Party 50 Year Retrospective September 28, 2017, 4-8PM Westside Justice Center: 601 S...
Chicago Year of Public Art 2017 Chicago Architectural Biennial September 16, 2017 through January 7, 2018 Terrain Biennial, October 1 – November 15, 2017 with Kick-Off Block Party Sunday, October 1, 2-7 PM The second Chicago Architectural Biennial and the third...
1. In Wood We Trust September 23, 2017, 6-9PM Work by: The Chapuisat Brothers 6018NORTH: 6018 N Kenmore Ave, Chicago, IL 60660 2. I have a dining room like a mausoleum September 24, 2017, 6PM Work by: Annelies Kamen Free Range: 3257 W Lawrence Ave, Chicago, IL,...
Dear readers, please enjoy this excerpt from the guide Lets Be Frank, written by weather enthusiast, Ezra Spelling. Lets Be Frank is based on an observational legend named Frank who is well known in meteorological circles for how he tracks his relationship with...
This week there are some amazing programs.  It is also EXPO CHICAGO and you can check out our Top V from the fair here. 1. YOU WILL NOT SEE ME: Video Art in unconventional spaces in Chicago September 15-23, 2017 Work by: Ashish Avikunthak, Wim Delvoye, Ana Maria...
Welcome to this week's Top V from EXPO CHICAGO at Navy Pier.  Also, don't forget to check out this week's Top V for a selection of provocative programs being exhibited in spaces both large and small around Chicago this weekend. 1.  ROCKELMANN & Booth #753 Work by:...