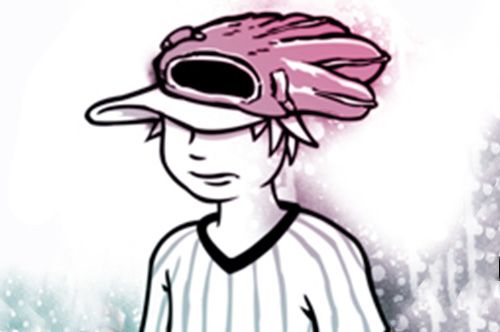 [audio:http://traffic.libsyn.com/badatsports/Bad_at_Sports_607_OE_Illuminato_Hunter_Padberg.mp3]
download
How should we teach art after Social Practice and the Post-Studio? Michelle Illuminato (Portland State,) Brett Hunter (Alfred,) and Carol Padberg (Hartford) help us work through the problem.
Recorded at Open Engagement 2017
read more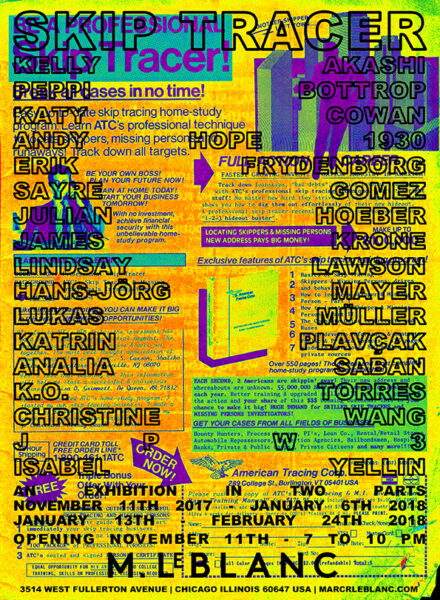 1. Skip Tracer November 11, 7-10PM Work by: Kelly Akashi, Peppi Bottrop, Katy Cowan, Andy Hope 1930, Erik Frydenborg, Sayre Gomez, Julian Hoeber, James Krone, Lindsay Lawson, Hans-Jörg Mayer, Lukas Müller, Katrin Plavcak, Analia Saban, K.O. Torres, JPWIII, Christine...
read more
1. Un-Natural Parables November 3, 5-8PM Work by: Faith Wilding Western Exhibitions: 1709 W Chicago Ave, Chicago, IL 60642 2. Love is a Rebellious Bird November 3, 5-8PM Work by: Alejandro Figueredo Díaz-Perera Aspect/Ratio: 864 N Ashland Ave, Chicago, IL 60622...
1. I See My Light Come Shining, Iteration no. 3 + On Second Thought October 28, 2017, 2-5PM Work by: Consuelo Lepauw Compound Yellow: 244 Lake St, Oak Park, IL 60302 2. Wasteland Dream October 28, 2017, 6-10PM Work by: Jeffly Gabriela Molina, Curtis Stage,...
1. Human Human October 19, 2017, 5-7PM Work by: Danielle E. Campbell, Jeff Carter, Helen Maurene Cooper, Barbara Koenen, Kathryn O'Halloran, Kirsten Leenaars, Ernesto Pujol, Aram Han Sifuentes, Mary Simpson, Pedro Velez, Rhonda Wheatley, and Scott Wolniak (Curated by...
One or Three Chairs: An Interview with Michael J. Golec Keeley Haftner: Let's start broader and then go to specifics. In general, your overall project seems to be about defying categorization –for example, you've taken an interest in the work of Wendell Castle...
by Kelsey Brod The Kingdom of Kitai at Ulterior Gallery in New York's Lower East Side opens the tiny gallery like a tunnel to narrative artist Gaku Tsutaja's world. Though the kingdom is fictional, Tsutaja uses her father's experience as a civil engineer in Tokyo, and...
1. Kingpin of the Antpin October 13, 2017, 5:30-8:30PM Work by: Dapper Bruce Lafitte Intuit: The Center for Intuitive and Outsider Art: 756 N Milwaukee Ave, Chicago, IL 60642 2. Altar Call: The Architecture of Black Sacred Space October 13, 2017, 6-10PM Work by: Devin...
1. A Study in Rhyme and Song – From Minstrel Show Tune to Children's Nursery Rhyme October 6, 2017, 6-9PM Work by: Sadie Woods Roman Susan: 1224 W Loyola Ave, Chicago, IL 60626 2. "Untitled" October 6, 2017, 7-9PM Work by: Amo Zeng gallery no one: 1579 N...
A Visit with Audiovisionary Ashim Ghosh  When making the rounds of friends in Delhi earlier this year, I spent an intriguing evening with Ashim Ghosh, photographer, multimedia artist, musician, and self-proclaimed audiovisionary. His formidable oeuvre lives up to his...
1. This Image Is Not Available In Your Country (closing) September 29, 2017, 6-9PM Work by: Solomon Adufah Connect Gallery: 1520 E Harper Ct, Chicago, IL 60615 2. Black Panther Party 50 Year Retrospective September 28, 2017, 4-8PM Westside Justice Center: 601 S...