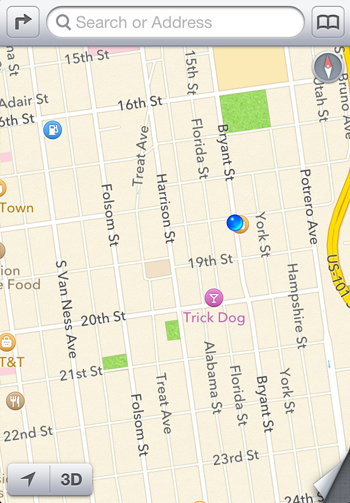 I recently saw the trailer for Woody Allen's new movie Blue Jasmine starring Cate Blanchett.  There was an exterior shot of a cafe on the block I live on in the Mission neighborhood of San Francisco.  I pass that cafe almost everyday and I never considered it to be so dramatic until I saw it in the trailer.  I was reminded how vibrant the Mission is, and so I decided to take a walk around the neighborhood to visit some great art spots.
The Mission is a cool place — home to a dense Mexican community that is quickly becoming consumed by white affluent hipsters.  Lots of homeless people in puffy down jackets slowly push shopping carts on Mission Street past tipsy Marina bros wearing aviators and the latest salmon-colored shorts.  "Artisanal" is in the name of the game in this area, with highly priced food, home, and decor products in shops along Valencia Street.
The booming tech scene has spawned the tech renaissance populated by well-educated and well-paid 20 and 30-somethings that have injected the city with so much money that San Francisco has become one of the most expensive places to live in the United States.  Private commuter bus lines for employees of companies like Apple, Facebook, and Google weave through the Mission, attracting very competitive rental fees on new and old luxury apartments.
Sprinkled throughout this urban grid are several art venues.  From private galleries to non-profit spaces, the Mission is an eclectic mix as diverse as its inhabitants.  The tech folk have yet to share and indulge their economic prosperity with the artistic community of the Mission, but eventually some kind of connection will be made.  Until then, these art venues continue to produce and shape an active voice in the shape of San Francisco's cultural identity albeit in the shadow of technology's spotlight.
Just two blocks from the cafe in Blue Jasmine is the artist-run space Root Division.  Several of my classmates from grad school have had or currently have studio space there.  From the website: "Root Division is a visual arts non-profit that connects creativity and community through a dynamic ecosystem of arts education, exhibitions, & studios".  The space constantly holds calls for submissions and proposals for future shows and delivers a wide range of educational programming.  My favorite is their annual juried exhibition titled Introductions. I'm a sucker for healthy art competition and the debut of emerging artists!
During my visit, I got a chance to check out the group show Electronic Pacific Satellite curated by Justin Charles Hoover.  Digital and time-based media fill the space, but I'm still a fan of a standout like Gabby Miller's Logistics from Sea to Land (For Giang and Nam) (2012).  A large section of a steel shipping container is painted blue on one side and leans against a wall.  Miller quotes a text from Marc Levin's "The Box: How the Shipping Container Made the World Smaller and the World Economy Bigger" that traces the shipping connection between the US and Vietnam.  I giggle when I relate the shipping container to the enormous private tech busses passing through the Mission.
Some blocks away, I see Southern Exposure.  From the website: "Our good friends THE THING will be in residence at Southern Exposure for the month of August before transitioning into their new Tenderloin storefront this fall. Six years ago, THE THING launched their first issue at SoEx; it's only fitting that they return for the completion of their 20th, conceived by Tauba Auerbach. A wrapping party for the 20th issue will be hosted by SoEx on August 15″.  The last time I was at SoEx, I participated in a wrapping party for the 19th issue by David Shrigley.  This space is all about collaboration and sharing with passionate artists throughout the city.
I keep walking and I see Kadist, but its doors were closed this day.  From the website: "Kadist Art Foundation encourages the contribution of the arts to society, conducting programs primarily with artists represented in its collection to promote their role as cultural agents. Kadist's collections and productions reflect the global scope of contemporary art, and its programs develop collaborations between Kadist's local contexts (Paris, San Francisco) and artists, curators and art institutions worldwide".  One night a couple years ago, Tony Labat invited several artists to share YouTube videos in this space.  We all gathered around a projection screen and watched a variety of odd, funny, weird, informative, and emotional videos.  The evening became the contemporary equivalent of an ancient scene of storytelling around a blazing fire.
After passing a yoga studio or two, I finally end my wandering on a block with two private galleries: Steven Wolf Fine Arts and Guerrero Gallery.  I have an affinity for Steven's gallery because I exhibited in the space last year.  The first gallery room hosts Richard Kamler's Twelve Food Trays on Ikea Shelves (1999 — Present).  The gunmetal-colored objects display the last food item requests from death row prisoners.  It's quiet in the room, and spooky and grey and I know in the other room there is a working sculpture of an electric chair by Philip Zimmerman, so I get a little uncomfortable and I quietly back out of the gallery and cross the street.
Across the street at Guerrero Gallery, Adam Feibelman shows a bunch of artwork in an exhibition titled Do with Me as You Will.  While the space is naturally bright and airy like Steven's gallery, there's a different, lighter feeling in here.  Maybe it's the hand-cut paper pieces in pretty frames that seem more familiar in a gallery space.  There's sewing thread and pattern and images of cityscapes, so I think that it could be quite uplifting, until I consider the brown edges of the cutouts to be burnt and suddenly everything looks very spooky and ghost-like.  What an intense block of artwork!
A couple hours of walking in the Mission can bring you face-to-face with the contemporary art scene of San Francisco.  The sun is always shining, and it's particularly rewarding when it seems like the rest of the city is covered in fog.  Every space has an interesting perspective and is consistently delivering the kind of work that local artists enjoy making, and local audience members enjoy discussing.  Now let's try to get the tech folk to check it out!
Latest posts by Jeffrey Songco
(see all)