Ok, so for those of you who don't know yet, CAA (College Art Association) has dubbed Chicago worthy for it's pedagogical adventures, and has settled in our fair city for the weekend. As a member of CAA, I'll be cruising from lecture to lecture the next few days, trying to suck up as much strange knowledge as I can while the circus is in town. But I'm not the only one excited about the CAA crew. As a result of the conference, just about everyone else in town is trotting out something or other, much of which is AWESOME! As a result, I bring you The Biggest Top 5 You've Ever Seen! Rather than picking individual galleries for the Top 5, I've corralled a Top 5 of places (in no particular order) you should go this weekend. Hope y'all enjoy.
1. Pilsen
The self-proclaimed Chicago Arts District is holding it's monthly 2nd Fridays round of openings. Here's the places I'd go if I were you: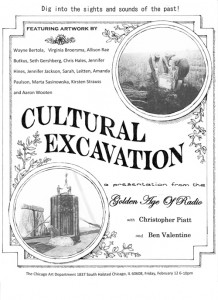 Chicago Art Department – 1837 S. Halsted. Cultural Excavation, work by Christopher Piatt, Ben Valentine, Wayne Bertola, Virginia Broersma, Allison Rae Butkus, Seth Gershberg, Jennifer Hines, Jennifer Jackson, Sarah Leitten, Amanda Paulson, Aaron Wooten and others. Reception Friday, from 6-10pm.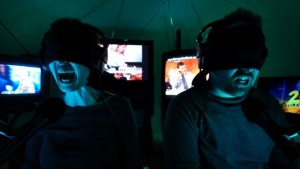 ROOMS Gallery – 645 W 18th St. ORACLE:CHANNELING, with Marrakesh & Todd Frugia. Performance Friday, from 8-10pm.
2. West Loop
Always a hot part of town, this weekend is no exception! And it's so close to the Loop, you can trot on over after you're done watching lectures all day, or just casually stroll down after a day of relaxing.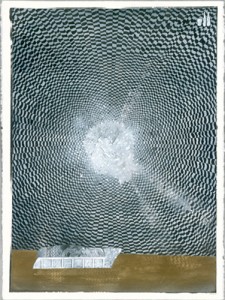 Ebersmoore – 213 N. Morgan, #3C. ANTEXPAGNA, work by Ryan Travis Christian. Reception Friday, 6-9pm. 2/12-3/13.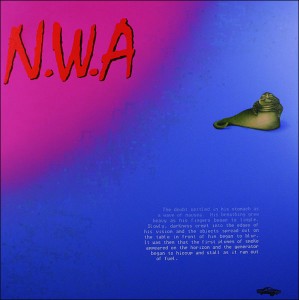 Packer Schopf Gallery – 942 W. Lake St. Jason Lahr's "Words for Paintings" Book Release Event. Reception Friday, 5-8pm.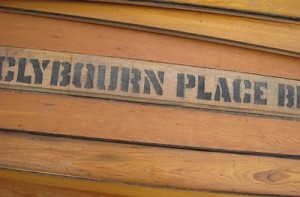 Spoke – 119 N. Peoria, Unit 3D. Reclaimed: Clybourn Place Bridge, work by Amber-Carla-Lia, Luke Boehnke, Kim & Zach DeBord, Kazuki Guzman, Andy Hall, Scott Jarrett, Kevin Kaempf, Heather Mullins. Reception Friday, 6-8pm. 2/12-2/27.
3. ON PTG and Painters Painting
As part of CAA's Conference, this group of exhibitions are showing work by the panelists of CAA's Studio Art Session: Painting Panel. The exhibitions are all one night, with rolling openings beginning at 5pm at Julius Caesar, and ending at 10pm at Rowley Kennerk and Western Exhibitions.
Julius Caesar – 3311 W. Carroll Ave. ON PTG.: work by Thomas Lawson, Scott Reeder, Carrie Moyer, Michelle Grabner. Reception Saturday, 5-7pm.
Shane Campbell Gallery – 1431 W. Chicago Ave. ON PTG.: Ann Craven, Peter Halley, Jon Pestoni. Reception Saturday, 6-8pm.
Rowley Kennerk Gallery – 119 N Peoria St, #3C. ON PTG.: Varda Caivano, Mary Heilmann, Rebecca Morris, Molly Zuckerman-Hartung. Reception Saturday, 7-10pm.
Western Exhibitions – 119 North Peoria Street, #2A. ON PTG.: Anoka Faruqee, Judy Ledgerwood, Sabina Ott, Susanna Coffey. Reception Saturday, 7-10pm.
4. Adventures in Alternative Spaces
The thriving alternative space art scene is something that sets Chicago apart. Take advantage to the circus in town to go see some of our city's fair alt. spaces, from brand spankin' new (LVL3) to well established (Mess Hall).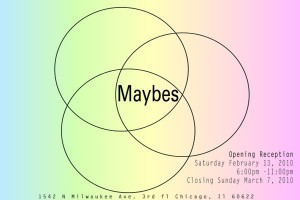 LVL3 – 1542 N Milwaukee Ave. Maybes. Reception Saturday, 6-11pm.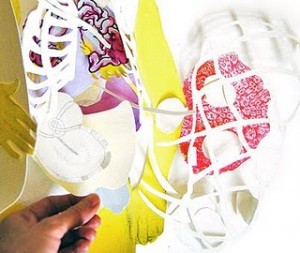 Medicine Cabinet – 3216 S Morgan St. Non-Prescription, work by Christa Donner. Reception Friday, 7-11pm.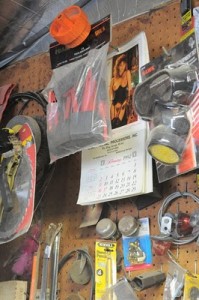 Second Bedroom Project Space – 3216 S Morgan St. By George, work by Jim Zimpel. Reception Friday, 7-11pm.

Mess Hall – 6932 N. Glenwood Ave. Open House. Opens Friday at 5pm.
5. Adventures in Art Centers
Another great thing about Chicago is our plethora of art centers. These aren't the only things happening at local art centers, but in my opinion, these are the two best selections for this weekend!
Hyde Park Art Center – 5020 S. Cornell. Opening receptions for five new exhibitions: Ghost Town, Notes to Nonself, Flow Interrupted, Aspen Mays: From the Office of Scientists, and Stan Chisholm: ThingsThatNeverReallyHappened. Opening reception Sunday, 3-5pm.

Lillstreet – 4401 N. Ravenswood Ave. Monster Movie Seminar! Seminar from 6-8pm on Sunday.
Latest posts by stephanieburke
(see all)