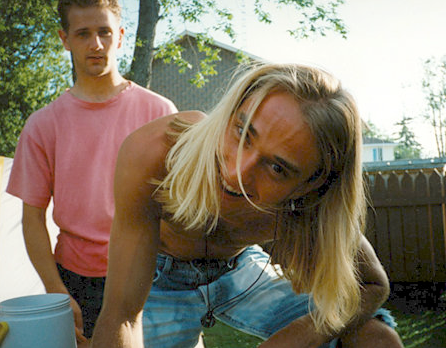 Presented by the Department of Film Video and New Media at SAIC, the Video Data Bank and the Gene Siskel Film Center, as part of their Conversations at the Edge series, Mark is a video portrait of Mark Karbusicky, created after his suicide in 2007.
Director Mike Hoolboom began his opening remarks by stating that there was a time in his life when all the good things happened in a movie theater, until a day in 2007 when he found out that his friend and collaborator of six years Mark had killed himself, which he was told right before a movie began. Yikes.
The film reads less like a documentary and more like a moving collage of stock footage, childhood portraits and relics, as well as interviews with his friends and family. Beginning with his oldest childhood friend, the film traces the life of a man you end up knowing less about in the end than you did to begin with. It is an odd portrait in that it seems to capture more the periphery of his life than actually attempting to memorialize the man himself. Or perhaps documenting the margins of his life, his politics, odd moments in home videos, Hoolboom was attempting to achieve a more genuine view of Mark as a person.
Created mostly of footage taken by his partner (who happens to be transsexual, although this is actually irrelevant), of her own performances and activism, Mark by default seems to be the supporting character in his own life memorium. Mark was clearly a tortured person. Deeply invested in animal rights, queer politics, and helping others with mental illness, a lot of attention was focused on how little he cared about himself and put all others before him. Hoolboom spoke after the screening about how the film was created in the space between the way things were before Mark had died and before things had settled into the way they would be after his death. The rawness of this period is apparent especially in the interviews, which were all done within the year after his death.
The film is edited to create an intense amount of tension. Many pieces of footage are overlapped, the hand-heldness is emphasized in upside down and shaky camera work, and shots seems to be just too short, or just too long or just too out of focus for one to feel comfortable. In an interview with one of Mark's friend and coworker, the camera is at table height, and the woman is half obscured by a large candle holder. The focus goes in and out as she tells this heart-wrenching rendition of their final interaction. After the screening, Hoolboom explains that he wanted to give his interviewees physical space, and referenced this shot in particular to demonstrate how he wanted the candle to mediate the space between her and the camera. Although I acknowledge the gesture after he spoke about it, during the shot I felt myself wanting to peer around the obstacle and actually see her face. Another shot I thought was more successful was that of Mark's partner Mihra-Soleil Ross; the camera was focused on the deep red wall of their apartment, you could see a bookcase and a plant, and she walked almost around the frame while she spoke about her recurring dreams during their ten year relationship that he had left her. Her body was just present enough to give you a sense of agency, but the lack of her presence really caused you to focus on her words and storytelling.
I wish the voiceover was left out. Hoolboom in person is charming and eloquent and gesticulates beautifully; on screen his voice seems affected and melodramatic. I think the subtly is lost when documentarians feel the need to describe what has happened instead of letting moods come across through images.
The film was successful in that it felt vast and encompassing, through the use of stock footage that spanned decades, Mark's own home videos and photos as well as different people speaking about him. It did not feel like the entire momentum of the piece lead up to a dramatic revelation of how he killed himself, which was refreshing. Hoolboom said that his death was not the most important thing that happened in his life, and I think the film reflected this sentiment.
Latest posts by laurenvallone
(see all)