Audio clip: Adobe Flash Player (version 9 or above) is required to play this audio clip. Download the latest version here. You also need to have JavaScript enabled in your browser.

download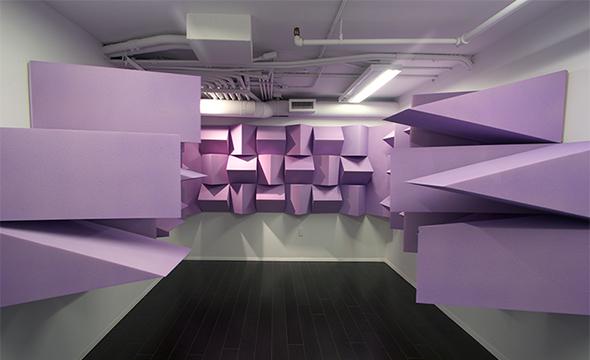 This week: BAS west coast checks in from the YBCA for a chat with Jacqueline Kiyomi Gordon.
---
Audio clip: Adobe Flash Player (version 9 or above) is required to play this audio clip. Download the latest version here. You also need to have JavaScript enabled in your browser.
San Francisco Fall Review Freak Out
San Francisco is haunted by illusions of Sarah Palin, icebergs, and the Wicked Witch of the West! This week, Brian and Patricia sit down with guest critic Clare Haggarty to discuss the new fall gallery
openings. Unfortunately, the political and economic Zeitgeist invades their thinking as they digress into conversations of conceptual economics, election politics, and The Wizard of Oz.
Galleries reviewed include the Wattis Institute for Contemporary Art, Ampersand International Arts, Ping Pong, New Langton, Ratio 3, Marx & Zavattero, Jack Hanley, Haines Gallery, Southern Exposure, Queens Nails Projects, and more! Read more
---
Audio clip: Adobe Flash Player (version 9 or above) is required to play this audio clip. Download the latest version here. You also need to have JavaScript enabled in your browser.

download

This week Brian and Patricia head over to Yerba Buena Center for the Arts to check out Bay Area Now 5, a triennial of local contemporary art. Joining the round table discussion are curators Berin Golonu, Valerie Imus, and Taraneh Hemami, as well as participating artists Ian McDonald, Edmundo de Marcheno, and Jonn Herschend.
YBCA's fifth triennial exhibition of Bay Area art explores questions around how to re-imagine a regional survey in the midst of globalization. What continues to draw artists here and makes the Bay Area a unique place to live and work when more and more of us are traversing the globe and becoming international citizens? How does the physical geography of the Bay, both natural and constructed, influence the Bay Area as a site of artistic production?
How does the history of this region, including its legacy of social activism, shape Bay Area residents' understanding of themselves and the rest of the world's notion of this place? What are the contrasts between the myths, ideals and realities of the Bay Area and the aspirations of its residents? The Bay Area Now 5 survey exhibition asks these questions to explore the many ways artists are influenced by their experiences both inside and outside of the Bay Area. Read more
---
Audio clip: Adobe Flash Player (version 9 or above) is required to play this audio clip. Download the latest version here. You also need to have JavaScript enabled in your browser.
Recorded live in front of a studio audience at Triple Base Gallery on July 10th, 2008 as a part of the exhibition "Open for Business". In this raw interview Brian and Patricia talk to René de Guzman about the cultural origins of art, how museums can be relevant in the 21st century, and Oakland's future as an art center.
René de Guzman is the senior curator of art at the Oakland Museum of California. Previously, he was the director of visual arts at San Francisco's Yerba Buena Center for the Arts (YBCA).
Read more
---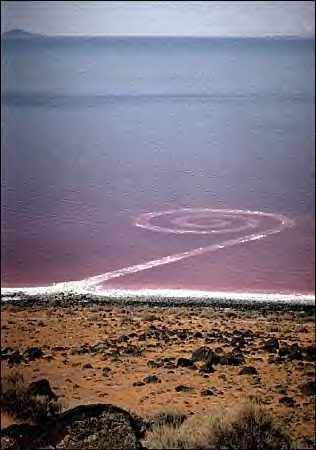 Robert Smithson's widow Nancy Holt sent a letter out today to notify people that his masterwork Spiral Jetty is in jeopardy of being destroyed due to oil drilling.
Here is Holt's full letter and a way for people to voice their concerns.
Yesterday I received an urgent email from Lynn DeFreitas, Director of Friends of the Great Salt Lake, telling me of plans for drilling oil in the Salt Lake near Spiral Jetty. See Attachments. The deadline for protest is [today] Wednesday, at 5PM. Of course, DIA has been informed and are meeting about it today.
I have been told by Lynn that the oil wells will not be above the water, but that means some kind of industrial complex of pipes and pumps beneath the water and on the shore. The operation would require roads for oil tank trucks, cranes, pumps etc. which produce noise and will severely alter the wild, natural place.
If you want to send a letter of protest to save the beautiful, natural Utah environment around the Spiral Jetty from oil drilling, the emails or calls of protest go to Jonathan Jemming 801-537-9023 jjemming@utah.gov. Please refer to Application # 8853. Every letter makes a big difference, they do take a lot of notice and know that publicity may follow. Since the Spiral Jetty has global significance, emails from foreign countries would be of special value.
They try to slip these drilling contracts under the radar, that's why we found out so late, not through notification, but from a watchdog lawyer at the Southern Utah Wilderness Alliance, the group that alerted me to the land leasing for oil and gas near Sun Tunnels last May.
Thank you for your consideration of this serious environmental matter.
---