"One of the things I wanted to prove is that you don't have to be a Larry Gogosian or a Jeff Koons and plunk down 10 or 15 grand to make something happen. I think if you're creative and energetic you can do whatever you want for a penny ninety-eight." Wise words from painter/guerilla documentarian Loren Munk who's interview was published this week on Bad at Sports.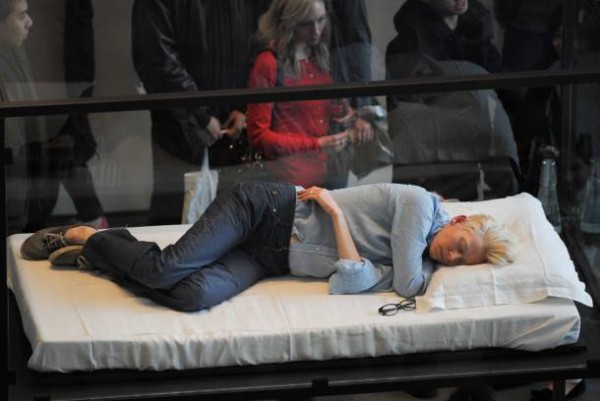 Let's see — otherwise Tilda Swinton has been sleeping Snow-White-Style in a glass box at the MOMA (which Jerry Salz wrote about here) and I saw an amazing B-Movie about a gang of Tai Kwan Do orphans who go tête-à -tête with Bike Ninja's in Miami.
But more to the point, Nicholas O'Brien Unpacked The Shortest Video Ever Sold :
"In the past couple weeks a myriad of media outlets have been chomping at the bit to comment on the first sale of a piece of art made on the rapidly rising social media platform Vine. The work in question was made by Angela Washko and presented at the Moving Image Fair by Kyle Chayka and Marina Galperina in their Shortest Video Art Ever Sold (SVAES for short) booth produced in collaboration with Postmasters Gallery. The sale of the work has been quickly marked as an easy target for many critical articles for a variety of reasons, however I feel that most takes have missed some of the more salient issues that surround this sale. I sought out Chayka, Galperina, and Washko to discuss not only their intentions with the project but also to examine what exactly this sale might signal in terms of a potential future for new media art production and saleability."
Shane MacAdams posted another episode from his on-going series, Thoughts from Across the Cultural Divide, "From television to cuisine to high-art, culture seems bent on sanding us down even as we strut about thinking of ourselves as unique splinters in the side of society." It sounds like the series is wrapping up, so we'll have to keep our eyes peeled to see what's next on the McAdams' Bad at Sports posting roster….(this is where you're all supposed to grow excited, curious and sleepless with anticipation.)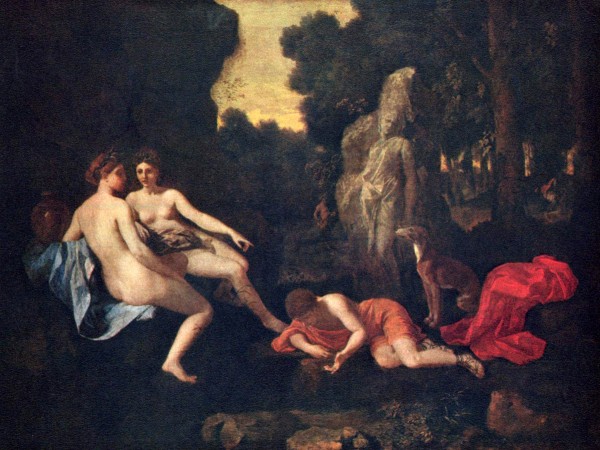 Two posts from London this week — João Florêncio published a second installment in his on-going Performing Ecology: Narcissist Modernity
"The problem is that whereas the critical enterprise had, following the dawn of Modernity, been rightly concerned with calling into question beliefs such as those advanced by various religious doctrines and replacing them with scientifically validated facts, at the start of the 21st century and there being no beliefs left to disprove, criticality has now started targeting objective facts themselves, often by negating their existence or by turning them into a mere product of their dialectical counterpart, the observing human subject and its usage of language. Today, after the so-called 'objective reality' was found to always be the result of power-knowledge formations, human discourse has become the true cause of the world itself."
& later that same day from Victor Delvecchio, a ruminating post about a renegade performance, Black Metal Chicken, an event organised by an apocalyptic noise band funded by Henrik Heinonen with Oscar Gaynor and Matthew Peers. Via Delvecchio I learned that Islam Green is a color and got a vibey-feel for foggy East London (where the Olympic stadium remains). This comes from his post about a performance artist being strangled, Where there's voilence, there's love:
Sophie appears on my back: "I thought the timing was good," she says. "Just as the audience were eating, helping themselves to food. If I didn't know it was a performance, I would have been concerned, it relied heavily on our knowledge and trust that this was a performance. I think, they were trying to communicate the uncanny, notions of sadism, the erotic. Perhaps, too, how vulnerable we are to another person's decision to harm us?"
Juliana Driever builds a bridge between New York and Chicago with post about socially engaged practices "In Conversation: Community Glue Workshop and Fixers Collective." From her intro:
"With certain currents in the contemporary art world pulling out of the gallery and museum box and into the spaces of everyday life, social relationships have come into focus as the site of many artistic projects. Increasingly, self-organized creative types pick up with simple materials, a group of friends, and an idea to enact change in their various communities by participating in and with them. Between Chicago (Bad at Sports' hometown) and New York City (my hometown) there are two similar projects – with varying regard to an art world dialog – that center on a waste-not-want-not brand of idealism. Encouraging inventive approaches to everyday repair problems, Community Glue Workshop (Chicago, IL) and Fixers Collective (Brooklyn, NY) have each been building community by tinkering with and fixing things. All kinds of things. I recently had the good fortune of sitting down with Ally Brisbin and Carla Bruni of Community Glue Workshop, and Vincent Lai of Fixers Collective to discuss their respective work."
And then on Thursday, Atlanta-based Chicago friend Meredith Kooi reported on TRITRANGLE's "No Media" project:
"NO MEDIA happened March 16, 2013 at TRITRIANGLE, the art space that formerly held Enemy Sound, in Chicago, IL. Developed out of a GLI.TC/H Working Group, the first NO MEDIA happened at GLI.TC/H 2112 on Friday, December 7, 2012 at TRITRIANGLE. Described in the schedule as "Proposed by Jason Soliday on the Working Groups: NO_MEDIA is a performance framework that goes from zero to zero! Participating performers will start with blank slates, build sets from scratch. No preparation allowed. Zeroed out knobs. No strings on your guitar. No presets. Everything done in realtime from beginning to end. Everything that happens exists only in and during the performance :: "Raw Real Time." After ~ 10 minutes you will delete all assets. It happens … and … then it's gone …"

"On March 16, 2013, I participated in it, but that's the only detail of the night I'll give. For, there is no documentation allowed. After the event, I sat down with [dis]organizers Jason Soliday, Nick Briz, and Jeff Kolar via electronic-mail. I wanted to ask them: Why a NO MEDIA new media performance event? What is considered documentation? What does it all mean??

And then, here I am, writing for the "media" about NO MEDIA." (more)
TOP 5 WEEKEND PICKS !! (whoop-whoop) posted by the ever magnanimous vet of culture and distinction, Stephanie Burke.
& last but not least, a little something by yours truly about Harmony Korine's SPRING BREAKERS.
As we close on spring break in earnest, I'm going to leave you with a little something from Miami Connection, that B movie I told you about — I failed to mention that the band of Tai Kwan Do Orphans also moonlights in a super-posi(tive) band called DRAGON SOUND. While playing music for a crowd, they also practice their martial arts. This one goes out to you, dear readers, from the bottom of my heart.
---