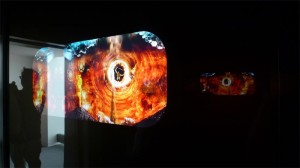 I wanted to post about Marco Brambilla's elevator installation at The Standard hotel in NYC a couple of weeks ago, but all the YouTube links looked super-crappy and stuttery on my relatively old iBook G4. A few days ago Lynn Becker of ArchitectureChicago Plus posted a link to Motionographer, which has a large-scale, gorgeous, smooth-running version of the video on its site. So on the off chance some of you might not have seen Becker's post (or visited her fantastic blog, which is a daily read for me), I'm posting the link again here (it can't be embedded, so click on the Motionographer link above).
Brambilla's installation consists of footage sampled from hundreds of mainstream and avant-garde films and assembled into a vertical photomontage representing a journey through Hell, Purgatory and Heaven viewed while hotel guests travel up and down the elevator. Read more about it, and see the piece itself, on the Motionographer website. It's pretty incredible.
Thanks again ArchitectureChicago!
---