Graffiti Artist Banksy who has been making the rounds throughout US cities recently (Los Angeles, Park City for Sundance, Chicago and Toronto) created a work in Detroit which has created a larger debate on the role of public art and its relationship to longevity, location & ownership. In short (and more can be read in depth at The Detroit Free Press) the work was created on one of the walls of the partially demolished Packard Plant in Detroit.
The stenciled work which shows a determined boy holding a red paint can next to the words "I remember when all this was trees" was discovered over the weekend of May 8th and by the 11th the 7′ x 8′ 1,500 pound cinder block wall was excavated by artist from the 555 Nonprofit Gallery & Studios to their grounds near the Ambassador Bridge in Southwest Detroit.
This has caused a stir in Detroit to an extent since it raises the question of did the gallery have either a legal or moral right to remove and relocate the work. What is the role of the work. Is it better to have it remain location specific in the old Packard Plant and risk/enjoy destruction or is it better off in care of some group who would put it on public display. Can that group make a profit on it & first of all can that group legally remove the cinder block material and claim ownership.
Many of these questions have either already legally defined answers that the art world might or might not like (regardless of it's state the Packard Plant is owned by someone) and other questions as to the role of Banksy's work in relation to the public are ripe for individual agenda. Regardless each of the questions are very good and lead to a greater debate as to how do we interact and relate to Graffiti Art which is not going away and is getting more refined and focused in it's execution and voice.
It would be wonderful to hear from Banksy himself as to why he felt that location was optimal for the work and who he expected to see it there. Does he plan to coordinate in the future with galleries when the ownership of the work is in doubt and can easily be claimed? Does he prefer that his work have a limited shelf life or be location specific so as to have a greater contextual impact. I doubt we will hear either way but I am sure regardless of what happens he is loving the energy it has created & there is more to this story to be told.
---
Bad at Sports has realized that society is doomed and is now accepting applications for it's Ayn Randian compound in the mountains where we will build a new society cleansed of the truly icky.
This week, the Art-School Grad Student who's sleeping around: 26, female, Upper East Side, straight, single.
1:50 a.m.: Making out with Tattoo Guy. Have bad spins. Tell him I need water and to sober up before hooking up again. He gives me a line of his own stuff.
10 a.m.: Know this is going to be one hell of week as feeling in love with Tattoo Guy, and now super-depressed. Make appointment with school shrink.
11:30 p.m.: In bathroom, I notice prescription bottle. Shouldn't look, but who wouldn't? Suddenly sick-feeling. Valtrex. Shit. Could I have contracted from five-minute intercourse with condom?
---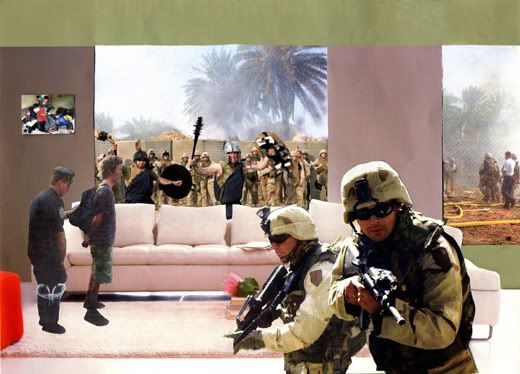 Art Fag City has just broke the news that The Chelsea Art Museum has cancelled their show The Aesthetics of Terror. According to the site, artists were informed yesterday of Dorothea Kesser's decision stating that she felt the show "glorified terrorism and showed disrespect for its victims."
Here is the roster of who was going to participate:
Josh Azzarella
Daniel Bejar
William Betts
Blue Noses
Jake + Dinos Chapman
Zoya Cherkassky
Jeanette Doyle
Harun Farocki
Coco Fusco
Johan Grimonprez
Kent Henrickssen
Jenny Holzer
Fransje Killaars
Jon Kessler
Yitzik Livneh
Naeem Mohaiemen
Claude Moller
Richard Mosse
Yves Netzhammer
Miguel Palma
Cristi Pogacean
David Reeb
Roee Rosen
Martha Rosler
Stephan Shanabrook
Ivana Spinelli
Avdey Ter-Oganyan
Jan Tichy
Sharif Waked
Catherine Yass
---
Pope Benedict took the time this week to focus on one of the worlds largest menaces to civilized culture and faith, Martin Kippenberger's Zuerst die Füsse.
The Green Frog measuring 4 ft. in height who is holding a mug of beer in one hand and a egg in the other while being crucified has been a thorn in the side of of the Church for over a decade. John Paul may have turned a blind eye to it's existence at the Museion museum in the city of Bolzano but Benedict has had enough.
It is such an egregious work that Franz Pahl, the president of the regional government, being so enraged by the sculpture he went on hunger strike to demand its removal and consequently ended up in hospital during the summer.
"Surely this is not a work of art but a blasphemy and a disgusting piece of trash that upsets many people," he told Reuters before the start of the board meeting.
In a letter of support for Pahl, the Vatican said the sculpture "wounds the religious sentiments of so many people who see in the cross the symbol of God's love".
Pope Benedict has set his sights on eliminating kitsch filled religiously sarcastic art, sexual abuse scandals and world genocide……… In that order and I applaud his steadfast dedication to this struggle and thank him from protecting me and others from religious work such as this and the "Where's Waldo/Jesus" series, that really gets my mind a questioning.
---

An uproar has grown over the inclusion of British artist Marcus Harvey's massive portrait of child killer Myra Hindley in London's promotional video showcasing well-known London landmarks.
The painting which was created using the handprints of children to recreate the portrait of the nationally reviled killer who died in prison in 2002, was exhibited at London's Royal Academy of Art in 1997.
Visit London used the image as part of a montoge to promote London and it's landmarks of industry, nature & culture.and was played on a loop at a private party in Beijing attended by British politicians, 2012 Olympic officials and British athletes.
Also it was the backdrop of British Prime Minister Gordon Brown and London Mayor Boris Johnson's speech they gave during the party that was transmitted back to the UK.
Visit London defended the video as "a general, three-minute video of London in which an artwork by Marcus Harvey very fleetingly appears."
---