by Jen Delos Reyes
Two countries. Five conferences. Seven years. 14 partnerships. Over 700 presenters. Over 1600 attendees. Since the first Open Engagement conference in 2007 this event has become a key meeting point for people interested in socially engaged art. Open Engagement: Art After Aesthetic Distance began as a hybrid project that used a conference on socially engaged art practices as its foundation and incorporated elements including workshops, exhibitions, residencies, pedagogy, curatorial practice and collaboration. I wanted to foster a different kind of conference—one that worked in the way I wanted to see it work: with a sense of togetherness, putting emerging and established voices side by side, highlighting different ways of knowing and learning, and serving as a site of production, as well as reflection. I wanted to contribute to the discourse on socially engaged art in a meaningful way. When Open Engagement began it was a student project. I was a graduate student. The conversations that I wanted to engage in were not happening at my school in Saskatchewan, so I decided to create the situation that would allow for me to have these discussions with people doing similar work. Open Engagement was the basis of my education, and now is a major foundation of my work as an educator.
This year as in most years my experience of Open Engagement happens mostly in the lead up—in conversations with students to determine the themes of exploration for the year, in the selection of keynote presenters, in the scheduling, planning, writing, partnerships, and all things organizing. In the day to day of the event itself I get to attend very few sessions, usually only the opening and closing sessions, keynote events, and a hand full of other projects and for a limited amount of time. My time during Open Engagement is mostly spent assisting and making sure things are running smoothly. But in that way of moving through the conference I intersect with people all throughout the day that I ask what they have attended, and what their thoughts are on the experience at the conference so far. This idea of needing to talk to others to fully experience the conference is intentional. Because of the parallel programming no one person can take in all of the projects and sessions that form the event on their own. We need to work together, and see from multiple perspectives to get a full sense of the field.
In 2010 at Open Engagement Pablo Helguera said that he had always heard that a conference is meaningful in as much as it generated new questions to follow up. If you didn't find new questions then maybe it was not successful. I had a similar feeling about conferences, and it had been one of the ways I was measuring outcomes. The conference begins with a series of calls and questions, and throughout the course of the event and the conversations there are undoubtedly more that are generated. At OE 2013 we were making a concerted effort to capture that questioning throughout the weekend, and on Sunday before Tom Finkelpearl's keynote talk were reminded by Michelle Swineheart of one of Sister Corita's "quantity assignments" of generating 100 questions when embarking on intensive work and research. With this in mind, as well as earlier feedback from the day at a session between the Creative Time summit and OE where I heard from many participants that they wanted to work together to generate something during the conference and that in general there was a desire for sessions that allowed for formats other than being talked at, I decided that the final event would be an opportunity for just that.
For the closing event of Open Engagement 2013 instead of having a panel discussion between only keynotes and curatorial representatives we instead set out to collect 100 questions generated by the group assembled to further get a sense of what is emerging, what people are thinking, and where this conversation is going. The Sister Corita assignment felt fitting for a group of presumably invested individuals, who wish to continue to be involved in research and practice, to take this on together. It was a hope that as we would move out into the world after the conference that we could then reflect on this list of the questions we are currently asking ourselves about socially engaged art. The format was that each of our six panelists joined one of six seated groups that each had about 40 chairs (based on past years we were planning for between 200-300 people at the final panel), and we then had about 35 minutes to work together and for each group to write 17 questions and then we reconvened and the panelists shared the group work. After the instructions were given, at least 20% of the assembled group left instead of joining the break out groups. As I stood at the front of the room watching people choose to stream out, I wondered if I had made a mistake. The people that remained formed groups and were led in discussions to generate questions. There was one group in particular that voiced resentment, yet not enough resentment for them to have just left. This all came out in sharing of the questions at the end of the session. After many weeks I heard from someone who was part of that dissenting group how difficult it was to contribute questions, to have a discussion, and to feel like they could share. Days after the conference I heard some thoughts from Michael Rakowitz (who was the person facilitating that group) on the conference and the final event in general and he said, "You created a space for people to get upset, and that opens up possibilities for things that haven't been done yet." While I had no doubt that we had created a place for people to get upset I wondered what else the space was a possibility for. I thought of other conferences and their goals, Suzanne Lacy's City Sites: Artists and Urban Strategies (1989), and Mapping the Terrain: New Genre Public Art (1991), the Creative Time summits that began in 2009, and the more recent Homework conferences organized by Broken City Lab. Lacey was trying to create a space to develop language for socially engaged art that went beyond the limitations of forms like performance and conceptual art, and with the latter intended that the activities of Mapping the Terrain would come together as a publication. The most simple way to describe the Creative Time efforts is an attempt to become the TED talks for socially engaged contemporary art. The latest incarnation of the Homework conference takes a similar approach to Mapping the Terrain with a end goal of a collectively generated publication, and a similar format to Open Engagement with three keynote presenters and framing devices.
My last memory of Open Engagement took place at Boxxes, the club that hosted the wrap party for the conference. I showed up after a late dinner and took a seat behind the DJ booth where Paul Ramirez Jonas was virtually spinning tunes for the party. I was approached by a woman I met earlier in the day who is a funder at an arts organization dedicated to supporting socially engaged art. I found myself captive behind the DJ booth during a moment of celebration hearing out her frustrations with the conference. The parts of her dialogue that rang out the loudest in my mind were, "I am not here to learn with you, I am not here to generate your content." I nodded throughout, and thanked her for so openly sharing her criticisms. I meant it. I still do.
This encounter made me think of who was present Open Engagement, and what they expected, and how at least for this person how much of a radical departure it was from what I thought people were there for. I revisited some writing from 2007 that I had done after the conference:
What does it mean to be open? What does it mean to be engaged? What if one were to be both open and engaged simultaneously? Openness is honesty, generosity, a sense of possibility, freedom, free of boundaries and restrictions. To be engaged is a promise. It is a commitment, an obligation. It is also a sense of involvement and participation. To have an "open engagement" implies a commitment that is potentially limited or short lived. But what if the two terms once united could keep their respective definitions making openly engaged a term that would embody an obligation to honesty, sharing and possibility? 
It happened, we did create a place of possibility, a place for honesty and sharing, one where many boundaries and expectations were crossed and left behind. What should Open Engagement be? Who should it be for? How can we adequately capture what is generated? Over the last few days I have been thinking about the possibility of an online community archive for Open Engagement that would be a collective effort that would be open for all to share their documentation, writing, thinking, and stories related to the conference.
I had always seen Open Engagement as a site of learning. In an online video conference with Ren Morrison from the Atlantic Center for the Arts weeks following the conference he off handedly referred to Open Engagement as being his "education". The conference has for the past four years been a site of convening for many of the MFA programs with a focus on publicly/socially engaged art. The fact that this conference is so embedded in the structure of an MFA program makes the very nature of it educational, as well as the fact that even the very beginning was in an educational framework. In my mind we were all working together, learning together, and teaching one another. How we organize this conference collaboratively echoes the spirit of our program and our approach to learning. An education in our program is emergent, unorthodox, and at times unruly. This translates into Open Engagement feeling slightly unkempt, and in flux. And while this might be a point of criticism for some, I would not trade this instability for rigid professionalism or a set structure. It is important that we remain open to this conference and this conversation shifting and developing in unexpected ways. It is also important that we remain open to the realization that this may no longer be a site that is necessary, or that it might need to take a completely new form and possibly a new grounding. I hope that whatever becomes of it, that Open Engagement can be a site to work together, learn together and see what we are contributing to the field of socially engaged art from multiple perspectives. I am open to whatever comes next.
Jen Delos Reyes-Â Assistant Professor, MFA Art and Social Practice Program Chair

Jen Delos Reyes is an artist originally from Winnipeg, MB, Canada. Her research interests include the history of socially engaged art, group work, band dynamics, folk music, and artists' social roles. She has exhibited works across North America and Europe, and has contributed writing to various catalogues and institutional publications. She has received numerous grants and awards including a Social Sciences and Humanities Research Council of Canada Grant. Jen is the founder and director of Open Engagement, a conference on socially engaged art practice and herself speaks widely on Art and Social Practice at conferences and institutions around the world. She is currently an Assistant Professor at Portland State University where she teaches in the Art and Social Practice MFA program.
---
Of the many adventures that I had at Open Engagement, I enjoyed an evening at the Portland Art Museum. Their annual program, "Shine A Light," came together in conjunction with PSU's Social Practice MFA, in an effort to "ask visitors to reconsider what is possible in a museum." It featured a number of MFA artist's works including a reenactment of a lost Grateful Dead concert ("Turn on Your Lovelight" by Travis Neel), a dental trailer offering free dental work to visitors ("Dentistry at the Museum" by Zachary Gough), a booth in the basement where viewers were encouraged to record stories of objectified objects and being objectified ("Objectification Stories" by Erica Thomas and Heather Donahue), an invitation to commune with dead artists via mediums from Portland's own Psychic Siamese Terror through select works of art ("The Dead Artists Salon" by Alysha Shaw) and much much more. (full program here) At every turn through the museum that night, you could feel the institutional context in a concentrated experiment in flexibility. It felt like a kind of earnest game, one in which visitors were simultaneously challenged to revise and open up their own expectations. It was a glorious mayhem. Outside, between the museum's two buildings, people of all ages danced expressively. A beer truck stood across from an artisanal pizza tent, as the torches to PAM's second entrance (what was a Masonic temple in a former life) bloomed brightly in the coming dusk. Artisanal popcorn was also for sale. In the midst of this, I ran into Dillon de Give, another Social Practice MFA presenting work. His project, 4-6 Dogs in the Museum furthers the desire to flex the museum structure, except in de Give's case, he tried to apply that flexibility to non-humans.
Caroline Picard: Can you talk about where 4-6 Dogs Allowed in the Museum originated as an idea for you?
Dillon de Give: The project originated as an off-handed comment I made in a brainstorming session. I wrote down something like, "allow dogs into the museum, have some sort of plan for when they poop". I didn't think about it very much at the time, but then for some reason it kept coming back into my head.
I've been interested in the power relations present in our dealings with animals for a while. Dogs are the most common "other half" of a public human-animal relationship — especially in the city. They are the animals that people walk side-by-side with, and many see dogs as family members. At the same time they are a point of mystery, like art.
That relationship was the subject of the work, but the process of examining the subject by partnering with an art institution was also important to developing the idea. I entered into these dealings being identified as a student, as much as an artist. And as such, the strength of my position as a negotiator was recognized, but somewhat limited.
The initial proposal was to open the doors of the museum carte blanche to dogs during Shine A Light, the one night event that "asks visitors to reconsider what is possible in a museum." An official mechanism by which to allow dogs into the museum was attractive to me, because it involved a conversation around breaking a taboo. Admitting a new kind of life into the institution, proved to be fairly complicated. Have you ever tried to bring an apple into another country? It can get you into a lot of trouble. Yet I knew it was not out of the realm of possibility, because the museum was legally bound to admit service dogs.
The initial proposal also stated that any difficulties, negotiations, and ad hoc measures of control necessary to execute the idea (which at that time called Dogs Allowed in the Museum) would be considered part of the work. I didn't know how much resistance the idea would actually meet with (a lot) but including this provision allowed it to move forward. The project changed many times, and almost died. At one point we were discussing a version called A Dog Allowed in the Museum. I had to let go of the initial proposal for universal dog entry. But it was important to me that the dogs that participated be "non-working" dogs, and we held onto that.
CP: I feel like this piece attempts to open up the field of social practice outside the human sphere of experience. That effort could have interesting ramifications, for instance, what does inter-species social practice look like? Are you interested in that question? Do you have ideas about what it could lead to?
DDG: I love that phrase "inter-species social practice." But I guess I would be a bit more conservative in my response. I've observed that dogs in public are always serving as mediators between humans. There's a dog park across the street from my apartment and everyone seems to know each other! I live right there and I don't know any of these people because I don't own a dog. I am interested in other species as a conceptual complement to existing human-based social practices. I think that when we are talking about a given social practice we are implicitly making assumptions of what human-ness is, so having some idea of a non-human present in the discourse is, in a way, almost necessary. Why are cat videos so immensely popular with human viewers on youtube? On the other hand, imagining something like sociality existing between humans and other species is difficult to do in the present, because of our seemingly absolute need to monopolize the environment. In most cases it's just not really a fair playing field where a balanced relationship that you might call "social" could pan out. But maybe in the distant future…
CP: What was it like talking to dog owners in the dog park about this project? 
DDG:Â Interestingly, during the initial stages of the project it was as hard to convince dog owners on the merit of allowing dogs into the museum, as it was to convince the museum itself. Most dogs are really not interested in spending time in a foreign indoor environment. When I determined that the goal would be to have the owner choose a particular artwork as a hypothesis about what the dog would appreciate, then the conversation became easier. I had a simple, but precise interaction that I would use to engage people. The actual dog park was not the most productive place to approach owners. Sometimes people would be weirded out and walk away, but the people who decided to participate saw value in the idea of having their animal enter into a context of art-meaning.
CP: What do you think the dogs saw when engaging select works of art? Do you think their owners chose works of art that their dogs would like? Did the owners' selection have more to do with their dog's disposition, or with their sense of 'dogness'? 
DDG: Each dog was given a "personal" moment with the work, and we would all watch the dog to see what they would do. I don't think they saw anything special. Maybe they did, but we have no way of knowing. They acknowledged the art objects spatially. They looked at them. They sniffed them. I think the owners that participated knew their dogs well, and in most cases took into consideration their particular dog's point-of-view in the choice of artwork. Most objects were near the ground, often three dimensional, and often made of natural materials. One was a sculptural representation of another animal. There was one low-hanging painting that was chosen because it depicted a beach that the owners and dog visited on vacation. One of the owners, Lis, chose Useful Art #5: The Western Motel by Nancy and Edward Kienholz, which basically recreates a kind of domestic environment. I do think that the dogs had a sense of accomplishment in navigating a new environment without too many incidents.
CP: How did the museum context, as a human institution, respond to a living, non-human presence? 
DDG:Â It was a very controlled experience. Members of security, collections, and education needed to be present. It was stipulated that the visits happen after museum hours, in brief 20-minute segments, one dog at a time. A dog trainer also accompanied the group to provide a level of assurance. The first visit was quite tense, by the final visit, it was more relaxed because we knew what all of our roles were and had a better sense of the choreography involved.
---
A graphic, editorial overview of art, artists, and visual art events, found in and around Chicago over the course of the preceding month. All artwork copyright original artists; all photography copyright Paul Germanos.
Daniel Shea @ Gallery 400
Above: Daniel Shea with his photography in Gallery 400, as seen on April 13, 2013, at the closing of UIC's third MFA exhibition.
"A Spectre Is Haunting"
2013 UIC Art MFA Thesis Exhibition 3
April 9 – April 13, 2013
Gallery 400
College of Architecture and the Arts
University of Illinois at Chicago
400 S. Peoria St.
Chicago, IL 60607
Artwork by Liliana Angulo Cortés, Ian Curry, Daniel Shea, and Daniel Tucker
http://www.danielpshea.com/
Jennifer Mills @ Chicago Artists Coalition
Above: Jennifer Mills (right) with collaborator Christopher Ottinger (left) in Mills' CAC/Bolt installation "101 one-liners; Falling Flat," on March 30, 2013.
Jennifer Mills
"101 one-liners; Falling Flat"
March 15 – April 2, 2013
BOLT Residency
Chicago Artists' Coalition
217 N. Carpenter St.
Chicago, IL 60607
http://jennifermills.org/home.html
Picasso @ Daley Plaza
Above: 2013 promotional "P-I-C-A-S-S-O" installation by Chicago Scenic Studios, foreground; 1967 Picasso sculpture, background.
Daley Plaza
Washington between Dearborn and Clark
Chicago, IL
http://www.chicagoscenic.com/
"Picasso and Chicago"
February 20 – May 12, 2013
Art Institute of Chicago
111 S. Michigan Ave.
Chicago, IL
http://www.artic.edu/
John Neff @ The Renaissance Society
Above: A 30-second exposure indicating spectator movement within Neff's installation.
Above: A talk with the artist (John Neff at left, Hamza Walker at right) at 5:00PM, on March 3, 2013, in Kent Hall, Room 107, University of Chicago campus.
Above: Following the artist's talk, Molly Zuckerman-Hartung (far right) raises a question.
John Neff
March 3 – April 14, 2013
The Renaissance Society
5811 S. Ellis Avenue
Bergman Gallery, Cobb Hall 418
Chicago, Illinois 60637
http://www.renaissancesociety.org/site/
Christopher Ottinger @ Chicago Artists' Coalition
Above: Christopher Ottinger, background, at the opening reception, his uncovered, kinetic light art seen rotating in the foreground.
Christopher Ottinger
"Ghost Machine"
April 12 – May 2, 2013
BOLT Residency
Chicago Artists' Coalition
217 N. Carpenter St.
Chicago, IL 60607
http://chicagoartistscoalition.org/
Lossless @ Chicago Artists' Coalition
Above: Matthew Schlagbaum's kinetic light installation visible within its smoked vitrine housing.
"Lossless"
April 12 – May 2, 2013
HATCH Projects Residency
Chicago Artists' Coalition
217 N. Carpenter St.
Chicago, IL 60607
Curated by MK Meador
Artwork by Jordan Martins, Matthew Schlagbaum and Theodore Darst
http://chicagoartistscoalition.org/
The Wail of Silence @ ROOMS Gallery
Above: Alex de Leon lifts her veil in "Ritual No. 4 – Toll of Eyes," a three-hour performance, 7:00-10:00 PM, March 8, 2013.
"The Wail of Silence"
March 8, 2013
ROOMS Gallery
1835 S. Halsted
Chicago, IL
http://roomsgallery.com/
Psychosexual @ Andrew Rafacz
Above: "Psychosexual" curator Scott Hunter in the foreground, with artwork, left-to-right, by Nazafarin Lotfi, John Neff, and Peter Otto, visible in the background.
Above: Artwork by Peter Otto, Rachel Niffenegger, and Brenna Youngblood, seen left-to-right in Andrew Rafacz Gallery.
"Psychosexual"
April 6 – May 25, 2013
Andrew Rafacz Gallery
835 W. Washington Blvd.
Chicago IL 60607
Curated by Scott J. Hunter
Artwork by Lutz Bacher, Tom Burr, Edmund Chia, Matthias Dornfeld, Jayson Keeling, Jutta Koether, Nazafarin Lotfi, Jeffry Mitchell, John Neff, Rachel Niffenegger, Peter Otto, Kirsten Stoltmann, and Brenna Youngblood
http://www.andrewrafacz.com/
Lauren Edwards & Kera MacKenzie @ ACRE Projects
Above: Lauren Edwards and Kera MacKenzie, participants in UIC's first MFA exhibition of 2013, seen within their subsequent show at ACRE Projects' home site in Pilsen.
Lauren Edwards & Kera MacKenzie
"Burden of Proof"
April 14 – 28, 2013
ACRE Projects
1913 W. 17th St.
Chicago, IL 60608
http://www.acreresidency.org/
Michael Ian Larsen @ PEREGRINEPROGRAM
Michael Ian Larsen
"The Tree, the Gift, and the Amphibian"
March 10 – April 7, 2013
PEREGRINEPROGRAM
3311 W. Carroll Avenue, #119
Chicago, IL 60624
http://www.peregrineprogram.com/
Tina Tahir @ Gallery 400
Above: Tina Tahir at her closing reception with the installation "41.876503,-87.649666," an ornamental 'rug' made of ash and magnetite mineral, whose title provides its GPS co-ordinates. Intentionally made available to foot traffic throughout the course of the exhibition, said piece is shown disturbed from its original state.
"A strange house in my voice."
2013 UIC Art MFA Thesis Exhibition 2
April 2 – April 6, 2013
Gallery 400
College of Architecture and the Arts
University of Illinois at Chicago
400 S. Peoria St.
Chicago, IL 60607
Artwork by Cameron Gibson, Ben Murray, and Tina Tahir
http://www.tinatahir.com/
Laura Wennstrom @ The Peanut Gallery
Above: Gallery patron interacts with Wennstrom's "Block City" during the opening reception; cameras hang ready to document the action.
"Artificial Turf"
University of Illinois Urbana-Champaign MFA group exhibition
March 15 – April 9, 2013
The Peanut Gallery
1000 N. California Ave.
Chicago, IL
http://artgraduatestudentorganization.wordpress.com/
Jesse Butcher & Anthony Romero @ Happy Collaborationists / ACRE Projects
Jesse Butcher & Anthony Romero
"Cyclical, Circular. Like Vultures."
April 6 – 27, 2013
Happy Collaborationists, in partnership with ACRE Residency
1254 N Noble
Chicago IL, 60642
http://happycollaborationists.com/
Michael Robinson @ Carrie Secrist
Michael Robinson
"Circle Spectre Paper Flame"
April 6 – May 11, 2013
Carrie Secrist Gallery
835 W. Washington Blvd.
Chicago, IL 60607
http://www.secristgallery.com/
Co-Prosperity School
Above: A Co-Prosperity School student's presentation on March 18, 2013.
The Co-Prosperity Sphere
3219-21 S. Morgan St.
Chicago IL, 60608
http://coprosperity.org/co-prosperity-school/
Autumn Space Benefit Auction
Autumn Space Benefit Auction
March 10, 2013
1700 W. Irving Park #207
Chicago, IL
http://autumnspace.com/
Deb Sokolow @ Western Exhibitions
Deb Sokolow
March 15 – April 20, 2103
Western Exhibitions
845 W. Washington Blvd.
Chicago, IL 60607
http://www.westernexhibitions.com/index.html
Diegesis @ Logan Center
Above: "The Index for an Encylopedia" by Daniel Rosen
Above: "Smell.RB.MFA 2013" by Maymay Jumsai
"Diegesis"
University of Chicago MFA Show 1
April 5 – 14, 2013
Logan Center Gallery
915 E. 60th St.
Chicago, IL 60637
http://arts.uchicago.edu/
Christopher Meerdo @ Document
Christopher Meerdo
"Anthology"
March 15 – April 20, 2013
Document
845 W. Washington Blvd. Suite 3f
Chicago IL 60607
http://christophermeerdo.com/
Juneer Kibria @ The Sub-Mission
Above: Juneer Kibria in his installation, opening night.
Juneer Kibria
"Hidden Noise"
March 8 – April 20, 2013
The Mission (The Sub-Mission)
1431 W. Chicago Ave.
Chicago, IL 60642
http://themissionprojects.com/
Rebecca Beachy @ Iceberg Projects
Above: An audience member views "Warm (bed)" through a rectangular aperture just above the floor; 109 dozen factory-farmed eggs, ground, lit by heat lamps, lie within the piece.
Above: Iceberg Projects proprietor Dan Berger within the gallery space on June 23, 2012
"The Bearer"
March 10 -April 1, 2013
Iceberg Projects
7714 N. Sheridan Road
Chicago, IL 60626
Artwork by Rebecca Beachy and Walker Blackwell
http://icebergchicago.com/home.html
Lisa Walcott @ threewalls
Lisa Walcott
"Pretty Good Shape"
Artists in Research – Residency
(Closed on March 21, 2013)
threewalls
119 N. Peoria #2c
Chicago, IL
http://www.three-walls.org/
---
Paul Germanos: Born November 30, 1967, Cook County, Illinois. Immigrant grandparents, NYC. High school cross country numerals and track letter. Certified by the State of Illinois as a peace officer. Licensed by the City of Chicago as a taxi driver. Attended the School of the Art Institute 1987-1989. Studied the history of political philosophy with the students of Leo Strauss from 2000-2005. Phi Theta Kappa and Phi Kappa Phi. Motorcyclist.
---
It's the time of year when, as the frost giants finally abdicate their annual reign over Chicago, applicants the world over are getting their responses from Master of Fine Arts graduate programs.  Since mid-February they've been braving the slings and arrows of "We are sorry to inform you," "It is with regret," and "We wish you every success," occasionally tempered with the cold comfort of some statistic or mention of the unexpected number of applicants and their impressive collective quality.  Some are still dangling, hanging to the desperate hope of a waiting list.  Many, though, have been receiving their notifications of acceptance, and with those come choices, sometimes difficult.  At least three people I know personally are in this situation this year, and it got me to reminiscing, second-guessing, and Monday-morning quarterbacking the choices I made in my education, and also thinking about the choices facing my friends.
Some applicants are accepted only into a single program, at which point the decision pretty much makes itself, especially if that program was one of the applicant's top choices.  In other cases, if accepted by a "safety," the choice is between accepting admission into a program that wasn't one's first, second, or even third choice, or licking one's wounds, getting back to work, and applying again the next year, in hopes of getting into a more competitive program.
I actually found myself in this situation ten years ago, in 2003, just after graduating from my undergraduate program at Humboldt State University (my degree was conferred in December 2002).  I had applied, rather casually, to a few graduate schools, not really taking the process particularly seriously.  Mass Art, Pratt, RISD, and Tulane University all wisely concluded that I wasn't quite ready, while SAIC informed me that yes, their application deadline was a firm one, and that I'd have to apply again next year.
After receiving all this bad news, I finally received an offer of admission from the University of New Orleans.  I had applied to UNO, along with Tulane, primarily out of an interest in its role in the Gothic subculture; even as late as 2003, I was thinking it'd be a good place to meet girls in black lipstick.  I had visited New Orleans on a road trip with a friend in summer 2001, and it seemed like an interesting place:  I found a porcelain doll's arm and some fragments of what I'm pretty sure were human bone in the topsoil of a cemetery, and at the New Orleans Art Museum I saw Odd Nerdrum's "Five Persons Around A Waterhole," which let me tell you, when I was 21, seemed to me to be the paragon of contemporary art.  I know, I know.
So I had applied out of a sort of schoolboy's crush on the city, and I'd been accepted.  By that time, though, the end of March, I'd had a sort of awakening, and had realized that despite having just received my degree, I still had a lot to learn about the actual techniques of painting.  My interest was in figurative representation, but I had been pushed away from it by my instructors and classmates, probably in large part because I wasn't very good at it.  Instead, I had been making paintings that were a sort of workaround, essentially drawings on toned canvas, and these were pretty well received.  My classmates and faculty were supportive, I showed some in local coffee shops and restaurants, even sold a few (albeit at undergrad-in-a-small-town-coffee-shop prices).  But ultimately I knew the work was shit.  Or, at least, I thought I did; in hindsight, it might have actually been an interesting direction to go in, but it wasn't what I wanted to be doing.  At any rate, by the time the schools I'd heard were good had all rejected me, and UNO had accepted me, I had decided that the work I'd applied with was terrible, and concluded that I "wouldn't want to belong to a club that would have someone like me as a member."
The point of all this masturbatory, navel-gazing, canker sore-licking reminiscence is that whatever choice you make, you'll have the rest of your life to second-guess it.  And, if you're anything like me, you will.  If I'd accepted that offer of admission, I would have moved to New Orleans in summer of 2003, having just started a series of large self-portraits dressed up as other people (friends, famous artists, and artist stereotypes), which was kind of clever and funny in an undergrad sort of way.  A military saying is "No plan survives contact with the enemy," and how this body of work would have gone over at UNO's grad program will remain forever unknown.  Would I have been pushed in a more interesting direction with it?  Encouraged?  Sidetracked?  Challenged?  Coddled?  There's no way to know, but thus relocated, my influences and peers all rearranged, it's impossible to imagine that I would have gone on to make the same work as I ended up making after deciding to decline their offer and spend another year working on my portfolio to reapply.
As it turned out, I didn't accept the offer, instead electing to spend another year working on what I thought of at the time as my first real body of work, that dozen or so self portraits.  I felt pretty good about them at the time, thought I had a decent shot at getting into a more competitive graduate program the following year.  I busted my ass, pulled some crazy all-nighters.  I was an animal.  I was a machine.  All summer, I worked.  Some friends and I, all in the same boat, spent Thanksgiving break in the painting studio; we knew how to shimmy across a roof and in through a window so we could paint even when campus was closed.  On Thanksgiving, three of us had a little potluck dinner, using the model stand as a table.  And then we got back to work.  I bought Rock Star (or was in Monster?) at Costco by the case.  December came, and with it, the deadlines.  I applied to nineteen schools.  I was rejected from every single one.
If I'd accepted that offer from UNO, I would have been finishing up my first year, instead of collecting a massive stack of rejection letters.  As it was, I started a new body of work, better than the last (I actually still like a few of those paintings), and tried again, and that third year was accepted into three of my top choices:  Mass Art, Cranbrook, and MICA.  They were all basically good programs, and I had to choose between them.  None had offered me a full fellowship, the proverbial "free ride" that MFA students sometimes get, which would have made the choice easier.  (Some programs are free for anyone who's accepted, but none of these three were.)  I had a friend at Cranbrook, which was tempting, but ultimately I decided that the Hoffberger School of Painting at MICA was the best fit for me, due to its director Grace Hartigan's emphasis on figurative representation.  I started at MICA in August of 2005.  A month later, Hurricane Katrina hit New Orleans, leaving me to wonder what would have happened to me if I'd gone to UNO.  Would I have found a teaching position in the area and been hit by the hurricane, or would I have found work elsewhere and dodged the bullet?  If I'd been affected, how? Would I have stubbornly refused to evacuate?  Might I even have been killed?  More likely, I would have survived, and it's almost impossible to conceive that I wouldn't have made work about it, but would it have been any good?
Like Maximus said in Gladiator:  "The choices we make in life echo in eternity."  The problem is that we can't always know how our choices will echo.  Whether or not the wingbeat of a butterfly can really effect weather systems a continent away, unexpected outcomes are certainly the rule rather than the exception.  So maybe, as you're mulling over your options for MFA programs, you should picture Jeff Goldbloom playing with droplets of water on the back of your hand, explaining that there is no way you can know what consequences your choice will have.
I never could have known that Hurricane Katrina was headed for the city I would have moved to if I'd accepted UNO's offer, nor could I have known that by staying in Humboldt for another two years, I would meet the woman who would become my wife.  There's a certain hippie, New Age kind of mindset that may be more prevalent on the West Coast than in Chicago, that the universe has some sort of plan, that everything happens for a reason, and looking in hindsight at some of these consequences leads some to say, "Well, see?  There you go!  It all worked out."  But of course, if it hadn't , something else would have worked out.  If I'd never met my wife, I would probably have met somebody else.  (Tim Minchin's got a great song about this.)  If I can draw any lesson from my experience, it's that the most important outcomes of any decision tend to be the ones you can't predict, and there's not a damned thing you can do about it anyway.
In the interests of concluding with something a little more actionable, I'll share two pieces of advice I received while looking at graduate programs.  The first was "Follow the money," that is, go to the school that will result in the least student loan debt.  This is great if you are offered a full scholarship to your top choice, or even one of your top choices.  But it's difficult if you're facing the choice between taking on a major debt load to attend a program that really feels right for you, versus getting a free ride at a school that feels slightly less right to you.  Add to this the fact that some programs (Northwestern, for example, and also UIUC I believe) are free for anyone accepted, and at others you can teach in exchange for a tuition waver and sometimes a stipend to live on.  It's a tough choice, not one I ever had to face, but one that some of my friends are facing right now.  One mitigating factor in favor of getting to the school that's best for you, debt be damned, is the Public Service Loan Forgiveness Program.  This says that, in effect, if you work full time for a non-profit public service institution for ten years, while making your scheduled student loan payments on time, at the end of that period they'll forgive the rest of your loan debt.  Considering that a.) a primary reason a lot of people pursue an MFA degree is in order to teach, and b.) that most colleges count, and that c.) you can make fairly low student loan payments on the income-based repayment plan, this means that you can go to the fancy MFA program, teach for ten years (if you can find the work, and that's a big "if"), make modest loan payments of as little as eighty bucks a month, and then you're free and clear.  This takes some of the hurt and fear out of going to a more costly school that might offer the kind of program you're looking for.
The other piece of advice I got, though, was that the most important aspect of graduate program was the city you'd be living in while attending.  It makes some sense; certainly we see players in Chicago's art scene who represent students and alumni from not just SAIC but also Columbia, UIUC, UIC, and more; attending graduate school in Chicago can be an entry point into Chicago's art scene regardless of which school one attends.  On the other hand, Yale's MFA program pretty obviously has influence outside New Haven, Connecticut.  Cranbrook is located in an almost monastic retreat in Bloomfield Hills, Michigan, not particularly close to Detroit or anywhere else, and yet its graduates show up, doing well, all over.
I only ended up in Chicago out of sheer, dumb luck.  I stuck around Humboldt for another year because I wanted to go to a school that was ranked highly by U.S. News and World Report, and then another because none of them would have me.  On a whim, I went to crash Freshman Orientation to pick up on freshman girls and scam free pizza.  Three years later, I married one of those girls, Stephanie Burke.  She's quick to point out that she was a transfer student, not a freshman, and also there for the free pizza.  After she spent a year with me in Baltimore while I finished up at MICA, she applied to her own round of MFA programs.  It was her first year applying, and she got into three excellent programs:  Virginia Commonwealth, MICA, and SAIC.  SAIC had been her top choice, and Baltimore hadn't really set any hooks into either of us compelling us to say, so we pulled up our stakes and headed for Chicago.  Five and a half years later, we're rocking and rolling in an incredibly vibrant art scene, and while it's hard for me to imagine doing so well anywhere else, the road that led here is one I couldn't see at all from where it started.
---
The first time I met Aay, he was was giving a presentation at Version Fest in 2007. Aay, Ilana Percher and Rebecca Grady had just returned from Art Shanty Projects on Medicine Lake, where they installed a soft shanty/sculpture called The Soft Shop. They reinstalled this portable, cloth shanty in the Version's basement, (where all the other art booths stood) and talked about their residency, hosting some of the same fiber workshops they had hosted in its original location in Minnesota. Since that first encounter I have benefited from Aay's collaborative work in multiple ways. I have been to Chances to dance-dance-dance, a short story of mine was published in an on-line magazine he organizes called Monsters & Dust. I went to No Coast and convinced Aay to make some covers for the Green Lantern Press. I point this out because his work has impacted a wide audience of which I am a part. He creates public, collaborative platforms while producing a concise, independent body of work. Despite having appreciated his work for so long, I have never taken the opportunity to ask him about how these projects relate to one another, and even how he thinks about his own practice. To me, this interview is suited to the beginning of summer. It's hot outside, the Critical Fierceness Grant is open again (until June 30th) for grant proposals, many artists and faculty alike are facing a new open schedule, and it's good to remember the alchemical mixture in aesthetics, politics, the body and imagination.
Caroline Picard: You've been in Chicago for a number of years and have continued to work with different organizations I was thinking as far back as Diamonds/Texas Ballroom for instance, No Coast of course and many others I was wondering if you could talk about your participation in those different organizations; how your role has varied? Do you feel like your participation in different communal structures has impacted your visual work?
Aay Preston-Myint: Well, Diamonds and Texas were two iterations/sections of the same artists collective in warehouse space in Bridgeport, back in the day. We all did our share of programming and running events, mostly art shows and music, and let's not forget parties. No Coast was a similar collective/consensus structure but centered around the concept and physical space of a bookstore, shared studio space, in addition to an open community workshop. When I look at these and other organizations I've been involved with (the online curatorial project Monsters and Dust, the experimental cultural center Mess Hall, and the microgrant/queer dance party called Chances), the difference is not so much in work or 'roles,' but the content of each project itself. These are ventures that have all been run by consensus to serve a specific audience or community. As such, roles can shift depending on interest, ability, and the needs of our contingents. I think the impact on my own work has been that I have a desire to engage, entertain, and encourage dialogue through my practice. I enjoy using color, a richness in materials, humor, mystery/seduction, and participation to engage the viewer. Creating a gravitational pull, drawing people into an active space that's what all the organizations I work with have done.
CP: Do you categorize different aspects of your art practice?
APM: In a way those divisions (solo work, collaborations, and design/commissions) are often a matter of convenience an easy way of categorizing, but the nature of the work is different too. I think my solo work has more of a clear narrative, using conceptual, material, and stylistic threads that weave in and out of the work. Collaborations of course deal with similar concepts and interests. However that work tends to take on forms, processes, or issues that I don't always deal with on my own because of the influence of my partners each collaboration tends to stand apart. The design work, while perhaps more aesthetically my own, is a whole other beast, often because it's not used in an art context, and also because the content is decided by the client and maybe even pushed to the background. I think each category exhibits a different kind of development over time, and it can be interesting to compare how they are disparate but also influence one another. From the subject matter of my solo work, to the clients I choose to design for: there are connections that become apparent when you zoom out.
CP: Will you talk a little bit about your relationship to materials?
APM: Responding to materials have always been a key part of my work. For a while, when I drew it was almost like I had an issue with attention span; I needed something to respond or anchor myself to, a fabric, wallpaper, a photograph I disliked drawing on a blank surfaces. Now it's more about responding to the social, historical, or affective associations with an object or material rope, a flag, hair, light, even scent. I think in a body of work like mine which is so about embodiment the choice of materials is really key when interpreting form.
CP: I'm also really curious about your Hybrid Moments Project can you talk about that a little?
APM: Hmm, yes as you can tell from the text banner series that I made a couple years ago, I like to use pop songs as titles and content sometimes. After I made the first series of screenprints, Hybrid Moments seemed to be the right phrase to contain my work at the time I think of the title more as a container than the name of a single "project." I think it still works for the prints and maybe some of the discrete/smaller sculptures, but not so much for the larger sculptures anymore. But in general, it's the body of work I'm engaged with now. The works make propositions of what mutating, unpredictable forms that community, identity, and the environment both built and natural may take on in an unspecified future moment all through the lens of a critical queerness.
CP: Do you have a static, projected future point that your work is speaking to? Or does that future-vision shift, depending on what your working on?
APM: The future I depict is definitely mutable and unpredictable, that's kind of the crux of my whole viewpoint. I think part of the criticality of my work is that our projections of the future never match up to what we imagine I use mutation as a metaphor or allegory for that unpredictability. As soon as one struggle is overcome, new power relations form in place of old ones. Often abuses and rivalries emerge instead of coalitions. The future I imagine is always out of reach.
CP: It makes me want to ask the same question about your lens. Is your lens of critical queerness also static? Do you apply that lens to the present as well? Or is it solely intended as a future-looking tool?
APM: Going off my last answer, the lens definitely applies to the present. Our current struggles are direct results of what we desire or imagine our future to be. I think the It Gets Worse series points to those connections/disconnections. Is marriage a queer issue? Or are supermax prisons and police states a queer issue? Both? Is one more urgent than the other? Why? The national discourse is really far behind with regard to what's actually being said, thought, and done in queer communities across class, race, and trans/gender lines. How can we make the definition of queer issues and following that, queer identity more fluid and open in order to more successfully meet the challenges of the future?
CP: And your SMILE series too that struck me, partly, because of the element of performance required. I was thinking about it because in Hybrid Moments you seem to be interested in gestures and the significance of those gestures, but then in that instance (am I right?) the resulting work is divorced from living people….
APM: That's a great question because I think over time those two projects have influenced each other in ways I hadn't anticipated and, at least in my mind, they aren't differentiated anymore. The first iteration of SMILE was, I think, the first iteration of my continuing and relatively "mature" body of work. However at that time it was still lacking a specific goal or agenda in terms of content, despite having established the visual style and material concerns. I started Hybrid Moments soon after this, and through those works I began to lock down the kinds of gestures, characters, and ideas I am interested in. Queerness, futurity, power relations, color theory/theories, toxicity and mutation to name a few. So when I did SMILE a second time (at SFCamerawork in September 2010), it became folded into what had become my practice. Some objects that were previously presented as sculptures became props for SMILE because all these works now inhabited the same world. I was delighted to see some of the situations in my drawings accidentally re-enacted in performance, and in turn, I've used the gestures and actions performed in SMILE to create new drawings (e.g. "Totem Ascending", which was included in this year's threewalls CSA). The SMILE performances have also helped me to rethink the concepts of figure, site, and the object/viewer relationship in my sculptural work.
CP: Can you talk more about how you experienced your practice coalescing? It's interesting to me, because it sounds so evident to your process like the way you differentiate a mature body of work and then that you talk about figuring out your material/stylistic concerns before realizing the ideas you were honing in on like, how did you discover queerness, futurity, power relations, color theory/theories, toxicity and mutation as a central series of threads?
APM: For me, this happens in two ways. I think the first was the development of a certain intuition, in conjunction with a recognizable imprint or style. When I work, I start with a specific idea, and I gather the materials I need to make the object real, but at a certain point in the execution it seems almost like alchemy, like spinning a solid substance out of air. The work begins to outpace my thought, which is a good thing. After a while, you make enough things and you can kind of sit back and look at what makes them all tick. Almost everything I was making had some connection with the body or a body-to-be (figure-based drawings, costumes, stages/arenas), and it made sense to go from there. Futurity and mutation bodies as agents of change, and subject to change. Power relations—how our physical bodies place us in a hierarchy arranged around gender, color, etc. Queerness is an embodiment of difference or otherness. There comes this juncture, this arrival, where you are able to say, this is it, this is what I'm talking about.
The second part has to do with the research elements of my practice looking, reading, writing. As I was working on my written thesis I was isolating these core concepts (embodiment, utopia, queerness, etc). The commonalities between the different works I make, and the works of others that I am influenced by. I started making lists, thought maps, and diagrams which would explode these concepts and then bring them back together in different configurations. With the encouragement of friends and teachers, these sketches and diagrams eventually became works in their own right.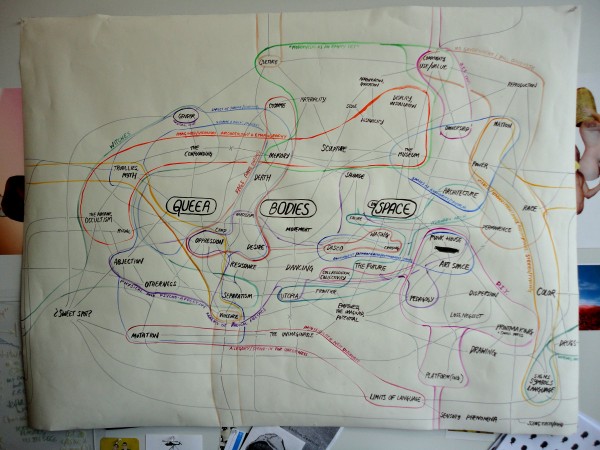 CP: Do you draw a connection between power relations and color theory? Like how certain colors will dominate others; there is an inborn, albeit relative hierarchy. Is your list of conceptual concerns similarly linked? Or do you see that list as a body of distinct, non-relating concepts?
APM: Oh yes, there is definitely a connection. However, in my research I don't talk so much about the optical domination of one color over the other, as much as looking at the social constructs and hierarchies around color. I'm interested in how colors carry associations with certain emotions, objects, situations, and even social and political movements and attitudes. I've been especially invested in mixed colors, day-glo colors, and pastel colors—my written thesis was titled "Who's Afraid of Pink, Purple and Brown?" in contrast to Barnett Newman's "Who's Afraid of Red, Yellow and Blue?" I've done an artist talk solely on the color pink. It's a pretty amazing color, not enough people take it seriously. Transgression, difference, queerness, sex, repulsion, obsession, fantasy….it's all there in that one color.
CP: How has the graduate school structure impacted your process?
APM: I think that grad school has been really invaluable to my process….until now I've never been able to totally commit myself to developing an artistic stance or worldview, and turn that into a cohesive body of work over time. I can really reflect on how one piece relates to the next, and engage in intense and productive critique from myself and others at a level previously unreached. As hinted at above, I've also been able to take advantage of scale and material in a way I hadn't had the time or financial backing to do before. I've been really fortunate to attend a program (UIC) that fosters community, improvisation, self-critique, and collaboration, due to its size, and in particular, the awesomeness and warmth of my cohort. In that way, it really hasn't been too much different than my DIY experiences. I think my class in particular has truly been like family.
CP: What are you working on right now?
APM: Interesting that you say that—well, the fact is, I've just graduated and am looking forward to a lot of travel this summer, and not really sure what kind of work awaits in the fall (residency? teaching? design? working at a bar? these are all options). This means that for the time being, I'm not going to have the large scale modes of production, storage, and display available to me during graduate school—so I unfortunately might have to put the brakes on the large sculptural work for now. It's strange how time, place, and life situations can have as much, if not more, impact on the work you do as your own concept/process. That said, I'm focusing on prints, drawings and the web at the moment things I can do at home and at my shared studio at Roxaboxen in Pilsen. Mostly developing the imagery in the Hybrid Moments prints and the It Gets Worse Series—my long-time No Coast collaborator Alex Valentine and I will be taking these and other print/book projects to the Tokyo Art Book fair in July. Also, I can finally put my nose to the grindstone on Monsters and Dust, which you yourself have also made an awesome contribution to. Our next issue is way overdue. But as soon as I get enough space I think I'd like to start working on a "living vomitorium" idea that has been at the back of my head for a while.
CP: How do you determine if a show with your work is successful?
APM: I guess there are a few ways. Of course people might just like the whole thing, which feels great, but I'm often excited when people respond to the work that I've had the most doubts about, or the piece that I almost didn't include. It reminds me to continue thinking outside of myself and to trust other people's input. If the work motivates people to ask challenging questions rather than just congratulate, that's great too. I also think a work is successful when people ask funny questions or give things names – "Is that a gloryhole?" or "I like this hair donut," or "This one is the great birth mother, right?" or "What's that smell?"
You can see more of Aay's work by visiting his website.
---