Audio clip: Adobe Flash Player (version 9 or above) is required to play this audio clip. Download the latest version here. You also need to have JavaScript enabled in your browser.
First, Duncan and Richard present a horribly off-track intro which consists largely of talk of herpes and sleeping around. Eventually they get around to discussing what is really important, this week's show!
Steve Litsios, an artist from La Chaux-de-Fonds in the French-speaking part of Switzerland, is interviewed this week by Mark Staff Brandl. Litsios is known for his vast paper installations, wall objects, smaller sculpture, and web-work, all of which are elegant, restrained, and yet puckish in their surprising flirtation with elements of garishness. His work has recently begun to incorporate political content into his formerly abstract approach. The artist also plays in several roots blues and skiffle bands.
Then, in the closing, Duncan calls out Joseph Mohan. Other wackiness ensues. Read more
---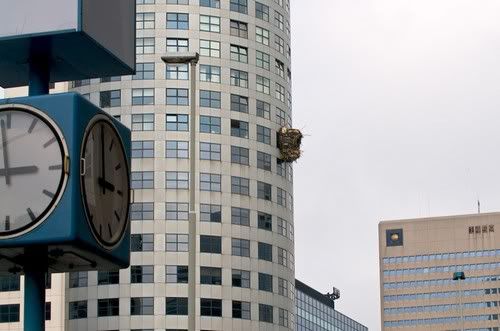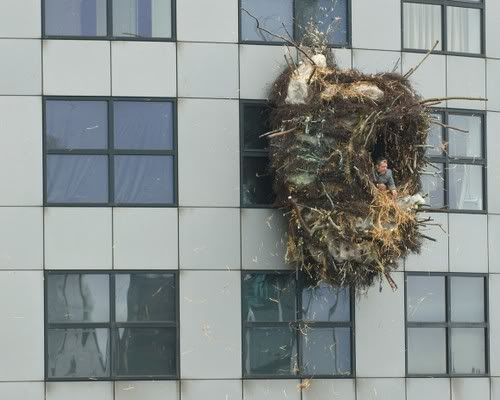 Artist Benjamin Verdonck is currently nesting on the Rotterdam Weena Tower. His performance "The Great Swallow" involves a nest, man, and a gaint egg.
Here's the YouTube video clip:
---
From the website of the artist Ranjit Bhatnagar:
"Simple automatic instruments are constructed from local materials and objects on site. The system learns the sounds it can make by trying out its instruments, and then uses its range of sounds to try to reproduce the rhythmic and melodic qualities of sounds such as the voices of visitors. It then loops and alters these imitative sequences into improvised compositions. (That last part's not done yet, so you won't see it in the video.)
In this example, the source audio is a bit of the soundtrack from the movie Citizen Kane, and the noisemakers are a set of found object percussion machines and an electromagnetically fretted electric guitar."
The tech is pretty basic and the conversion to music is largely straight forward but the presentation of the idea is pretty sharp. I would love to see how well the system works with a high noise to signal ratio. Can it only make "music" in a relatively quiet room of two people talking or can it eliminate some white noise to find the melody of a large conversation.
---