Stephanie Cristello published an interview with Richard Holland and Duncan MacKenzie on The Seen recently to talk about Bad at Sports' plans for EXPO, including the upcoming print publication Dana Bassett is spearheading and the various interviews we will be conducting on site at the fair. 

BAD AT SPORTS // INTERVIEW
Duncan MacKenzie and Richard Holland of Bad at Sports are two of the best in town to talk with about art. Known for their witty commentary and contemporary art talk platform Bad at Sports, they are most admired for their weekly podcasts and blog. The three of us sat down to discuss their involvement with EXPO/2013 – the recent venture of a newspaper that will be distributed throughout the fair spearheaded by What's the T? columnist Dana Bassett entitled The EXPO Register, and the live interviews they will be fielding from their booth next to the /Dialogues stage. The lineup for this year's panel is impressive, titled "One-on-One," just one of many sports puns, MacKenzie and Holland will be in conversation with gallerists, directors, and curators, such as Solveig Øvstebø of the Renaissance Society, Elysia Borowy-Reeder of the MOCAD Detroit, and Director Charlie James, as well as artists William Powhida, José Lerma, and Sanford Biggers. While the details of these interviews are kept secret (you will just have to see them in person to find out), our conversation breaches the extent of Bad at Sports coverage at the fair, their plans for the paper, and MacKenzie and Holland's bucket list – like an interview about interviews, or something along those lines.
Stephanie Cristello: Let's start off by talking about some of the things you're doing for the fair. You're working with Dana Bassett to publish a newspaper reporting live?
Duncan MacKenzie: Yes, the newspaper is going to be called The EXPO Register and reflects our collective style – slightly goofy, a touch irreverent, yet fairly straight ahead. The great thing about working with Dana is that she has the same wry sense of humor as us, which will definitely be a part of it, but it will also be a sincere tool for the fair goers.
Richard Holland: At Bad at Sports we are slightly irreverent, but not extensively. We are respectful of our guests – we will make fun of them now and again, but at our core, we are the fan club newsletter. This newspaper will be a different side of that effort.
SC:Â So you will be reporting on trends, how much gossip is there going to be?
DM: 98% trash! No – there will be a chunk of it that's gossip, but it's light.
RH: We're just trying not to get sued, that's why we don't have comments on our site anymore. After the fourth time we got threatened with a lawsuit…
---
Getty Trust President and former Art Institute of Chicago Director James N. Wood died late Friday night of natural causes. Mr. Wood, age 69, was reportedly in good health and his death was unexpected. Board chairman Mark S. Siegel announced Saturday:
We are deeply saddened to announce that J. Paul Getty Trust President and CEO James N. Wood has passed away suddenly of natural causes.

Jim was internationally recognized as a leader in the arts. His passion for the visual arts and quiet, yet firm leadership were a perfect fit for the Getty. We were able to entice Jim to come to the Getty out of retirement, after 25 years as the head of the Art Institute of Chicago, and in just a little over three years under Jim's leadership, the Getty moved forward in significant ways toward a renewed and strengthened mission.

Jim valued collaboration, and he reinforced that value at the Getty. Working with the Board, Jim led a strategic planning process that emphasized ways in which the Getty's four programs could work together to further enhance the institution's already strong worldwide reputation. He also saw the Getty as a catalyst to encourage Los Angeles' many outstanding visual arts institutions to collaborate, strengthening our region's stature as a major cultural center.

He was a private man, who acted with great kindness, strength, and dignity. The Board and the Getty's entire staff mourn his loss, and we extend our deepest sympathy to Jim's wife, Emese, their daughters Lenke and Rebecca, and their families.

Wood served as director and president of the Art Institute of Chicago from 1980-2004, after which he retired with his wife Emese to Rhode Island before his appointment as President and CEO of the J. Paul Getty Trust in December 2006. He assumed his position as CEO in February 2007, after an extensive search conducted by the Board of Trustees.

Prior to directing the Art Institute of Chicago, Wood was the director of The St. Louis Art Museum (1975-1980), an adjunct professor of art history at SUNY at Buffalo and associate director of the Albright-Knox Art Gallery in Buffalo, New York. He also held positions at The Metropolitan Museum of Art in New York. Wood sat on the boards of the Sterling and Francine Clark Art Institute, the Institute of Fine Arts at New York University, the Harvard University Art Museums, and the Museum of the Rhode Island School of Design. He was also president of the board of the Pulitzer Foundation for the Arts.
Wood, 69, received his B.A. with honors in Art History from Williams College in Williamstown, Mass. and his M.A. from the Institute for Fine Arts at New York University. He also holds a diploma from the University for Foreigners in Perugia, Italy. Wood's areas of specialization included European paintings and sculpture of the 16th to 20th centuries, American painting and sculpture of the 19th to 20th centuries, and photography.
Arrangements are pending.
---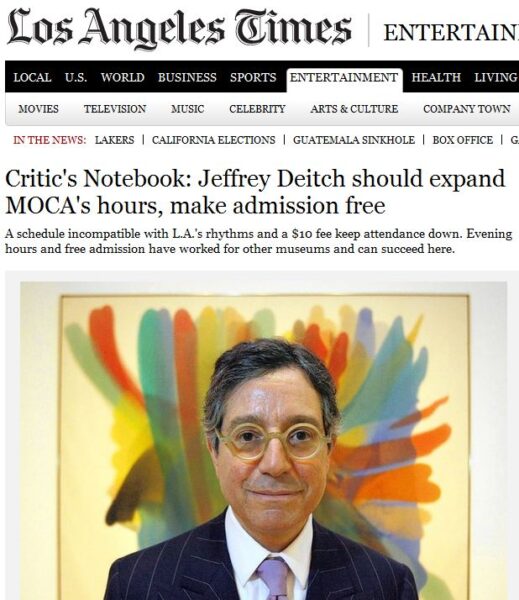 Christopher Knight, the Los Angeles Times Art Critic has written up an interesting article on Jeffrey Deitch's start as Director (the fourth in 30 years) and gives his point of view on where the reality of life in LA can begin to match the goals of the Museum. Numbers mater in the Art world even if we don't want to talk about it and MOCA's attendance has been dropping steadily for years. Couple that with the fiscal mismanagement gamble back in 2008 where they created a budget that relied on donor money to cover around 80% of the cost (money that evaporated with the crash) and things were pretty bleak.
The consensus & expectation is that Jeffrey Deitch will bring the kind of shows and energy that will rally the general population of LA and raise attendance above it's current 600 people a day. Think about that, 600 people, more people visit this site then MOCA in a given day and MOCA is spending $20 Million a year. MOCA has a wonderful collection and this isn't a referendum by the people of LA on Art but on the growing disconnect between Art Tastemakers and the general population. A rift that has been growing for years with little to no abatement.
It's not just LA, we have had the same debates on hours of operation & marketing of events in Chicago for over 5 years. Christopher Knight goes on to offer his advice on what Mr. Deitch might want to examine as Director and the second I can agree with aspects of, the first not so much:
1. General admission: take it from $10 to free
I have always questioned why everything needs to be free. In my experience people have a habit of discounting what they don't pay for and it effects the overall opinion. Work at a bar (or the music industry these days) and you can see that in action, lines and a small cover even if they are annoying increase the overall pleasure of the experience as long as guests expectations are met once they enter. Also even if the door charge is less then 10% of the budget that is still a valuable/usefull daily cash flow even for an institution of that size. Art like any other business lives and breathes on cash flow.

I would suggest price pointing it at $5 a person and make it free to seniors, students & active military (for many solid reasons not worth rehashing here). At that price it has a real value, is proportioned correctly to films, concerts & other nightlife activities and doesn't nullify the whole selling point of yearly membership.
2. Hours of Operation: take it from closing at 5-6pm & 8pm on Thursday to more befitting late nights.
No argument but very tricky and might not be as useful as even I thought years ago. This just might be a tourist/weekday local/weekend world we live in.
The one thing that Mr. Knight doesn't tackle is the one thing that everyone is so afraid of about Jeffrey Dietch as Director, the "curatorial" focus of the exhibits and I think more so "how they are marketed to the world". Everyone is waiting on baited breath since it seems no one has faith that an intelligent discussion on Art can be molded into a form of interest to the general public. That is the great experiment going on in LA and if it is successful could echo throughout the American Art World as a whole and faster then you might think.
---
Audio clip: Adobe Flash Player (version 9 or above) is required to play this audio clip. Download the latest version here. You also need to have JavaScript enabled in your browser.
This week, Duncan, Amanda and Tom talk to artist Steven Rand, who is the founder and Executive Director of apexart in New York.
If you are in or around NYC this is the last week of "Don't Piss On Me and Tell Me It's Raining" the Bad at Sports organized show, go check it out while you still can!
---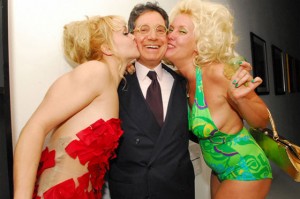 The art press and art blogosphere are all a-Twitter over an article in last Friday's L.A. Times suggesting that New York big-man art dealer Jeffrey Deitch is among the top candidates for the directorship of L.A.'s Museum of Contemporary Art. You'll recall that MOCA has been without a leader (save for Eli Broad's not so behind-the-scenes machinations) since Jeremy Strick resigned in disgrace over his poor handling of MOCA's finances, which nearly ran the institution into the ground. Read more
---