Bad at Sports would like to welcome Devin King as our latest guest blogger. "Devin King lives and works in Chicago. His first book of poetry, CLOPS, is out from the Green Lantern Press and the newest production of his serial opera, Dancing Young Men From High Windows, was part of the 2010 Rhino Theater Festival."
Before Stephen Lapthisophon moved to Dallas in 2008, he worked and taught in Chicago for over 25 years. He's represented in Dallas by The Conduit Gallery, has shown work recently in San Antonio at Unit B, will be doing an installation soon for The Henderson Art Project and currently teaches art and art history at The University of Texas at Arlington. I spoke with him over a few weeks last summer about his installation practice.
Through this, I've been interested in how his installations, paintings, and text/image essays effectively erased old conceptions of relationships between objects and their histories. As you'll see, we spend a bunch of time trying to nail down exactly what he's getting at. Lapthisophon says its an attempt to rethink our surroundings. I'm not sure we ever answered the question.
In Graham Harman's recent book on the French sociologist of science Bruno Latour (Prince of Networks: Bruno Latour and Metaphysics), Harman describes Latour's philosophy as "play[ing] out amidst microbes, tape recorders, windmills, apples, and any real or unreal actors that one might imagine." Moreover, Harman continues, "Latour has no real interest in the pathos of depth: though his actors can always surprise us, these surprises always emerge at the surface of the world, not from some veiled underworld ruled by the shades of [philosophers, theologians, or poets.]" Against Harman's description of Latour, Lapthisophon welcomes the irrational and poetic in our own responses to his work–Lapthosophon's work with disjunctive elements reinforces Latour's image of actors (be they objects, ideas, pictures, or personas) and their surprising emergence at the surface of a world of shifting relations.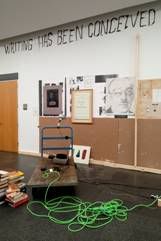 The first thing I wanted to talk about was arrangement. You have an intuitive installation technique: you start with a small number of found objects/photocopies and build out into more materials–finding resonances through addition.
I think this is the result of an interest in limits and boundaries between art and everyday life experiences. I enjoy testing the tolerance level of a situation to see how much or how little can be added or changed while still living in the world of art. It is very much process oriented and, I hope, an open process–embracing flux and change: an open process reliant on intuition and chance operations. However, the method of working additively is neither sequential nor additive itself. I am guided by willful irrationality, chance, accident and mistake. I want to challenge accepted ideas concerning causality and intention.
Can you talk a bit about your idea of a "tolerance level of a situation" and how it manifests in your installations? Read more
---