1. Love to Love You at Roots and Culture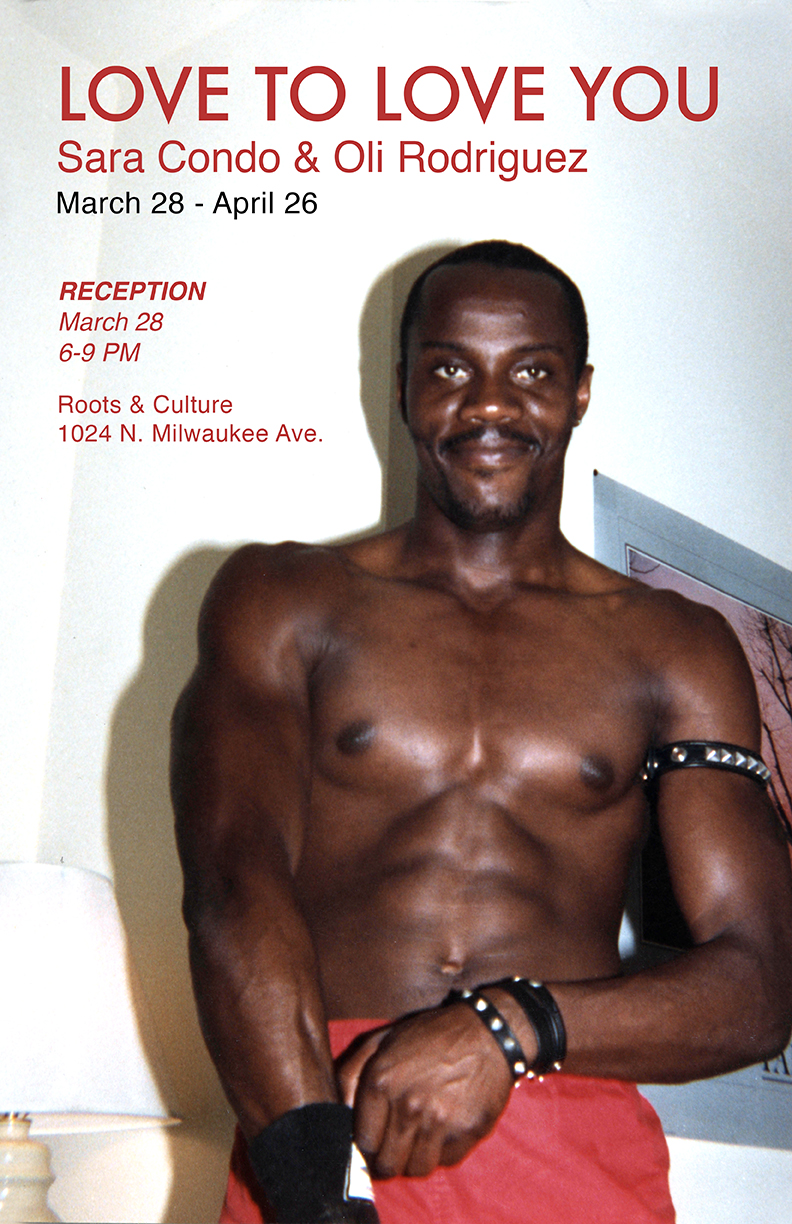 Work by Sara Condo and Oli Rodriguez.
Roots and Culture is located at 1034 N. Milwaukee Ave. Reception Friday, 6-9pm.
2. Frozen Borderline at Ballroom Projects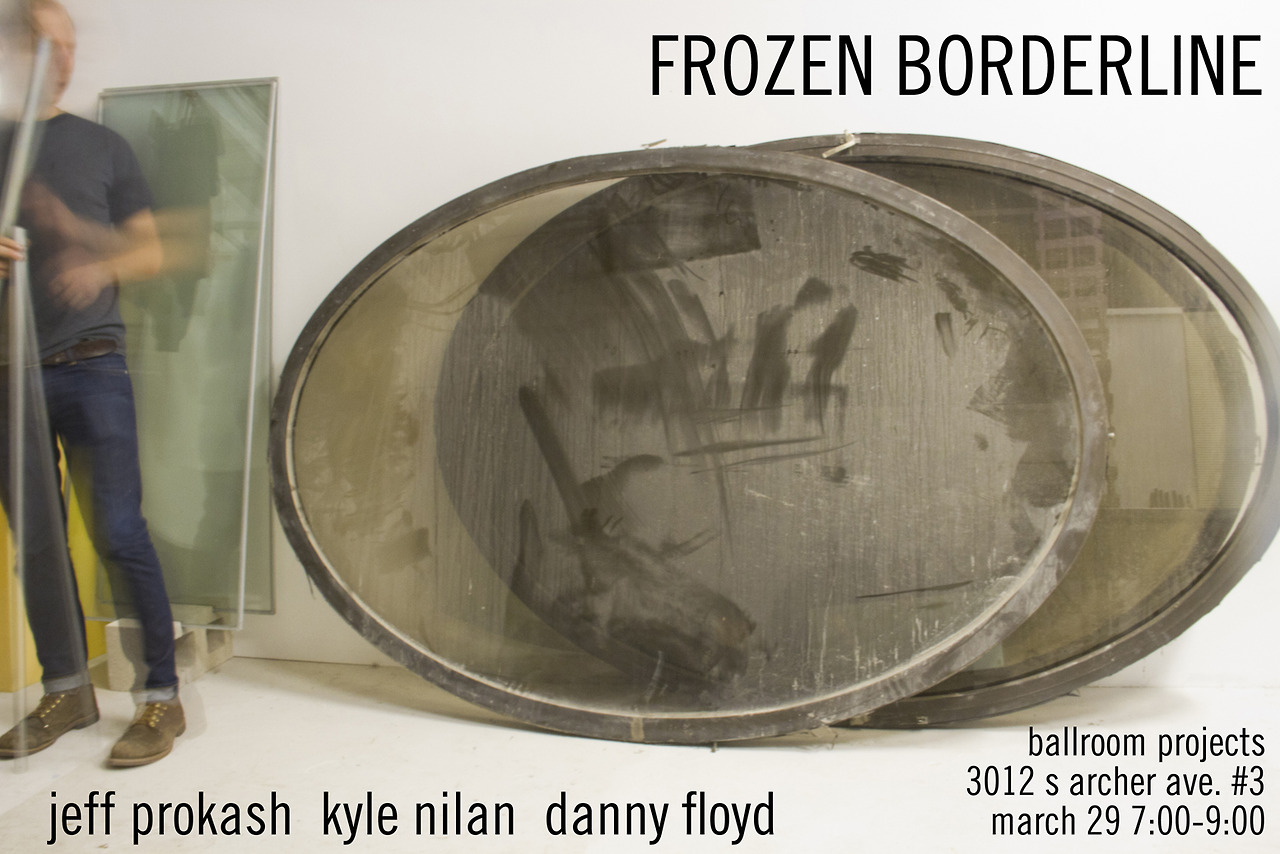 Work by Jeff Prokash, Kyle Nilan and Danny Floyd.
Ballroom Projects is located at 3012 S. Archer Ave. #3. Reception Saturday, 7-10pm.
3. Majesty of Flesh at Defibrillator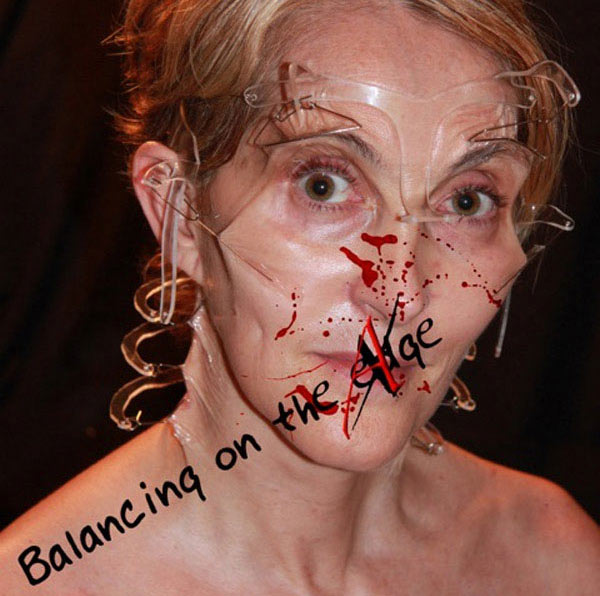 Work by Rocio Boliver.
Defibrillator is locate at 1136 N. Milwaukee Ave. Reception Saturday, 8-11pm.
4. HCL Spring Warming House Party at Mana Contemporary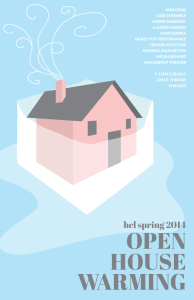 Work by Honeypot Performance, Amber Ginsburg & Aaron Hughes, Amir George, NNN Cook, Melinda Jean Myers, Walkabout Theater, CUBE Ensemble, HusARchitecture and Micah Salkind.
Mana Contemporary is located at 2233 S. Throop St. Event Saturday, 7-11pm.
5. Harts For Art: 5th Annual Silent Art Auction and Benefit Raffle at LVL3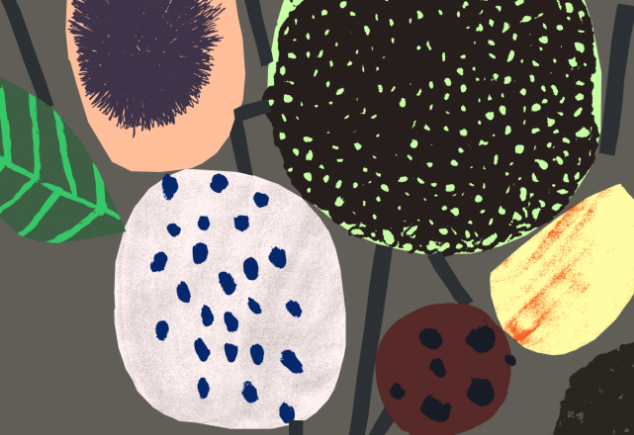 Work by Alex Chitty, Ben Medansky, Brian Kokoska, Brion Nuda Rosch, Calvin Ross Carl, Chelsea Culp, Clay Hickson, Cody Tumblin, Daniel Shea, Evan Robarts, Josh Reames, Lauren Clay, Leslie Baum, Liz Nielsen, Maria Walker, Paul Kenneth, Peter Shear, Rachel Niffenegger, Robert Costello, Ryan De La Hoz, Sabina Ott, Sofia Leiby, Steven Riddle and Zach Reini.
LVL3 is located at 1542 N. Milwaukee Ave. 3rd Fl. Event Saturday, 6-10pm.
---
A graphic, editorial overview of art, artists, and visual art events, found in and around Chicago over the course of the preceding month. All artwork copyright original artists; all photography copyright Paul Germanos.
Daniel Shea @ Gallery 400
Above: Daniel Shea with his photography in Gallery 400, as seen on April 13, 2013, at the closing of UIC's third MFA exhibition.
"A Spectre Is Haunting"
2013 UIC Art MFA Thesis Exhibition 3
April 9 – April 13, 2013
Gallery 400
College of Architecture and the Arts
University of Illinois at Chicago
400 S. Peoria St.
Chicago, IL 60607
Artwork by Liliana Angulo Cortés, Ian Curry, Daniel Shea, and Daniel Tucker
http://www.danielpshea.com/
Jennifer Mills @ Chicago Artists Coalition
Above: Jennifer Mills (right) with collaborator Christopher Ottinger (left) in Mills' CAC/Bolt installation "101 one-liners; Falling Flat," on March 30, 2013.
Jennifer Mills
"101 one-liners; Falling Flat"
March 15 – April 2, 2013
BOLT Residency
Chicago Artists' Coalition
217 N. Carpenter St.
Chicago, IL 60607
http://jennifermills.org/home.html
Picasso @ Daley Plaza
Above: 2013 promotional "P-I-C-A-S-S-O" installation by Chicago Scenic Studios, foreground; 1967 Picasso sculpture, background.
Daley Plaza
Washington between Dearborn and Clark
Chicago, IL
http://www.chicagoscenic.com/
"Picasso and Chicago"
February 20 – May 12, 2013
Art Institute of Chicago
111 S. Michigan Ave.
Chicago, IL
http://www.artic.edu/
John Neff @ The Renaissance Society
Above: A 30-second exposure indicating spectator movement within Neff's installation.
Above: A talk with the artist (John Neff at left, Hamza Walker at right) at 5:00PM, on March 3, 2013, in Kent Hall, Room 107, University of Chicago campus.
Above: Following the artist's talk, Molly Zuckerman-Hartung (far right) raises a question.
John Neff
March 3 – April 14, 2013
The Renaissance Society
5811 S. Ellis Avenue
Bergman Gallery, Cobb Hall 418
Chicago, Illinois 60637
http://www.renaissancesociety.org/site/
Christopher Ottinger @ Chicago Artists' Coalition
Above: Christopher Ottinger, background, at the opening reception, his uncovered, kinetic light art seen rotating in the foreground.
Christopher Ottinger
"Ghost Machine"
April 12 – May 2, 2013
BOLT Residency
Chicago Artists' Coalition
217 N. Carpenter St.
Chicago, IL 60607
http://chicagoartistscoalition.org/
Lossless @ Chicago Artists' Coalition
Above: Matthew Schlagbaum's kinetic light installation visible within its smoked vitrine housing.
"Lossless"
April 12 – May 2, 2013
HATCH Projects Residency
Chicago Artists' Coalition
217 N. Carpenter St.
Chicago, IL 60607
Curated by MK Meador
Artwork by Jordan Martins, Matthew Schlagbaum and Theodore Darst
http://chicagoartistscoalition.org/
The Wail of Silence @ ROOMS Gallery
Above: Alex de Leon lifts her veil in "Ritual No. 4 – Toll of Eyes," a three-hour performance, 7:00-10:00 PM, March 8, 2013.
"The Wail of Silence"
March 8, 2013
ROOMS Gallery
1835 S. Halsted
Chicago, IL
http://roomsgallery.com/
Psychosexual @ Andrew Rafacz
Above: "Psychosexual" curator Scott Hunter in the foreground, with artwork, left-to-right, by Nazafarin Lotfi, John Neff, and Peter Otto, visible in the background.
Above: Artwork by Peter Otto, Rachel Niffenegger, and Brenna Youngblood, seen left-to-right in Andrew Rafacz Gallery.
"Psychosexual"
April 6 – May 25, 2013
Andrew Rafacz Gallery
835 W. Washington Blvd.
Chicago IL 60607
Curated by Scott J. Hunter
Artwork by Lutz Bacher, Tom Burr, Edmund Chia, Matthias Dornfeld, Jayson Keeling, Jutta Koether, Nazafarin Lotfi, Jeffry Mitchell, John Neff, Rachel Niffenegger, Peter Otto, Kirsten Stoltmann, and Brenna Youngblood
http://www.andrewrafacz.com/
Lauren Edwards & Kera MacKenzie @ ACRE Projects
Above: Lauren Edwards and Kera MacKenzie, participants in UIC's first MFA exhibition of 2013, seen within their subsequent show at ACRE Projects' home site in Pilsen.
Lauren Edwards & Kera MacKenzie
"Burden of Proof"
April 14 – 28, 2013
ACRE Projects
1913 W. 17th St.
Chicago, IL 60608
http://www.acreresidency.org/
Michael Ian Larsen @ PEREGRINEPROGRAM
Michael Ian Larsen
"The Tree, the Gift, and the Amphibian"
March 10 – April 7, 2013
PEREGRINEPROGRAM
3311 W. Carroll Avenue, #119
Chicago, IL 60624
http://www.peregrineprogram.com/
Tina Tahir @ Gallery 400
Above: Tina Tahir at her closing reception with the installation "41.876503,-87.649666," an ornamental 'rug' made of ash and magnetite mineral, whose title provides its GPS co-ordinates. Intentionally made available to foot traffic throughout the course of the exhibition, said piece is shown disturbed from its original state.
"A strange house in my voice."
2013 UIC Art MFA Thesis Exhibition 2
April 2 – April 6, 2013
Gallery 400
College of Architecture and the Arts
University of Illinois at Chicago
400 S. Peoria St.
Chicago, IL 60607
Artwork by Cameron Gibson, Ben Murray, and Tina Tahir
http://www.tinatahir.com/
Laura Wennstrom @ The Peanut Gallery
Above: Gallery patron interacts with Wennstrom's "Block City" during the opening reception; cameras hang ready to document the action.
"Artificial Turf"
University of Illinois Urbana-Champaign MFA group exhibition
March 15 – April 9, 2013
The Peanut Gallery
1000 N. California Ave.
Chicago, IL
http://artgraduatestudentorganization.wordpress.com/
Jesse Butcher & Anthony Romero @ Happy Collaborationists / ACRE Projects
Jesse Butcher & Anthony Romero
"Cyclical, Circular. Like Vultures."
April 6 – 27, 2013
Happy Collaborationists, in partnership with ACRE Residency
1254 N Noble
Chicago IL, 60642
http://happycollaborationists.com/
Michael Robinson @ Carrie Secrist
Michael Robinson
"Circle Spectre Paper Flame"
April 6 – May 11, 2013
Carrie Secrist Gallery
835 W. Washington Blvd.
Chicago, IL 60607
http://www.secristgallery.com/
Co-Prosperity School
Above: A Co-Prosperity School student's presentation on March 18, 2013.
The Co-Prosperity Sphere
3219-21 S. Morgan St.
Chicago IL, 60608
http://coprosperity.org/co-prosperity-school/
Autumn Space Benefit Auction
Autumn Space Benefit Auction
March 10, 2013
1700 W. Irving Park #207
Chicago, IL
http://autumnspace.com/
Deb Sokolow @ Western Exhibitions
Deb Sokolow
March 15 – April 20, 2103
Western Exhibitions
845 W. Washington Blvd.
Chicago, IL 60607
http://www.westernexhibitions.com/index.html
Diegesis @ Logan Center
Above: "The Index for an Encylopedia" by Daniel Rosen
Above: "Smell.RB.MFA 2013" by Maymay Jumsai
"Diegesis"
University of Chicago MFA Show 1
April 5 – 14, 2013
Logan Center Gallery
915 E. 60th St.
Chicago, IL 60637
http://arts.uchicago.edu/
Christopher Meerdo @ Document
Christopher Meerdo
"Anthology"
March 15 – April 20, 2013
Document
845 W. Washington Blvd. Suite 3f
Chicago IL 60607
http://christophermeerdo.com/
Juneer Kibria @ The Sub-Mission
Above: Juneer Kibria in his installation, opening night.
Juneer Kibria
"Hidden Noise"
March 8 – April 20, 2013
The Mission (The Sub-Mission)
1431 W. Chicago Ave.
Chicago, IL 60642
http://themissionprojects.com/
Rebecca Beachy @ Iceberg Projects
Above: An audience member views "Warm (bed)" through a rectangular aperture just above the floor; 109 dozen factory-farmed eggs, ground, lit by heat lamps, lie within the piece.
Above: Iceberg Projects proprietor Dan Berger within the gallery space on June 23, 2012
"The Bearer"
March 10 -April 1, 2013
Iceberg Projects
7714 N. Sheridan Road
Chicago, IL 60626
Artwork by Rebecca Beachy and Walker Blackwell
http://icebergchicago.com/home.html
Lisa Walcott @ threewalls
Lisa Walcott
"Pretty Good Shape"
Artists in Research – Residency
(Closed on March 21, 2013)
threewalls
119 N. Peoria #2c
Chicago, IL
http://www.three-walls.org/
---
Paul Germanos: Born November 30, 1967, Cook County, Illinois. Immigrant grandparents, NYC. High school cross country numerals and track letter. Certified by the State of Illinois as a peace officer. Licensed by the City of Chicago as a taxi driver. Attended the School of the Art Institute 1987-1989. Studied the history of political philosophy with the students of Leo Strauss from 2000-2005. Phi Theta Kappa and Phi Kappa Phi. Motorcyclist.
---
1. The Road to Candyland at Antena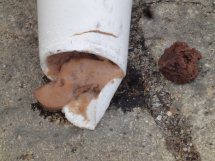 Work by Nick Black.
Antena is located at 1765 S. Laflin St. Reception Friday, 7-10pm.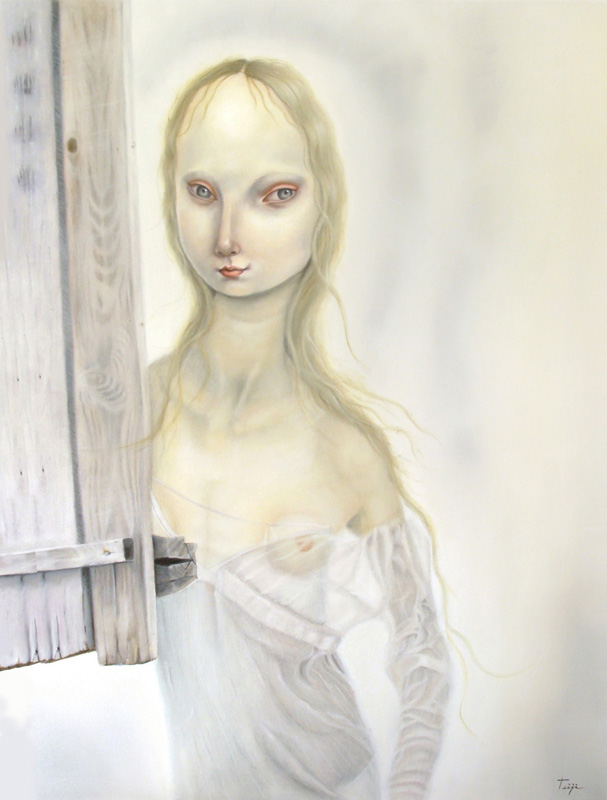 Work by Teiji Hayama.
EC Gallery id located at 215 N. Aberdeen St. Reception Friday, 6-8pm.
3. 40,000 Fathoms Before the Eye at 65Grand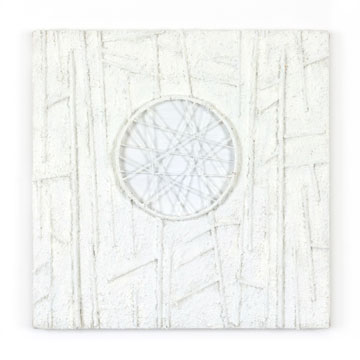 Work by Brian Kapernakas.
65Grand is located at 1369 W. Grand Ave. Reception Friday, 6-9pm.
4. How Things Stand at ACRE Projects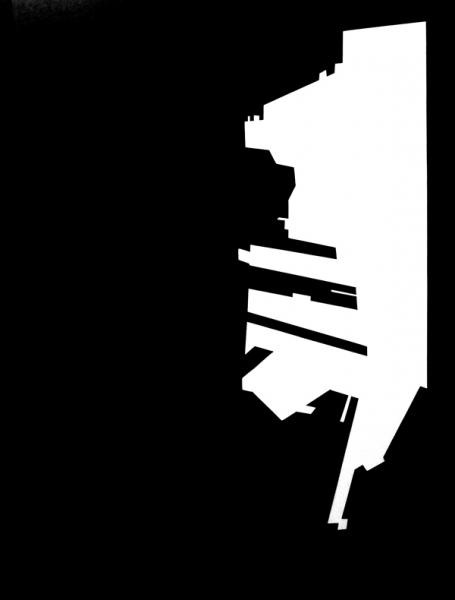 Work by Janine Biunno.
ACRE Projects is located at 1913 w 17th St. Reception Saturday, 4-8pm.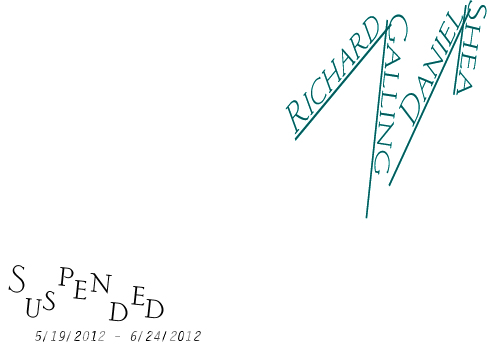 Work by Richard Galling and Daniel Shea.
LVL3 Gallery is located at 1542 N Milwaukee Ave. 3rd fl. Reception Saturday 6-10pm.
---
Alright, so last week was slow. This week is quite the opposite. There are a bunch of things going on. Because of that, I have decided, in response to my Top 4 of last week, to do a Top 6 this week. Don't like it, well, then you can just get out! For the rest of you, here it goes…
p.s. don't mind the pics, sometimes I have to make my own
1. The Chicago Project III at Catherine Edelman –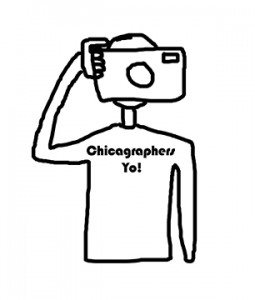 I generally avoid River North. Not because it's bad, per se, but simply because most of what I see there is somewhat boring and repetitive. Edelman is one of the exceptions (there are a few) that keep me coming back every now and again. Her fare is photo, and only photo as far as I've seen. I have yet to see something there I didn't like, and this upcoming show is no exception. On top of that, you probably know people in the show! Everybody likes seeing their friends work up in a nice gallery, right? Opening this week is The Chicago Project III. The Chicago Project is an online gallery Edelman runs of Chicago artists. Each year she selects work from it and puts on a live exibition. Selected artists this round include: Shannon Benine, Philip Dembinski, Bill Guy, Eric Holubow, Julie Meridian, Jason Robinette, James Rotz, David Schalliol, Daniel Shea, Sarah Stonefoot, Leasha Overturf and Alan Thomas. Friday night, get there early though, she closes her doors promptly at 8pm.
Catherine Edelman is located at 300 W. Superior St.
2. Size Matters!!! at Packer Schopf –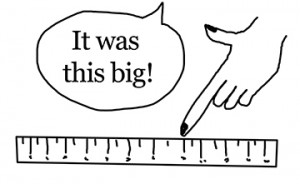 Huh huh…huh huh…ok, now that that's out of the way. Good old Packer's done it again. I like it when he does group shows from his stable. Most of what he shows there appeals to my taste, so going to a group show is like being a kid in a candy store. Or, in this case, an elephant store? Packer shows a lot of huge work, so for his, as his website says "Summer Group Show," he's trotting out the biggies for us to feast out eyes on. Featured artists include: Rebecca Ringquist, Mark Crisanti, Laurel Roth/Andy Diaz Hope (collaboration), Victoria Fuller, Jenn Wilson, Michael T. Rea, Jud Bergeron, Renee McGinnis, Don Cameron, Catherine Jacobi, David Hooker, Doug Smithenry & Krista Wortendyke. Stop by while you're in the West Loop Friday, opening's from 5-8pm.
Packer Schopf is located at 942 W. Lake St.
3. In Memory Of…A Love Story at Spoke –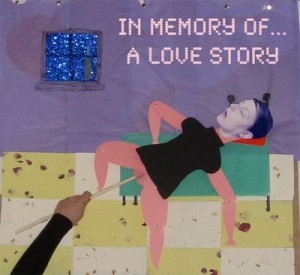 Hit number two for the West Loop. While you're hiking up the stairs at 119 to ThreeWalls, make sure you make it all the way to the top floor and head for Spoke. This tiny gallery, in (I think I'm remembering this right) the space formerly occupied by GardenFRESH, has been putting on exhibitions and durational performance pieces for about a year now. This round, they are hosting Karolina Gnatowski, who is performing In Memory Of…A Love Story. Pulling from Spoke's own website, the event is described as "an evening of classic rock, whiskey, puppetry and bitter sweetness as K.G. performs a tragic tale of romance." How could you possibly go wrong with that? Spoke is open Friday night from 6-9pm, the performance starts at 7pm. Again, be on time, that place is tiny, and it sucks having to listen to performances from the hallway.
Spoke is located at 119 N. Peoria St.
4. Dogcat: FBI (Feline Behavioral Institute) vs. Canine Fashion at Swimming Pool –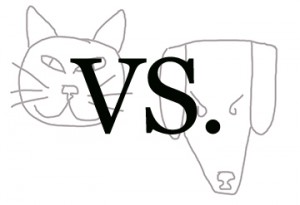 Now you can finish of Friday night with some good old feline (or canine) fun up at Swimming Pool. Located in Albany Park, it can be a bit of a trek from down town, but this show is probably going to be worth it. It is time for the ultimate battle between the self proclaimed "cat" people and "dog" people. Well, maybe not that, but get ready for a truck load of cat themed art, and a doggie fashion show. Now, I know what you're thinking: "a doggie fashion show?" Well, this is a doggie fashion show put on by pooch, and presumably, booze loving artists (pronounced ar-TEE-sts). Just watch your ankles, you don't want someone begrudgingly lifting their leg on your shoe while you admire the pretty kitties. Open Friday, from 8-10pm.
Swimming Pool is located at 2858 W. Montrose Ave.
5. Selections From the Fabio-Mueller Collection at Mini Dutch –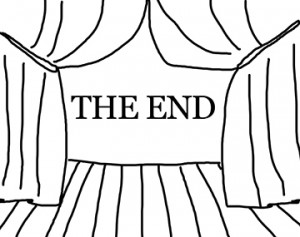 Saying good bye is always hard, and this is the last goodbye for Mini Dutch. Owner Lucia Fabio is shutting down and moving back to So. Cal, so this is your last time to check out this well-known apartment gallery. For her final show, Lucia will be showcasing work from her own collecting that she has acquired over the course of Mini Dutch's run. Artist work included in Fabio-Muller collection that will be on display: Daniel Anhorn, EC Brown, Blazo Calovic, Peter Hoffman, Andrew Holmquest, Mathew Paul Jinks, Carol Jackson, Stacie Johnson, Chris Millar, Liz Neilsen, Vivien Park, Caroline Picard, Mark Porter, Renee Prisble Una, Chris Shaefer, Shane Swindler, Matthew Whiting. This is a one night only event, Saturday night from 7-10pm.
Mini Dutch is located at 3111 W. Diversey Pkwy.
6. Nah Pop No Style at Roots and Culture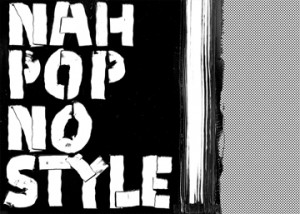 This is purely an allegiance to where I've lived selection. The subtitle of the show is Work by painters from Baltimore and Providence. My husband went to grad school at MICA, so I lived in Baltimore for a year. Weird-ass place, but there are defiantly a lot of good artists from there. I don't recognize any of the names, but I'm hoping I recognize some of the work. And hey, maybe they'll be serving Carmen corn again. B-more and Providence artists strutting their stuff at R&C include Lucy Campana, Chris Day, Alex Griffith, Andrew Goett, Thomas Harrington, Annabeth Marks, Clay Schiff, Quinn Taylor, Chloe Wessner, Kandis Williams and Blade Wynne. Show opens Saturday from 6-9pm.
Roots and Culture is located at 1034 N. Milwaukee Ave.
---