This week in the podcast realm of Bad at Sports: I had the great opportunity to sit down and talk with Claire Doherty in Portland this last May. Doherty was a keynote speaker at Open Engagement where we met. She initiated Situations, where is is currently the Director, in 2003 following a ten-year period investigating new curatorial models beyond conventional exhibition-making at a range of art institutions including Ikon Gallery, Birmingham, Spike Island, Bristol and FACT (Foundation of Art and Creative Technology), Liverpool. Listen to our discussion about art in public space, alternative models for funding and curatorial practices here.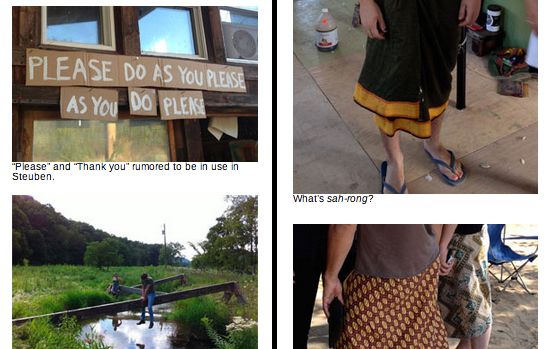 Edition #16 came in this week with notes about the magnetic field of Roger's Park galleries, the pilot episode of "Better Luck Next Time," (a newlyweds-style game show for artistic duos), dispatches from ACRE, and noted recent popularity of the sahrong. That and much much more here.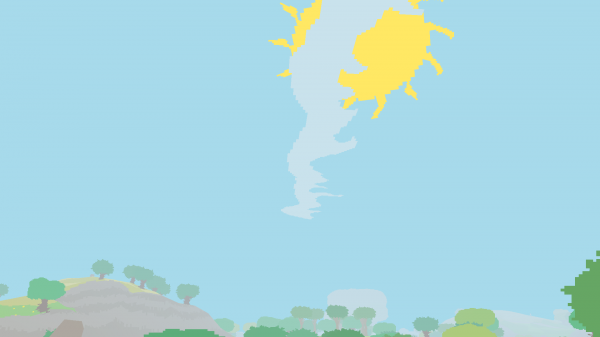 Paul King kicked things off on Monday with a vivid description of Protues, an a-typical, evocative video game:
To move past the title screen and into the game, you begin by clicking the silhouette of a distant island. After fading, the screen opens from a murky black into a gently disappearing elliptical shape, as though you were slowly opening your eyelids. You've awoken in what appears to be an endless ocean, a muted sea-green punctuated by the gentle lapping of white reflections. In the distance, you begin to make out the outline of a shrouded landmass. As you trudge towards it, the only anchor in the game's ceaseless sea, you can practically feel the sunlight of the raincoat-yellow orb shining in the sky.

Everything in Proteus is rendered in a blocky, colorful style that should be familiar to everyone who's ever seen an early pixelated video game. (Think the "ball" of pong, or the sharp edges of Mario.) But the style isn't due to a lack of processing power or graphical method; instead, the world's lack of texture translates into a picturesque canvas of flat colors, almost as though you were gazing directly into a visual interpretation of one of Brian Eno's ambient tracks.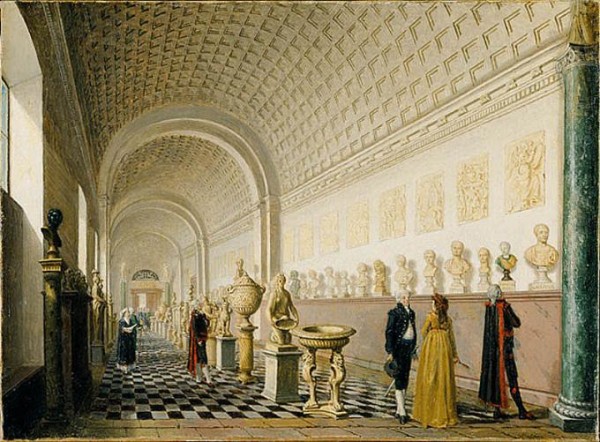 This week, James Pepper Kelly submits The Greatest Proposal for hi-fiving high culture, via an imaginary embodiment of Judith H. Dobrzynski and James Durston:
Imagine that a writer named Judith H. Dobrzynski boards a plane. She's ambivalent about her recent op-ed for the New York Times, "High Culture Goes Hands-On," in which she mourned the loss of a classic, passive museum experience. The response was decent (63 comments and a spot on the "most-emailed" list), and the negative response didn't go much beyond baseless ad hominems ("crank," "elitist"). But real-world impact? Judy sighs. She tries not to think about institutions these days, their obsequious rush to digitize, crowdsource, and create a "fun experience" for all. Instead, she thinks about real change: about her upcoming fellowship at the Salzburg Global Seminar in Austria, and how she helped influence the country's new Holocaust restitution laws. Judy sinks back into her business class seat (being a Fellow has perks!), orders a tomato juice and relaxes, thinking of all the reading she'll be able to catch up on in the air.
Juliana Driever interviewed Chris Stain who's "characteristic large-scale murals evolved out of his practice as a graffiti writer, and stand today as a kind of contemporary nod to WPA-era portraiture, featuring the faces and plights of everyday people in all of their affecting, confrontational realism." When asked about how graffiti has changed since the 80's, and whether there is a difference between graffiti and street art, Stain replied:
In one sense it's all art but there are different energies to what is known as "graffiti," mostly lettering based primarily using aerosol paint, and "street art" which runs the gamut of various mediums. As for the letter-based movement, it has changed quite a bit since the 80's. Technically, its reached levels unimagined back then through the help of all the newer spray paints on the market with lower pressure and cap options. The introduction of the internet helped styles develop more rapidly as it was easier to access photos from all over the world, get new ideas, and spark creativity.
Top 4 Weekend Picks with love from Stephanie Burke!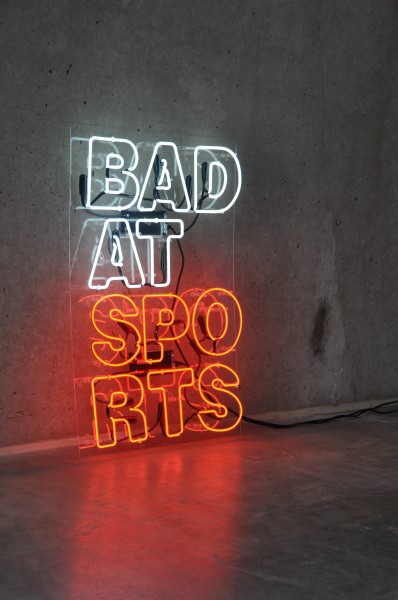 I reposted an interview with EXPO's Stephanie Cristello, and Bad at Sports' own, Richard Holland and Duncan MacKenzie. They discuss the upcoming newsprint publication Dana Bassett is spearheading, exactly how much gossip said paper will contain, and the interviews Bad at Sports will be conducting on site at the art fair:
Duncan MacKenzie and Richard Holland of Bad at Sports are two of the best in town to talk with about art. Known for their witty commentary and contemporary art talk platform Bad at Sports, they are most admired for their weekly podcasts and blog. The three of us sat down to discuss their involvement with EXPO/2013 – the recent venture of a newspaper that will be distributed throughout the fair spearheaded by What's the T?columnist Dana Bassett entitled The EXPO Register, and the live interviews they will be fielding from their booth next to the /Dialogues stage. The lineup for this year's panel is impressive, titled "One-on-One," just one of many sports puns, MacKenzie and Holland will be in conversation with gallerists, directors, and curators, such as Solveig Øvstebø of the Renaissance Society, Elysia Borowy-Reeder of the MOCAD Detroit, and Director Charlie James, as well as artists William Powhida, José Lerma, and Sanford Biggers. While the details of these interviews are kept secret (you will just have to see them in person to find out), our conversation breaches the extent of Bad at Sports coverage at the fair, their plans for the paper, and MacKenzie and Holland's bucket list – like an interview about interviews, or something along those lines.
Monica Westin interviewed Zach Cahill about the third and final installment of  "his epic USSA 2012 project," presently on view at the Smart Museum and now called USSA 2012: Wellness Center: Idyllic—affair of the heart. In this interview Cahill composes as imaginary travel brochure for the USSA, flowers on facebook, and art mourning:
I mean I very much like the direct experience of being in front of an art work, but I enjoy being haunted by art works too…a visceral quality that occurs with the work of some of my favorite artists…they infect me and I can't stop thinking about it…Ideally, I'd like my work to do both: give off an affecting sensation for the viewer and to haunt them after they walk away from it… my work wants to have its cake and eat to…. 

And last but not least, I posted a series of upcoming opportunities including the call for Anchor Graphics' Artist in Residency program at Columbia College. That and much more here.
---