Audio clip: Adobe Flash Player (version 9 or above) is required to play this audio clip. Download the latest version here. You also need to have JavaScript enabled in your browser.
This week we are joined by the Emmy Award winning novelist, screen writer and Chicago based social worker, Ben Tanzer thanks go out to Columbia College Chicago's "Late Late Afternoon Show."
Ben's blog and Podcast This Will Change your Life has treated the literary world much like B@S has treated the Contemporary Art world. It is worth checking out.
---
Heather Lynn is a Chicago artist best known for the band Pure Magical Love, the opera Templehead, and running Church of Templehead gallery with her partner, Michael Perkins. Her newest project, Genesis and Nemesis, set to open in September, is a three-act play that blends elements of traditional theater, performance art, video, installation, ritual, music, Reiki, classic special effects, and dance. Staged in an immersive environment, the audience is invited into a post-apocalyptic compound for an experience that is part celebration, part cautionary tale.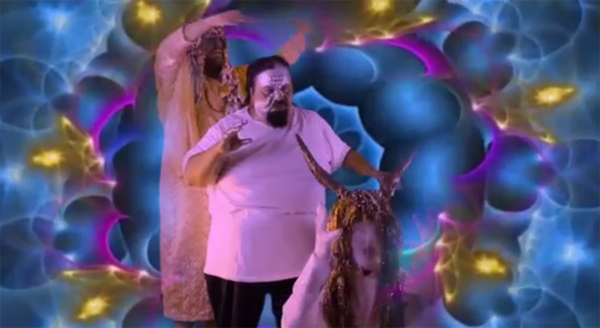 Genesis and Nemesis video stills courtesy of the artist.
Although Lynn is the writer and co-director of this piece, and plays the role of Mary Malachai, it is by no means a solo project. The work is being developed in collaboration with a group of Chicago-based artists, musicians, healers, and activists, including Efrén Adkins , Kaycee Conaway, Sky Cubacub, Zach Hebert, José Hernández, Zachary Hutchinson, Veronica Hyde, Andi Jane, Paul Klekner, Bret Koontz, Kalina Malyszko, Sarah Marie, Isabelle McGuire, Ariel Mejia, P. Michael, Michael Perkins, Jon Poindexter, Travis, and Julia Zinn.
In anticipation of this forthcoming production, I sat down with Lynn to ask her a few questions. Imagine a backdrop of shining, multi-patterned tapestries being meticulously constructed from dollar store treasures, mismatched fabrics, glitter, trash, glue. They are beautiful, in an obsessive, maximalist way. Heather and I sit at a small table on chairs she has reupholstered with dark and glittering fabric.
Can you tell me about your background as an artist?
There's really no one defining thing. I feel like by the time I'm known as "that girl who does that thing," it's time to move on. I'm an untrained artist; I dropped out of high school. My only training really is dance, and I think that influences a lot of the way I work. I had my own dance company for a while. When I was younger, I was in this band that got a lot of attention. I went through a phase where I did watercolor paintings. [Now,] people keep asking me how the new opera is going, like "oh, she's the girl who does the operas." I believe that the best of us comes out when you're creating a structure that you need to exist. And for me it's about changing the context.
How has your dance training influenced other aspects of your practice?
Take ballet: you learn these really repetitive mundane things, but you learn them to shape your body into the type of machine that can make these amazing things. It's that idea that if you do it every day, you put the work in, that's what matters. I'm very work-oriented. The work I like best is work where I can see the effort behind it, effort is often more interesting to me than a beautiful result.
My favorite job was when I worked at Fannie Mae. When there was nothing to do, there were just pans and pans of chocolate in back, they all need to go in little white cups. There's no way you'll ever get them all done, but there's always some to do. So you just do it, and it's about finding pleasure in the task. You can put art into anything you do, even if it's just a game you play in your head. You do the peasant work, but you act like a goddess.
If my brand is anything, it's relentless sincerity and hard work. I'm never really worried about anyone ripping me off. What are they going to steal? The hours of intensive work I do myself? The feminism and politics? Please, steal that!
Do you feel like there is a common denominator across your shifts in medium?
Community-based, a lot of work, constantly topping myself, really DIY. Creating my own world. I have a world in my head, and I feel very at odds with the outside world. Another defining thing was sorting out my mental illness—or what we call mental illness. I think a lot of it is just being sensitive in a world that doesn't stop to acknowledge all the ways it's fucked up. And [art] is my way of sorting through that and surviving. A lot of my mental health stuff sorted itself out when I started really manifesting the things I see in my head with [the band] Pure Magical Love. I wrote these mythologies that were about expelling certain demons. Everything I do is me trying to be normal, but everything in my head is so crazy it comes out all fantastical.
The way I work it's usually about transforming something, whether it's myself, the space I'm in, the pile of garbage into something beautiful to worship. We make choices all the time, every day, and we are constantly transforming things. I like to take control of that—being mindful of the transformations I make.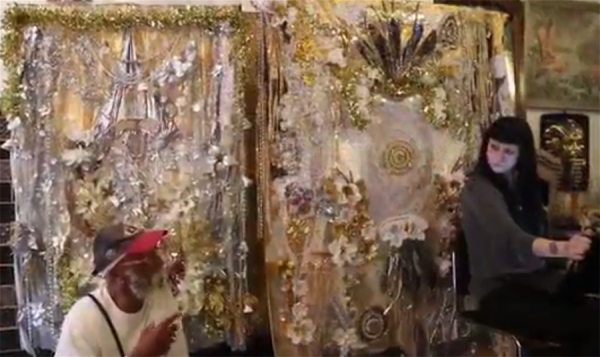 You do a lot of community work in your gallery, and much of your artistic work is driven by community and social issues. How does that fit into your artistic practice?
I've always been really sensitive about social issues. I had a lot of spaces when I was younger where I didn't feel safe. If you can't change the world, change what's in front of your face. For me the biggest tragedy is any living thing unable to follow its own design, and I grieve for all the living things that don't get to do that. A lot of my work is a response to displacement. Making a space where you can. I feel like for so long no one wanted me to do anything, so just that act of being visible, of taking up space, was very defiant. You're part of a sexist scene? You're part of a bunch of shitty stuff? Put more of you in the room than them. There's this crazy sincerity about what I do, and it makes some people so nervous.
So can you talk a little bit about this new project?
I feel like this is a companion to [the post-apocalyptic opera] Templehead. I didn't feel done with it. Templehead was about these people who have been displaced. They're about to go extinct, but they find beauty and meaning when they can. [Genesis] is more about who survives, who benefits, who knows this is gonna happen and doesn't stop it. People with money access would end up safe. When you're dealing with money, it becomes abstract, and you're not thinking about how having an extra three points on your stock is going to affect a town, because you're not thinking about the community. Money can become a mental illness.
I wanted to reimagine [the Templehead story] where we don't have to die, and we can evolve to meet the challenges that we've created for ourselves. Templehead ended on this sad, bittersweet note. This is going to end on a very uplifting, empowered note. One our collaborators practices Reiki, and at the end we do this ritual spell to activate the entire room. A bunch of people in a room, caring about the same thing, can have a positive impact. That's kind of what this play's about: the different gifts we have, how they can come together and fight something.
Where does the title, Genesis and Nemesis, come from? In your work there is often creation and destruction occurring simultaneously, and that title feels like a good encapsulation of that.
In this world in the future, there's this fable about a boy named Genesis and his sister Nemesis. After the Unrest, they find this beautiful beach with all these minerals that could be used to rebuild the world. He wanted to find people to help them transform the minerals into materials, and she thought the beach was beautiful and wanted to protect it. They fought. He went off to find people, she warned him not to come back or she'd have to kill him. He comes back and she's dead, she didn't have anything to eat. It's this story to instruct people to value the greater good over nature, a way of making people think about things a certain way. [But] Genesis and Nemesis were actually one person, turned into two. The way we remember always has an agenda.
We wouldn't need to create if there was no destruction. But this is the world I live in, so I create and destroy with equal joy, and I'm very upfront about it. Collapsing the binary, for me that's what it's about. I don't want like a nice story that wraps up neatly, I want a good story where we dig into this shit about ourselves that we're constantly learning.
At the end of the day, in spite of it being about all this global stuff, it's really about my journey. I see things that aren't there, I constantly have to second guess what I'm seeing and feeling, but that actually worked to my advantage, because I'm not afraid to not know. I'm not afraid of what a mess it is; you're part of the mess. Anyone that says artists shouldn't be narcissists doesn't really know what it means to tell yourself that you're good enough to send something into the world. You have to start with the ego, you have to know what you want for yourself. You start with the things you care about, and it spirals out. I think you connect systems of oppression when you start with yourself.
Looking at the visual aesthetic of the things you make, there's certainly a sort of controlled chaos.
For me it's creating new ideas of luxury. Because it's not all about money. Capitalism wants you to think it is, we have this idea that there's not enough to go around, and if we want beauty we have to exploit someone, and we think it's worth it. But you can make something special out of nothing. It doesn't look like luxury like Versailles, but there's something elegant about my little reupholstered chairs with my favorite fabric. It's my own type of luxury, not waiting around for someone to tell me that I can have something nice. I can make nice things. We've created such a surplus of bullshit, both physical, emotional mental and it's time to transform it. That's where I'm at with this play; I really do have hope for the future. I know because I'm so scared all the time, so I must have hope.
How has this project been collaborative?
Before I fleshed out any of the characters, I got [the performers'] permission to write them into the story. Not to say that every little thing is literally what someone would do, but I really did try to think about giving them choices to naturally commit to. We do a lot of workshopping. Everyone has say. I love this, because it's a room full of people talking about characters that I wrote, it's like playing Barbies, but with my brain.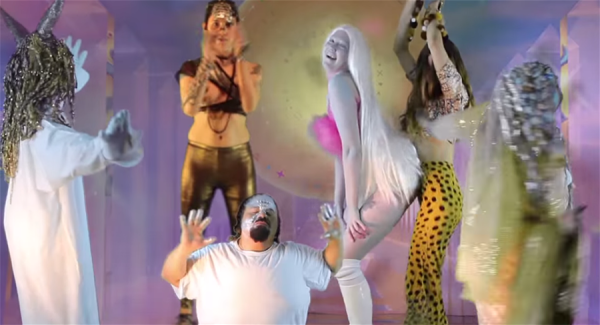 One of the workshops we did, I had everyone come in and tell me: what is it about your character that makes them both awesome, and suck. The thing that makes you awesome is the thing that makes you suck. That's something with this play I've really tried to emphasize: there are no villains. If there's a villain, it's a system that is the result of human error. I don't believe in evil people. I think the minute you've decided that someone is just the bad guy, you're not going to figure anything out. I'm a little nervous about this play, because people want a strong hero and a strong villain, and this isn't that. There's definitely a force that needs to be destroyed, and another force that needs to be protected, but you can't walk away "yeah, these bad guys totally got their asses kicked."
My friend Sky (Cubacub) is helping with some of the costumes. In the story, I do all these crazy costumes, and I'm not skilled, but people see me doing it they start making these mass-produced really nice costumes. That's what I feel like I do so often—I'm not really technically good at anything, but people like that I'm obsessed.
And how do the video segments fit in?
There are a few different ways we use them. There are these transmissions that are happening between this giant government that's in control of everything, and this small group of people in hiding. It's kind of uncanny… I got this idea for this, and after I started writing it I started hearing about ISIS, and in the months after that they really kind of developed that war through social media.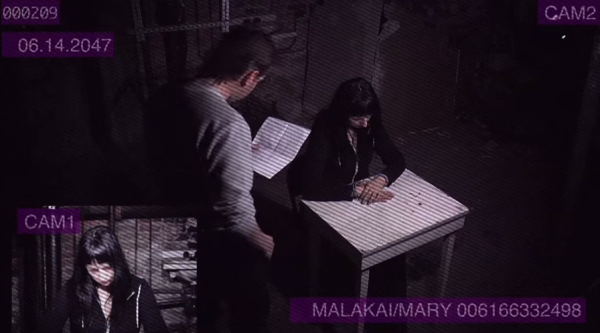 Working with video is very challenging for me, it's sort of the opposite of what I do, but I have enjoyed working with video. As a dancer, I'm getting older, my body can't do all the things it used to do, which is so hard for me to accept because I'm a hundred miles an hour no matter what. But as I can do less, maybe I can make video choreography. I'm interested in exploring it, but I don't think I'd ever make a straight-up movie. I am really invested in doing work you have to experience live. I think it's in reaction to the Internet and it being so easy to generate, repost stuff. I want to make things where you have to be there. This has to happen at this point in time because these videos are with these people, these people have busy lives, when this is over we'll probably never do it again. It has to be seen in person.
Genesis and Nemesis opens in September 2015 at Church of Templehead Gallery in Chicago. More information about the project can be found here and here.  
---
By Kevin Blake 
This is a recurring dream.
I am suspended over an in-ground pool of which I can only see a portion. The pool juts out of the bottom left corner of the frame–a rectangular frame. The edge of the pool makes an L shape–horizontally to the middle of the frame and at a right angle to the bottom boundary. The negative space is a surrounding sun-bleached concrete–an infinite wall contained only by the imaginary frame of the image. My limbs are sprawled out as if they are tied to an invisible force that keeps me from retracting. I lay idle just inches from the water, but I cannot touch. I cannot feel the textures. I cannot sense the temperature, though it appears to be warm–it appears to be late afternoon. It appears to be desert-like. Arid. Crisp. Cloudless. Stark.
The same external force that keeps me afloat, pulls me wildly in a spinning motion to an extreme height where I can see the pool in its entirety. As I reach the apex of this pull, it allows me a brief pause before dropping me and stopping me just inches before I hit the water. It leaves me there, in what feels like dangerous proximity to a glass-like surface. I have no physical control. No power. I can only wait to be pulled from idle and dropped again. As I plunge toward the pool, the water disappears, and I break through the powerless dream–returning to a powerless reality. I wake up with the feeling of being dropped that often plagues the dreams of many. That uneasiness. That bubble in the stomach. That rush to the brain.
The value of a dream is only quantifiable in the mind of the dreamer. It becomes something more than a dream only when a metaphor is established–and thereby attached–as the answer to an otherwise abstract experience. Like spinning around with a blindfold and trying to find people in the dark, the recurring dream becomes something more, when anticipatory and imaginative thinking creates an alteration of behavior, a change in consciousness, or a way to find things in the dark. It can become the blueprint for an artistic practice.
In Tom Torluemke's latest offering at Linda Warren Projects, Blind Man's Bluff, the artist seems to be fueled by the necessity to communicate his ideas–both to himself and to a perceived audience. Here, metaphors(capitulated by the title of the exhibition) are born in cultural experience, unadulterated thought, and dreams–they are the conduit by which this artist transmits his signals in this densely populated exhibition.
The main gallery is filled with paintings, mostly executed with acrylic paint on irregularly shaped MDF panels. This device is useful. It appears to extend his metaphor. To exemplify the oddity that is his commodity–his ideas. Torluemke's ideas may be his bread and butter, but his ability to execute and transmute his thoughts into compelling objects, is equally evolved.
Torluemke's metaphors come alive in works like Day Dream 2015. This decisively cut panel adopts the profile of a man–a shape that is repeated again and again to develop the edge of the painting. A surreal landscape occupies the mind. Faces form the face. Dark matter makes the shadowy abyss beyond the dream. Paint is liberally applied to these slick surfaces, making it a joy to discover the miniature paint galaxies in the depths of the work.
In the smaller gallery a more intimate but more direct version of Torluemke's metaphor adorn the walls. The drawings are made while blindfolded, with one continuous line–details are added later. What is interesting to me about these works is less the product(though I like the drawings), and more so, the idea of creating an action born in metaphor.  If Torluemke feels like his artistic process is often like doing a frankenstein walk blindfolded in the dark, as a child does in Blind Man's Bluff, then it is this thought, this metaphor, that has driven him to thoroughly explore and excavate this idea and all of its potential. As a dream only becomes understandable by way of syntactic dissection and cultural grounding, so too must a metaphor be broken down into its component parts for reassembly as something new. Something learned. Something useful to the pursuant.
There is a multiplicity in these works that contextualize the conditions under which these objects are made. I can sense an urgency. I can feel the excitement. I can see ideas mutate on the surfaces. The work seems to be in constant transition–from panel, to sculpture, to blindfolded drawing and back again. Torluemke's process plays out like a dream as he traverses from one unexpected place to the next. There are no answers here, only snippets of dreams. Remnants of action. Links to a lineage of ideas that are constantly evolving.
By following the hunch, pursuing the dream, and unraveling the metaphor, Torluemke seems to have developed a method for finding his way in the dark.
Linda Warren Projects
327 N Aberdeen Suite 151
Chicago, IL
Gallery Y & Gallery X: Tom Torluemke, "Blind Man's Bluff"
April 17 – June 13, 2015
Opening Reception: Friday, April 17, 2015, 6-9pm
Artist Talk: Saturday, May 16, 2015, 3-5pm
---
Audio clip: Adobe Flash Player (version 9 or above) is required to play this audio clip. Download the latest version here. You also need to have JavaScript enabled in your browser.

download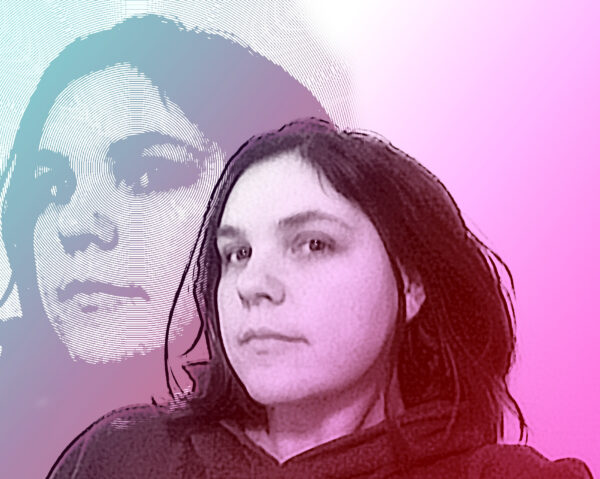 This week: It's a holly jolly episode, Duncan and Richard are joined by guest interviewer Anna Kunz and talk to artist/film maker/giant of thought Meg Duguid!!
---
My wife and sometime collaborator Stephanie Burke and I recently completed a 140-mile walk as a perforance piece called "Walking to Mordor."  The walk was based on an Easter egg introduced in Google Maps three years ago:  if you asked it for walking directions from "The Shire" to "Mordor," instead of the usual "Walking directions are in beta" warning, a pop up announced, "Caution:  One Does Not Simply Walk Into Mordor."  The line is Boromir's, from The Fellowship of the Ring.  Ignoring his naysaying, the two hobbits Sam and Frodo proceed to do exactly that.
The line, as spoken in the 2001 film, spawned an Internet meme which consisted of a still image of Boromir, hand in mid gesture, coupled with a line of text reading, "One does not simply…" followed by whatever the author wished to decry.  Instances date back to at least 2004.  In 2011, Google Maps joined the party by adding the Easter egg to their walking directions.  Along with the warning, however, Google actually did provide a map and directions, from a restaurant called "The Shire," in Chehalis, Washington, to a tattoo shop called "Mordor Tattoo," in Arlington, Washington, 138 miles away.
When I showed Stephanie the joke, she mentioned that, coincidentally, she has family in Chehalis, and had spent some time there growing up.  It didn't take long for us to decide that it would be fun, and funny, to take Google Maps' directions at face value, and walk the route.  Almost immediately thereafter we realized we had to commemorate the journey by getting tattoos at Mordor, and that the tattoos should be of the map of the route.  We documented the project with a series of photographs called "Instagram vs. Holga."  Stephanie, a trained photographer, shot on the cult classic crappy medium format film camera, while I, with  no more than a couple of undergraduate photography classes under my belt, used my phone's camera and the everyman's favorite app.
As has happened with more than one previous project, we didn't set out to make art.  Our process is more often that we have an idea for something we'd like to do, and then, almost against our wills, we realize that it is starting to look quite a bit like art.  Or at least like things that other people call art.  And certainly, going for a long walk has quite a history as a form of performance art.  It has spawned books, blogs, and even a society.  Well-known examples include Francis Alÿs,Regina José Galindo, Simon Faithfull.
The history of walking as a form of performance art can never be severed from its history as a form of protest.  Galindo's 2003 walk from the Congress of Guatemala to the National Palace, her feet dipped in blood to leave red footprints, was intended as a protest against Guatemala's former dictator, José Efraín Ríos Montt.  Montt had formerly led a military regime known for widespread human rights abuses, and at the time of Galindo's performance was running for President in a democratic election.
Not all of those who have walked in protest have identified as artists.  Perhaps the most famous example, internationally, is Ghandi's Salt March or Salt Satyagraha.  By directly and pointedly disobeying a British law against domestic salt production in India (forcing Indians to buy imported British salt), the march essentially started what became the international Civil Disobedience Movement.
Inspired by Ghandi, A. Phillip Randolph and Bayard Rustin organized the 1963 March on Washington for Jobs and Freedom.  The march itself covered barely more than a mile, from the Washington Monument to the Lincoln Memorial, though the 250,000 participants (60,000 of them white) had traveled from much farther away by bus, rail, and plane.  Some spent 20 or more hours on buses traveling as far as 750 miles.  Two years later, voting rights activists marched 54 miles, from Selma, Alabama to the state capitol in Montgomery.  The Selma to Mongomery marches are commemorated by a National Historic Trail.
America's racial history (obviously still in the making) continues to inspire performance artists.  In 2009 I reviewed Meg Onli's Underground Railroad project for Art Talk Chicago.  (Five years later, her work holds up better than my early efforts at writing.)  Presented as part of Twelve Galleries Project and curated by Jamilee Polson (who is also this blog's managing editor), Onli's project consisted of her retracing, on foot, the route of the Underground Railroad: a 440-mile journey, in Meg's words, "in search of blackness."
Exploring another form of blackness entirely, Chicago-based curator Amelia Ishmael co-edits Helvete, a journal of Black Metal theory, in the first issue of which was published David Prescott-Steed's "Frostbite On My Feet:  Representations of Walking In Black Metal Visual Culture."  (If you'd like to read the article for yourself, the entire journal is presented for free, as a downloadable PDF, at the above link.  A print edition, also available, is well worth the price.)  "Frostbite" tracks a few reference points linking walking with Black Metal culture.  Principally, it finds the common ground between a grueling trek into the Norwegian tundra, led by Gaahl (former Gorgoroth frontman), and the author's own experience walking the mundane streets of an Australian metropolis while listening to Burzum:
In this case, "blackened walking" is seen to be less about the activity of walking itself and more about the circumstances under which one can move through space—walking not just for the sake of exercise, pleasure, or getting to the shops on time. With the modern world (invested in trains, planes, and automobiles), the slow, simplicity of a walk (Walking? How pedestrian!) seems to have lost some of its value. However, walking is capable of bringing one's focus back to a fundamental question of what a body physically needs to do in order to transition through, and therefore go on, in the world. Perhaps mourning the forgetting of the existential significance of walking, "blackened walking" pays respects to walking as the chance to explore self-determination and a readiness for the unknown.
We hadn't conceived of the "Walking To Mordor" project initially in terms of its connection to Black Metal, but as we walked, Prescott-Steed's phrase "blackened walking" echoed in my mind.  The connection, however ephemeral, clarified itself in my mind as I looked over Tolkien's maps of Middle Earth, and researched his languages.  Two of the bands mentioned in "Frostbite" take their names from Tolkien's writing.  Gorgoroth is an arid plateau in the northwest corner of Mordor, surrounding Mount Doom; the name comes from Sindarin (the Gray Elven tongue) and means "dreadful horror."  The name of another band, Burzum, means "darkness" in the Black Speech of Mordor.
Far from the tradition of protest marches, whether as performance art or otherwise, "Walking To Mordor" was in some was a playful exploration of what happens when a joke is taken 138 miles too far.  A linguist became an author.  His book became a movie.  The movie spawned a joke.  The joke became a meme.  The meme became an Easter Egg embedded in the principal means by which Americans today naviage their world.  With every breath spitting in the face of Alfred Korzybski, originator of the phrase, "the map is not the territory," most of us today confuse a glance at Google Maps, followed by a drive in the car, with exploration.    We think of distances first in minutes of driving, or hours of flight.  The landmarks we note are gas stations and Starbucks locations.  Google Maps has become the average person's understanding of the world.  Moreover, our culture is becoming one of remakes and mashups.  References have taken the place of wit:  "that's clever" has been replaced with "I have heard that before."  Tolkien has been reduced, in the public imagination, to the origin of nerd-chic Internet memes, and we have tried in our way to be true to his work by dragging a piece of derivative humor, kicking and screaming, into meatspace.
---