By Kevin Blake
Chicago Imagism represents something more complex than a published manifesto, an aesthetic engagement, or a theoretician's aim at creating an avant-garde. One might argue that Chicago Imagism, an internationally recognized movement with roots in the late 1960's and early 1970's, is still alive and well in the second city. On his 90th birthday on January 26, 2014, Richard Loving explained to a rapt audience at the Hyde Park Art Center, that his work–like the work of other "Imagists"–were simply about making the work that they wanted to make.
In their current exhibit, Inside the Outside at the Hyde Park Art Center curated by Aaron Ott, Richard Loving and Eleanor Spiess-Ferris's works on display span two careers that aptly describe the very complicated historicity of the Chicago Imagist movement. Inside the Outside is a critical investigation of the ambiguous framework of Chicago Imagism and how these two very different artists bound geographically but also aesthetically chose to utilize its tenets to spur their artistic visions.
The works are hung chronologically–a relatable choreography that adequately stresses the aesthetic distances traveled and the hard earned merits of two lives of artistic engagement. In relation to the Imagists' aesthetic–high key color strategies, figuration, symbology, and text to name a few–these works can fit the bill. However, the distinction as Imagist work may also deprive them of the singular translation they so deserve.
Spiess-Ferris and Loving's works are clearly about themselves. Throughout the show, there is an overwhelming sense of self discovery or exhibitionism that develops into a confident vernacular that is uniquely their own. In Loving's case, this idea takes the shape of a materials quest, that over decades evolves from small enamel works that become large format abstractions and matriculate to color drenched dreamscapes that embody the entire narrative. They are Loving's accumulated wealth of knowledge with his materials, and a pointed emulsion of his interests.  Loving's work "Fire and Smoke" is one such amalgamation.
Hovering above the very unnatural bands of lush color is a curved horizon that encloses the space of the painting and alludes to an inevitable ending–a forced punctuation. This curvilinear maneuver has become a staple in Loving's later works and allow for the landscapes to remain in the netherworld of abstraction while maintaining the graphic qualities central to the Imagist aesthetic. Loving's narratives are not forthcoming, but they reveal enough of itself to spend time with their mysteries. The paintings can operate as storyteller or simply as an object of contemplation, and therein lies their success.
On the surface, the narrative elements seem to be more readily available in such works as Spiess-Ferris's "Resignation," where the viewer is immediately immersed into a parallel universe that is completely her own. The cast of characters is the entry point–as there is a familiarity that grows from one piece to the next. Everything in Speiss-Ferris's paintings is as familiar as the paint itself, yet there are no answers to her riddles either. The paintings allow you to meander through them, but never actually be a part of the place–it is her singular experience of a world in which the viewer has no role. It is in the moments of expectations unmeant that the viewer can understand their exclusion. "Resignation," exudes Speiss-Ferris's anguished charm while allowing for self discovery through her range of emblematic totems that find their way into her imagined worlds.
The show also presents some of Speiss-Ferris's drawings where one can see the artist looking at her creations from without, while also participating in the ironies and chagrin of human awareness. In "Acquisition" the sketched portions of the drawing remain as portals into her studio–a nod to herself and remnant of her hand.
This elusiveness and earnest approach to her materials has kept Spiess-Ferris on the periphery of Imagism. Her work is an acidly good-natured view of human follies, largely concerned with the roles and relations between women and nature. She presents the human comedy through her imagined places that are often absurd, charming, hostile, seductive, and ridiculous. Charged with strong doses of painfully comic self-discovery, her host of symbols, images, and characters all play theatrical roles in the ongoing comedy that is a perpetual remix of itself.
The affinity to nature, the paint handling, geography, and the parallel working timeline are enough to link these two artists, but the strength in this show comes from both artist's unflinching dedication to their practices. Decades in the making, their works have evolved and remained on the edges of a discussion that Chicago painters cannot seem to avoid. Imagism is the staple, the running joke, the license, and liberator for Chicago painters. It is the all-encompassing genre most aptly described by Richard Loving as "just making what we wanted to make."
To pair these two artists in a conversation about the reaches of Imagism was to operate on the periphery–to think outside the proverbial box. As the Hyde Park Art Center enters into its 75th anniversary year, a show to kick off the celebration that commemorates a pivotal moment in the center's history as well as the history of Chicago image making was a grandiose gesture, most welcome.
---
"Out of the Mouths of Artists" is a new bi-monthly series on the Bad at Sports blog. The series presents a space for guest artist bloggers– of varying career statuses– to write, to reflect, to pontificate on their current situations, failures and/or successes, and ideas on what it means to be an artist. "Out of the Mouths of Artists" also gives readers a glimpse into artists' portfolios and studios. 
Relocating a Center
By Nicole Mauser
Just last week, a question was posed to me: "Where is the epicenter of Chicago's art scene?" This was part of a casual elevator conversation with someone who had just moved from the East Coast to Chicago. I was struck by this question because it made me pause and consider where I geographically invest my time and conversations about art and research. Having relocated back to Chicago from Kansas City, MO, for a second time this past summer, I found myself picking up where I left off.  In some respects, I am engaged in existing dialogues and structures, while in other professional respects I have set out to tackle completely unknown territories and new challenges.
With the question, I realized how fascinating it is to be an observer on the periphery (even if only temporarily) and see what galleries have disappeared, endured, and emerged, while exploring a 'new' to me Chicago in terms of private collections and historic venues such as The Arts Club or Union League.
I had no short answer for the East Coaster-cum-Chicagoan: 119 Peoria has been all but dismantled (will Three Walls stay or go?); however, there is still a bastion of galleries in the West Loop on Washington. Mana Contemporary is becoming a household by name teaming up with various institutions. Each university with a MFA program from the universities—Northwestern, UIC and U of C—to the art schools—Columbia College and SAIC—has is its own mini-epicenter with concentric circles emanating outward into the art scene. A handful (a few handfuls, really) of Chicago artists are being highlighted in the upcoming Whitney Biennial by Michelle Grabner and Anthony Elms. The MCA has gone through upheaval. Art Expo is back. Ultimately, there is no dominant discourse. In dynamic and thriving arts ecologies, there is a multitude of rich conversations happening. These conversations are being instigated by the artists themselves and to varying degrees by the institutions.
One thing I do know: my life now in Chicago is an inversion of the one I led in KCMO.
After an initial brief stint as an art handler in Chicago, I learned a difficult lesson that not all businesses touting the arts support artists; some exploit employees who make the ultimate sacrifice to pay their bills: no longer making their work. Currently, I juggle a full-time administrative job at one local art school while teaching painting as an adjunct at another local university. And I recently struck up a relationship with Reynolds Gallery in Richmond, Virginia, to exhibit a few pieces of my work. While all of these roles help me pay the rent and gain professional experience, they combine to make ends difficult to support a studio practice.
This is the predicament that many conversations with artist friends revolve around: balancing studio/research time with demands of a job to afford overhead. Whereas in KCMO, many artists cobble together part-time teaching, waiting tables, and selling work to afford three times the living space and a studio. In that smaller metropolis, it is a choice to leverage income to focus on the studio practice. It is an option to survive on much less. Therefore, it has become an environment that lends itself to risk taking and igniting experimental collaborations. I found that I was able to do many things, and still work to afford an artist's necessities. With a number of others, I founded and rigorously participated in two artist enterprises: PLUG Projects and Kansas City's Plein Air Coterie (KCPAC), both of which are going still going strong. The collaborative work I did (from 2011 to 2012) with the always professional co-founders and artists at PLUG was rewarding, and I am grateful to my conspirators there for their mutual desire to shape unique exhibitions and ancillary programming, all from the perspective of the artist as curator. Also, this time at PLUG helped me hone my ability to simultaneously hold down a full time staff job at SAIC and an adjunct teaching appointment at UIC. I believe my experience as part of KCPAC, in which I was working from observation in the elements, helped to erode any assumptions about the relationship between abstraction and perception.
Recently, in Chicago, a few artists and I rekindled a critique group consisting of grad school colleagues (and friends!) for studio visits. Inscribing this regular practice into our studio research is gaining terrific momentum. I truly value these relationships and the quality of our conversations. I am continually blown away by the multitude of in-depth cross-conversations, generosity, and ferocity of investment in each other's development. In this context, which is a kind of epicenter for me, criticality is not a rebuff but a way of asking better questions. I find that I am now breaking rules that I once set for myself in the past. I am working to explore abstraction through a host of reference materials, including still lifes, photos, Xeroxed images, and art historical references, in order to push against my own non-objective proclivities.
Through it all, though, I find myself returning to ponder the eternal question, what is the healthiest scenario to support my work? It is the gallery system? Is it the academic system? None of these scenarios are necessarily the sustainable answer. Constantly having open conversations negotiating alternative models and redefining healthy arts ecology seems the best start for me.
In summary, it appears that the current epicenter in Chicago, and in all cities, is a moving target—for me and for others. This scenario seems to simultaneously present plural opportunities and elusive support mechanisms for one's longevity in the arts. And yet, it feels like a great time to be an artist in Chicago.
I hope someone asks me where "the epicenter" is again in five years.
Nicole Mauser (b. 1983, Indianapolis) currently lives and works in Chicago, IL. She obtained a MFA from The University of Chicago (2010) and a BFA from Ringling College of Art & Design (2006). Her works have been exhibited nationally and internationally. Mauser was a 2011 recipient of a Post-MFA Teaching Felllowship at The University of Chicago and a recipient of a Student Fine Art Fund Grant for travel and research in Berlin from The University of Chicago. Exhibitions include Ft. Gondo Compound for the Arts (St. Louis), Carrie Secrist Gallery (Chicago), The Dolphin Gallery (Kansas City), H&R Block Artspace (Kansas City), DOVA Temporary Gallery (Chicago), Gladstone Community Center (Gladstone, MO), Center for Art+Culture (Aix-en-Provence) and AR Gallery (Milan). Collections include The Alexander (Indianapolis) and The Nerman Museum of Contemporary Art (Overland Park, KS). Mauser's writings have been published in 8 ½ x 11 and Art Practical. Mauser is also a co-founder of the artist run gallery, PLUG Projects and co-founder of the Kansas City Plein Air Coterie (KCPAC).
See more of Nicole's work at www.nicolemauser.com.
---
Last year I was invited by performance company ATOM-r (Anatomical Theatres of Mixed Reality) to sit in on several rehearsals while they worked on their latest piece together, The Operature. Since that time, the work has had a showing in York, they have produced a book with Pinups Magazine, recently opened a two person exhibition at Julius Caesar in Chicago, and continue to work towards the Chicago premiere of The Operature at the National Museum of Health and Medicine (175 w Washington, Chicago IL) March 21st, 22nd, and 28th 2014. A collection of notes from their rehearsals follows.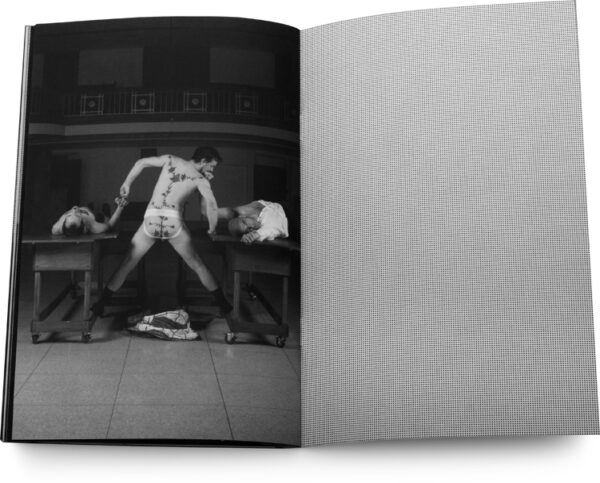 1. Chris' Back and Thigh
The theater holds between 200 and 300 spectators in six concentric galleries of narrow rows that provide standing room only. The bodies of the recently deceased are laid out as actors, like the dancer to the choreographer, the corpse submits itself to the movements of the doctor. The body following the request of the scalpel, as eager to articulate the interior secrets of the body as the doctor is to discover them.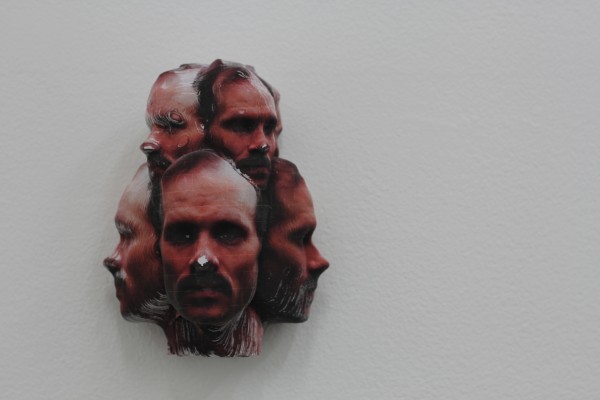 2: Justin's Kidney and Chest
From where I sit in rehearsal I can easily make out the performers as they move about the table. Even as they tower above me, dancing from corner to corner. I need only lift my head slightly to keep them in my full view. The table is to my left. I am thinking about watching, about the pleasures of looking at bodies, and of the duets that emerge from my gaze. The duet between these men, their fingers nimbly grazing their partners torso, weight shared across thighs, every movement mirroring the duet of scalpel and chest, doctor to corpse, witness to theater, and beyond to the dimly lit corners of the farthest circle, where the excitement of discovering the interior of oneself is imagined with each brushing shoulder.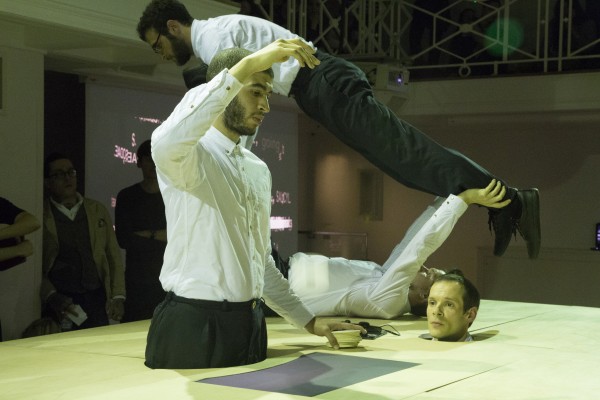 3: Sam's Ankle and Neck
Professor, tattoo artist, writer, and sexual misfit Samuel Steward kept a deeply coded and painstakingly noted account of his sexual encounters. Penile measurements sit alongside anecdotes and the occasional picture. A box of approximately 900 cards, the stud file is an archive of sexual experience and an attempt at exerting ownership over one's body. Stewards thirst is that of the anatomical doctor, both delighting in the bodily pursuit, in the ecstasy that comes from leaning against the submitted frame.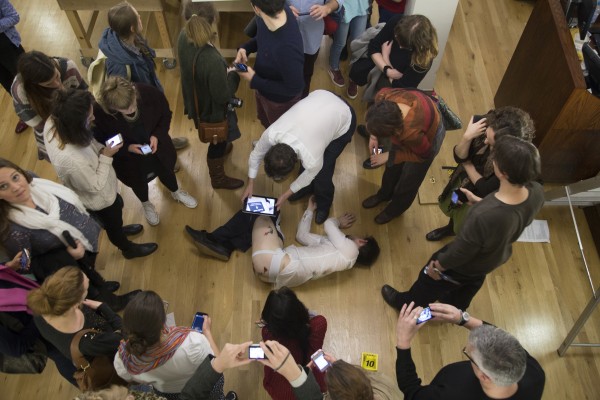 4: Blake's Pubic Bone and Shoulder
In rehearsal, at the moment, we are oscillating between the record of Samuel Steward and the technology of the anatomical theater. Movements are derived equally from sexual and surgical acts, both having striking similarities conceptually and visually. Through each week and each iteration of the work, I am left to ponder the watching of bodies as they are laid out before eager spectators, however they might be displayed in private or public exhibitions and however large or small the audience might be. This is how I understand the performance to function: as a technology of looking. The way a photograph captures a submitted partner or the way a surgical table in the center of an audience can amplify the form.
*Images courtesy of Christopher Schulz, Christa Holka, and Stephanie Acosta
Anatomical Theatres of Mixed Reality (ATOM-r) is a provisional collective exploring forensics, anatomy, and 21st century embodiment through performance, language and emerging technologies. Participants include Mark Jeffery (choreography), Judd Morrissey (technology & dramaturgical systems), Justin Deschamps, Sam Hertz, Christopher Knowlton, and Blake Russell (collaborators/performers).  
---
By Kevin Blake
Abstract painting is coming off the walls. It is evolving. Zoe Nelson talks with Bad at Sports about her engagement and participation in the evolution of abstraction, which appears in her work, to be a deconstruction of traditional painting parameters. Through a physical dismantling of the images' supports, Nelson blurs the boundaries between painting and sculpture, creating perpetually shifting spatial dynamics.
Kevin Blake: Chicago artist Sophia Leiby recently turned me onto an essay in the Brooklyn Rail, Worlds With Us by Katy Siegel, in which she suggests, "In terms of art, unthinking the opposition between representation and abstraction is particularly vital to understanding art objects and practices afresh." I'm wondering how you have arrived at abstraction. It seems to me that artists arrive at abstraction out of some sort of necessity that is the resultant of a struggle with conceptual as well as formal frameworks. As I was looking through your archives on your website, I could see a departure from representation, and it occurred to me that this was a relatively common evolution for abstract painters. Abstraction does not seem like something you just set out to do one day. I'm wondering if abstraction, for you, has been a product or a solution to struggling with the idea of representation and abstraction as polar opposites.
Zoe Nelson: When I started grad school at Columbia University in 2007, I was working on a series of portraits of friends with their demons. Imagining what my friends' (and my own) demons might look like if they were externalized allowed me to begin to think about the entire space of the canvas as a loaded psychological space, with all parts of the canvas (foreground, background, demon, person etc) having the potential to be equally descriptive of the psychological state of the person. It was at this point that a shift occurred and I started to become more interested in the potential of the "background" or psychological space around the person than in the portrait. As a challenge to myself, I decided to try to remove the figure from the work, while continuing to make an interesting painting. I'd say that my first conscious plunge into abstraction occurred with this initial act of negation–the negation of the figure. Absence and negation continue to be strong conceptual and formal frameworks for my work, as you can see in my current body of cut-out paintings. What is cut-out or not depicted in my work is often defined by- and defines- the form and content of the painting.
Going back to your Katy Siegel quote, I would agree on the importance of deconstructing a binary understanding of abstraction and representation in painting. I arrived at abstraction through representation, and in some ways one could say that I am currently working through abstraction to arrive at a type of active, moving representation: a representation of liminal psychological spaces and shifting states of being.
KB: Literally cutting sections out of the painting seems like an almost radical action against representation–in the sense of negating recognizable imagery–and simultaneously, it might be seen as a way of evoking a discussion about the state of being represented. Opening the canvas to view the guts of a painting, so to speak, allows the viewer to look past the painted surface and into the physical space behind it, calling attention to its objecthood. In your recent show at Western Exhibitions, some of the paintings protrude from the wall rather than hanging flush on it, further interrupting the spatial dynamic while creating a dialogue with it. Can you talk about the paintings existing in the third dimension and how do these issues perpetuate this idea about abstraction and representation being more of a consequence of one another rather than visually articulated opposites?
ZN: As I cut into the canvas, I uncover parts of the stretcher bar support, which inevitably opens up a whole chain of questions regarding the relationship between support, canvas and the physical space behind and around the paintings. Each painting deals with this relationship in a different way, I believe, and the double-sided paintings evolved as a natural extension of the work becoming more sculptural. When the frame is exposed, all of the sudden there are edges and different physical planes to consider, and the next logical step was to consider the "back" of the painting as well. Through privileging all sides of the painting, I hope to destabilize the hierarchy of front over back, and hanging the work perpendicular to the wall is a playful invitation for the viewer to walk around the paintings and take part in this process.
The paintings and installation at Western look completely different depending on where you stand in the room, and these shifting states are integral to the form and content of the series. If multiple people are in the room, you might see a hand or head or shoulder through the cuts in a painting, and these people (or body parts) momentarily become a part of the work as well. Blurring the lines between artist, painting, and viewer in this way is conceptually exciting for me, and I think circles back around to how the current work still references back to my initial interests in representing the body and psychological states of being, albeit in a performative way, and while operating within a realm of abstraction.
KB: The first time you cut a painting, was it due to what you perceived to be a mistake? Looking at the evolution of your work, I sense a strong influence of painter Amy Sillman whose work seems to depend on the occurrence of mistakes and even more so on the corrective production emerging from those mistakes. Does your work engage with that dialogue?
ZN: Whenever I move to a new location, or even a new studio, I find that my practice often shifts with the move. After graduate school, I spent a year working on a series of process paintings about the idea of unwinding. It wasn't until a year later, when I moved to Chicago, that I was able to take the project a step further and actually start to undo the surface of the painting through cutting into the canvas.
Although my initial cuts into the canvas were not exactly a mistake, they did stem from a place of anxiety and fear. When I moved to Chicago in 2010, I didn't know the city at all, barely knew the art community, and only had a couple of names of friends of friends to contact. Everything around me seemed unstable, unknown and overwhelming that year, and the studio was the one place that I was able to channel all of that anxiety and fear into artistic risk-taking.
I worked with Amy Sillman in grad school, and she continues to be a huge influence for me–both her work and in the smart discourse that she engages in around her practice and painting. I've noticed in my own practice that if I have an idea for a painting, and I execute that idea really quickly, the work often doesn't hold up a few days later. I think this failure ties back to the importance of the mistake: perhaps the reason that these paintings often don't hold up, is because that struggle–of making, identifying, and working-through the mistake–hasn't yet occurred. When the work falls short like that, there is often a part of the painting that has seduced me, and it's only through literally cutting out or removing the seductive part that I am able to rework the painting as a whole, rather than as a showcase for one special element.
I think that the importance of the mistake also ties into the importance of feeling and intuition. Amy Sillman has an awesome zine, the O-G v3, in which she challenges the hierarchy of mind over body when discussing and making paintings. At the end of the zine, Amy advocates for the conceptual possibilities of painting specifically through "the radical merging of mind and body!" While it is often easier to talk about formal or conceptual concerns in painting rather than trying to find a smart way to talk about intuition, I am of the mindset that the two are not mutually exclusive. In my practice, intuition, feeling, mistakes, and elusiveness are just as important to the process of painting as the formal painterly concerns that I am also responding to.
KB: When I listen to other artists talk about their work, I always look for a takeaway-something useful to apply to my own practice or in this case regurgitate as a means of preserving the idea in my frontal lobe. I recently listened to artist Cesare Pietroiusti speak in Boston, and of the many things I retained from his talk, he said something profound that resonates in relation to our conversation. He said, "when there is discomfort, fear, and anxiety-go there." It seems you have intuitively done just that and this impulse has yielded some positive results. Have you been able to abandon these themes as you have gotten settled into Chicago and more so into the community? Or do they continue to be the driving force of your work?
ZN: Anxiety and discomfort continue to be strong themes in my work, though the driving force (or one driving force–there are definitely many) has become the work itself. I have grown to love living and working in Chicago, and have met fantastic artists and worked with great galleries here, such as Roots & Culture, Lloyd Dobler, and most recently Western Exhibitions. I think that anxiety, fear, and crisis are all incredibly powerful emotions (or psychological states), and they hold an equally powerful potential for risk-taking in an art practice. That said, I also think that it can be hard to issue rigor and restraint in a place of real anxiety or crisis, as everything has such urgency and there is a lack of control. Thankfully, I am more settled now and I find that the work is organically building on itself. Each painting opens up a new set of questions and formal challenges, which lead to new decisions and new paintings. Right now I am in the exciting place where I have a number of ideas for new paintings and specific installations, and am juggling these different trajectories in my practice. I am able to continue to explore themes of anxiety and crisis while mitigating those states with humor, play, and pleasure in the work. Of course waves of anxiety, failure, and fear play a part in this process, and no matter how thoroughly I conceptualize a painting before I start it, the beginning almost always feels like a shot in the dark.
KB: The end result being a complete departure from the pre-conceptualized form makes me think about conflicting loyalties. You have loyalties to your methods which allow all the nuances and intuitive moments to take place within the process of making a painting, and being loyal to yourself in these allowances is an important if not essential part of your practice. However, you also have a loyalty to what you might still do, or what the painting might still become, which always seems to be connected to the pre-conceptualized form. How do you negotiate conflicting loyalties in this sense? Are your sketches or ideas of a final product just a jumping point or do you struggle to maintain those forms throughout the process of making a painting?
ZN: When I start a new painting, I usually try to either identify a psychological state, or a feeling attached to a specific moment, that I want to articulate. I then respond to this initial idea by imposing a set of formal parameters on the work, which also define the subject matter. For example, the painting "Skype Breakdown" started with an idea to make a painting about frustration, blocked communication, and distortion. I made the painting (and most of the work up at Western) this past fall, while I was at a wonderful six-week residency called the Lighthouse Works. The residency was on a small island off of NY with spotty internet connection, and after looking at my partner's frozen and pixilated face on the computer screen for the umpteenth time, I decided to channel my frustration (and objective interest in the abstracted image on my screen) into a painting. Using the idea of arrested communication and distortion as a starting off point, I began the painting by first making mask-like cuts into the top layer of canvas. Any discernible figure or face is cut-out and totally abstracted, and this act of negation also becomes subject matter.  Circling back to you initial question about juggling pre-conceived concepts with method and intuition, I'd say that I try to stay true to the initial motivation and abstract idea behind a painting, while being open to chance, intuition, and the unknown in the process of making a painting.
KB: Speaking of making new paintings, what are you currently working on, and do you have any upcoming exhibitions we should know about?
ZN: I am working on a few different projects at the moment, including a nascent but exciting collaborative project with a composer, and paintings for a couple of installation ideas. Just a few days ago I was asked to take part in an artists lecture series called "Artists Now" at the University of Wisconsin-Milwaukee next spring, which should be a lot of fun, and I am working on an exhibition proposal for the fall of 2014 at the moment. Having the show at Western has allowed me to take some time to reflect on the work, and see the paintings in a different context. I am particularly excited to hole-up in my studio as the show comes to a close, and make some new work!
---
Guest Post by Autumn Hays 
Over the last few years within the United States a growing interest has arisen in festivals that specialize in Performance Art, that offshoot of the visual Arts, who's practices center around temporal body-based works. This festival-circuit format for showing performance based art works has already produced a strong development in terms of organizations and events outside of the United States. Often however it's difficult for American performance artists to break into these circuits. Although there have some who have successfully done so, many festivals go years without showing a single American performance artist. This could be for many reasons, but one is certainly the relative lack of funding. Often the diplomatic and cultural establishments of foreign countries, such as embassies and consulates assist artists with expenses so that they can make and show artworks outside their country of origin. In the USA however, we do not invest money in the arts to the extent of other countries and thus American artists often have less accessibility to funds outside of their own pockets.
Performance art festivals are often intensive endeavors, involving a diverse group of international artists. Always on very tight budgets, these festivals often seek to supply food and housing for the artists for the duration of the festival, often lasting from several days to weeks. Unlike showing at a, gallery the festival becomes a sort of community or summer camp. Here artists and curators network and meet performers from all over the world. Viewership is open to the public but there is a community of support at many festivals where artist see each-other's works, often living together and sometimes collaborating on the fly. Festivals are often popular for performance art as spaces willing to show the work, or spaces aware of the needs of exhibiting performance art are often few and far between.
The good news for performance artists is, the USA is starting to develop their own performance art festivals. These festivals seek to bring international artist to the USA while showcasing local talents. It will be exciting to see what other festivals are brewing here in the United States and some in and near Chicago itself. Here are three festivals to look for this year: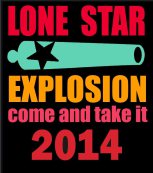 Lone Star Performance Explosion
     Huston, TX
     February 19-23, 2014
This is the second time around for this international performance art      biennale after a successful run in 2012. "LONE STAR EXPLOSION 2014 seeks to showcase performance art that pushes the artists and audience in new ways, especially performance art that questions fundamental assumptions about the way we experience time, space, relationships, the self, society, and sexuality. " As many of our festivals on this list the line up features local, national and international talents in Performance Art. Lone Star Explosion 2014 is curated and directed by Jonatan Lopez and Julia Wallace. Confirmed artists include: Elia Arce (Costa Rica), Marce Sparmann (Germany), Natalie Lovleless (Canada), J. Morrison (NYC), Ryan Hawk (Huston), Roberto Sifuentes (Chicago), and over 25 more artists. http://lonestarlive.org/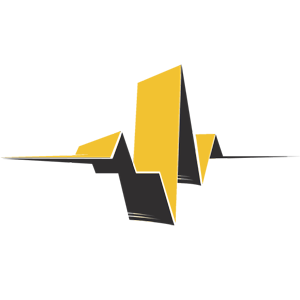 Rapid Pulse International Performance Art Festival
Chicago, IL
June 5-15, 2014
This is year three for Rapid Pulse International Performance Art Festival, taking place here in Chicago. "The RAPID PULSE INTERNATIONAL PERFORMANCE ART FESTIVAL aims to represent a range of styles and forms in order to provoke thought and stimulate discourse surrounding performance art." This intensive festival features performance,  video screenings, artist's talks and panel discussions. It includes a wide range of performance art from durational, public, and digital based works. Unlike the rest of the festivals on this list Rapid Pulse is centered in and around Defibrillator Performance art Space as opposed to being a wide range, multi-venue event. Artists have yet to be announced but the application period is closed and the curatorial process is beginning. Rapid Pulse is curated by: Steven Bridges, Julie Laffin, Giana Gambino, and Joseph Ravens.  http://rapidpulse.org/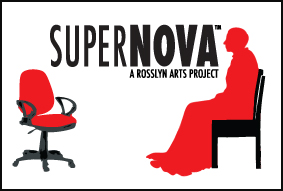 Supernova Performance Art Festival
Rosslyn, Virginia
June ?
Super Nova first took place in June of last year and word is the event will be back again this year. "SUPERNOVA will bring together emerging and established local, regional, national and international performance artists to present an expansive range of positions and approaches to performance art." Though not confirmed Supernova came together well last year showing and they have to potential to continue on this year. Tough mostly national based artists, Supernova has the bones of a strong festival and hopefully they continue. Supernova's 2013 Chief Curator was Eames Armstrong. http://rosslynartsproject.com/
The question that arises with these projects and others like it is one of sustainability. Performance Art festivals are often struggle all year to find funding for the next event. Often performance artists who wish to see this kind of festival thrive in the USA produce these festivals. These factors, and the fact many performance art specific festivals around the world struggle to stay open make the running of an international festival a labor of love, to say the least. Even if these festivals eventually come to an end, the recent creation of these festivals might be pointing to a new trend in performance art exhibitions in the USA. Hopefully the adoption of the festival format international performance festivals will continue to propagate more opportunities in the exhibition of performance art. It will be interesting to see if the new trend in festival production will flourish in the United States and if festivals like these will run strong and multiply in the years to come. Perhaps, the appearance of American Performance Art festivals, and the participation of American artists in them, may lead to an increased interests in American practitioners of performance works both at home and abroad.
_______________________
Autumn Hays is an Artist, Curator, Teacher and Writer. She graduated the School of the Art Institute of Chicago with an MFA in Performance where she received the John Quincy Adams Fellowship. She received her BA in Visual Arts at UCSD. Hays was the recipient of numerous scholarships, grants and awards including two major Jack Kent Cooke association scholarships. Currently she is assistant curator at Defibrillator and Co-Producer of the 2014 IMPACT Performance Art Festival. www.autumnhays.com
---