Last month, in the midst of the crazy Expo Chicago extravaganza, I had the pleasure of going on a tour with Gallery Weekend Chicago. GWC was founded by Chicago gallerist Monique Meloche in 2011 and offers annually a weekend of private gallery and museum tours. I went on the Sunday tour which took us down to the Washington Park and Hyde Park neighborhoods on the South Side and made stops at the Arts Incubator, the Smart Museum, the Renaissance Society, and the Logan Arts Center.
The Arts Incubator in Washington Park was the first stop of the day. This space, part of the University of Chicago's Arts & Public Life Initiative, was conceptualized by Theaster Gates, who is now director of the project. The Incubator is home to an artist residency program, a community arts education program for teens, as well as an exhibition and performance space.
The Incubator currently hosts five resident artists. They have access to all of the facilities at the Logan Arts Center, where we headed later in the day, and have studio space at the Incubator. The Space Between, an exhibition of these artists' work, was installed at both the Incubator and the Logan. The work addressed the social differences between these two spaces – one located in the University-centric Hyde Park, the other in the adjacent Washington Park neighborhood.
Despite the early hour of our arrival four of the five artists were kind enough to meet us at the Incubator to show us around their studios and the exhibtion: Avery Young, Cecil McDonald, Cauleen Smith, and Tomeka Reid. We were also joined by the curators Allison Glenn and Monika Szewczyk.
Cauleen Smith created two "space stations" for the exhibition – one in her studio at the Incubator and the other in the gallery at the Logan. The installation in her studio played off the aesthetic of a work space with filing cabinets, a work table and a temporary wall made from screens that she used to screenprint wallpaper for the other space station at the Logan. There were also shelves with plants and small artifacts that she made from materials found in the surrounding neighborhood: chunks of cement and fragments of a road sign.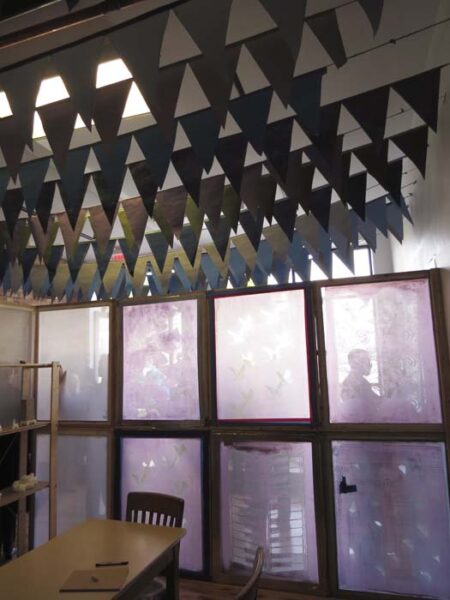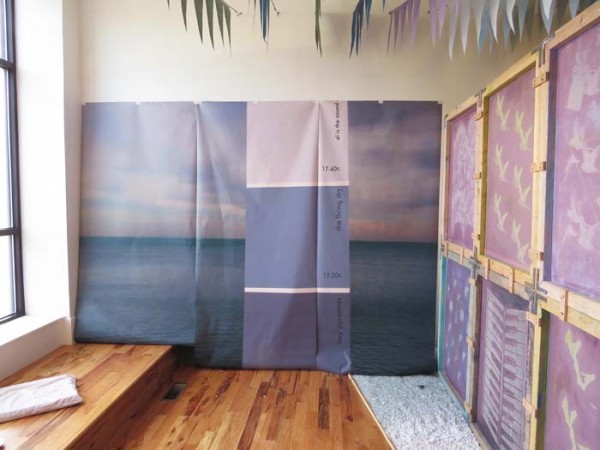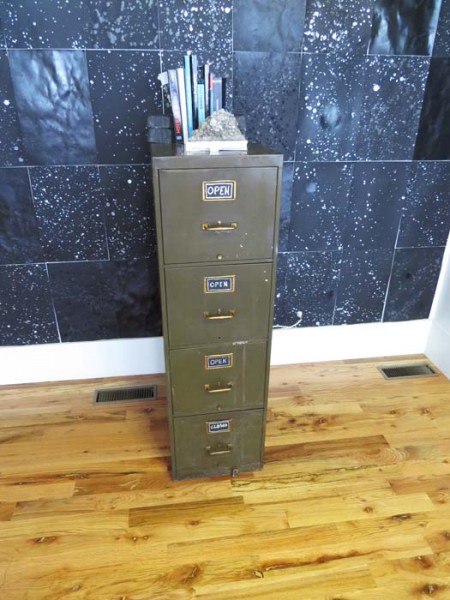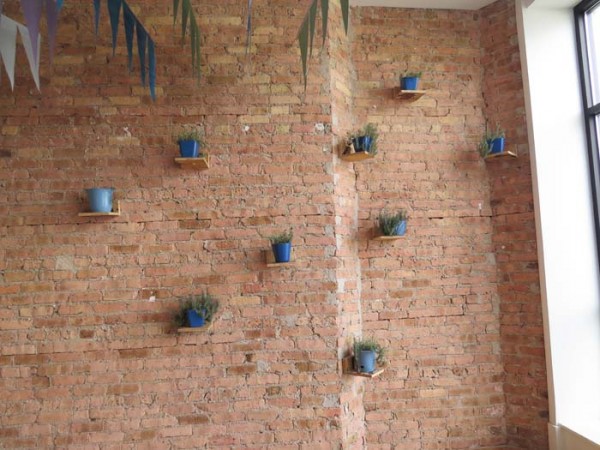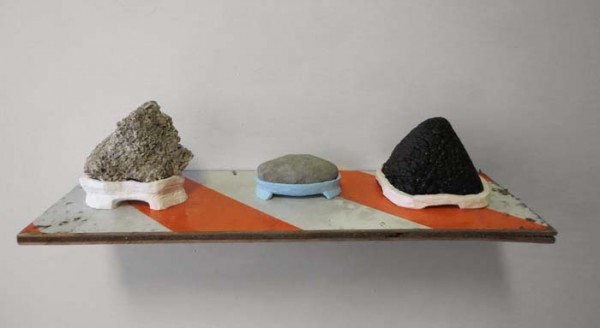 Avery Young and Cecil McDonald have a shared studio space, the floor of which was laid out with Avery's work for Groun(d), a solo show now up at the Incubator.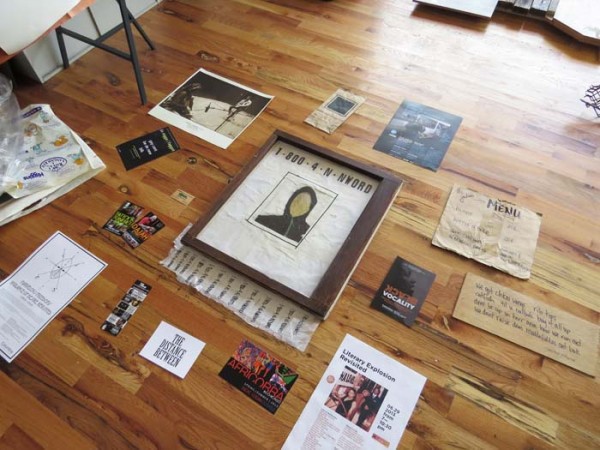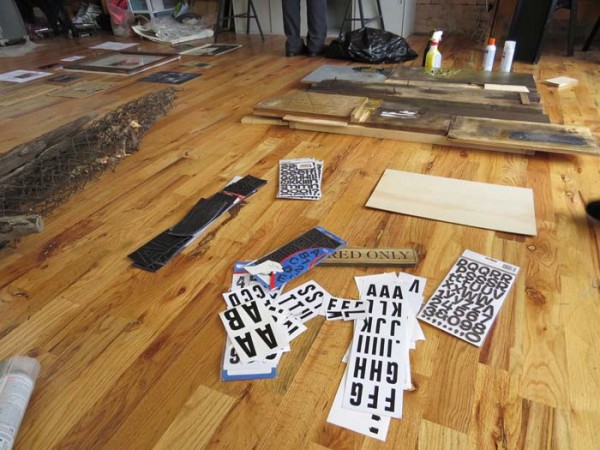 In the main exhibition space Avery Young, Tomeka Reid, and Cecil McDonald spoke to us about their work.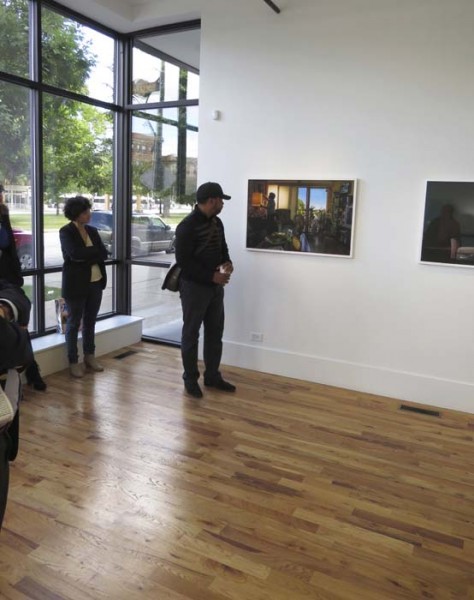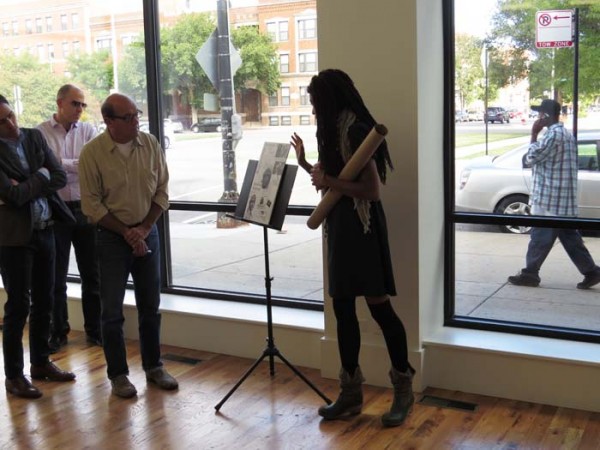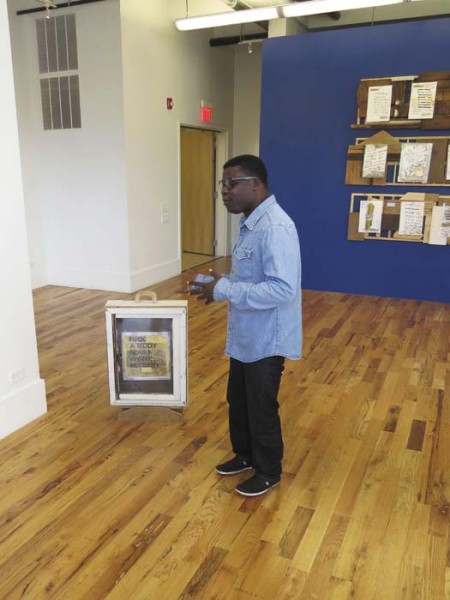 After going to the Smart Museum and the Renaissance Society (both of which have amazing shows up right now – Suicide Narcissus at the Renaissance Society blew me away.) we ended the day at the Logan where Monika Szewczyk showed us the other half of The Space Between, featuring Cauleen Smith's other space station, photographs by Cecil McDonald, assemblage works by Avery Young, and sound pieces by LeRoy Bach.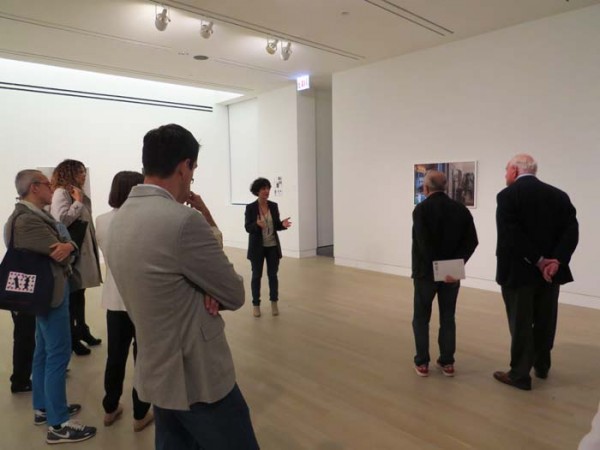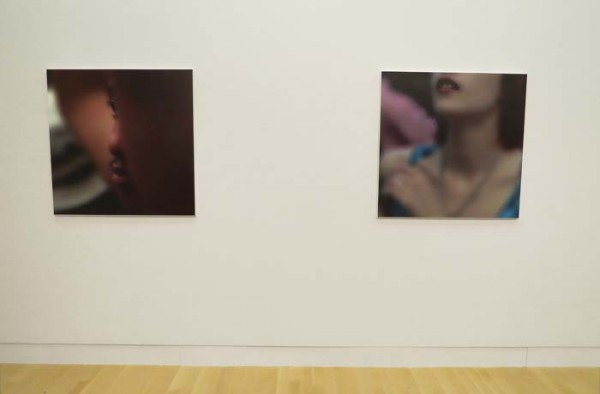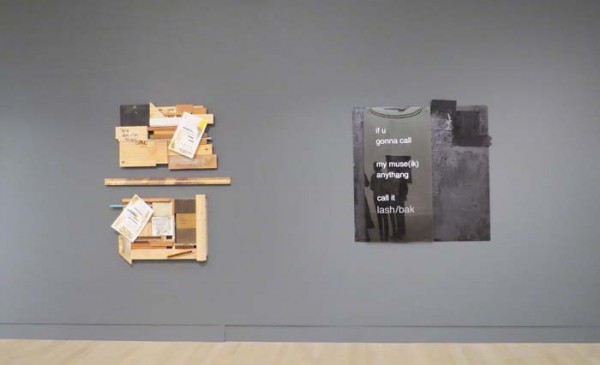 Monika also gave us a tour of building and, by the way, the view from the 10th floor is pretty phenomenal.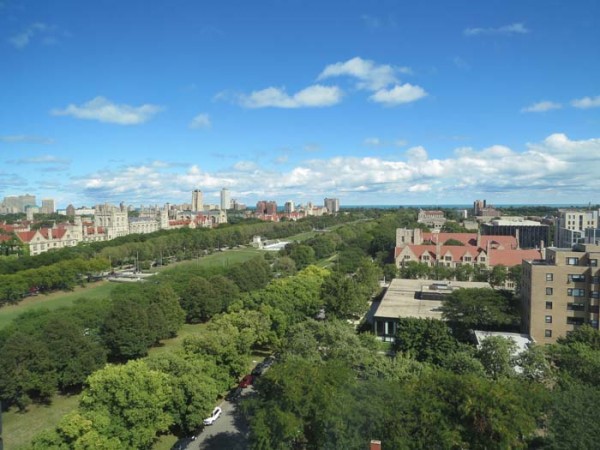 Bailey Romaine is an artist and bibliophile based in Chicago.
---
 Guest post by Hannah Verrill
Michal Samama is a performance artist and choreographer from Israel.  She recently came to Chicago by way of New York to begin her MFA in studio art at The School of The Art Institute of Chicago. She is now focusing on the research and creation of movement based solo performances and multidisciplinary collaborations. A couple of weeks ago I spent time in the studio with Michal as she prepared for an upcoming performance at Northwestern University.  The following dialogue ensued:
Hannah Verrill: I'm thinking about a solo performance practice, and if it is distinct in the sense that you as the maker can never fully step outside of the work in order to witness it.  I am curious about how you come to 'know' the work that you are making as you are making it.  Do you use video as a reflective surface to see what you are making?
Michal Samama:  Now I find myself using video, but it didn't start that way.  I became so interested in the images, in creating images and then of course changing the images, transforming them into other images.  So in a way I feel that I have to see it. I guess I started to use video at some point, but before video I was using the mirror.  Over the past few years I've also started to take photos of my body and my movement in the studio.  I have tried to direct my body to a specific image but at the same time to be in the movement, or the position, or the expression while taking the photo.  Those moments that I've captured have helped me to develop the visual aspect of the performance.
So it starts from a visual image that I have, that I imagine, and then I start to explore it, to transform it, to do this whole research in the studio.  Video can tell me if the image or sometimes also the timing is right.  My question is what is that 'right'?  What is the right image?  What is the right timing?
HV: For me, time is something where video and live don't match up.  I can be watching a video of performance and something feels distinctly too long, but if I were with that body in space I could be having a completely different temporal experience of that same action occurring. 
MS:  It's interesting because when I look at the video, and again, it's a tool, it always seems for me that I don't take enough time.  That in live I push myself too fast, that it actually needs to be slower.
HV:Â  Right, and video helps you see that or know that.
MS:  Yes, even though it can be very boring to watch this stillness, but the way I sense the timing of my body through video is usually that I need to slow down and take more time.  It's something I'm trying to work on right now, but it can be very scary for me not to just move on and go to the next image.
So when it comes to performing in front of an audience there is this internal thing going on.   This other layer, the negotiation between the way I build or shape the external image with what's going on inside, and there is the encounter with the audience.
I remember the moment when I started look out.  I think there's a difference between this external artificial gaze into the audience versus really looking.  Of course it's a solo, like I am the performer and you are looking at me, but then I'm looking back at you and maybe you feel awkward or embarrassed, but maybe you are thinking about your next doctor's appointment or your surgery.
HV: Would you say that there's a kind of feedback loop in place? A set of information that you receive from your audience by way of their presence, in a specific sense, that comes to influence how you are performing?
MS:  Yes, or you could think of it as a dialogue. It's about questioning this idea of me as the performer being the authority.  Or it's also about questioning what is your (the audience's) role here.  I started to think more of this idea of performance as a collective event or social event. This is what is unique for performance.  It puts into a laboratory this idea of the social event.
I do remember one work from a few years ago when this question came up of if I wanted to take my gaze out into the audience or still be in this internal dance-y gaze, and at that point I chose not to.  I was too afraid or I didn't know what to do with it.  But now it's different, and I've started to make it more and more what I do.  I'm interested in this kind of transformation of images happening during the performance.  Part of the transformation of course is the homework that I worked on in the studio—the choreography—but of course part of it is like what you're saying, the feedback.  So in the end there are many more transformations than what I initially thought of because of the presence of the audience.
HV:  I wonder if you could talk about the process you're engaged in currently with this upcoming performance. 
MS:  In some ways this is the most difficult process to speak of because it is happening right now.  I'm working on this piece for a conference and the name of the piece is What Am I Paying You For? With the last few pieces I was more and more into this negotiation between the abstract of the body and the concrete of the body, and the idea of looking closely at body parts, zooming in on body parts.  But of course in performance you can't really do it.  I mean that's what I'm trying to do, but there is always the body as a whole.
HV: Right, and the space that the body is in.
MS:  The space, and the sound, and everything.  But the space and the sound are there in video, but in video we try to ignore it.
HV: But with video, with an actual zoom or various editing functions we can actually direct or focus attention.  I mean, with performance we can too, but it's very different. 
MS:  Yes, you can zoom in with a camera and show just this part, but how do I do it when my whole body is there, when the audience is there?  So I went into the studio taking this bag with me, with all of my materials in it. The rule that I set up for myself recently is that I don't do this theatrical thing of having a set stage, and then I perform, and then someone cleans it up.  I do it all myself as part of the performance, I guess to kind of blur this line between performance, life, when does it begin when does it end.  So I said OK, I'll just go to the space with the materials in my bag, but then I thought well this is not interesting enough. And then I decided to put the bag on my head.  I'm naked also.  So now I think that seventy percent of the performance is with the bag balanced on my head.
HV:  So you came to the studio with your bag of materials.  How is it that you decided to put the bag on your head? Is that an impulse or is that an example of an imagined image?  How did that happen?
MS: So that maybe was not an image, I mean when I did it I felt that maybe it could be an interesting image.  Putting the bag on my head immediately calls in a set of associations, connotations – I would like to play, at the same time, with the balance, the physical 'risk' or challenge but also with the associations, mine and those of the audience, sometimes they can also be risky especially when it comes to nudity… so I am on my knees, trying to balance the bag on my head, but I'm also a naked women on her knees.  You have to decide what to look at or what draws your attention. But I guess initially that gesture came from my desire to put myself in an uncomfortable or risky situation.
HV:  It's also a precarious situation because the bag could fall.  Does the bag fall?
MS:  It can, and in that sense there is a really different quality to rehearsal and performance, because things happen in performance because of the anxiety or excitement.  New things can happen.  For example I was working in an earlier piece with rocks, holding seven rocks.  During the first performance one of the rocks fell and it had never happened to me before, and it never happened after.  Just that first performance.  And yesterday my husband came to the studio to see this current piece for the first time, and I'm there standing with the bag on my head and I felt the weight of it on my neck and the tension in a way that I had never felt before in rehearsal.
HV:  Going back to the internal experience of the performer, and then there is the external image that you are creating with your body and various materials.  It occurs to me that the external image aside, you wouldn't know what's risky or vulnerable without feeling it, that it's a felt thing.  It's not exactly conceptual, but rather it seems as though it would need to feel legitimately risky for you. 
MS:  There is something very clear about the images, but then the risk is in the movement.  Otherwise it would be just like a photo.  A static image.
HV:  Does risk and vulnerability enter into the audience's experience of your work?
MS: Â We spoke about the gaze and how at a certain point in my work my gaze started to be directed out into the audience, and that is something I am working on, going more and more towards the audience and really bringing them into the situation.
But the whole idea of audience participation is such a cliché now.  It's a question of how to work with it.  With my body I try to ask: what are the possibilities of the body, what can the body be and how do we read each image that can be created with the body, or with the movement?  In working with audience, I want to give them a chance to respond in different ways, or to offer something that is a little disturbing maybe. I think no matter what you are always asking something from the audience, sometimes you are asking them to be very passive.  In my performances I think in a subtle way I try to ask them to be active.  What I don't want to do is to give instructions, this is not my way, I like that the way is more hidden.  To give more space, to create the space for negotiations.
HV:  And choice making as well, your audience can choose how and to what degree to participate.  But you're not letting them off the hook either. 
MS:  Yes.  This may be a solo, but don't be mistaken, you are here and you are apart of it.
For me, because I grew up on a kibbutz, I have these collective issues, and there is no solution for that, no answer.  It is just apart of what I am thinking through, or working through; this idea of performance as a collective experience, and creating space for individual responses. It's your choice, and it's a moment between us, and intimacy is a big word but I feel like there can be a kind of intimacy, something can happen there.
For example when I did the orange thing again at Judson Church, the first person was trying to take the orange from me, so it became this fight.  And then almost with everyone else they were imitating this.  So there's this kind of peer pressure, or how we follow what our peer just did.
HV:  It makes me think about what you were speaking to earlier, about how the presence or the feedback from the audience is a way to make the work improvisational to a degree.  It occurs to me that you cannot rehearse this aspect of the work, the interaction between you and your viewer(s).  So you are leaving space for your viewer to enter into the work, and also to determine the work, perhaps even make the work with you. 
MS:  That's the thing. I'm not so much into this idea of a closed production.  It's not just this thing where you come, and you see something, and you stay out of it.  It's more like a social experiment.  Of course I'm leading it and bringing the materials, the proposal.  I'm proposing something, and then it can change.  Parts of the work are very choreographed—there is a choreography in place—but still it is changing all the time.  There is an ongoing influence between you and I.
 
Hannah Verrill is an artist living and making work in Chicago, Illinois.
---
1. University of Iowa Full Time Position Description: The Department of Cinema and Comparative Literature at The University of Iowa invites applications for a tenure-track position that will be filled at the Assistant or Associate Professor level, depending on qualifications and experience. The position will begin in August 2014. We are looking for a Film/Video maker with significant experience in digital documentary filmmaking. The successful candidate might also work in non-fiction and experimental modes of film and video production. This new faculty position is part of Iowa's Public Digital Arts Cluster initiative. (for more information see: http://now.uiowa.edu/2013/06/new-faculty-cluster-public-digital-arts ). New faculty with expertise in public digital arts will complement the University's considerable existing expertise in these areas to form the core of this innovative multidisciplinary initiative. Participation in the PDA Cluster will be an important component in performance evaluations. Candidates will be expected to teach courses in digital video production and post-production at all levels of the undergraduate and graduate curriculum. Possible courses may range from documentary filmmaking, digital cinematography, and new media to digital animation, 16mm, directing, and screenwriting. Screening begins November 15, 2013. More info here.
2. Unsolicited Proposal Program at APEX Art: Applications accepted Oct 11 – Nov 8, 2013 — online only Submit your idea for a curated exhibition.
Now in its 17th year, apexart's Unsolicited Proposal Program open call is accepting submissions for exhibition ideas starting October 11, 2013. Three winning proposals will receive funding and administrative support from apexart to present their show in its Tribeca space.  The Unsolicited Proposal Program asks for idea-based, 500-word proposals for curated shows of three or more artists that examine a compelling idea. Exhibitions can be about any topic that the organizer finds compelling—successful shows have been selected about everything from television to mapping to literature. No prior curatorial experience is required and we invite submissions from people of all backgrounds. Proposals are anonymously evaluated by an international jury of 150 people from all disciplines. Votes are processed through a unique apexart-developed crowd-sourcing computer script to determine which three proposals received the highest scores with no direction or interference from apexart or its staff.  The three winning exhibitions will be presented in apexart's 2014-15 season. Proposals are accepted online at apexart.org/unsolicited.php from October 11 – November 8, 2013. You may also visit this page for FAQs and other guideline details.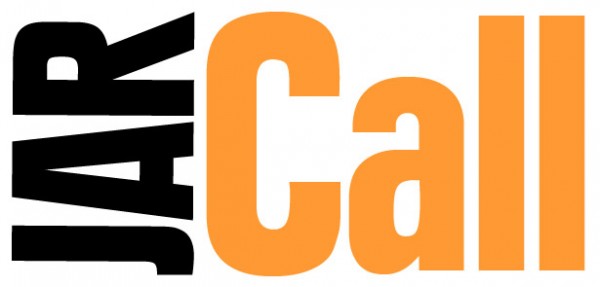 3. The Journal for Artistic Research (JAR) invites original submissions for future issues from artists worldwide, with or without academic affiliation. The journal is open to submission from all artists who wish to reflect on and expose artistic practice as research, who are interested in exchanging ideas and processes with a group of engaged peers and, thus willing to contribute to the ongoing debate about research in the arts. Submissions that should be considered for JAR5 need to be made before November 15, 2013.
JAR is a peer-reviewed journal, publishing original research from artists of all disciplines. Published twice a year, with currently four issues accessible online, the journal is unique in its field, marrying the rich-media and social networking capabilities of online publishing to peer-review and scholarly rigour.With the aim of displaying and documenting practice in a manner that respects artistic modes of presentation, the journal uses the Research Catalogue, a free-to-use online tool that allows the weaving together of text, image, audio and video material.JAR is open to all possible approaches to the publication of research including those that use little or no text. The Research Catalogue also enables collaboration, allowing multiple authors to work on the same document simultaneously and submit to the journal as a team. Articles that are not accepted for publication in JAR can be self-published, free of charge in the Research Catalogue.

JAR is a free open-access resource, with an international readership and a growing pool of renowned artistic and academic reviewers. The journal's issues are non-thematic and submissions are considered by an experienced editorial board, in a rolling fashion, as they are submitted. To submit an article, contributors are required to register for an account on the Research Catalogue, and use the writing space to layout and expose their research. JAR provides editorial guidance and technical help with these processes.

Interested contributors should first acquaint themselves with previous issues at www.jar-online.net (the inaugural issue JAR0is a good place to start) and then contact the journal to discuss the suitability of their material and receive advice on progressing towards submission.

The next issue, JAR4, will be published in November.

Send your correspondence to Barnaby Drabble, Managing Editor, Journal for Artistic Research:Â barnaby.drabble@jar-online.net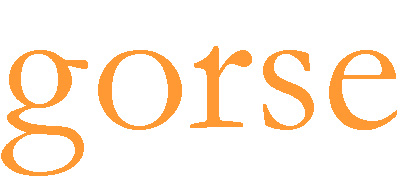 4. Call for Critical Writing Proposals:JARÂ is published by the Society for Artistic Research.
gorse's website will publish shorter pieces of criticism [1], narrative essays and interviews. We are not currently considering fiction or poetry. Please send a query, or the first 500 words of your proposed essay, to info [at] gorse [dot] ie. Work should be previously unpublished. Simultaneous submissions are acceptable as long as you tell us straightaway if your work is accepted for publication elsewhere. We will do our best to reply to all queries, but if you don't hear back from us within six weeks please feel free to submit to another venue. Please note that as our resources are limited, we are only in a position to offer contributors a token fee. Finished pieces for the website would ideally be between 500 to 3000 words.

We are interested in the potential of literature, in literature where lines between fiction, memoir and history blur (Sebald, Cendrars, Bolaño, Joyce), in experimental [2] writing, in fiction in translation, in the unconventional and the under recognised, in the personal essay (Sontag, Dyer). We are a literary journal equally interested in the arts (fine art, photography, architecture, film, music), in culture, in politics. We're looking for smart writing, not academic.

---

1. "I. The critic is the strategist in the literary battle. II He who cannot take sides should keep silent. III. The critic has nothing in common with the interpreter of past cultural epochs. IV. Criticism must talk the language of artists. For the terms of the cenacle are slogans. And only in slogans is the battle-cry heard…" Walter Benjamin ↩

2. We acknowledge the word 'experimental' is not without its problems. (See John O'Brien on this point: "If Sternewere writing today, he would be labeled a postmodernist, but what sense would that make, given when he was actually writing? As far as I am concerned, the history of fiction is one of invention, oftentimes playful and conscious of itself, but always pushing limits in terms of what it is and what else it can be. But I absolutely do not think of a Sterne or a Joyce as "experimenters": they didn't experiment, they made these remarkable books whose ingenuity and art are rarely seen in other writers or matched. Their works are finished and complete achievements, not experiments.") 'Experimental' is not weird for the sake of weird, it is innovation. ↩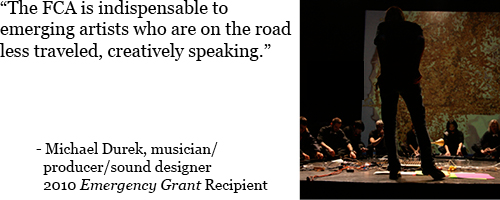 5. Emergency Grants
Created in 1993, Emergency Grants provides speedy funding for visual and performing artists who have unanticipated, sudden opportunities to present their work to the public, or who incur unexpected or unbudgeted expenses for projects close to completion with committed exhibition or performance dates. The grants are intended to support the creation of innovative and experimental work, and are meant to assist individuals and groups when there is insufficient time to seek other sources of funding.
Requests are primarily granted to artists who are "emerging" and have few sources of financial support. Emergency Grants is the only active, multi-disciplinary program that offers immediate assistance of this kind to artists working anywhere in the United States.
Emergency Grants applications are accepted year round; there is no deadline. Applications are accepted online only; please refer to the application requirements below. Grants are determined on a monthly basis by the Emergency Grants Panel, a volunteer committee of established artists. In 2012, grants ranged in amount from $350 to $2,440; the average grant was $1,165. Go here for more information
---
6 Must-See Discussions at Expo Chicago
by PADDY JOHNSON on SEPTEMBER 13, 2013
Joel Sternfeld | McLean, Virginia, December 1978 | 1978. via participating gallery Luhring Augustine
Expo Chicago launches next week and I'm already preparing. So far that means reading the website schedule and mentally preparing myself for reporting on the fair. I'll be heading out to Chicago next Thursday to check out Expo and participate in "Dialogues", a series of panel discussions on contemporary art launched in partnership with The School of The Art Institute of Chicago. Contemporary Art Daily's Forrest Nash, The Baer Faxt's Josh Baer, and myself will speak on a panel about digital publication moderated by Bad at Sports Founders Richard Holland and Duncan MacKenzie.
Perhaps thanks to the fair's partnership with the institute, the panel discussions look a lot more interesting than the normal gamut of collector centric talks fairs normally launch. As such, I've put together a list of the discussions I'd most like to see. Check out Johnson's list here.
---