This week my Top 5 in actually a Top 4. Why? 'Cus I say so damn it!  I'll probably be out of town on Saturday, but luckily, my Top 4 are all on Friday. So, without further ado…
1. The First Five Years at 65Grand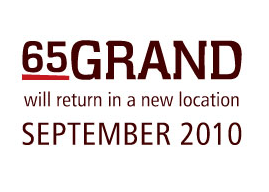 We all know the city gives shit to apartment galleries, even though it was recently discovered that the city itself didn't even have its own damn story straight on what was illegal and what wasn't. Well, unfortunately, Bill was one of those that ended up with the shi..ahem…short end of the stick. This is your last chance to see 65Grand in its original incarnation, and get an overview of the last five years of exhibitions.
65Grand is located at, well, you figure it out. Reception is from 7pm to 1am.
2. The Intuitive Photography of Jay King and Lee Balterman at Stephen Daiter Gallery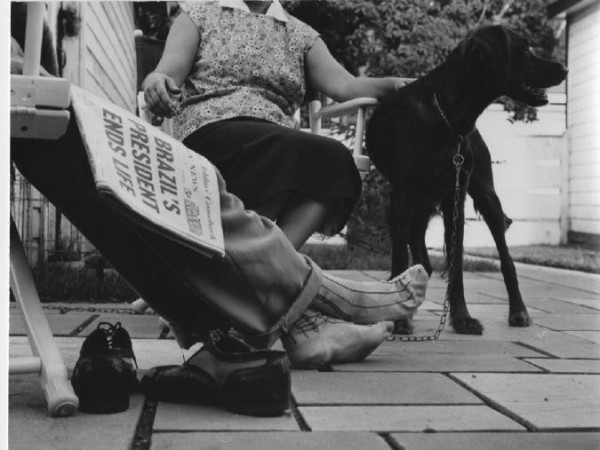 Daiter presenting more of the work he does best. I've really come to love Stephen Daiter Gallery over the last year. Street and personal photography spanning a 60 year period by Chicago natives Jay King and Lee Balterman.
Stephen Daiter Gallery is located at 230 W. Superior St. Reception is from 5-8pm.
3. I'll Be Your Mirror at Spoke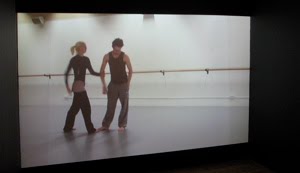 From the venue that brought puppies into the gallery (I shit you not, it was awesome), comes another round of strangness. The artists of I'll Be Your Mirror, and I quote, "will focus their energy on exploring the possibilities of mutually beneficial relationships rooted in conversation, exchange and sincerity." Included in the exhibition are Lise Haller Baggesen and Anni Holm of Chicago, Gitte Bog of Mexico City, Gudrun Hasle and Berit Nørgaard of Copenhagen.
Spoke is located at 119 N Peoria St. #3D. Reception is from 5-8pm.
4. About Face at Thomas Robertello Gallery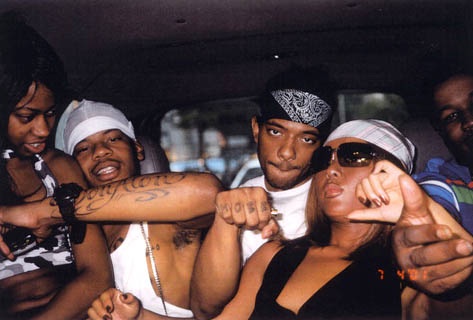 An amazing show dealing with the face. Don't miss it, you will be sad if you do. Including works by Jason Robert Bell, Cody Critcheloe (SSION), John Delk, Scott Fife, Emily Noelle Lambert , Nikki S Lee , Noelle Mason, Mike Nudelman, Ed Paschke, Grant Schexnider, Travis Leroy Southworth, and Julie Weitz.
Thomas Robertello Gallery  is located at 939 W. Randolph St. Reception is from 5-8pm.
---
Hey ya'll, I'm reporting to you from afar. I'm gonna keep this short, 'cus I've got to get ready to spend a week in the woods hiking, shooting, canoeing, and watching zombie movies. Mmmmm…Chopper Chicks in Zombie town. But I digress. Here is my Top 5 for this weekend. Enjoy 'em, since I can't.
1. Aspen Mays explodes your brain with science!
In her first solo show, Aspen is showing off all her art/science craziness. Aluminum foil spaceman, check. Fireflies in the camera, check. You won't be disspointed. Opens Friday at Golden gallery, 7-10pm.
2. Geometry and mold spores at Thomas Robertello Gallery.
This stuff just looks strange. The title is what caught me, the show is called "Taxonomies." But with ceramic mold spores from Sarah Hicks and geometric paintings from Peter Barrett, it seems worth a look. Check it out Friday from 5-8pm.
3. The faculty has shown good taste at SAIC.
The faculty at SAIC has passed down their opinion on what's good and what's not. Surprisingly (well I was surprised), I mostly agree with them this time round. You can go see new work by Sarah Belknap, Joseph Belknap, Tif Bullard, Yu-Hang Huang, Merideth Lacina, Alison Rhoades, andIsabelle Schiltz at the Betty Rhymer for the Annual Faculty Exhibitions Committee Picks show (I don't think this is the real title, or whether there is one, so I spliced this together. ) Opens Thursday from 4:30 to 7pm.
4. Artist dresses up as volcano, spends day reenacting Day in the Life of a Volcano.
Do I actually need to say anything else? The afore mentioned peice (by Eliza Fernand) is part of Post Scarcity, a new show at 65Grand curated Thea Liberty Nichols. Opens Friday, from 7-10pm.
5. Performing in the bedroom…
The Second Bedroom that is. Anni Holm is doing an installation called Sleeping Around. If you're in Bridgeport, head over Friday night.
Sorry for the lack of pictures and links, the zombies are coming!
---