I met Arturo Ortiz Struck at his studio in Polanco, around the corner from the Libyan Embassy. I was surprised—I don't know why, it's been more than two years since the Arab Spring bled out into autocracy, terror, and disarray, metastasizing into brutal land grabs and ISIS/ISIL—to see that the Embassy uses the current colors of the Libyan flag: black, red, and green. I wondered what happens in the embassy of a failed state and asked the guard what street I was on. Thankfully, I was close to Arturo's studio. Arturo Ortiz Struck is an artist, architect, urbanist, and theorist, who I encountered at a screening of a Jan-Peter Hammer film at Labor a few weeks previously. When I arrived, there were books on design all over his desk. I asked him about the history of design in Mexico.
AOS: It's a strange history. We used to have very powerful policies that were oriented to create not just furniture and industrial design, but also a graphic identity for Mexico. I really love this book. It's about the Olympics in Mexico in 1968. This was state-funded design. There wasn't any kind of market. When the state invested in design, we had incredible design; when they stopped investing, we stopped having design.
JW: Why was the state investing in design? Only for the Olympics?
AOS: Yes, only for the Olympics. There was funding in the 70s to design the postal service as well. In the 80s, we didn't have anything. This table and these chairs are from the 40s. They are really beautiful. After the 40s and 50s, we had the Olympics, with this strong national investment in design; after that there was a desert. It's interesting. But let's talk about architecture.
JW: My interest in this is in the power of architecture, or the ambient environment in general, to affect the way that people act, the way that they behave.
AOS: From my point of view, there are a lot of processes in which you can create an identity with particular issues that will legitimate some actions. Most of the time, there is propaganda, in the long sense of the term: how can I make that group of people think as I want them to think? This propaganda no longer issues from the state. Who is exercising this power? I always think of Steve Jobs. Steve Jobs is this really cool guy, who is completely apolitical—he doesn't appear to have any political agency. He is the model of the entrepreneur everybody wants to be: the entrepreneur who is really cool and easygoing, who used to be a kind of hacker working in a garage, who reshaped the idea of computers, and so on. He will not talk about politics or the economy or anything, but he does talk about "thinking different," through an advertisement. Think different, count on yourself. This is the idea of Milton Friedman, the idea of bringing people to believe that they are able to be individuals and as such are able to live without any kind of society. In a way it's this kind of Nietszchean figure who exists completely outside of his subjectivity. This guy is a cool guy, completely apolitical, who doesn't care about any problem that is not his problem. It's a solipsist kind of behavior in which you are inside yourself, inside yourself, inside yourself, and the way you have to relate with others is completely determined by some ideological rules, some fantasies. So: you should be cool. In those terms, the new apparatus of control is not Steve Jobs. Instead, it's the idea of being Steve Jobs. It's much more diffused. That's what is controlling space and controlling behavior today.
JW: It's internal rather than external.
AOS: It works. The people behave. In that sense, I think about Foucault. Everything is really controlled in a kind-of-mysterious way, but it's not so mysterious. These power systems are operating through the things you buy, the ways you represent yourself, the behaviors that are accepted as cool or rejected as not cool. The body is the object of all of these systems. It's not difficult to understand and it's not difficult to see. I work with that. I want to show it.
JW: Lyotard talks about the difference between legitimating via a narrative, which has an arc—a beginning and an end, which may not be definite—but it's a story, it's like "I was born poor and I will die rich, and I'm going to evaluate every situation I encounter based on this narrative that I have"—or on the other hand there's a legitimation via paralogy, wherein you evaluate your situation based on how available all the options in a given situation are. So a narrativist, if such a thing were to exist, would encounter a roadblock in a very different way than a paralogist. The narrativist would go over the bump, you know, always onward or whatever, and the paralogist would look around. It feels like that's what you're doing in your work—that you're trying to make visible all the available options, without necessarily presenting a better way.
AOS: I started to study housing, many years ago, these new kinds of housing projects from the state, I don't know if you've seen them…
JW: I have, yeah, I went out to Nicolas Romero a couple of weeks ago and saw them. They're ridiculous…
AOS: What I was thinking about these projects is that what they are producing is credits. For the financial system and the state to survive, there needs to be a stable economy. In order for the economy to remain stable, there needs to be a lot of people with debts and credits, and they have to pay their credit, or not. There just needs to be a huge amount of people who are going to circulate capital. They need to want to buy things they can't afford so that there can be more credit and more debt. It is by this logic that housing is produced. Housing is produced from the need to continue the financial system. It is an abstraction. When I started to talk about this, it was 2005. Everybody told me I was completely crazy and that I didn't understand anything about urbanism or the new middle class. I decided to create a test model. What is happening and how can we look at it?
[Arturo walks to his computer and begins to play a video.]
AOS: That's what we are doing. We are doing great at this abstraction. I don't care if they're sustainable or whatever, it's exactly the same. The abstraction becomes really aggressive and really violent to societies that are unable to see what is happening to them. It's like the movie Modern Times, when Charlie Chaplin is winding the clock: everyday life is people winding the system. They think it's because they are going to own a house or a car or a lifestyle, but at the end of the day what the system is selling is money, and people cannot see that. It is an abstract commodity. So we start to see a lot of things about fetishism and lifestyles and how other things start to work around it. And this is really violent.
JW: Is there something that you would consider non-violent architecture?
AOS: I don't know. For ten years I worked as an architect in the far east of Mexico City, in Chimalhuacan and Chicolopan. I have been developing different housing projects there, doing different workshops. Where I am in terms of urbanism is completely linked to everything else. What I am saying is that informal settlements are much less of a problem than we used to think. They are a problem, of course, because of issues of power and the production of poverty; but it is sometimes better to do business for yourself, away from the financial system. In any case, it is almost impossible to change these conditions. Sixty percent of urban grown in Mexico City is informal growth —it's huge! You cannot wave your hands and change it. Instead, we've been developing workshops with people in Chimalhuacan, Chicolopan, Texcoco, for the last three years.
JW: You worked with the people that already live there?
AOS: No, we worked with new settlers. We went with them, we asked them what they wanted, and they told us what they wanted, in a very strange way…
JW: What did they want?
AOS: We made a kind of study. Instead of telling them how their houses should be, we told them, look, you should look at the sun. You should look at the sun and the air. You should understand how the sun moves so you can have better lighting; you should study the air so you can have natural ventilation. That was the first workshop. We found that all these people already know a lot of things about the sun, the wind, everything. They aren't able to link this knowledge with construction, but they have it. They know it really well. They learn it from the basic curriculum in Mexico. Everybody learns it. All the books in Mexico for basic education are the same for everybody. The government publishes them. They teach about the sun and the air, but they do not teach the link between these things and construction. Our current project, which we are submitting to the Ministry of Education, is to add some diagrams to these chapters about how to link this knowledge with construction, with the setup of your classroom or your house. We have not been very successful.
JW: That's great, to insert this kind of radical architecture into basic education…
AOS: It's not radical architecture! It's about making the house you want to make, but keeping in mind where the sun is. That is not radical. If you go to Ciudad Nezahualcóyotl, you will see that most of the terrain is completely built over. There are no trees. The houses are really obscured and without good ventilation, so they are always going to feel bad. How can you feel better? We have this house that costs $30,000MXN and can be built in one month. It became very popular in architecture circles. We built one at the United Nations in New York, we took one to the Venice Architecture Biennale, and it was part of an exhibition at the Mildred Lane Kemper Art Museum in St Louis, MO. I will show it to you. In a way, we are trying to understand architecture that can be created without the financial system.
[We walk back to Arturo's computer to watch the video.]
AOS: This piece translates from a very practical kind of thing to a much more symbolic thing.
JW: Something that's actually practical seems suddenly so unreal.
AOS: With the natural disasters last year in Mexico, because of the rains in Guerrero, I sent this model to the guy in charge of the disaster relief, because it's really fast, it's really easy, and it's an external foundation system so it's hard to wash away. It's simple physics. We've just brought this technology from the river to the house. It's amazing.
JW: Do you think this kind of architecture will have a positive effect on the way people act inside of it?
AOS: I don't know. It's up to the people living in it to act. It's up to people living in architecture to reshape it. It's an issue of control and propaganda. When you walk into these incredibly cool places, with Barcelona chairs and Tom Dixon lamps and whatever, everything starts to become a kind of set. When I walk into Crate & Barrel, I feel the set. They are telling me, you should live like this. This is the lifestyle you deserve. If you have that furniture you probably have this kind of computer, you probably have these kinds of clothes, you probably have these kinds of behaviors. It is a little bit like the Truman Show. Everything's set—you don't have to think beyond just being in the set. It is completely impossible that this set aids your subjective growth in any way. All of this has to do with the body, with limiting or obscuring what you can do with your body. In a way, I agree with Lyotard, when he writes in the Postmodern Condition that we are losing against the system. And that was in 1979! That's why I love working with the idea of the body. It's through your body that you can be out of the set. It's not so radical: we are losing against the system and the only way to have political agency is through your body.
Arturo Ortiz Struck is head of the architectonic and urban research workshop Taller Territorial de México and a member of the National System for Art Creators, FONCA.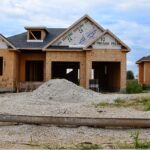 Work by Cara Megan Lewis and Alejandro Figueredo Diaz-Perera.
Antena is located at 1755 S. Laflin St. Reception Friday, 6-10pm.
2. Experiments in Environment: The Halprin Workshops, 1966-1971 at The Graham Foundation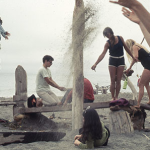 Collaborative works from Lawrence Halprin and Anna Halprin.
The Graham Foundation is located at 4 W. Burton Pl. Reception Friday, 6-9pm.
3. Groundwork at The Pullman State Historic Site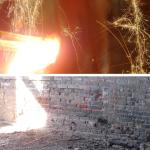 Work by Carrie Iverson and Nathan Sandberg.
The Pullman State Historic Site is located at 11057 S. Cottage Grove Ave. Reception Friday, 5-9pm.
4. EDITION Chicago at Chicago Artists Coalition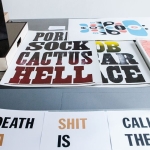 Work from Chicago Artists Coalition, Gallery 19, Steven Harvey, Museum of Contemporary Photography, Ochi Shop, David Peterson Gallery, The Pitch Project, Andrew Rafacz Gallery, Segura Arts Studio, THE MISSION, Vertical Gallery and Yaupetec.
Chicago Artists Coalition is located at 217 N. Carpenter St. Open Friday 12-7pm, Saturday 11am-5pm and Sunday 12-5pm.
5. D H C M R L C H T D J; or True Facts About Stones; or The Race With the Tortoise at Peregrineprogram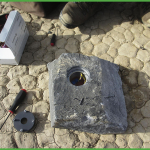 Work by Oa4s, Noah Barker, Erin Jane Nelson, Timothy James Kelly, Nico Colón, Theo Michael, Temra Pavlovic, and Jack Heard.
Peregrineprogram is located at 3311 W. Carroll Ave. #119. Reception Sunday, 1-4pm.
As I walk through exhibitions, I find myself staring around the works on display, straining to see how paintings are hung from the walls, how sculptures rise from the floor. I look for projectors and speakers. I stare at the benches and chairs, the corners of walls, electrical outlets and lights. I am not avoiding the artwork. I am searching for the whole picture, yearning for everything the works contain. I want the story of the work, a record of its history, not simply the final object.
I was absorbed by Mitchell Syrop's steel wall pieces in Hidden at Midway Contemporary Art, intrigued by their static flow, the impermanence of their solidity. As others visitors were absorbed in reading the text of his massive, nine panel Hidden, I stared at the nails holding up Family of Secrets, wondering about the hands and machines that had pulled them from the earth, shaped, packaged, shipped, sold, and hammered them. What narrative unites these steel objects on and in the wall? What happens to the nails when Family of Secrets is removed? Will they be united again?
I visited the Katherine E. Nash Gallery at the University of Minnesota, and I fell in love with the artworks installed in a particular corner. I marveled at their seamless pairing with an incredible, ambient sound piece, until I remembered that the sound comes from the heating and cooling system. I could see the works without the rasping rumble from the depths of the building. Of course, the context of any artwork influences our experience of it. The temperature of the room affects the book we read. The argument we hear in the alley outside affects our experience in the gallery. The lighting, hardware, and soundscape of artworks shape our viewing. I am looking for those other aspects of the objects because I want to know the narrative held within them, the time they embody even if we do not know how to see it.
I was thrilled to see a Roman Opalka 'detail' in the Walker Art Center's Art Expanded, 1958-1978. The rows and rows of numbers embody time, daily practice, a life of dedication, but that time is lost among the other "expanded" practices. I strained to read the numbers, searching for the hours of its creation, wanting to hear Opalka's recordings and see his self portraits to begin to fill out the narrative of this singular painting.
I have been visiting artists' studios and installing work, slowly seeing objects unfold and absorb layers of meaning. I have seen ideas and conversations transform through unknowing, testing, exploration into artworks that hold each incarnation, each thought within them. I have watched white walls fill with works that travelled across the country, bringing with them the time and miles they travelled, their stamps and handlers, the nails and screws upon which they balance.
When I see artworks in galleries and museums, I know I am witnessing only one small portion of their narrative, and I want more. I search for the out of sight parts of these artworks to begin to enrich their stories, to attempt to understand their lived experience as changing, mutable objects who contain our time with them as they move into their future.
There is a chill in the night air. Fall is here, carrying the weight of the year behind it, breathing changes into the trees and gardens that begin to show the passage of time, the slow revolution of the seasons. I return to Opalka. He writes, "Time as we live it and as we create it embodies our progressive disappearance." Let us look to the objects we create to see our progressive disappearance. They reveal the briefest moments of that disappearance when we see them displayed, but they will hold the passage and passing of our lives long after we have disappeared.
Guest post by Nicole Mauser
I recently visited the studio of Indianapolis-based artist, Lauren Zoll. Her work oscillates between drawing, painting, sculpture, video and installation.
Throughout the studio visit some large and reflective black latex paint sculptures bulge and sag and lean against the wall, at once mirroring and abstracting the spectator and the surrounding space. Our conversation in the studio touched on the concept of fugitive color, which we used to refer to the sculptural objects' foregrounded reflective black latex paint. Furthermore, we used this phrase to propose an alternate meaning, something more akin to the literal phenomena of fleeting color that refuses to be pinned down.
The sculptural panels—each a bit larger than a doorway—act as analog television screens perpetually turned off, reflecting the quotidian around them in acts of defiance against their technological intention to project entertainment into the viewer's space. We discussed the use and appearance of black mirrors throughout the history of painting. Originally, they were utilized to look behind or over the shoulder of the painter while simplifying values into discernable general tones. Zoll's panels, which bring to mind the scale of Gerhardt Richter's grey glass mirrors, further activate surface by using photography and recorded video on the surface to capture morphing reflections made by manipulating still life in the studio. Because the process of making seems very much in tandem with the idea of making these panels, I'll refer to Zoll's words on why and how she does it:
When I close my eyes, I see black. Closing my eyes is my starting point, a springboard by which my creative process begins.
When you close your eyes, textures, patterns and colors begin to emerge from the black. All of this is happening in less than one sixteenth of an inch. It is a surface of infinite potential.
This action has led me to create a body of work that includes black paintings and black and white drawings. In both of these works, the formal characteristics take flight and the complexities take over; ultimately showing color, radical depth, and unforeseen narratives.
The paintings begin by pouring multiple applications of black latex paint onto board or drywall panels. The paint dries slowly and creates different levels of gloss and reflectiveness. Once the painting is cured, I begin the process of filming and photographing the surface of the painting. I focus my camera on the dynamic, flickering and colorful reflections that come from the surrounding installations that I create.
I began this process when I realized that paintings have the ability to see. If a paintings existence is to always be looked at and seen, then surely the painting possesses its own ability to see. I document what a painting sees by photographing the image that is in the painting. I then produce chromogenic prints, which become both a document and the art. My most recent series is a collection of portable black paintings. I am fascinated at how placing these paintings on easles in an environment speaks to the transitory nature of Plein Air painting and further connects it to the history of art. I plan to continue this trajectory by making an installation of multiple black paintings on easels in site-specific locations and capture what they see. 
[The black and white drawings were] created by covering white paper with drywall finishing tape and then painting over the tape with black paint. This drawing series was inspired when I tried on black and white checkered flag like eyeglasses. Realizing the context of checkered flags in Indianapolis, I set out to make an investigation that used the methods, materials, and semantics of a "finished" work via black and white checkered patterns. These works currently are on standard size drawing paper. The next phase of this series is to create a large scale drawing installation, directly on to white walls reacting to the space, structure and architecture. In conjunction with the drawing installation, I will continue to keep the remnants of the tape to weave, fold, and join the pieces together to produce a three-dimensional woven structure.
The work also brings to mind Swiss artist, Adrian Schiess, who uses video and large-scale body-sized aluminum panels and glossy digital prints installed on the floor to explore the intersection of perception of time, texture, color, and light. Schiess was featured at the Indianapolis Museum of Art (IMA) in 2008. Zoll pushes the visceral aspects of the materials diverging from Schiess' clean lines. Interestingly, Zoll's panel sculptures and video installations were featured in a solo exhibition at the IMA in a 2013 solo exhibition called Something Is, an experience about which she spoke a little:
I feel that the IMA show enabled me to dive into the work, where I might not have if it were not for the support from the museum. The contemporary art department has historically been dedicated to collecting contemporary works, and in this case, it had a direct impact on contemporary art being made now. Which is a very bold, strong place to be. It had an impact on art today, which is so different from waiting a couple of years to see if the work is safe or largely accepted.
The show gave me an invaluable lesson: How [do you] work with a museum? Or, how [do you] suddenly work with 15 people when you have been working alone in a studio for years? I think for most artists that is a challenge, and now I can go forward feeling a lot more mature [now that I have that] set of tools now.
In discussing this solo presentation at the area's most important contemporary art venue, our conversation turned to what is it to be an artist in Indianapolis, both the benefits and drawbacks. According to Zoll, one benefit is uninterrupted time and space to think and produce work. A drawback is an incomplete artistic ecosystem where there isn't much of an opportunity. But there are unique things going on in Indianapolis. One excellent example is The Art Assignment, a new weekly YouTube video series produced in collaboration with PBS and the Indianapolis-based duo comprised of independent curator (and former IMA curator) Sarah Urist Green and fiction writer John Green. In addition to numerous emerging and established artists around the country, Zoll's approach to artmaking is featured in episode 9 of The Art Assignment:
http://theartassignment.com/tagged/EPISODES
And see more her artwork at:
Lauren Zoll's works have been included in exhibitions at the Contemporary Art Museum St. Louis; School of Fine Arts Gallery at Indiana University; Ise Cultural Center in New York, N.Y.; Indianapolis Museum of Contemporary Art; DaimlerChrysler offices in Farmington Hills, Mich.; Contemporary Art Institute of Detroit; and the Center for Contemporary Art in Santa Fe, N.M. Zoll is a recipient of the Indiana Individual Artist Grant from the Indiana Arts Commission, the Bertha Anolic Fine Art Travel Award and a Merit scholarship for Ox-Bow workshops from The School of the Art Institute of Chicago. Zoll is an adjunct professor at the Herron School of Art and Design in Indianapolis. She received an MFA from Cranbrook Academy of Art after earning a BFA from The College of Santa Fe. Zoll lives and works in Indianapolis.
—
Nicole Mauser (b. 1983, Indianapolis) currently lives and works in Chicago, IL. She obtained a MFA from The University of Chicago (2010) and a BFA from Ringling College of Art & Design (2006). Her works have been exhibited nationally and internationally. Mauser was a 2011 recipient of a Post-MFA Teaching Felllowship at The University of Chicago and a recipient of a Student Fine Art Fund Grant for travel and research in Berlin from The University of Chicago. Exhibitions include Ft. Gondo Compound for the Arts (St. Louis), Carrie Secrist Gallery (Chicago), The Dolphin Gallery (Kansas City), H&R Block Artspace (Kansas City), DOVA Temporary Gallery (Chicago), Gladstone Community Center (Gladstone, MO), Center for Art+Culture (Aix-en-Provence) and AR Gallery (Milan). Collections include The Alexander (Indianapolis) and The Nerman Museum of Contemporary Art (Overland Park, KS). Mauser's writings have been published in 8 ½ x 11 and Art Practical. Mauser is also a co-founder of the artist run gallery, PLUG Projects and co-founder of the Kansas City Plein Air Coterie (KCPAC).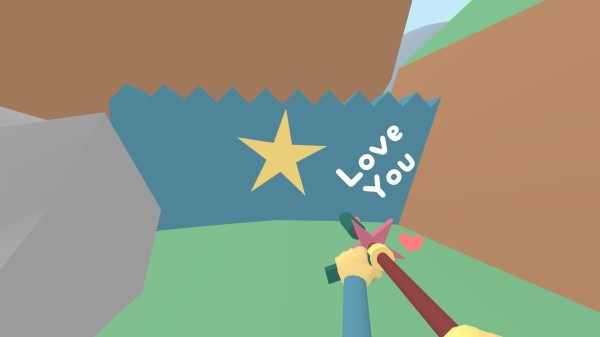 One of my earliest memories of playing video games: I'm sitting in my dad's office playing Wolfenstein 3D and my grandfather walks in. He walks slowly and methodically; he's elderly, but every time he drives it's right there on his license plate: a purple heart from World War 2. I've just rounded a blocky corner and I know what's ahead of me. Adolph Hitler shows up in some sort of robotic suit, his twin Gatling guns blazing. And I freeze: to not play is more difficult, a larger acknowledgement of the idea that I am portraying a caricature of my grandfather's experience. In shame, I return fire until Hitler collapses into a bloody pulp. Silently, my grandfather walks away.
Last year, I played for the first time a game called Rage, which was actually developed by Id Software—the same company that worked to create Wolfenstein 3D and Doom, two early era games which helped popularize the first-person shooting-other-persons genre. I remember wading through several minutes of introduction until I finally sneaked into the rundown and dilapidated hotel a band of post-apocalyptic bandits had made their home. A shirtless bandit noticed me and charged. A shot rang out of my pistol, hit him in the face, and spread digital blood out in a skyward arc as his lifeless corpse fell to the ground. I quit and uninstalled the game a few minutes after.
Even though I grew up surrounded by increasingly devastating examples of a world of violence—digital Nazis, the theatrical release of Spawn, Columbine, 9/11, the invasion of Iraq—it wasn't until that fake man's head exploded at the behest of my mouse click that I felt ill about the genre, down to my core. Just months before had been the notorious Sandy Hook shooting, and as a country we were embroiled in a debate about gun control that was already quickly fading, just as every shooting since then has faded into this bleak tapestry of ill will, self-harm, and an inability on our part as a society to see these things as solvable problems. As though it will always and has always been too difficult to turn the mirror towards ourselves and ask, what, as a country, society, or group of people, we could do better.
This isn't to say, as the NRA suggested after the Newtown Massacre, that videogames cause violence, but it's hard to ignore that so much of the genre is branched out of the idea of the powerful, silent protagonist. His eyes are our eyes; his gun is our mouse. As though a monitor or television were a window into a universe where everything has been created to showcase destruction at the hand of the only person who has agency in a programmed existence: the consumer as player as protagonist. Like in movies and in television, we as audience members are asked to enjoy, engage, and sympathize with main characters as they perform astonishing acts of violence, either by watching or propelling the action forward with our controllers.
But: it's all representative, maybe? When we shoot a fake man with a fake gun we are not engaging in real violence; the play violence does not spawn real violence. But, with each graphical update and each realistic sound effect, the genre moves further and further into a "more authentic" experience. Guns recoil authentically, bullets whiz by the headphone as they would the ear in actual war. Grenades disorient. Soon, Oculus Rift virtual-reality headsets will make it so that a head turned on a couch will be a head turn on the digital battlefield, a red mist before it.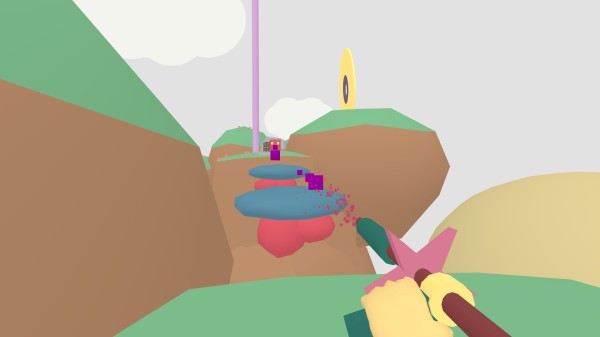 But is it the fidelity of the experience or the experience itself? It's a question Lovely Planet seems poised to ask, but I'm not sure it's actually asking. The description isn't really hopeful on that count:
A First Person Shooter Gun Ballet set in a cutesy abstract world. Jump and shoot your way through five worlds full of treacherous enemies with your trusty semi-automatic!
Cutesy abstract world is right on, though. Where there might be tall grasses or trees to hide behind in some sort of world-conflict, Lovely Planet's terrain is a flat, calming green punctuated by small stones and salmon-colored hearts that pop up like flowers. Fluffy white clouds and multi-colored balls dot the sky as you run past colorful spaceships and giant soda containers that erupt out of the ground. An anemic blue-and-yellow arm juts out of the screen, holding a semi-automatic broomstick with a star attached to it. The star spins and you fire equally-absurd bullets, which pierce the sky on their way to injure red blocks with angry faces that disappear in a puff of smoke.
If videogame violence is representation, Lovely Planet seems poised to take that to task, because even in this world of absurd landscapes that seems like a lo-fi Katamari Damacy, the action is still the same: point, shoot, destroy (or save, depending on how you view it). Ideally, it would be this message: that no matter how you dress it, gun violence is still gun violence and even the cutest setting in the world won't change it. But instead of offering this as commentary, it offers it up as celebration: look how great this semi-automatic is. All distractions have been stripped away: there is only you, your gun, and these enemies which must perish.
It's a shame, because the game is well-crafted. Hypocritically, I find the action on point, the speed of the game intoxicating, but even though I can stomach its cutesy celebration of violence, it's never clear that there's any intent at all. Is it proof of concept? Minimal artistic design as necessity? An exercise in restraint? Problematically, all it becomes is another shooter, another weird war game, albeit set in a place of floating islands and child-like expressions of joy and violence. It ultimately doesn't matter what it looks like, because the symbolism is still there. It's not doing anything different.
I'm not sure if I'm growing tired of it all because I'm getting older or games are. As a fledgling player with a fledgling medium, I was thrilled to experience the highs and lows of war through it and its comfort and safety of a screen, because, in this new and fresh interactivity, it was exhilarating. At the time, false war was one of the best ways to showcase the power of "the game," a first-person perspective ideal for a computer screen, the pointing of a gun ideal for a mouse.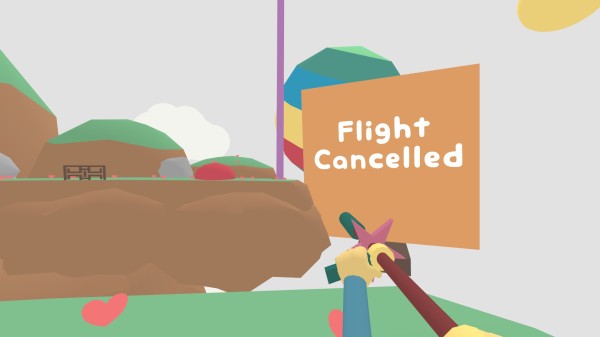 If games can be art—and they can—the genre needs to be ready  to accept a change, for a shift where violence isn't the predominant expression of the medium, be it via guns, fists, or even the jump of Mario's boot. Yes, film functions as a propeller of art and also the action movie, but so much of that visual media is obsessed also with comedy and drama. But where action is a subset genre of film, action is inherent in a videogame because there must be some sense of challenge. (The alternative, historically, is puzzle.) But a film (or book, or poem, or painting) may be challenging on themes or subject matter alone. Games are only just recently discovering the latter's place in interactivity—games like Gone Home, To the Moon, and Depression Quest.
I'm looking forward to the day when a shooter is a parody of a shooter, but Lovely Planet isn't it. It's not that it's not smart enough, or "good" enough, but it's just tired, the same, nothing we haven't seen before  wrapped up in a different paper (lovely though it may be). Guns can have their place, will always have their place in a medium that was once (and still may be) defined by them. But, in the wake of tragedy after tragedy—will that place ever be comfortable? I'm not sure. But each year, more and more games are more than happy to join the ranks of pretend violence, no matter the setting or period, and more and more people are happy to buy them. Lovely Planet just wants to be another gun game, and that's not really its fault; it's ours.