Eat, Sleep, Repeat: there's a meme doing the rounds all about repetition. As philosophies go, it's a little simplistic, suggesting nothing so much as a kind of nihilistic stoicism. So if you want the antidote, consider the next show due to open at No Format Gallery.
RECURSIVE is a group show which looks at the cyclic nature of personal history, as suggested by the work of five international artists. The Gallery in South London is hosting Hitomi Kammai, Ant Pearce,  Susan Francis, Simon Fell and Jane Boyer.
Boyer is also curating the show. The artist is losing count of the number of times she has by now also curated. Some kind of repetition compulsion might be at work there, except for the fact that Boyer draws inspiration, not from Freud, but from one of the authors of Anti-Oedipus, Gilles Deleuze.
Her group of artists may be select, but the show organiser is gathering them together with a proposition by the influential French thinker:  "We don't repeat because we repress, we repress because we repeat." It sounds true, but what exactly might it mean?
The morning she was due to begin the hang in London, Boyer spoke with me on the phone. "It's a difficult one," she freely admits about her quotation. "In fact it's given me a challenge, as well, to really wrap my head around it." That at least is reassuring.
"He's talking about an initial elemental experience we all have," suggests the artist, "whether it's the moment of birth or whether there's some sort of trauma or some other thing that begins to develop and really solidify our identity."
In other words, perhaps, we repeat to give us a sense of ourselves. We repeat because we could use this elemental experience in some way.  And as life develops we try and fit these repetitions into our current situations.
Since repetition is so vital to us, says Boyer, "We begin to disguise that and perhaps, as [Deleuze] says, close it". What really intrigues is that this originary experience is one we all share. Rather than a factor in a sickness, like one of Freud's primal scenes, it appears to be a cornerstone of who we are.
The Califormian artist says that, while it never gets in the way of visual pleasure, she's "very intrigued by and inspired by philosophy". And in this respect particularly Deleuze: "As I read philosophy, I just have all sorts of mental images, that happen in my head and as a result I feel sort of compelled to get those images down in the artwork."
Boyer makes no apologies for staging a show in which the philosophy is overt. Indeed she makes it sound like the most honest starting point: "Philosophy underlies every aspect of society so any attempt to look at art without philosophy would be like going to the movies without philosophy."
While everyone gets, say, The Matrix (1999), some still balk at raw post-structuralism. "But it's there, insists Boyer, "and whether or not they're engaged with it and understanding it, it is in fact affecting their lives and and it's entering their lives in ways that they may or may not be aware of."
That holds true for Deleuze, however off the wall he might seem. His presence at this show is after all a result of a certain "clarity" which can be found in his work. Says Boyer: "It's a sort of twofold clarity." And the artist enjoys both the "brilliant" initial thoughts and his detailed explanations.
"What I've learned in reading Deleuze is to follow with him," she says. "Sometimes it's not easy, but to follow with him . . . he's making a case and making an argument for each element, in his argument and then he brings it all together and makes a final statement". Sounds clear as crystal.
But no one said curating was easy. "Curating my own work is particularly challenging," says Boyer. So this week has been busy, and soon she could be back in her role as an artist. That is to say: read, paint, sleep, repeat.
RECURSIVE is at No Format Gallery, London, from October 9 to November 2 2014. See exhibition blog for more details.
1. It Ended with My Putting It On at Comfort Station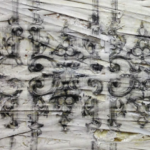 Work by Matt Woodward and Wrekmeister Harmonies.
Comfort Station is located at 1879 N. Milwaukee Ave. Reception Saturday, 6-10pm.
2. Cowgirl in the Sand at The Hills Esthetic Center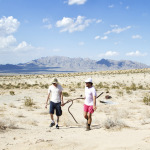 Work by Sara Condo.
The Hills Esthetic Center is located at 128 N. Campbell Ave. Reception Saturday, 7-11pm.
3. Out of Site Chicago in Wicker Park and Bucktown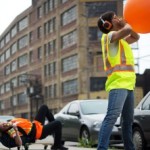 522 Years of Golden Medallions, work by Mouthy Woman.
Location: St. Paul and Damen.
Emergency Response Team, work by Ginger Krebs.
Location: Polish Triangle, Division and Milwaukee.
A line connecting, a line dividing, a line defining, work by Stephanie Acosta.
Location: Western, Damen and Division L-Stops.
All performances Friday, 5-7pm.
4. Mothernism at Ordinary Projects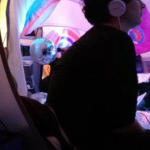 Work by Lise Haller Baggesen.
Ordinary Projects is located at 2233 S. Throop St. Reception Saturday, 5-9pm.
5. To Begin to Write It, to Begin to Fade at ACRE Projects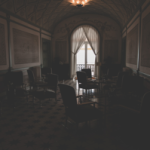 Work by Kristina Felix and John Lui.
ACRE Projects is located at 1913 W. 17th St. Reception Sunday, 4-8pm.
By Kevin Blake
I drift. A good drift. A perfect drift. One that will catch a nice trout. I swing my rod overhead and flick the tip upstream. Mend. Mend. Recover and drift….fish. My memory takes me downstream and the water sweeps my feet from underneath me. I allow the current to drag me away from here.
As I rush past the shores of my recollection, I realize that it may take a lifetime's worth of attention to learn the secrets of the river. I realize that each section of the stream requires a different understanding and consequently, a different approach, to unlock the mysteries of each pool, eddy, and riffle. I'm reeling but not too aggressively. I don't want to lose this fish.
Fly fisherman, like painters, have an uncanny ability to liken any conversation to their pursuits with a rod or paintbrush, on the theory that the essence of anything is in how it relates to their quests. In Kim Piotrowski's show, Catch and Release at Linda Warren Projects, this perpetual metaphor is alive and well and permeating from the walls of the gallery. The rush flows from one piece to another. The fish spook and swim under rocks and stay there until I walk away, only to emerge again as I distance myself from the work–forcing me to return and throw another glance at the image. These are freshwater works(predominately made with water-based media), bottomless and infinite–their currents creating a generative energy for their creator that seemingly erodes her immediate boundaries and transforms those limits into the conditions upon which the next work is made.
I lodge the toe of my boot underneath a submerged log as to brace myself for another run. It's trying to get away from me. I hold my rod high and behind me with my left hand and keep my right hand on the reel. My body twists to make the position possible. I'm adding line as fast as the fish rips it off. The cold water makes new seams around my legs, adapting to my temporary damn. I watch my line tighten. The fish changes direction–and once again–I'm reeling.
I stand suspended in the gallery, surrounded by effort–large and small. Piotrowski has transformed the space to not only display her achievements, but to advance her inquiry. In her debut exhibition with LWP, Piotrowski casts her lines in every direction. Her massive site-specific painting done directly onto a gallery wall that spans 43 feet, is a glowing example of her fearless attempts to allow opportunities to be the source of her invention. She has titled the piece Tide Tango and in her words, it represents "the dance we do with the rush of thoughts as life runs over and through us."
Like the river, Piotrowski's paintings meander, dash, swirl, and coalesce in spaces that cannot be confined by the limits of the page. She recognizes the necessity to expand the space into different formats(see Corner Lot, 2014), providing new borders to break free from and allowing new puzzles to emerge.
Piotrowski's paintings remind me of Matthew Ritchie's complexly scaffolded spaces that find organization in chaos. The ability of arbitrarily small occurrences to greatly affect the outcome of a painting is particularly present in both artist's works. Though Piotrowski seems to be making the paintings with much less discrimination. Less rules. Less fuss. More risk. Yet, in both artist's work, there are common mark-making strategies, similar viscosities in paint applications, and there is an ever present familiarity in the natural locomotion of fluids on the surfaces they paint on.  While Ritchie seems to be interested in corralling those fluids to work within his system, Piotrowski seems to let paint go where it wants, and her next move is a response to its uninhibited resting place.
I'm bringing him afoot. The line is tight but loosening. As the fish lays down, I pull him softly toward my free hand. In an instant, before I could grab him and at exactly the moment our eyes meet, he gives one last fit of terror and snaps free of the fly.
Fishing and painting are matters of timing in a changeable universe, and even when one returns to a place or moment of success, its doubtful that it will be under the exact conditions. Having broken the rhythm of a brilliant performance, it's possible to never go back at all, and one shouldn't go back–forward is the only worthwhile direction. The next hole upstream holds a trophy too, and its there that Piotrowski seems to be constantly aiming.
Life is a dangerous and unmanageable mess, but somehow these paintings have achieved a different description. Piotrowski's description of life and linear time, is something much more approachable. Catchable even. As life runs over and through her, Piotrowski stands in the river waving a stick, trying to catch the catchable and upon success, immediately releases it back into the water for the next fisherman to stumble upon.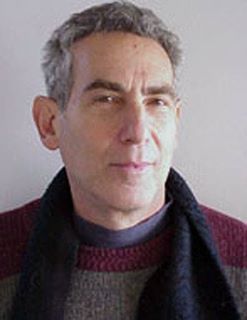 Michael Miller was an incredible educator, a great printmaker, a good friend, and my world feels a little smaller without him.
I met Michael in 2000 when I came to tour the School of The Art Institute of Chicago as a prospective graduate student. I went on to assist (TA) his classes for a couple of years and I learned much from his easy demeanor and casual laugh. He brought an unusual sense of calm to those of us lucky enough to be in his presence. As a TA, Michaels classes were heavenly. He gave me a bunch of materials and told me to work constantly and bring as much energy to the class as I could muster. If he thought I was doing something interesting, he would have me demo it for the students. It felt like the gift I needed to keep me connected to printmaking. I spent most of graduate school exploring video, photography, sound, and electronics, and I often felt like I was floating away from the discipline that had brought me to art in the first place. Michael seemed to instinctively recognize this and made sure I had a home there.
He had a remarkable commitment to his students and the students of the department of Print Media, where he taught for 40 years. He was the kind of professor you could reach out to several years after leaving school and he would happily buy you a beer and help you with your problems. His advice was always spot on and I was lucky to be have often been its beneficiary.
The thing I will miss the most about Michael is the warmth  he showed. He could always be relied upon to be a sympathetic face in an unfriendly crowd and his presence made a room easier for those of us who had to inhabited it.
I'm going to miss him.
Is it over already? Between the EXPO Chicago fair at Navy Pier, Gallery Weekend Chicago, and the opening of the fall art season around the world, September saw the art world at work. Over cocktails and high heels, we were able to check out the culmination of a year's worth of preparation by just about everyone in the visual art scene. Frankly, I'm a little overwhelmed by the thought of summing it all up. But I know you were busy, so I'll try to hit the highlights of what you might have missed in this month's What You Should Have Noticed in September. [Read more]