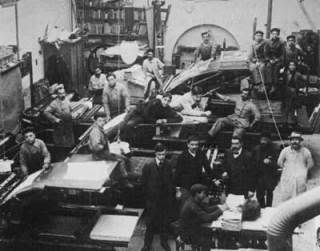 If you listened to this weeks epically long show then you might know that the Southern Graphics Council:Global Implications Conference starts today. If your into printmaking and are in the Chicago area go check out the conference this week, and say "Hi" to Duncan.
Southern Graphics Council: Global Implications Conference
March 25 – 29, 2009 / Chicago
"Printmaking is the artmedium that is most responsive to changing technologies, while also retaining many otherwise obsolete techniques. As print artists, we find ourselves uniquely situated. We employ the latest digital imaging tools and centuries-old techniques for hand mark-making. We make exquisite, precious objects and democratic gestures. We are able to share our imagery and processes with anyone, anytime while also creating community, dialog and collaboration in our own shops.
As our world becomes increasingly interdependent, local practices are at once threatened, celebrated, worthy of preservation and dangerously divisive. As printmakers, our medium is likewise evolving, its borders increasingly permeable. Our traditions are a source of strength, but also a source of isolation. We now realize that our resources are limited, that what is done in one location will probably affect someone, somewhere else.
The 2009 Global Implications Conference features exhibitions, demonstrations, lectures, panel discussions, private collection viewings, and special events at over 40 locations around Chicago.
Keynote speakers include Kathan Brown, Enrique Chagoya, Anne Coffin, and Jane Hammond."
For more information including the schedule go here.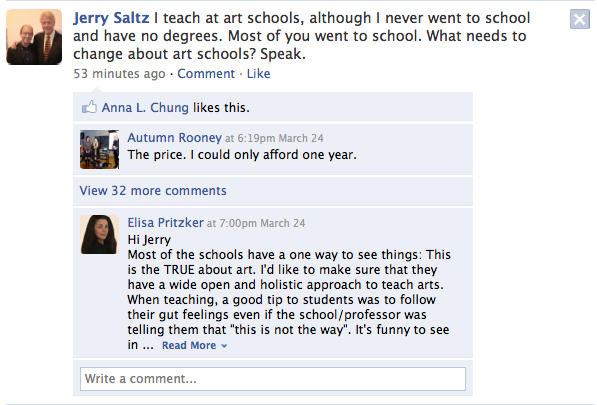 You gotta love being friends with Jerry Saltz on Facebook.  I'm not friends with Jerry Saltz IRL (In Real Life), but who isn't friends with him on Facebook?  And here's why:  32 Comments in 53 minutes to a question that I myself am already exasperated with  (Bad at Sports Episode 85)!
Meanwhile, there are only 23 other Google Reader Feed Subscribers to Cory Arcangel's Delicious posts.  Here's some of the gems that guy has drolled up from those internets:
a disturbingly accurate art history lesson from jmb courtesy of Battlestar Galactica
Old Nytimes story about an all latin listserv in the 90's. wicked.
this is some serious next level stuff (thx jonah)
johannes p osterhoff gets his shield on
Kurt Cobain Hot Water Bottle Cover
Boston-based artist Matthew Rich's large-scale paintings on paper at Devening Projects + Editions present a range of enticing contradictions. A few examples: Rich uses an X-acto type blade to cut lines that aren't always super-straight, he hangs his unframed paintings directly on the wall so that their interaction with light, air, and passer-by movement emphasizes their sculptural qualities, and he uses latex paint to create planes of color so flat and even that, when seen from a distance, you might initially assume he's cutting and collaging pieces of colored paper rather than painting them himself. Rich's works appear crisply delineated. They look like whirligig motion machines that tweak their hard-edged forbears with torqued forms that are almost but not quite rectilinear and sometimes downright curvaceous. Titles like Tilt, Double Arc, Turbine, Rocker and Zig-Zag only heighten their playfully carnivalesque attractions.
Up close, however, things get more complicated. A lot of Rich's paintings look like they've been manhandled a bit-they're smudged and soiled and intentionally creased (the result of how they're packed for shipment), and one even has a partial footprint on it. Sections of what appear from afar to be uniform color reveal inconsistencies in density and tone. Rich has also used iridescent paint in certain sections to activate additional layers of depth, movement and reflection.
The show is titled "Blind Spot," a phrase that in this context is not purely metaphorical. As it turns out, there's a flipside to these paintings that is, well, the flip side to these paintings. Rich has painted both sides of the paper using different colors. Working from preparatory drawings, he cuts from layered sheets of paper so that the pieces will lock back together again seamlessly, in this manner carefully assembling his paintings a section at a time. After he's finished, Rich turns the whole thing over and exhibits the unseen, or "blind" side; in other words, the section that remained invisible to him while working becomes the public side of the artwork. The side he created with such meticulous attention must now keep its face to the wall; the rhythm of chance wins out over what were once, presumably, carefully considered chromatic relationships.
Once Rich's paintings are hung, however, hints of their hidden selves inevitably peek around. The ever-so-subtle curl of a paper's edge, or a slight pulling away from the wall here or there, casts almost imperceptible shadows of colored light against the white wall behind it. This exquisite little detail is all the more entrancing for how easy it is to miss. It's yet another contradiction that these paintings pose, one that arises when bold, large-scale works such as these are apprehended with sweeping glances. I also think it's a contradiction that's nestled in the very different assumptions we sometimes bring to the act of looking at a painting vs. a drawing or a work on paper, especially when it comes to issues of scale. The cliche is that drawings require more intimate and "up close" scrutiny because they're smaller and somehow more personal, while paintings of a larger scale ask you to stand back and take them all in. Rich's paintings ask us to look both ways in order to maintain a wider field of view.
What do you call an artist who uses Twitter as their main medium–a Twartist? Ugh, forgive me; I've been exposed to too many stupid Twitter puns lately and I still haven't had enough coffee this Monday morning. As part of my ongoing (if admittedly somewhat half-assed) efforts to track the intersection of contemporary art and social networking technologies, I present for your consideration a couple of interesting upcoming Twitter-related art projects that have crossed my screen of late. The first is "Twitter Island," a social networking experiment and art performance piece that will take place here in Chicago this Saturday, March 28th.
Organized by Seth Gershberg and Lauri Apple for The Chicago Art Department, the project is limited to 30 volunteer Twitterers who will convene at the Chicago Art Department with their laptops and/or cell phones and be given an anonymous Twitter account. The volunteers will be divided into two groups of fifteen; the control group will be asked to respond to specific questions from a moderator, the other group allowed to tweet to their heart's content without outside influence. The experiment will last for ninety minutes, after which both groups will be invited to "create something" (as the press release puts it) based on their experience.
Notes Apple, again from the project's press release:
"What I'm most curious about is the tension that will inevitably be created as people are required to use Twitter to communicate with people who they could just walk over and say hello to — how will this manifest in how the participants act, and what they say? I've seen people texting at crowded parties and social functions; why not talk to the people who are already in the room? Also, I have friends who live down the street who don't call me, but will tweet or Google chat me to tell me how lonely they are. What is driving these choices we're making, and are we cognizant of the emotions that result from these choices? With Twitter Island, we're telling people they don't have a choice to talk to each other — they have to use technology. Will they rebel? Get bored? Get angry? Or will it seem perfectly natural to stay at their computers and phones?"
Secondly, @platea is a still sorta nebulous something that sounds somewhat similar to the Twitter Island project (without the control group part). Spearheaded by artist An Xiao, it's an ongoing public art meets social media project. On the project's blog, Xiao offers this description of @platea:
"a stweet art collective consisting of artists and non-artists who share an interest in the power of public art carried out in the digital megacity. "Platea," from the Latin for "street", came to signify in medieval theatre a neutral space on stage. It morphed and changed as necessary, depending on the actors' actions and the assumed setting. I find it a fitting analogy for the swiftly-evolving, redefining nature of social media, whose tenors change with the tide of user activity but whose effect–discussion and connection–remains overall the same."
I'm still cringing over the term "stweet art," just give me a few seconds to get over that….ok, better. Xiao was interviewed recently on the blog smArts&Culture (oh yeah, today is gonna be shitty pun day) about her thoughts on Twitter as a medium; she also did a "Twitterview" with art blogger Hrag Vartanian last March 18th that's hard to follow when read only in retrospect, but a summation of the conversation is supposed to be forthcoming on Vartanian's blog soon here. In addition, @platea's first large-scale online "happening" is slated for this week; apparently, you can join in by following @platea on Twitter.
If you wind up participating in either of these events, I'd  love to hear your take in the comments.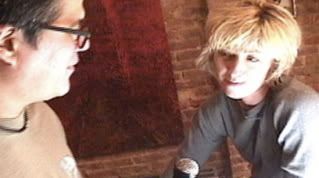 One of my favorite blogs, C-Monster, has an interview with 'Guest of Cindy Sherman' director Paul H-O. "During a series of exclusive interviews, Paul and Cindy fall in love and begin a romance. Unexpectedly, the relationship forces Paul to confront issues of ego, gender and identity as he gets caught up in the aura of Cindy's celebrity.With unprecedented access, the documentary places us in the company of the great artist. Spanning over 15 years and including more than fifty interviews with art world and entertainment luminaries…" The interview is a bit random. No mention of Sherman, mainly just some random questions but might be worth it if you like Paul H-O.
Guest of Cindy Sherman opens March 27th in selected theaters.
via C-Monster
C-M: What's the biggest stereotype about art?
H-O: That tremendous macho attitude that someone like Picasso embodied. Martin Kippenberger established a certain style for himself that way, too. Then there's Schnabel. People don't think I like Julian Schnabel, but, in fact, I adore him. He's given me great material. He is that larger-than-life figure. He adopts the attitude of being Picasso, and since he's such a visible figure, Hollywood people see him and say, "Here's an artist!"
Read the entire interview here.