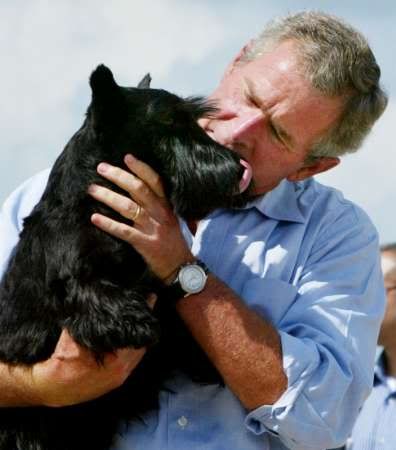 I wasn't aware of any previous videos, but this is President Bush's dog Barny's final Christmas video. I was too bored to finish watching all of it but I had to ask who paid for this? If it's tax payers money I am outraged that the quality could not have been better. Also, with the economy tanking did they really have to go hog wild with that tree?
watch the video here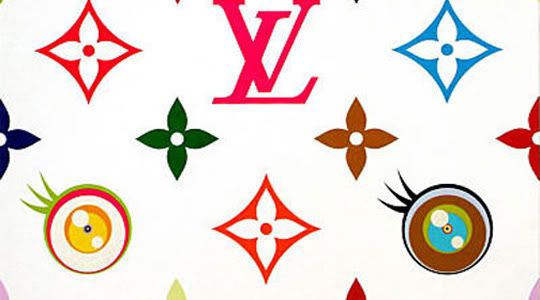 We all saw this coming: Jeremy Strick to resign…or not?
"One member of the museum's Board of Trustees, speaking on condition of anonymity, said Strick had resigned during a 'tearful' scene at a meeting of the board. A MOCA spokeswoman, however, denied that…"
It sounds as if the board might accept Eli Broads offer.
"The agreement, which the board voted on at a long meeting Thursday afternoon, is not final and is subject to numerous conditions, including Mr. Broad's examinations of the museum's financial accounts, according to the people, two of whom attended the meeting on Thursday."
Los Angeles mayor Villaraigosa makes a plea to MOCA
"His letter to board co-chairmen Tom Unterman and David Johnson asks that the board take time to thoroughly review its options and set aside 30 days to allow the public an opportunity to provide input before a decision is made."
Eli Broad asks LACMA to show him the money.
"The question, he said, is which bailout carries a stronger guarantee of secure funding for MOCA's endowment and exhibitions: his $30-million offer or LACMA's merger proposal, to which no price tag has been publicly attached."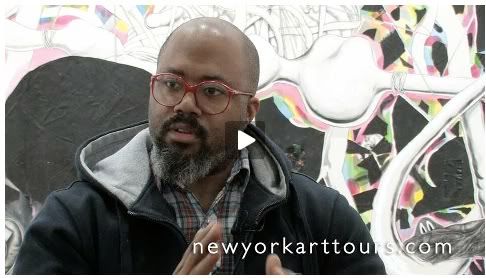 Last Friday Art21's Blog posted a 45 minute interview with Trenton Doyle Hancock about his latest show at James Cohan Gallery.
"Hancock recently opened a new chapter in his ongoing saga of the war between a race of emaciated mutant Vegans and their fleshy Mound counterparts in Fear, his fourth solo show at James Cohan Gallery. But instead of painting scenes of all-out warfare, Hancock captures super-charged moments of tense waiting or vivid torture, suggesting that his epic narrative has reached a crossroads."
It's a bit long and after the halfway mark the audio is totally off from the footage. But it's still worth taking a look at.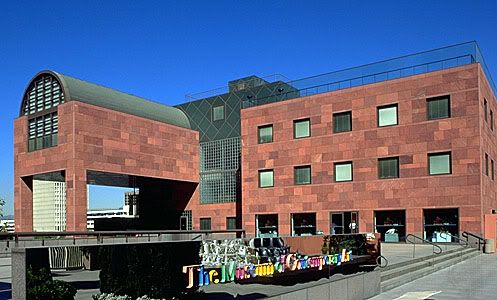 Over the past week the financial crisis that has been plaguing L.A.'s MOCA has had some new developments. On Tuesday LACMA proposed a merger. According to the LA Time's Culture Monster the terms of the merger would include; "…MOCA's collection and programs would be exhibited at MOCA's Geffen Contemporary Space in Little Tokyo, the Broad Contemporary Art Museum at LACMA and at LACMA's Lynda and Stewart Resnick Exhibition Pavilion, under construction on the LACMA campus. Additional programs are planned for MOCA's Grand Avenue site." When asked if MOCA would part with some of it's collection they responded with a not so confident probably not. Then Yesterday Christopher Knight gave it to use straight.
In other Los Angeles museum news The Getty's Endowment is down 25%.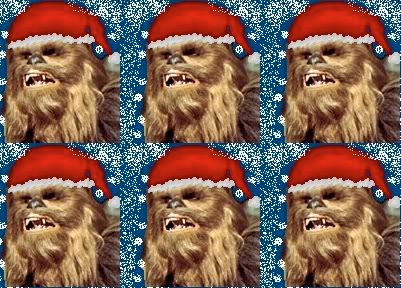 I haven't updated in a bout week. After returning from New York I was swamped with art students trying to print their final projects. Everything will be back to normal this coming week. I'm hoping to post a recap of art viewing from my trip and a recap of what is going on with MOCA. In the meantime, The New York times has an article on next years Whitney Biennial curators. Former BAS guest Francesco Bonami and Gary Carrion-Murayari have been named curators of the 2010 show.
via the New York Times:
"…First, the Biennial. Although it seems as if there just was one (there was, ending in June), officials at the Whitney Museum of American Art are already plotting the sequel, scheduled to open in March 2010. This week they are announcing the choice of curators, who in years past have consisted of
all-Whitney teams, groups of outsiders, or variations in between.
This time the museum has paired Francesco Bonami, 53, a seasoned Italian-born curator with an international reputation, and Gary Carrion-Murayari, 28, a homegrown senior curatorial assistant. Mr. Bonami will serve as curator for the Biennial, with Mr. Carrion-Murayari acting as associate curator."
Read the entire article here