CROSS-FADE, a group show of Chicago-based artists who are romantically involved, gives new meaning to the term relational aesthetics. The chosen lovebirds here are Julia Fish and Richard Rezak, Michelle Bolinger and Todd Simeone, and Kevin Kaempf and Michael Thomas of People Powered and Lucky Pierre, respectively—couples who don't normally collaborate but, as organizer Stacie Johnson points out on the Swimming Pool Project Space website, "their independent practices have been in dialogue for some time."
I like how this show explicitly acknowledges the influence of a domestic partnership on artistic practice, via  (one imagines) the kinds of conversations that occur not only in the studio but over coffee at the kitchen table or in bed watching t.v. It's a small show, with a piece from each artist (Kaempf and Thomas contribute a single collaborative video) and a sculpture of a potted plant credited to Bolinger and Simeone. Johnson treads lightly over her theme, as if she's afraid that by making too much of the romantic ties that bind she'll warp our view of what each artist is doing on his/her own.  The works aren't installed in a manner that encourages side-by-side comparisons, and there's no accompanying text to provide insight into precisely how these artists' practices are in dialogue. We're left to figure that out for ourselves, but I think Johnson's curatorial premise is good enough to warrant a much larger and more in-depth exploration of the idea.  Maybe she could include some examples of what happens to work when lovers break up. Now that'd make for some juicy encounters at the opening reception.
I think we've all had this experience:  you see a show that's mostly forgettable save for one work so good it makes you re-think everything else in the room. This happened to me while viewing Alison Katz's exhibition at Kasia Kay Art Projects Gallery, which on the whole struck me as a pretty good example of not-so-interesting painting, the show's provocative title ("You Talk Greasily") not withstanding.  I'll admit it: I went to this show under the vague impression that this was an artist who painted with fat, and I was kind of turned on by that idea, but instead I found paintings in oils and acrylics whose execution was of the fashionably loose and sloppy sort; Katz's garish palette and flattened perspectives also left me cold.
To use a (now-unfashionable) term from Roland Barthes in an admittedly off-kilter context, there's no punctum in Katz's paintings, nothing to latch on to, emotionally or intellectually. Is that what they mean by "greasy"? Katz makes paintings for a post-photography era; she also seems to want to deflate traditional notions of authorship.
As Patrice Connelly points out in her New City review of the show, Katz employs so many varying stylistic devices it's hard to tell that the work was made by a single artist. Perhaps that's why the one image that repeatedly drew me back was also the most mundane: a still life of a flower bouquet soaking in a clear glass jelly jar, the cellophane still wrapped around the red and yellow buds.
I still can't quite put my finger on why I liked this particular painting so much. Maybe it's in its seamless melding of the recognizably "real" with the patently artifical, the way Katz's rough brushstrokes capture the hurriedness with which the flowers have been plunked into the jar and how the painted materiality of the glass and the cellulose behind it extends the parameters of the still life into something more like a frozen landscape. It was the only painting in the show that worked for me, and I caught myself wishing I could tuck it under my arm and take it home, like a real bouquet of flowers.
What's that oft-cited quote? "Writing about music is like dancing about architecture." Variously attributed to Elvis Costello, Miles Davis, Lauri Anderson and a bunch of others, whoever said it, I just lived it a little during a visit to Sebastian Craig's new installation at Old Gold. With its 70's era rec room feel, Old Gold looks and feels like a party space; no doubt a few prior generations of kids have gotten stoned down there while their parents drank martinis and watched TV upstairs. Sebastian Craig plays off the grungy conviviality of this basement gallery's past and present incarnations with a party-themed architectural installation that invites (nay, requires) participation and gives you permission to dance like a dork (yay me!). Craig has taken a lengthy pink cord and angled it across two walls so that it looks like the laser beam security device from spy films like Entrapment.
As you pick your way through it to cross the room,  you're forced to lift up your limbs in a wonky kind of dance. No doubt the piece reached a certain apotheosis during the opening, when the room was filled with people weaving in and out of the cords in order to view the video on the other side of the room, or more importantly, grab a beer.  But I was there alone, when the room was empty (save for co-director Caleb Lyons and his cutie-pie pug), and I'm glad I was, as I don't think the work's remarkably strong architectural elements would have asserted themselves so clearly had I seen it only during the opening festivities.
… Anyone go to Paul Chan's opening at The Ren yesterday? If you did, what'd ya think?
I don't Tweet, and no one can convince me that Wikipedia is a fundamentally reliable source of knowledge, but I'm definitely intrigued by gallerist and 20 x 200 impresario Jen Bekman's experiment in "crowd-sourced curation."  Bekman asked fellow Twitterers to recommend artists they'd like to see participate in  20 x 200, and received a deluge of suggestions in response. Get the full story here.
Did any of you New York readers see Bekman's talk "Overcrowded – How crowd sourcing is ruining everything" at Ignite NYC III last week? If you did, can you give us the lowdown in the comments? Bekman's take on the issue is of interest, as she's one of only a few dealers to develop a successful model for marketing affordable contemporary art to the masses. Makes me wonder if or how phenomena like micro-blogging and crowd-sourcing will  affect the future of art criticism as well as institutional curation. I'm sure there's a number of art critics already twittering out there (are there any who now use Twitter exclusively?), and you know some enterprising curator will find a way to Tweet out an art show, it's only a matter of time.
Andrea Fraser: Thursday, February 12, 6pm
SAIC Auditorium, 280 S. Columbus Drive
Andrea Fraser will be kicking off this season of SAIC's Visiting Artist Program series entitled "Art and the Right to Believe Lecture Series." The performance artist whose work often is rooted in feminism and institutional critique will be worth catching.
"Admission: $5 per person for the general public; $3 per person for SAIC alumni, non-SAIC students, and seniors; and FREE for students, faculty, and staff of the Art Institute of Chicago."
For more information please visit the visiting artist program's website

Chicago artist Mark Staff Brandl's traveling art exhibition "Out of Sequence" which was most recently opened at the Belmar Laboratory of Art and Ideas museum near Denver, Colorado is now almost out of art. One of the key works which was of a standard comic book spinning rack with 31 hand panted works sitting in the slots had 26 of which stolen during the opening night festivities. 12 of which have since been returned but 14 are still lost. More can be read and followed on at the post on Sharkforum.
Good thing the show didn't open on May 2nd or it could have been worse.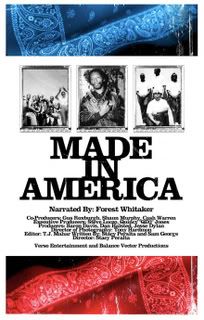 February 6th-10th
Gene Siskel Film Center
Ever since I heard about Stacy Perralta's (Dogtown and Z-Boys) latest documentary Crips and Bloods: Made in America several months ago I have been waiting for the film to make it to the Midwest. CBMA looks at the roots of Los Angeles' two most notorious gangs through interviews with current and former members and traces it's not so violent origins.
View the trailer here.
For More information please visit the Gene Siskel's website.