Remember the days of the email love letter? I do. They were lovely–you could secretly compose long screeds to your beloved while at work and pretend it was just business. I'll bet a lot of you kids are nodding your heads right now and saying, well, yeah…but for me textual flirtation was all about instant messaging. Perish the thought, I say. A proper love letter should be lengthy, sometimes even ridiculously so, filling pages of loose-leaf paper, scrolls of screen, however long it takes to come even an iota closer to capturing in words that ineffable feeling that you're shyly, determinedly, bursting to convey.
To me, writing about art is a lot like writing a love letter. I'm sure many of you are snorting with derision at that statement, but I don't care; I really mean it. Why else would those of us who still bother to write about art keep doing it, if not for the sheer stupid pleasure of using exorbitant language to capture that which words can never adequately convey?
That's why I'm kind of aghast at the rise of Twitter and Facebook as a growing forum for art criticism these days. Now, I totally get the social aspects and benefits of these applications, and to the way they provide increased and enriched  opportunities for argument and back-talk, along with a gossipy sort of zing to art discourse in general, I say right on. But I mourn the passage of long-form art criticism (can we please just call it art writing? The term 'criticism' always feels much too, well, critical to me). The blogosphere still allows people to write about an artwork or a show at some length, but even that is changing: some bloggers who've held their fingers to the wind for far longer than I are noting (in decidedly hopeful tones, I should add) the drastic streamlining of  the blog form, or even, as Deanna Isaacs surmised a few weeks ago in the Reader, the death of text itself.
Art, like any object of affection, deserves extravagant prose devoted to it, damn the word count. Even work that may not be all that great is worthy of elaboration in my book. Do we really want Peter Schjeldahl and the museum curators to be the only ones given the space and opportunity to write about art at length? Personally, I think that would be a fucking shame.
That being said, I'm not against Twittering art reviews at Bad At Sports–IÂ  think we should try it. I'm well aware that blogs are not the place to try and resuscitate long-form criticism, and I'm continually fascinated with the different ways people use words to grapple with art. The — what is it — 140 words? — that Twitter allows can provide a good exercise in summing up a work of art or an exhibition concisely and with, as the genre seems to require, just the right amount of deadpan irony. I myself possess none of the pith required to Twitter well, but I genuinely look forward to seeing what those who have a knack for it will do with this emerging form.
There's some good stuff happening in my 'hood this weekend, starting with tonight's opening for Michael Stickrod's project over at Pamela Fraser and Randall Szott's space He Said/She Said, in Oak Park.
A quick blurb on Stickrod, from the He Said/She Said website and via The New Museum:
"Michael Stickrod addresses the psychology of human ties by cutting to the center of his familial circle. He uses scanned photographs and found audio to create nearly abstract sequences embedded between incising confessions and footage of his family. The videos on view take his mother and father as his subject matter, painting a landscape of Middle America that oscillates between bleak and hopeful" (New Museum website).
Stickrod will screen films, play sound works, and show related objects. The opening is from 6-9, with the film screening at 8pm. On Sunday afternoon from 2-4pm, The Suburban opens its exhibitions of Cameron Martin and Dave Hullfish Bailey. Of Martin, The New York Times has said,
"Formally, Cameron Martin's sleekly distilled, medium-large landscapes have a flattened, hard-edged cyber-Pop snap. The young Brooklynite's satiny smooth, subtly hued paintings of placid, reflective water; snaky, slightly rounded trees mottled black and white; or seashore rocks surrounded by metallic fields are not descriptions of perceptual experience — not like the paintings of Alex Katz or Neil Welliver. They are, rather, what the professors call cultural signifiers, contemporary icons that stand for deep-running collective urges, like the fantasy of an intimate connection with nature."
Critic Michael Darling says of Bailey,
"Just as theologians attempt to read scripture every which way in order to discern the intentions and directives of religious tracts, Bailey homes in on relatively innocuous words that when prodded and pulled, prove to be extraordinarily supple. Not averse to strategic mis-readings, or at the very least, possessed of an openness to explore interpretive avenues that don't readily spring from looking at words in their most familiar context, the artist has generated fascinating strands of discourse just by examining common language in a different light."
Martin and Bailey will be in attendance, and as usual you can pick up a free copy of X-TRA. Hey, if you go, come on over and say hi to me. I'll be the one standing in the corner by myself, as is my wont at these sorts of things.
He Said/She Said, 831 South Grove Avenue, Oak Park, IL 60304, 708-310-2607
The Suburban, 125 North Harvey Avenue, Oak Park, Illinois 60302,  708-763-8554
There's been some commentary on other art and culture blogs about this, so maybe we should get into it too: The Art Institute has raised its price of admission by 50%. Now, the general public will pay $18, seniors and students pay $12, up from the $7 it was previously.
There have been a few good pieces on this issue written elsewhere over the past couple of days; in particular I liked  Tyler Green's post over at Modern Art Notes, Museum cannibalism: pricing out visitors. Green points out that Chicago museums are more reliant on  admissions revenue than are institutions in other cities, but nevertheless decisions like this make it much harder for average folks, especially younger demographics, to make museum-going a regular thing. Salient quote:
"Museums could do lots of things to avoid pricing out visitors. Trustees could give more. Foundations could give more. Museums could cut more staff. But the last thing they should do is raise admissions charges and inhibit public access to art at a time when we need it most."
Green then followed up with this post about the Seattle Art Museum's "pay if you can" admissions policy, with accompanying grey-skies ad campaign. What think you?
EDITED TO ADD: Someone rightly pointed out that there's more to the admissions story: free days! Here they are, straight from the Art Institute's web site:
One late evening per week (Thursdays after 5:00 p.m.) throughout the year
Two late evenings per week (Thursdays and Fridays after 5:00 p.m.) during the summer (May 31 to August 31)
The entire month of February
The week of the opening of the Modern Wing, from May 16 to May 22, 2009
Go directly to the Art Institute's visitor page for even more details. Plus, children under 12 will continue to get in free of charge, and there will no longer be a charge for special exhibitions or coat check.
Those of you who were inspired by Mike Benedetto's interview with Steve Walters and Jay Ryan last week — the Chicago Public Library has announced that it's holding a poster design competition inspired by the library and using the URL chipublib.org. The idea is to "bring attention to a hip, shortened version of the library's official website address."
Ryan is one of the esteemed judges for this event, along with award-winning photographer Brian Willette, Creative Director at All Terrain/Chicago, and Chicago Public Library Commissioner Mary Dempsey. The winners will be announced at a free public event on April 23, 2009, at the Harold Washington Library Center in downtown Chicago.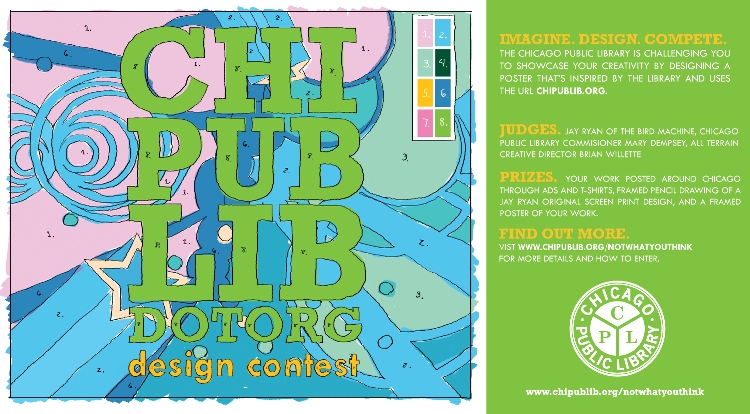 The contest runs from March 5th to April 9th, so if you're interested in participating, chop chop! For more info and rules, visit the library's website (you'll need to scroll down just a bit to get to the contest info).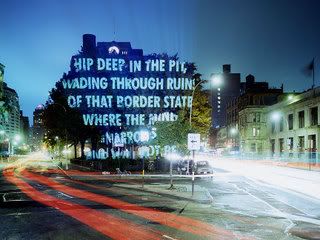 Yesterday Art21 posted a video of Jenny Holzer's projection on Chicago's Lyric Opera House from November of last year. As part of her exhibition Protect Protect, soon to be at the Whitney, Holzer projected on the MCA, The Lyric Opera, the Tribune Tower and the Merchandise Mart. I had a chance to catch the Lyric and Merchandise Mart projections and really enjoyed them. The projection across the river onto the back of the Lyric Opera was pretty rad, way more so than at the Merchandise Mart. So far it doesn't look like there will be any projections to accompany the show in New York.
via Art21:
"Jenny Holzer discusses the process behind her series of Xenon Projections as part of the exhibition PROTECT PROTECT at the Museum of Contemporary Art, Chicago. Featured works include Projection for Chicago (2008), a multi-part projection of the texts of Polish poet Wislawa Szymborska on building facades around the city…"
Check out the video here: