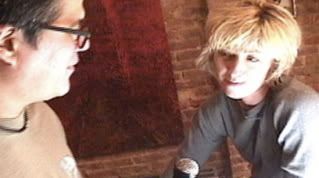 One of my favorite blogs, C-Monster, has an interview with 'Guest of Cindy Sherman' director Paul H-O. "During a series of exclusive interviews, Paul and Cindy fall in love and begin a romance. Unexpectedly, the relationship forces Paul to confront issues of ego, gender and identity as he gets caught up in the aura of Cindy's celebrity.With unprecedented access, the documentary places us in the company of the great artist. Spanning over 15 years and including more than fifty interviews with art world and entertainment luminaries…" The interview is a bit random. No mention of Sherman, mainly just some random questions but might be worth it if you like Paul H-O.
Guest of Cindy Sherman opens March 27th in selected theaters.
via C-Monster
C-M: What's the biggest stereotype about art?
H-O: That tremendous macho attitude that someone like Picasso embodied. Martin Kippenberger established a certain style for himself that way, too. Then there's Schnabel. People don't think I like Julian Schnabel, but, in fact, I adore him. He's given me great material. He is that larger-than-life figure. He adopts the attitude of being Picasso, and since he's such a visible figure, Hollywood people see him and say, "Here's an artist!"
Read the entire interview here.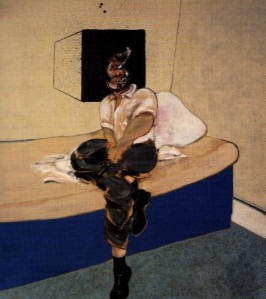 The Family trust led by the Connecticut collector George A. Weiss which owned a Francis Bacon painting sued Christie`s Inc on Friday, saying the company reneged on a minimum price guarantee of USD 40 million.
The lawsuit, filed in US District Court in Manhattan, alleged Christie`s reached a minimum price guarantee regarding the sale of Bacon`s "Study for Self Portrait" and has refused to pay the minimum guarantee. Christie`s is the US unit of Christie`s International PLC.
An agreement was struck in late July, but by September, after the auction house already had the painting, Christie's said it would no longer honor the guarantee because of the faltering global economy.
The painting failed to sell at Christie`s November 2008 Post War and Contemporary Art sale, according to the lawsuit.
The lawsuit is seeking USD 40 million, plus interest and damages.
Rachel Mason's show at Andrew Rafacz Gallery inspired something in me I never thought I'd feel: the desire to pick up the grizzled Fidel Castro and put him in my pocket.
Or at least, the little bust of him that Mason has made, along with dozens of other late 20th century political figures that have been arranged on a shelf spanning three of the gallery's walls.
Mason has done a pretty good job at capturing the likes of Castro, Margaret Thatcher, Leonid Bhreznev and an astonishingly numerous array of  others whose heads we've seen on television screens or in newspapers but which have here been reduced to the scale of domestic knick-knacks. This editioned series of sculptures is part of a long-term project in which Mason fantasized about the emotional lives of world leaders embroiled in war and conflict.
In an attempt to gain a subjective and emotional understanding of their controversial actions, she's projected herself into their personas via live performances, videos, writings by herself and others, and sculptural figurines made over the last four years (check out the artist's website for examples of texts, music and performances from this project, which is titled "The Ambassadors").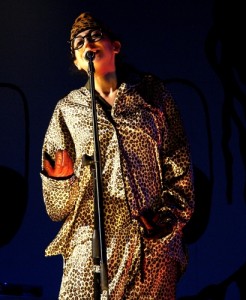 This multi-faceted project is difficult to contain in a single gallery (Rafecz is showing the sculptures, an artist's book, and apparently a video which wasn't on when I visited the gallery last Wednesday). I have to admit I don't always have a lot of patience for sprawling, multi-part performance-based works of this type. It's a weakness on my part, I know, but the fetishist in me remains fully under the sway of objects, be they two – or three-dimensional, and I do tend to think that objects work best when left to their own devices. Mason's great feat is her ability to take historical leaders, some revered, some loathed and feared, and shrink them to the size of Hummel figures without simultaneously rendering them objects of kitsch. There's a certain pathos to the artist's labor-intensive efforts to create things that could so easily be dismissed as cutesy jokes; but Mason's sincerity comes though in the way she inserts her own, slightly smaller ambassadorial figure into the parade of statues as a persistent disruption. The empathy with which Mason approaches the subject of war and political leadership is an anomaly in this age of hard-line factionalism and harsh political rhetoric. It's easy to wear your politics on your t-shirt, but far more difficult to cloak yourself in the garb of your political Other and, heart on sleeve, sing a song or write a poem in their name. The show closes Saturday, so if you want to see it, go over right away.
Sometime over the weekend, as I was pouring coffee beans into a canister, I happened to read on the package that proceeds from the coffee had been used to fund a library. Pretty cool, I thought; but then in my cynical way, I began to speculate about just what kind of structure this library actually was, how big, how many books, and what, exactly, constituted a library in the minds of the coffee bean distributors. Maybe their library was more like a bookmobile, or maybe it was just a partitioned section of a large hut somewhere far away, with a few piles of donated paperbacks stacked haphazardly on a couple of wooden stools. At any rate, when I came across the L.A.-based artist Dave Hullfish Bailey's images of the Lizard Tree Library in Slab City, California (not far from Imperial City), my first thought was, aha–here's the kind of library that coffee money might have funded.
Bailey's installations converge with social historiography and land use studies in their exploration of alternative models of community and urban planning. Slab City, a squatter and R.V. community built over an old U.S. military base, provides a case study that, in his exhibition at The Suburban, Bailey has approached in a more or less documentary fashion.  A series of 15 framed photocopied images of the Slab City library have been installed sequentially along the gallery's four walls. Each image presents a view of the library from a slightly different vantage point that corresponds to the photographer's path around the perimeter. I didn't know about Slab City before encountering these images, but a little Internet scouring brought up a few useful websites, particularly this one.  Slab City's inhabitants would probably not describe themselves as "squatters," though none pay rent. They've built the physical structures that house this community from the ground up, along with the social institutions or "clubs" that bring residents together. The library appears to be one of several sacred spaces here that have been constructed entirely by human hands, in this case by a woman named Rosalie who died in 2003.  It's a quiet place where people can borrow books without I.D. cards, read on the patio, or retreat to in the middle of the night when insomnia hits.
Bailey is interested in the ways that idealism shapes space concretely and ideologically, as when, for example, people from very different backgrounds come together in the wake of hurricanes or riots to create ad hoc spaces of refuge and community support. These chaotic moments have the potential to transform utopian impulses into pragmatic solutions. In Slab City, ordinary folks have put their highest aspirations of self and community to the test. Baileys' trajectory around the Slab City library circumscribes a Utopia twice removed; one that looks and feel a lot more down-to-earth than we, or its residents for that matter, may have previously imagined.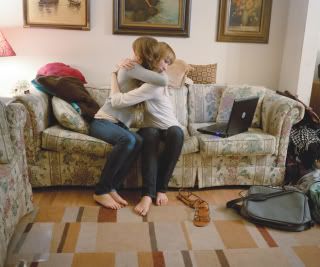 image: Sara Condo, 2009
School of the Art Institute of Chicago
Spring Undergraduate Exhibition
Sullivan Galleries
36 South Wabash 7th floor
March 21-April 3
Opening reception: Friday, March 20, 7-10pm
via the School of the Art Institute of Chicago
Nearly 230 SAIC students completing undergraduate degrees this spring exhibit their innovative work. The School of the Art Institute promotes crossing disciplines and challenging received assumptions, and the results of this approach are showcased in this exhibition.
For more information please visit the site
Devening Projects + Editions
"Matthew Rich: Blind Spot"
3039 West Carroll
Chicago, IL 60612
12-6 sat and by appt.
Show runs thru April 1st
From the gallery: "Matthew Rich locates the work in his exhibition Blind Spot, between the color, surface and pictoriality of painting and the physicality of sculptural objects. Using complex compositional structures and assembly practices that make the building process transparent, his painted works on paper draw attention to materiality while contextually activating site and space. The work in Blind Spot is also concerned with the idea that perceptual clarity in a visual structure can be an elusive and slippery pursuit. Like an optical blind spot, Rich's work suggests that obscurity and deflection are as conceptually necessary to his work as edge, color and surface are to the form. Matthew Rich lives in Boston and received his MFA from the School of the Art Institute of Chicago."
Roots & Culture Gallery
1034 N MILWAUKEE
CHICAGO, IL 60622
Last chance to see it is this weekend; it closes March 21st!
"The End of Analog"
Featuring Alexander Stewart + George Monteleone, Robert Snowden + Carson Salter, Todd Simeone, Jon Satrom, Rebecca Gordon, Brandon Alvendia
"The conclusion of analog television broadcasting in the U.S. can be understood as heralding the arrival of the digital era. The End of Analog is an exhibition that marks this historic transition with an exploration of technology's shifting significance on our culture, as well as on individuals. The shift from analog to digital opens up a space of uncertainty regarding the status of physical objects and bodies, leading us to ask: What is materiality in the digital age? The artists in this show prefigure the post-analog landscape, creating objects and images that explore this looming question from multiple angles."
Curated by Eric Fleischauer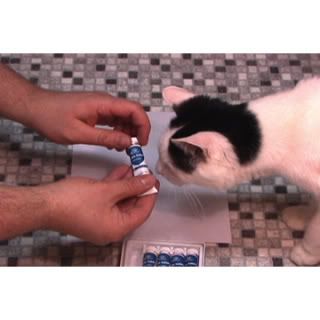 image: Erik Wenzel, Cat Painting, 2008 . digital video
65GRAND
Erik Wenzel: Belief in Doubt in Painting
1378 W Grand Ave.
Chicago, IL 60622
Last chance to see it is this weekend, it closes March 21st.
From the gallery's press release:
"Erik Wenzel's multi-media installations are meditations on the act of painting and its relative worth.
A critic of some stature in his own right, Wenzel characterizes his work as both smart and stupid. One could also add the pairing serious and silly to the list, and his grouping of white canvas boards ringing a white room, with KLF's album The White Room thumping away in the background, initiates the blurring of boundaries between these sets of dichotomies.