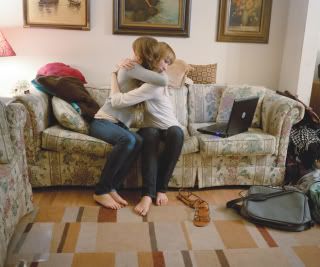 image: Sara Condo, 2009
School of the Art Institute of Chicago
Spring Undergraduate Exhibition
Sullivan Galleries
36 South Wabash 7th floor
March 21-April 3
Opening reception: Friday, March 20, 7-10pm
via the School of the Art Institute of Chicago
Nearly 230 SAIC students completing undergraduate degrees this spring exhibit their innovative work. The School of the Art Institute promotes crossing disciplines and challenging received assumptions, and the results of this approach are showcased in this exhibition.
For more information please visit the site
Devening Projects + Editions
"Matthew Rich: Blind Spot"
3039 West Carroll
Chicago, IL 60612
12-6 sat and by appt.
Show runs thru April 1st
From the gallery: "Matthew Rich locates the work in his exhibition Blind Spot, between the color, surface and pictoriality of painting and the physicality of sculptural objects. Using complex compositional structures and assembly practices that make the building process transparent, his painted works on paper draw attention to materiality while contextually activating site and space. The work in Blind Spot is also concerned with the idea that perceptual clarity in a visual structure can be an elusive and slippery pursuit. Like an optical blind spot, Rich's work suggests that obscurity and deflection are as conceptually necessary to his work as edge, color and surface are to the form. Matthew Rich lives in Boston and received his MFA from the School of the Art Institute of Chicago."
Roots & Culture Gallery
1034 N MILWAUKEE
CHICAGO, IL 60622
Last chance to see it is this weekend; it closes March 21st!
"The End of Analog"
Featuring Alexander Stewart + George Monteleone, Robert Snowden + Carson Salter, Todd Simeone, Jon Satrom, Rebecca Gordon, Brandon Alvendia
"The conclusion of analog television broadcasting in the U.S. can be understood as heralding the arrival of the digital era. The End of Analog is an exhibition that marks this historic transition with an exploration of technology's shifting significance on our culture, as well as on individuals. The shift from analog to digital opens up a space of uncertainty regarding the status of physical objects and bodies, leading us to ask: What is materiality in the digital age? The artists in this show prefigure the post-analog landscape, creating objects and images that explore this looming question from multiple angles."
Curated by Eric Fleischauer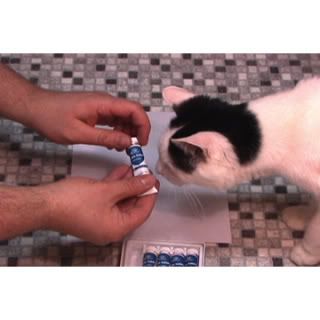 image: Erik Wenzel, Cat Painting, 2008 . digital video
65GRAND
Erik Wenzel: Belief in Doubt in Painting
1378 W Grand Ave.
Chicago, IL 60622
Last chance to see it is this weekend, it closes March 21st.
From the gallery's press release:
"Erik Wenzel's multi-media installations are meditations on the act of painting and its relative worth.
A critic of some stature in his own right, Wenzel characterizes his work as both smart and stupid. One could also add the pairing serious and silly to the list, and his grouping of white canvas boards ringing a white room, with KLF's album The White Room thumping away in the background, initiates the blurring of boundaries between these sets of dichotomies.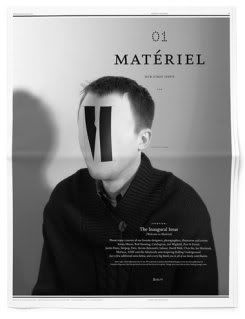 March 21, 2009, 8pm
Co-Prosperity Sphere
3219 S Morgan St
$10 Suggested Donation.
The good people that bring you Proximity Magazine are having a release party this Saturday for their two new publications. If you can make it you should go. It looks to be a fun time.
"Please come and help us raise funds to pay for Version>09 Immodest Proposals. We will be giving to everyone who attends a complementary copy of our new publishing projects, Matériel and the new Pr poster/newsletter.
We will be hosting an evening of performances and displaying pages from Matériel on the gallery walls. Musical performances by Casual Encounter , Caw! Caw! (not cawcaw) and a few secret super special guest stars."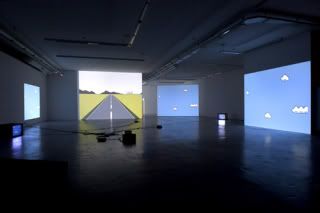 Thursday, March 19, 6:00 pm
Gene Siskel Film Center
164 North State Street
Chicago Il 60601
via Conversations at the Edge
Best known for his Nintendo game cartridge hacks, multi-media trickster Cory Arcangel uses new and vintage computers, sound, performance, and the web to recontextualize popular figures (Super Mario Brothers, Bruce Springsteen, Simon & Garfunkel) and aesthetic systems (the instructional video, adult contemporary music, the "artist talk") in subversively comedic ways. This evening, he'll provide an overview of his practice, possibly including his Super Mario movies, the epic and aptly titled performance piece "Bruce Springsteen Born to Run Glockenspiel Addendum," and an archetypal "experimental film," complete with digital scratches and Final Cut Pro countdown. Co-presented by SAIC's Parlor Room. 1998–2008, Cory Arcangel, USA, multiple formats, ca. 60 min.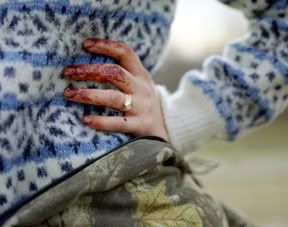 Erika Larsen, Wedding Ring, 2004, C-print
If you're in Chicago tonight go check out LOADED: Hunting Culture In America at the Glass Curtain Gallery. It's co-currated by BAS own Audrey Mast.
"For millennia, we've slaked our taste for protein by hunting and killing other animals. But over the last century or so, as hunting has gradually become superfluous to survival (at least in this country), it has taken on a new role as a moral battleground. American hunting culture –– with its roots in notions of rugged individualism, the frontier spirit, and dominance over nature –– has become an aesthetic and a lifestyle choice, steeped in regional and family traditions. The works in Loaded: Hunting Culture in America take a deliberately ambivalent view toward the morality of hunting and address the subject as social, cultural, and artistic phenomenon, ideally nudging viewers to question their own preconceptions regarding hunting. These artists provoke a conversation, with the veracity of hunting as a backdrop, about how we interact with the natural world, particularly as Americans."
LOADED includes work by:
David Buckingham, Kimberley Hart, Bob Lantz, Erika Larsen, Mathieu Lévesque, Brian Lesteberg, Diana Guerrero-Macía, Zoe Sheehan Saldana, Shaun Slifer, Jenn Wilson, Josh Winegar…and more!
LOADED is curated by Audrey Mast and Ann Wiens
Exhibition runs March 18 – April 29, 2009
Glass Curtain Gallery is at 1104 S Wabash, 1st Floor
Gallery Hours: M,T,W,F 9am-5pm, TH 9am – 7pm
Free and Open to the Public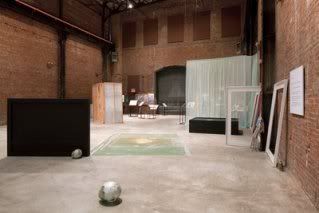 via:Visiting Artist Program at SAIC
Wednesday, March 18, 6:00 p.m.
"Based in New York, Gareth James is a British artist and writer whose work often addresses the physical and technological substructures of economic and political systems, of which Artforum says, '(James) seems less concerned with articulating meanings then with devising a way of making and representing that is commensurate with-and therefore perhaps capable of capturing and resisting-the diffuse, nonlinear, and extra-linguistic logic by which those systems operate."
All lectures occur at SAIC Auditorium, 280 South Columbus Drive unless
otherwise indicated. Admission is $5 for general public, $3 for
students and seniors, and FREE for SAIC/AIC faculty, staff, and students.