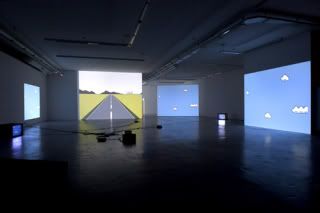 Thursday, March 19, 6:00 pm
Gene Siskel Film Center
164 North State Street
Chicago Il 60601
via Conversations at the Edge
Best known for his Nintendo game cartridge hacks, multi-media trickster Cory Arcangel uses new and vintage computers, sound, performance, and the web to recontextualize popular figures (Super Mario Brothers, Bruce Springsteen, Simon & Garfunkel) and aesthetic systems (the instructional video, adult contemporary music, the "artist talk") in subversively comedic ways. This evening, he'll provide an overview of his practice, possibly including his Super Mario movies, the epic and aptly titled performance piece "Bruce Springsteen Born to Run Glockenspiel Addendum," and an archetypal "experimental film," complete with digital scratches and Final Cut Pro countdown. Co-presented by SAIC's Parlor Room. 1998–2008, Cory Arcangel, USA, multiple formats, ca. 60 min.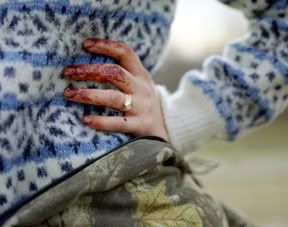 Erika Larsen, Wedding Ring, 2004, C-print
If you're in Chicago tonight go check out LOADED: Hunting Culture In America at the Glass Curtain Gallery. It's co-currated by BAS own Audrey Mast.
"For millennia, we've slaked our taste for protein by hunting and killing other animals. But over the last century or so, as hunting has gradually become superfluous to survival (at least in this country), it has taken on a new role as a moral battleground. American hunting culture –– with its roots in notions of rugged individualism, the frontier spirit, and dominance over nature –– has become an aesthetic and a lifestyle choice, steeped in regional and family traditions. The works in Loaded: Hunting Culture in America take a deliberately ambivalent view toward the morality of hunting and address the subject as social, cultural, and artistic phenomenon, ideally nudging viewers to question their own preconceptions regarding hunting. These artists provoke a conversation, with the veracity of hunting as a backdrop, about how we interact with the natural world, particularly as Americans."
LOADED includes work by:
David Buckingham, Kimberley Hart, Bob Lantz, Erika Larsen, Mathieu Lévesque, Brian Lesteberg, Diana Guerrero-Macía, Zoe Sheehan Saldana, Shaun Slifer, Jenn Wilson, Josh Winegar…and more!
LOADED is curated by Audrey Mast and Ann Wiens
Exhibition runs March 18 – April 29, 2009
Glass Curtain Gallery is at 1104 S Wabash, 1st Floor
Gallery Hours: M,T,W,F 9am-5pm, TH 9am – 7pm
Free and Open to the Public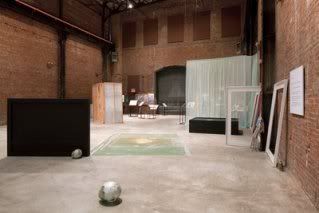 via:Visiting Artist Program at SAIC
Wednesday, March 18, 6:00 p.m.
"Based in New York, Gareth James is a British artist and writer whose work often addresses the physical and technological substructures of economic and political systems, of which Artforum says, '(James) seems less concerned with articulating meanings then with devising a way of making and representing that is commensurate with-and therefore perhaps capable of capturing and resisting-the diffuse, nonlinear, and extra-linguistic logic by which those systems operate."
All lectures occur at SAIC Auditorium, 280 South Columbus Drive unless
otherwise indicated. Admission is $5 for general public, $3 for
students and seniors, and FREE for SAIC/AIC faculty, staff, and students.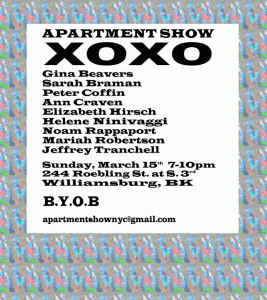 This past weekend I went to an "apartment show" here in New York. I was expecting the younger crowd, and of course, cheap beer instead of wine, a slightly later and over exuberant crowd, but I've got to pull out the Chicago street cred when I say that New York does not know how to run an apartment gallery like the Second City. Chicago has a long standing reputation of succesful alternatives to commercial gallery spaces, but they are in no way a sideshow to the main event.
What I saw here in New York is clearly respectable in the Tom Marioni sense, but I've got to stand my ground. Some things are better left to the midwest.
For those of you who've been following MOCA's meltdown (see sidebar links to Meg's previous posts on this subject)Â  and the Rose Art Museum's deaccessioning debacle at Brandeis, there are a few interesting updates of the linkie sort I'd like to draw your attention to, in case you haven't already seen them.
First, in the 'where are they now' category: two extensive, multi-part interviews with major MOCA players, one still hanging in there, the other out the door in a flash, have appeared within the last couple of weeks over at the Arts Journal blogs. Tyler Green of Modern Art Notes posts a four (!)-part interview with MOCA senior curator Paul Schimmel on the future of the institution, which sounds super-rosy and no less ambitious than before, according to Mr. Schimmel. Find 'em here: Part one, part two, part three, and part four.
Next, there's CultureGrrl aka Lee Rosenbaum's two-part interview with Jeremy Strick about his post-MOCA post as the new director of the Nasher Museum: part one of her interview can be found here; part two, here. Strick seems to have landed very well, I must say; there's hardly a speck of dust on him.
Lastly, the latest on The Rose Art Museum. From my understanding of the state of things now (mostly via this post on The Art Law Blog, which I got to via this one on Art Fag City), Brandeis has backpedaled from its original plans to sell off the Museum's collection–now they're saying that only "a limited number" of pieces will be sold "if the need arises in the future." It's anyone's guess as to what's true and what's p.r. spin, but tonight, Monday March 16th, a symposium titled "Preserving Trust: Art and the Art Museum amidst Financial Crisis" will take place from 6:30 – 8:00 pm at The Rose Art Museum. You can view the discussion in real time, as it will also be streamed live, and posted on YouTube afterwards.  Here's an excerpt from the Symposium blurb:
This symposium is prompted by the global controversy over the recently proposed closing of Brandeis University's Rose Art Museum and the selling of some or all of its permanent collection of modern and contemporary art, in order to meet general university financial needs. At a time of financial crisis, what is the utility of art and of museums, in universities and in other contexts? Is art the most dispensable and disposable of assets when times are tough? Conversely, might art and museums be understood as especially valuable at moments of economic and social distress, helping to remind a society of its core values, exposing citizens to cultural difference, and providing vital spaces for community-building and democratic debate?

Panelists include:

Claire Messud
Robert Pinsky
Stephen Greenblatt

Commentators include:

Katy Graddy
Dirck Roosevelt
Andreas Teuber
Brian Friedberg and Liz McDonough

Moderator: Mark Auslander
Note: The proceedings will be streamed live on the Cultural Production ustream channel, and also posted on YouTube. Co-coordinators: Mark Auslander, Dirck Roosevelt, Ramie Targoff, Andreas Teuber