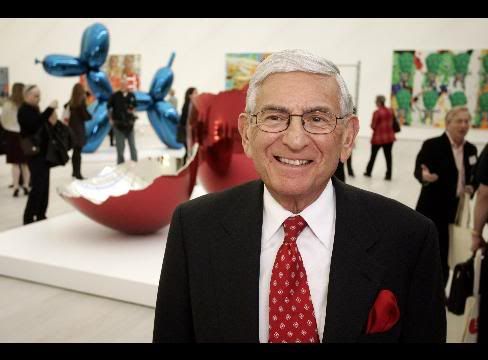 Eli Broad at BCAM
Last week I reblogged that LA's MOCA was having some serious financial problems. Here is a brief recap of last week's events.
Following the report of MOCA's woes Jeremy Strick sent an e -letter in response to the report. In the LA Time's post a reader points out that MOCA's 990 statement posted to Guidstar.com shows that Strick not only makes about half a million a year but also that the institution has loaned him about another half mill for a house. The comments are totally worth checking out.
On the 20th art critic Christopher Knight asked the two questions: "Are you freakin' kidding me? What on Earth do you think you're doing?"
Then it looked as if MOCA had been looking to LACMA for a bailout.
On Friday Eli Broad, who was a founding chairman for MOCA, had announced that he would be willing to help them out with a $30 million donation if other people would also help.
There have been a lot of good discussions going on Culture Monster's (not to be confused with C-Monster) posts this past week. Many readers have been blaming the museum's lack of publicity and what some have claimed to be too high of salaries for it's directors. In the past 5 years or so MOCA has had some really big shows. They had the Warhol Retrospective in 2002, the Basquiat retro in 2005, Masters of American Comics in 2005, WACK in 2007, and Murakami's huge show this past summer, all of which were packed when I saw them (I am from LA). Maybe they do not have as many visitors as the Art Institute but I'm sure their attendance rate is not hurting so bad, maybe I'm wrong. It just seems that all of this comes down to horrible financial planning and poor fundraising. If Broad does help them out, what is MOCA going to do to make sure this doesn't happen again?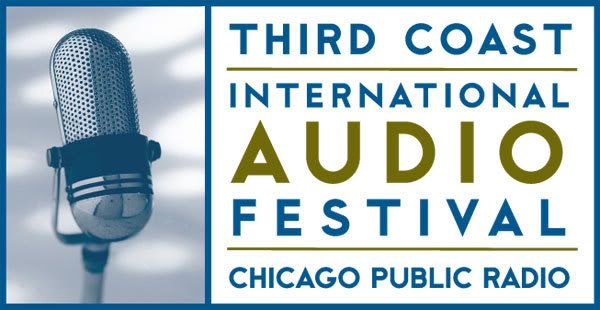 The Third Coast International Audio Festival recorded their conference and is available for download.
via The Third Coast Audio Festival
"Have a couple dozen hours to spare? We have just the thing for your ears. Earlier this fall, 350 producers from around the globe joined us in Evanston, IL, for pure audio/radio immersion at the 2008 TCF Conference. For three days straight we listened, we learned, we discussed, we celebrated and yes, we even sang. Presenters included NPR veterans, established sound artists and talented college students, and came from all over the U.S., Canada, Germany and even as far away as Rwanda. Sessions ranged from the pragmatic to the philosophical, offering concrete information, creative inspiration and worthwhile provocation. We invite you now to "attend" the Conference from the comfort of your office, living room, car, gym, or…wherever your ipod takes you." Download the conference here.
"Artadia: The Fund for Art and Dialogue is accepting applications for the inaugural Artadia Awards 2009 in Atlanta from all visual artists living and working in Greater Atlanta (23-county area) through December 1, 11:59pm (EST). Individual artists and collaboratives working in all media and at any point in their career are strongly encouraged to apply. Awardees will be selected in early 2009 through Artadia's two-tiered jury process.
All applications must be submitted online by Monday, December 1, 2008 at 11:59pm (EST).
For eligibility requirements and to access the web-based application, please visit our website."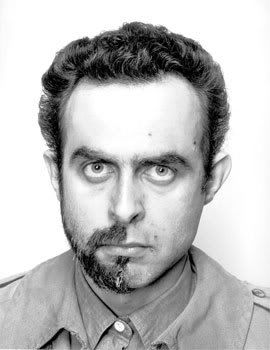 Francisco Bonami Defends His New Show
via Georgina Adam for The Art Newspaper:
"VENICE. Curator, writer and critic Francesco Bonami is running into trouble. His current exhibition at the Palazzo Grassi in Venice, 'Italics: Italian art between Tradition and Revolution, 1968-2008'—running until 22 March, and from 11 July to 25 October at the Museum of Contemporary Art (MCA), Chicago—is causing something of a stir among artists and critics alike.
Mr Bonami is no stranger to negative press—as director of the 2003 Venice Biennale he was criticised for its sprawling lack of focus. Urbane, gregarious and unconventional, his outspokenness does not always win him friends. Born in Florence in 1955, Mr Bonami has lived in New York since 1987. He is guest curator at the MCA, as well as being artistic director at the Fondazione Sandretto Re Rebaudengo in Turin and the Fondazione Pitti Immagine Discovery in Florence. He curates the monograph series 'Supercontemporary' (Electa Books) and is published widely."
Read the rest of the article here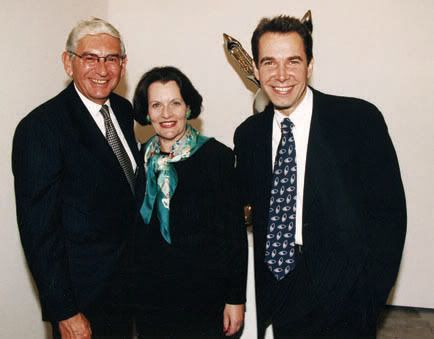 Eli Broad's New Museum
via Edward Wyatt for the New York Times:
"LOS ANGELES — Less than a year after the Los Angeles County Museum of Art opened a $56 million museum for contemporary art named for Eli Broad, the billionaire philanthropist who is its largest benefactor, Mr. Broad has decided to build his own museum and is considering a site just down the street.
In an Oct. 20 letter to the city manager of Beverly Hills, a lawyer representing Mr. Broad said he was interested 'in bringing a first-class public art museum and adjacent foundation offices to the City of Beverly Hills.'
The letter says he is considering a site at the corner of Santa Monica and Wilshire Boulevards, roughly three miles west of the Los Angeles County Museum, whose 20-acre campus sits on Wilshire Boulevard next to the famed La Brea tar pits.
The decision appears to be another reversal for Mr. Broad, who had said he did not intend to build his own museum. In January, he shocked many in the art world when he said he had decided to retain permanent control of his art collection in a private foundation rather than give much of it away."
Read the rest of the article here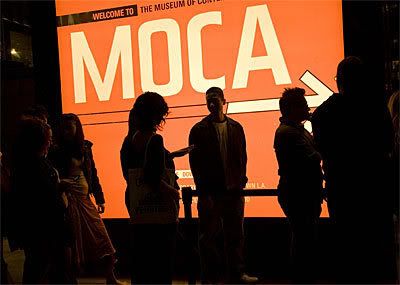 Yesterday Mike Boehm reported that LA's MOCA is having some serious financial problems. It's going to be interesting to see how they are going to remedy this. When LACMA opened BCAM many people wished that a institution that had as much land as LACMA would boost their collection to the size of MOCA. So maybe we will see a merger of the two or with The Getty.
via Mike Boehm for the Los Angeles Times:
"Los Angeles' prestigious but chronically underfunded Museum of Contemporary Art has fallen into crisis. Museum Director Jeremy Strick said MOCA is seeking large cash infusions from donors, and this week he did not rule out the possibility of merging with another institution or sharing its collection of almost 6,000 artworks.
Federal tax returns show that even before the current national crisis, MOCA had been draining its reserves to pay operating expenses. In the meantime, the museum's staff has grown.
Unlike the Los Angeles County Museum of Art, which is partly controlled by the county, MOCA receives minimal government funding. Its annual budget has grown to exceed $20 million, but it relies on donors to pay about 80% of its expenses. When the gifts have fallen short, as they have more often than not during Strick's nine-year tenure, the museum has gone into its savings.
In recent years, the museum has averaged 250,000 visits annually to view critically acclaimed exhibitions and a collection boasting works by such post-World War II masters as Jackson Pollock, Robert Rauschenberg and Mark Rothko.
By one important measure — "unrestricted assets," money that can be used for any purpose — MOCA is in dire straits. Its federal tax returns show that early in this decade the museum had spent all $20 million of its unrestricted funds to meet routine operating costs. By mid-2007, it had borrowed an additional $7.5 million from "restricted" accounts, even though those are designated by donors for specific uses, such as education or buying art.
In an interview this week, Strick would not disclose more recent financial figures. But he acknowledged that the national economic crisis had further flattened the museum's cushion. MOCA's investment portfolio was worth $20.4 million in mid-2007, down from $36.2 million in mid-2000.
Most investment portfolios have lost significant value this fall."
Read the rest of the article here