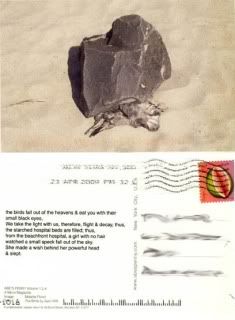 Today I came across a subscription service called Abe's Penny through Cool Hunting. Described as a "micro-magazine" the project consists of postcards that combine one artist with one writer. Over the course of a month a story unfolds.
via Cool Hunting:
Where did this idea come from?
Tess and I wanted to make something that would resonate without requiring a huge time commitment, or even much effort to enjoy. The postcard comes right to your mailbox so all that's left for you to do is read it. When the next one comes, people go back to the previous ones, so engaging with the work becomes a process, but still doesn't require much time.
What does Abe's Penny signify?
We were thinking of Dickens and serials and the Penny Press. We also talked about how, if you pared down a magazine to its core, you're left with images and text, so using the word penny made sense, as money's smallest form. We decided to call it Abe's Penny because it's self-contained and referential, like postcards.
Check out the entire set here
Minidutch director Lucia Fabio has always been particularly good at thinking through her gallery's raison d'etre with every exhibition she presents. Each show at this Chicago-based alternative space not only offers a window into the thinking processes of the artists she features (minidutch tends to focus on works that are in-progress and/or in process, as in last month's Dusty Bunnyfield vs. Molotovia Cottontail exhibition), but also explores different aspects of alternative exhibition making. As such, minidutch is something of a self-reflexive endeavor, one which provides open-ended exhibition opportunities for artists while at the same time bringing viewers' focus back to the specific contexts in which that work is being considered. So it seems wholly fitting that Fabio's current exhibition presents a miniaturized and highly condensed, through-the-rabbit-hole view of Chicago's alternative gallery scene at the same time that that scene is undergoing a much larger-scale survey at the Hyde Park Art Center with the Britton Bertran and Allison Peters Quinn-curated Artists Run Chicago.
Last Saturday Fabio opened "Mini Fair," which can be thought of as an eensy weensie, domestically-scaled counterpart to Artists Run Chicago. Fabio was joined by two other Chicago alternative galleries–The Swimming Pool Project Space and Floor Length and Tux (FLAT)–in creating miniature scale-model versions of their own spaces complete with diminutive artworks installed within.
What I find fascinating about the way the miniature is evoked here is how concisely these toy-sized spaces embody all of the qualities for which alternative galleries (in Chicago and elsewhere) are both praised and subtly derided: their smallness of scale; their scrappy, no budget, d.i.y. sensibility; their location within the space of the home and the domestic (and, by extension, 'the feminine').
I'm off to Hyde Park Art Center to see Artists Run Chicago. Below, a few images from "Mini Fair."  Look especially closely at the floor material in FLAT's space — it's kitty litter!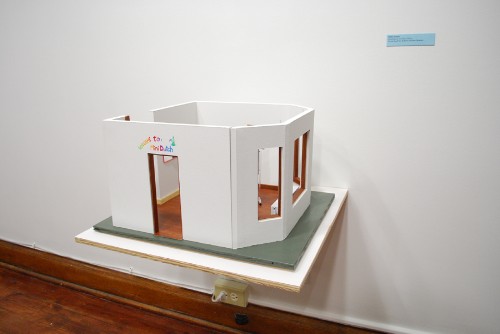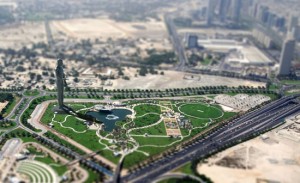 Dubai's new idea is a massive sculpture called "Al Hakawati" The Storyteller. This towering figure will be a home of stories; a children's library in its base and various spaces for performance and reading inside of the statue. Not only will it house stories but will also tell stories.
Yes, Al Hakawati will have both articulate arms and head. While it moves the arms and head it will broadcast via small speakers located throughout the park the tales it tells.
The head of the statue will house a golden room that overlooks the city and whose purpose is currently unknown but speculation is that it will be a discotheque.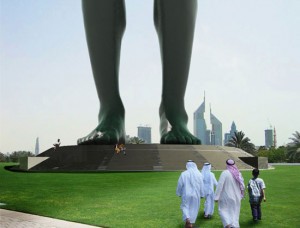 Read more at visiondivision
Ever wonder where your "shit, condoms, and dead pet gerbils" wind up after you've flushed them down the toilet?
Well, wonder no more. The folks at Pruned have mapped it all out for you in a project titled "A Fantasy Itinerary for a CLUImidwest Tour of Peripheral Chicago" on their website. The project is inspired by L.A.'s Center for Land Use Interpretation (CLUI).
I'm so glad Modern Art Notes' Tyler Green linked this; I wouldn't have known about it otherwise. CLUI is one of Los Angeles' most interesting exhibition spaces/think tanks/collectives/hybrid projects involving land use and urban theory (there is so much fascinating work being done in this area in Los Angeles, but that's for another post).  Pruned has taken up some of CLUI's ideas and applied them to their home base and ours, the city of Chicago. Here's what Pruned has to say about the project:
"Inspired by a Dwell article published last summer, wherein Geoff Manaugh, in his temporary guise as the magazine's Senior Editor, asked Matthew Coolidge, of The Center for Landscape Use Interpretation (CLUI), what makes his favorite city work, we set out to concoct a similar infrastructural tour of Pruned HQ a.k.a. Chicago, a fantasy itinerary to better understand what makes it function. Because we, too, wanted to know from where does Chicago get its water and electricity. What happens to our shit? What about our trash? Where is the nerve center overseeing all that traffic?"
Check out the links above for answers. The blog is also asking readers to contribute their own infrastructural insight on the subject in their comments section. (via Modern Art Notes).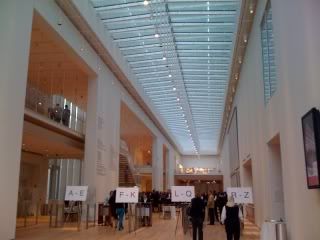 Last night I attended the staff preview for the Art Institute of Chicago's Modern Wing. The first floor has a Cy Twombly show and a photo show. I don't think that either of the rooms that these shows were hung in do much justice for the new wing. The ceilings are rather low and there is a lot of work to be seen in such a small space, which makes the museum feel narrow. I didn't have a chance to see the film video new media section which will be showing a Steve McQueen piece. I was really into Gaylen Gerber's piece "Backdrop" which consists of large sheets of photo paper pinned to the wall. The photographs are then hung on top of the piece.
The third floor houses the Contemporary collection from 1960 to present. This is where you get the picturesque views of Millenium Park. Yes, there is a lot of light and architecturally it really is a beautiful space to see work. My only gripe is that some of the rooms are filled with too much work. I like to have space to see each piece by itself or see a couple of pieces and how they play off each other. Viewing four pieces in all four walls plus a Calder mobile above you can feel claustrophobic, and causes all of the pieces to meld into one. This made me consider, however, the $18 admission fee to the museum and the average visitor. I would prefer more thoughtfully installed work, but it may be a more bang for your buck situation for the museum.
The Art Instiute of Chicago's Modern Wing opens May 16th