The Future Is Now*

*And by now we mean in the 22nd century, which is just one number away really. The future is important to artsits since many of us are closet geeks and we like to know what tech we will be unable to afford in 2018.
The Apple future is oddly like the 1984 commercial you know: single minded, simple and dictatorial just with shinny white walls and a rainbow circle that hypnotizes you.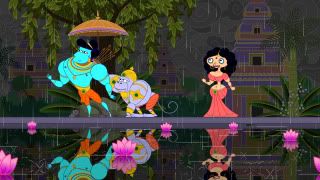 This morning I found an email from Richard Holland that simply stated "utterly awesome" with a link. I clicked on the link and found myself at the home page for the film Sita Sings the Blues. I had seen the movie poster while I was at the Gene Siskle Film Center and had thought about seeing it based on the animation. But as usual I was too lazy and forgot about it. On the front page you are greeted with a letter to the audience: "I hereby give Sita Sings the Blues to you. Like all culture, it belongs to you already, but I am making it explicit with a Creative Commons Attribution-Share Alike License. Please distribute, copy, share, archive, and show Sita Sings the Blues. From the shared culture it came, and back into the shared culture it goes." The film came about when Nina Paley was dumped by her husband after he had moved to India via e-mail. The film is a recreation of the Indian story The Ramayana.
Wired has a great interview with Nina Paley:
Wired: What is your movie about?
Nina Paley: Sita Sings the Blues is a musical, animated personal interpretation of the Indian epic the Ramayana. The aspect of the story that I focus on is the relationship between Sita and Rama, who are gods incarnated as human beings, and even they can't make their marriage work [laughs].
Wired: And that ties in with the film's second narrative.
Paley: Right, and then there's my story. I'm just an ordinary human, who also can't make her marriage work. And the way that it fails is uncannily similar to the way Rama and Sita's [relationship fails]. Inexplicable yet so familiar. And the question that I asked and the question people still ask is, "Why"? Why did Rama reject Sita? Why did my husband reject me? We don't know why, and we didn't know 3,000 years ago. I like that there's really no way to answer the question, that you have to accept that this is something that happens to a lot of humans.
Wired: And this whole movie was rendered on a laptop?
Paley: I started on a G4 titanium laptop in 2002. I moved to a dual 1.8-GHz tower in 2005, moved again to a 2-by-3-GHz Intel tower December 2007, with which I did the final 1920 x 1080 rendering.
view the entire interview here.
I just downloaded it and am looking forward to watching it after the Blackhawks play the Red Wings tonight. Yeah, I like sports.
I found this really cheesy commercial from the Art Institute while I was searching for a video of Sol Lewitt on Youtube. It was made in 1988 to commemorate the Daniel F. and Ada L. Rice Building. I sort of wish that this music would play in the lobby as you bought your tickets.
Watch the full commercial here.
From Holland Cotter's New York Times review of the New Museum's The Generational: Younger Than Jesus:
"But my point is that beyond quibbles about choices of individual works, [Younger than Jesus] raises the question of whether any mainstream museum show designed to be a running update exclusively on the work of young artists can rise above being a preapproved market survey. Removed from a larger generational context, can such a survey ever become a story, part of a larger history? (The same question applies to museum exhibitions that leave young artists out of the picture.) I'm asking. It's a complicated subject. I don't know the answer."
I have one possible answer to Cotter's question: look to exhibitions like Artists Run Chicago, which opened a little over a week ago at Hyde Park Art Center. Artists Run Chicago situates its 100+ works of art within a larger history, one that is as messy and complicated and compelling as any of the many terrific individual works that are on display.
Although the Hyde Park Art Center is definitely not a "mainstream museum," nor is Artists Run Chicago a generational exhibition, the show does survey a generation of sorts: ten years in the life of Chicago's alternative art scene as manifested in the countless exhibitions that have taken place in apartments, houses, and cheap storefronts and loft spaces across the city.
The minimum criteria for selection in "Younger than Jesus" was that an artist be under the age of 33. Britton Bertran and Allison Peters Quinn, the curators of Artists Run Chicago, looked not at the age or even the production history of individual artists but focused instead on the (recent) history of a particular kind of exhibition-making that Chicago artists arguably do better than anyone, anywhere, else.
Following a few self-imposed guidelines–in order to be invited to participate in the exhibition, for example, a space had to have been run by artists, to exist in the Chicagoland area, and it needed an exhibition track record of at least eight months between 1999 and 2009–Bertran and Quinn put together an exhibition that reflects the conditions of production within Chicago's alternative art scene. That scene is itself an ad-hoc, energetic, ever-shifting space of possibility and, let's face it, struggle. It isn't easy to run a space, even (and maybe especially) if it's out of your own home and totally on your dime.
After viewing Artists Run Chicago, it's hard not to start questioning some of the founding principles upon which sprawling group shows of emerging artists like Younger than Jesus are founded, starting with their tendency to frame artistic practice exclusively in terms of individualistic endeavor.
In this and other ways, Artists Run Chicago undermines simplistic notions of what constitutes a 'generation.' Is being part of a generation defined only by the year of your birth, or could it be alternatively circumscribed by who you hung out with and when, who your influences were? How long does a generation last? A decade? Or is as little as eight months enough–whatever time span is required for a group of people to make something that in turn spawns other things: namely, art. Sometimes the lifespan of a space is necessarily short, other times it lives long enough to become something of an elder statesman. Often, a space dies but germinates elsewhere in slightly different form.
Right now, Artists Run Chicago is blissfully short on documentation, which allows for treasure hunt-like wandering about the exhibition and sense of fresh discovery among viewers. For many people, a trip through the show is likely to provoke fond memories and personal anecdotes; for me, it was all new, and yet not once did I feel like an outsider, like someone peering through a window onto a scene that was purposefully cryptic or hipper-than-thou.
A show like this does need some explication, of course; I'm told an exhibition catalogue produced by Threewalls and Green Lantern Press is due in September will be published by Proximity magazine as a broadsheet with a map and timeline. It will include an essay by Dan Gunn along with interviews of the show's participants. I'm looking forward to connecting what I've already seen 'on the ground' to everyone else's stories, and to that larger history.
Last Friday while out and about I listened to architect Renzo Piano's interview on WBEZ Chicago Public Radio's 8:48 . I found the part of the interview where Piano talked about his personal relationship to art to be particularly memorable. When architecture critic Ed Keegan asked him what he looks for in an artwork, Piano replied:
"I learned not to think too much. I (look at) a piece of art the same way I listen to a piece of music. Just submitting myself to the subconscious. There is a moment where you have to accept that, to switch from rational to irrational, to instinct. In art…. you recognize something but you don't have to understand what you recognize. I was contemplating a beautiful Rothko. I love that artist, but how can you explain why you love that piece of art? It's just feeling inside. Of course you move, you stay ten feet then you get closer, five feet. Then you get away, far away, and every time you move your head, and your body, you understand and you discover something else. It's like a universe. It's fantastic."
You can listen to the full interview here. And here is a link to an image of the stunning Mark Rothko painting that's currently on view in the Art Institute of Chicago's new Modern Wing. To look at it up close is to feel like you're swallowing the sun.
Of course, now you can go to the Modern Wing and see it all yourself, in person, and for free until May 22nd!