For this week's video pick I am sidestepping the usual videos I post for two short documentaries. The first is Sean Dunne's highly acclaimed short The Archive. This beautifully shot film checks out the overwhelming record collection of Paul Mawhinney as he prepares to potentially sell his collection due to financial issues. The shear volume of the archive is unbelievable but hearing Paul speak about his love for vinyl and his lifelong devotion to amassing the collection makes the film worth watching.
The Archive from Sean Dunne on Vimeo.
The second film is a bit longer and is definitely weirder. In Opal For Mayor we follow Opal Covey as she runs for Mayor of Toledo. The website, although it does not have much for the director, has a bit more info on the eccentric candidate.
"At the age of 13, Opal Covey first heard the voice of God. Her unconditional faith led her down a path of prophetic ministry, a path that brought her to Toledo, Ohio. After having her businesses destroyed and being thrown out on the street, Opal heard the voice of God again – "You're going to be Mayor". This short documentary takes a sincere look at a woman on a mission from God, persecuted and forsaken, yet unfettered as she makes her third bid for the mayoral seat."
Opal For Mayor from sasgkng on Vimeo.
No posts today as we're off for Labor Day…have a happy one! Check back tomorrow for Meg's weekly video pick!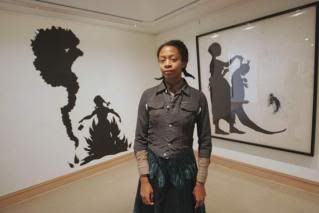 In this week's roundup Jerry Saltz threw down with Glenn Beck, Ikea changed their font, and a show flake out from Kara Walker turns into a (revenge) piece. Have a good weekend.
Jerry Saltz challenges Glenn Beck to a curatorial challenge.
Ikea switching over to Verdana.
"Who Wants to Be the Future of Arts Journalism?" Uhh, we do!
RT artnetdotcom A flake-out by Kara Walker becomes an example of email-correspondence-as-art
This slide is just so wrong. via @boingboing
Boot Print Volume 3 Issue 1 is now available online. http://www.bootsart.com/htm…
Columbia (A Journal for Literature and Art) has a call out to design a sign to inform people of nuclear dumps.  @pruned
Ed Ruscha is a recipient of a 2009 National Arts Award. 
Plural Blog has a teaser for the 16th Annual Chicago Underground Film Festival at the Gene Siskel Film Center. 
RT @ThirdCoastFest Save the Date! 2009 TC Awards Ceremony coming up October 23. Radio gets glamorous…
Betsy Sussler has an interview with Cindy Sherman on @art21. 
I must admit that I have not been a very big fan of the viral ukulele videos that have been going around but these two videos from Japan's U900 have captured my attention for the past hour. Other than the bunny's resemblance to black face the animation would look great on a show like Yo Gabba Gabba!
For more info check out Uke Hunt
Personally, I find the news that Disney bought Marvel to be somewhat ironic, given that right now in our own home the Disney Princess and the Superhero are battling it out for my child's very soul. I'm sad to report that so far, at least, Disney's kicking ass, but I'm hoping that its deal with Marvel may lead to some sort of princess/superhero marketing synergy, or at least a few Wonder Woman dolls to compete with the likes of Belle and Ariel. Oh wait–Wonder Woman's D.C. Oh, fuck it. Here's a very quick and dirty midweek roundup; Meg will fill in the blanks at the end of the week.
*All superheroes, all the time: check out Disney/Marvel Mashups; off-duty Superheroes; and Serge Kliaving's earlier take on the subject.
*Edward Winkleman's Tips for DIY Art Exhibitions.
*What is up with Bloomberg's obsession with the salaries of Museum directors? It's like they're searching for a scandal that just…isn't there. The latest target? "Dinosaur Museum" President Ellen V. Futter, who heads up New York's American Museum of Natural History (and took a voluntary 5% pay cut last year).
*Lots of advice on how to beat the bad review mojo this past week on Joanne Mattera's Art Blog, Edward Winkleman's August 31 post, and my favorite observation, from Regina Hackett/Another Bouncing Ball: "At worst, a review articulates the limits of a critic's imagination. (I can't see you.) A negative may be intended by critics as a prod, but it always serves as their mirror." So well put!
*The Guggenheim's Frank Lloyd Wright exhibition has highest attendance of the Museum's history.
*Cleveland Museum seeks court permission to use endowment income to pay for building construction. Bad Cleveland Museum! (Seriously, very bad).
*LACMA announces plan for revamping its film program, but many are still unsatisfied. LACMA On Fire's take on it, here; Time's Lacayo, here.
*Canabalt. You don't smoke it. You play it.